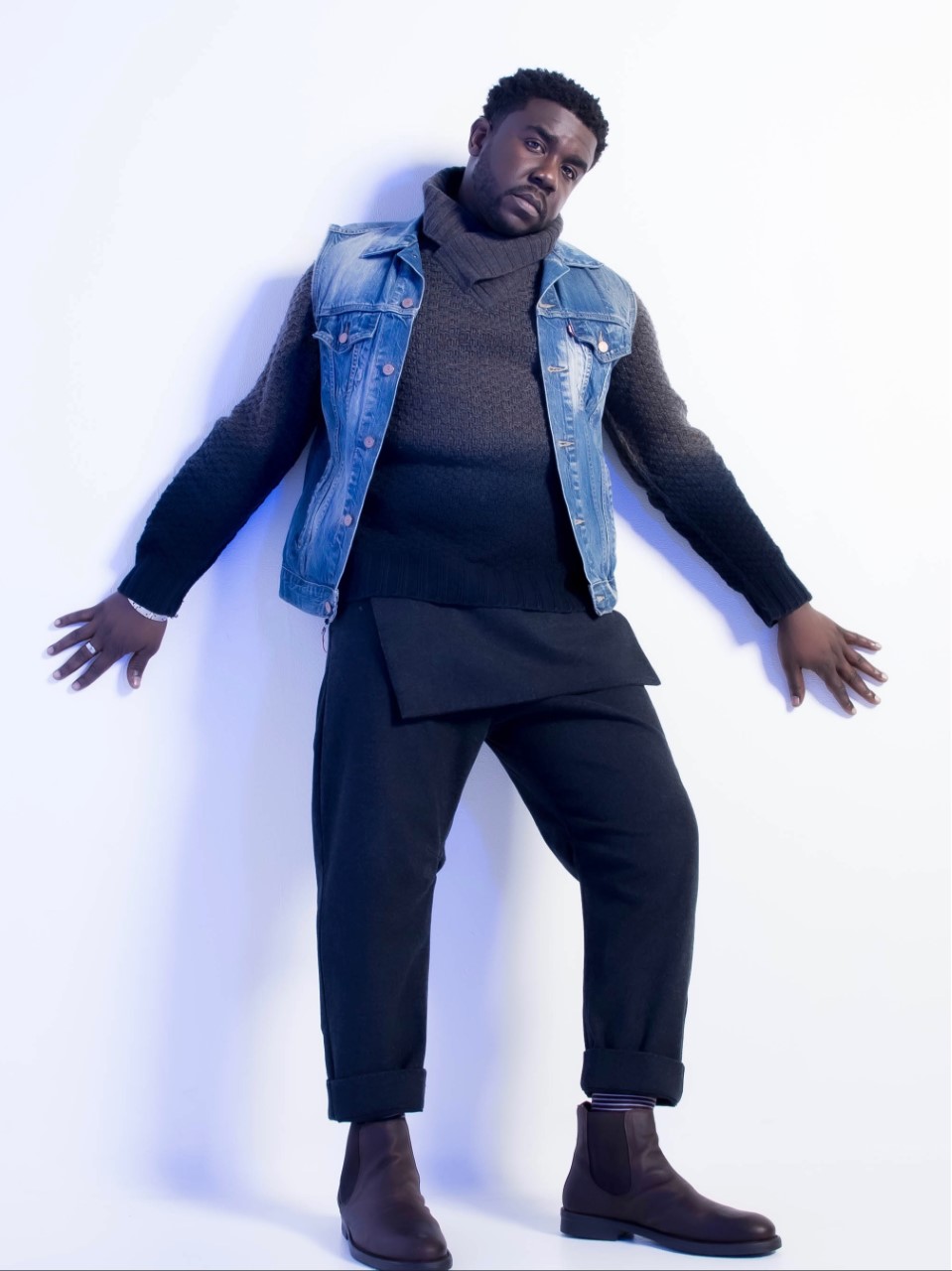 Photo & Stylist Credit: Stacy Jordan
The Corbett Music Group Presents JD Wesley!
J.D. Wesley was born John Wesley Wilson Jr., an extremely talented young man. At an early age his parents along with the community, noticed that his vocal ability was strong and like none other. From that moment onward, singing and music was the largest component of his life.

Over the years, JD has evolved into a powerhouse performer. From top 40's bands to off-Broadway productions and so much more. You name it and he's done it! His networking has generated connections with major and independent labels such as The Corbett Music Group.

He is also a rising face in TV/Film industry. Making featured appearances in multiple TV shows and films over the last two years. With the recent release of his latest single, he is rapidly becoming known as the smooth vocalist from the "new social justice anthem", "The Bell Tolls For You"!

What's next for the rising star, only time will tell. However, he has shown no signs of slowing down or stopping anytime soon!

GO BANG! MAGAZINE: Where were you born and raised?

J.D. Wesley: I was born and reared in the great Palmetto state of South Carolina, specifically the PeeDee area or "the country" as my sisters and I would call it.

GO BANG! MAGAZINE: I understand that your name, John David "JD" Wesley, has a special significance and meaning. Please explain the significance of your name to our readers.

J.D. Wesley: My full name is John Wesley Wilson Jr., as I was named after my father. My stage name John David Wesley aka J.D. Wesley, is a combination of my grandfather (David Wilson), my dad (John Sr.), and my name. Which represents three generations of my family's bloodline.

GO BANG! MAGAZINE: You have talent in music and in acting. What are some of the TV/Films that you were in and or groups or songs that our readers may know you from?

J.D. Wesley: Well, recently I had a feature on the show "Law & Order: Organized Crime" (S2 Ep.11). I didn't have any lines, but I was the FBI agent that arrested the "most wanted" criminal on the run. Through the years, I have done features on shows like "New Amsterdam", "POSE", as well as a few movies that have not been released. I've done quite a few commercials for national and international campaigns and my biggest single to date is "Favored" from my project "Favored", which was released in 2020 in the middle of the pandemic. I'm also a decade long member of the mid 90's Classic R&B Group SOLO; whom were discovered by music industry giants Jimmy Jam & Terry Lewis.

GO BANG! MAGAZINE: How did you get started in the music industry and when did you know that you wanted to pursue it professionally?

J.D. Wesley: I got started in music many, many, many moons ago as a young child. My father is a pastor and my mother is one of the best singers around, the whole music scene was somewhat of a birthright. I lead my first song in church at the tender age of four and from there everyone saw the gift from God, supported with lots of talent. I continued my journey through the years up to the recording of my very first project at age 16. It was a compilation CD (because that's how long ago it was) with a community choir I was once a part of and another local singer that had been blessed with the gift of voice. Although the project did not sell millions of copies worldwide, it was another glance into the vocal ability and styling of a great up and coming young artist. It was also the moment I solidified my decision to pursue a career in entertainment, specifically as a singer/artist.

GO BANG! MAGAZINE: What is it about acting that attracted you to it and when did you decide to pursue it professionally?

J.D. Wesley: Acting has been a large part of my life almost as long as singing and music. My attraction to it as a young boy, was mostly me memorizing scenes and lines from movies like "Coming To America", "The Color Purple", "Ace Ventura" and so many others that I enjoyed. However, once I did my first big stage production in high-school, I realized that there was more to it than just memorizing lines and that I truly had a hidden talent for acting. From that point on, I took every opportunity available to sharpen those acting chops and get involved in other theater projects. In 2018, I decided that I should take my acting to the next level and pursue a career in TV/Film.

GO BANG! MAGAZINE: Recently, you teamed up with Tyrone Corbett of The Corbett Music Group and soulfully performed his original song "The Bell Tolls for You." Many have considered this song to be a new civil-rights anthem for our generation. Please describe to our readers what you thought about the song when you received it, how it felt to record it, and describe the video shoot, as well as how the public has welcomed it.

J.D. Wesley: When I initially received the song, the singer that sung the reference tracks had done a phenomenal job and I was very curious as to what Tyrone thought I could do better than him. It was a wonder, but I'm always up for a vocal challenge and I decided to at least record it and see where things go. Initially, I was thinking that the song was too big for me. However, after starting the studio session, I slowly began to feel the song in my spirit and in my soul and how much of an impact it could make globally. The timing could not have been more perfect, given the social status in this country and many others around the world.

Once we completed the recording and moved to the video shoot, I was completely sold on the possibilities of where this song will go. We filmed in multiple locations, including NJ and NYC, and each time a crowd gathered and the onlookers were either interested in what we were doing or emotionally attached to the lyrics of the song. Every single take, I did my best to vocally deliver the song with intensity and the deepest level of soul I had inside of me. I'm so glad I did, as it is being received around the world very positively and has touch so many hearts thus far.

I can only imagine where the song will end up and how many more will be touched by the power of the very relevant lyrics and the strong imagery that the video adds to the message.

GO BANG! MAGAZINE: "The Bell Tolls for You" has been warmly received by the public, especially the video which depicts all of those souls that we have lost during this modern-day struggle, as well as shows your powerful and soulful performance. In a little over two and a half months, the YouTube video has been viewed by nearly 50,000 people. It's going viral! How has your participation in this song affected your life?

J.D. Wesley: Being a part of this song has changed my perception of everything and everyone. As a darker pigmented person of color, you are often led to believe that the struggle is all about slavery and what happened to our ancestors. However, the story is far broader than that and it includes a multitude of people with varying skin tones globally. This project has allowed me to look past what I believe to be true and see the actual truth of the matter. Which is there has been a struggle within humanity since the dawn of existence and if we humans cannot find a way to change for the better it will only get worse as we move forward.

"The Bell Tolls for You" is that call to action! As the bell not only tolls for people with darker skin, but that same bell can be heard by every living person on this planet. Whether we are doing right or doing wrong, the bell tolls for us all at some point or another. That is proven by the nearly 50K views of the music video. Each viewer is communicating their attachment to the relevancy of the lyrics and how they view the world and where we currently stand.

Right now, there is an uproar in Europe where the dominance of one nation has become the horror of another nation. There is not a better depiction of the "The Bell Tolls for You"!

GO BANG! MAGAZINE: Recently, a lil GO BANG! bird whispered in my ear that JD Wesley is putting together a VIRTUAL CONCERT. Do tell our readers all about this exciting upcoming event.

J.D. Wesley: The virtual concert idea came into play simply because I'm noticing that my support base is growing and I now have people that follow me from around the world. Doing a virtual concert will allow me to reach all of them and also invite new followers to link up and join the movement. It will be a very subtle event that allows me to showcase my gifts and talents and all whom are interested to watch and enjoy from the comforts of their homes.

GO BANG! MAGAZINE: There's also talk going around that you are about to start your OWN company. Tell us about that NEW entrepreneurial venture and how our readers can help.

J.D. Wesley: I'm not going to say much about my entrepreneurial ventures at this moment, as we are still in the beginning stages and there is lots of work to be done. However, I have worked with so many production companies and businesses in the realm of entertainment and I've noticed there is a need for some changes. Often established businesses/companies will not change until a new company comes along doing what they do with a much better and/or more effective methodology. At this point, I'm still soliciting investors and laying the ground work for the soon to come debut.

GO BANG! Magazine: In conclusion, please tell our readers what you are working on and what do you have planned for the future.

J.D. Wesley: At the moment, I'm still promoting "The Bell Tolls for You" on as many platforms as possible. There are also some new business ventures with other producers that I'm considering as far as radio promotion and marketing. Most importantly, Tyrone Corbett and I may begin working on a follow-up single very soon!
WATCH "The Bell Tolls For You" powerful YouTube video: https://www.youtube.com/watch?v=MwiShOzKJ-o
UNDERSTAND "The Bell Tolls For You" lyrics: https://www.youtube.com/watch?v=Cb_2Eegv-P0&t=8s
BUY "The Bell Tolls For You" on ALL music platforms: https://music.apple.com/us/album/the-bell-tolls-for-you/1598058724?i=1598058819&fbclid=IwAR1L2Ue2vNDqEzeBi_Q79FEetT3B8RE7k1wZAwhhgaZDISSAe5yWQw1UaCQ
You can follow J.D. Wesley on ALL social media platforms:
Instagram: @jdwesley
Twitter: @JDWesleyMusic
Facebook: @JD Wesley
or log on to his websites: http://jdwesleymusic.com OR http://www.imdb.com/name/nm9894179/



Pierre A. Evans is a freelance writer of Entertainment, Music, Art, Culture, Fashion and Current Events, and previously for SoulTrain.com, NDigo.com, ChicagoDefender.com, EmpireRadioMagazine.com, and UrbanMuseMag.com, an author, singer/songwriter, actor, model, poet, dancer, and DJ. He is also the Owner of Pinnacle Entertainment Productions and the Owner/Publisher of GO BANG! Magazine. Follow him on Facebook @Pierre Andre Evans, Twitter @Playerre, and on Instagram @Pierre_Andre_Evans.