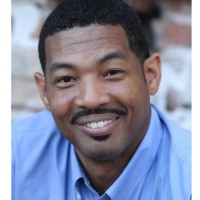 Victor Gulley was born and raised in Evanston, IL. After high school, he went to Howard University to pursue a business degree. After working in the computer field as a Network engineer, Victor was asked to create a theatrical production for a company he was working with in 2005. His first theatrical production was well received, to the point that he was sought after to write other productions.
Upon seeing the success of these five productions, he started his own company, The After Work Program. The purpose of the program was to give people who have a passion for the arts an outlet for their passion. It encompassed photographers, graphic artists, musicians, actors, stage hands and marketing areas.
The first production "Games People Play" in 2008, not only had a sold out performance, but we also gave a part of the proceeds back to local charities to assist them with their goals. "Supernatural" was the second production, doing runs from 2009–2013. This production also toured to Minneapolis, MN. The last performance was done at the Salvation Army, where we again donated a portion of the proceeds to help them with their drug and alcohol program.
In 2012, Victor created A Taste of Theater. A Taste of Theatre Festival exposes, educates and entertains a diverse audience of professional, intermediate and novice playwrights, thespians and staff members. Playwrights compete by showcasing one scene of their play. Just like movie previews or trailers provide the public with insight about the movie they intend to see, A Taste of Theatre does the same thing for live theater, allowing playwrights to give you a "Taste" of their play.
In 2013, after a two year wait, we debut our third production "A Long Goodbye." This production was done in South Bend, Indiana and again in Chicago, IL. Also in 2013, Victor created a cable access tv show called "A Taste of Theater" which interviews playwrights and showcases one scene of their play. The TV show is aired on more than 50 stations across the US. The show will soon be aired internationally.
In 2016, A Taste of Theater app was released. This app will connect theatre companies with actors, stage crew and venues. Once this connection is made, the public will be able to find any play in the country.
GO BANG! Magazine: When did you first get "bit" by the theater bug?
Victor Gulley: 2005
GO BANG! Magazine: What is it about theater that attracts you?
Victor Gulley: It is a place where you can get immediate feedback on a story and how it affects others. It also has the power to educated, inspire and move people to action, whether that is forgiveness or faith.
GO BANG! Magazine: Not only do you act in plays, you've written and produced a few as well. Please describe the plays you've written.
Victor Gulley: The most inspiring play I have written was called "Supernatural." It was a play about how angels protect people 24/7, 365 days a year. Often time we have no idea they are there working on our behalf, but they are. This play gave the audience an idea into the depths of how far an angel will go to protect you, even from yourself. But at the same time, how limited they can help due to Free Will.
This play follows a woman as she goes through the ups and downs of life from money issues to an abusive relationship. But during that entire time, she is protected not only from those things, but from the devil himself, who is attempting to claim her salvation. It is not until the end of the play that you find out the angel assigned to watch over her has a purpose in mind. He was her love in heaven and vowed to protect her until she came back. Their love is "Supernatural."
GO BANG! Magazine: Even more than just being a playwright, you're the founder of "A Taste of Theatre" (ATOT). Please explain when you created it and what it is.
Victor Gulley: I create A Taste of Theatre in 2011, with the first event happening in 2012. This event is a training ground and showcase for self-producing playwrights. These playwrights only showcase one scene of their play for the audience to vote on. The play with the most number of votes wins the playwright award.
GO BANG! Magazine: Soon after that, you created the "A Taste of Theatre Festival." What year did you create it and what was its purpose?
Victor Gulley: The first one was held in 2012 at the Portage Theater in Chicago with Shelly Garrett.
GO BANG! Magazine: Besides the original purpose of the festival, you soon added two other aspects, "Acting with the Stars" and theater workshops. Please explain to our readers what those events are.
Victor Gulley: It was also a training ground to bring professionals such as Shelly Garrett, Tommy Ford, Drew Sidora and Cynda Williams to teach playwrights on how to effectively run their shows more professionally. The "Acting with the Stars" program was created as a training ground for the actors. It gave the up and coming actors an opportunity to perform a scene from a Hollywood film, with the actor who was in the film. This past year, the actors were blessed to work with Leon, Robert Townsend, Eric Lane, Cynda Williams, DeEtta West and Thea Camera.
GO BANG! Magazine: Keeping up with technology, you recently developed the "Upstage" app. Please describe the purpose of the app.
Victor Gulley: MyUpstage.com modernizes the management of theatrical shows. We do this by connecting playwrights, who only write plays, with theatre companies who are looking for submissions. Then we connect theatre companies with venues, so they can have a place to have their show at. Theatre companies then can use the product to find the production team members to manage the show, like the director, stage manager or light and sound techs, then lastly, the actors who perform in the show. Once theses connections are made, the public can use the website or app to find any play within 50 miles of their phone.
GO BANG! Magazine: In addition to writing plays, you're also a musician. How would you describe your style of music?
Victor Gulley: My music has always been inspired by Lionel Richie, Prince, Yanni or Quincy Jones. So, it would be technically classified as Rhythm and Blues.
GO BANG! Magazine: Are you currently working on anything new in theater, music, or business that our readers should be on the lookout for?
Victor Gulley: We are working on a play called "Imprisoned." Plus, we will continue the festival when God inspires us to move forward. In addition, we are also looking for other ways to super-serve the theatre community.
GO BANG! Magazine: In conclusion, the COVID-19 pandemic has caught the world off guard. How are you dealing with it?
Victor Gulley: We have a meetup group that meets online to write plays. The current play is called "Imprisoned." It is a play about a woman who hasn't seen her mother in 20 years. When they reunite, the mother moves into the home of the daughter. Once the mother is in the home, she is sexually assaulted by the husband of the daughter. In the end, you find out that the daughter forced her husband to do this, because she wanted the mother to know how it felt when she was a child and her husband sexually assaulted her.
YOU CAN FOLLOW A TASTE OF THEATER:
Facebook @A Taste Of Theater
Instagram: @atasteoftheater
UpStage App:
Instagram @Upstage
Pierre A. Evans is a freelance writer of Entertainment, Music, Art, Culture, Fashion and Current Events, and previously for SoulTrain.com, NDigo.com, ChicagoDefender.com, EmpireRadioMagazine.com, and UrbanMuseMag.com, an author, singer/songwriter, actor, model, poet, dancer, and DJ. He is also the Owner of Pinnacle Entertainment Productions and the Owner/Publisher of GO BANG! Magazine. Follow him on Facebook @Pierre Andre Evans, Twitter @Playerre, and on Instagram @Pierre_Andre_Evans.