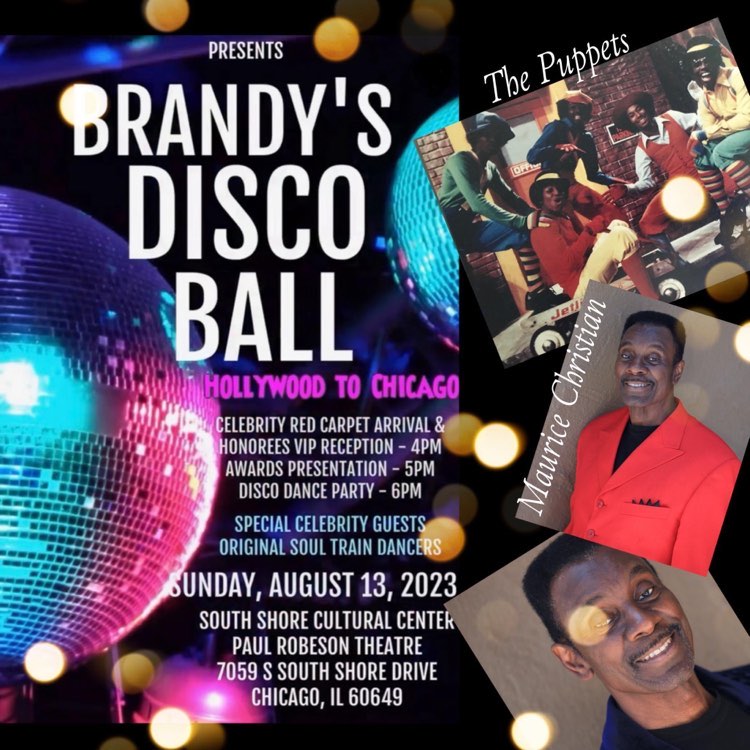 PHOTOS COURTESY OF ISAIAH JAMAL EVANS / CALI VISUALS EXCEPT WHERE NOTED OTHERWISE – @IsaiahJamalEvans @CaliVisuals
On Sunday, August 13, 2023, Chicago native and former Soul Train Dancer Brandy Sanders brought her fabulously fun "Disco Ball" to the town where the dance began, CHICAGO! It was held at the posh South Shore Cultural Center, 7059 S. Shore Dr., from 4pm – 11pm. In the words of the late great Don Cornelius,, "You can bet that it was a stone cold gas!"
SOUTH SHORE CULTURAL CENTER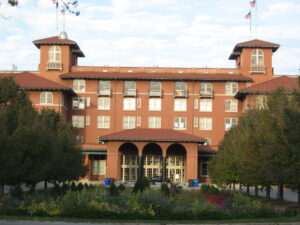 Since 2008, "Brandy's Disco Ball" has celebrated the culture and the spirit of the 70s Disco era through music and fashion. So, this event paid tribute to the legendary entertainers of the era. Each year, the Los Angeles legendary Soul Train Dancers are the honorary guests. But this year, Brandy honored and recognize the original Soul Train Dancers from Chicago, along with many other Chicago born entertainers and celebrities.
Maurice Christian (center) and 2 other members of "The Puppets" receiving their honoree certificates.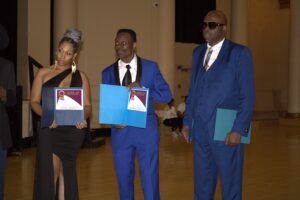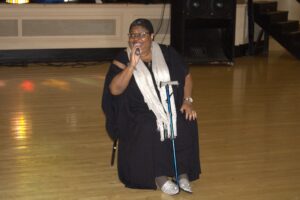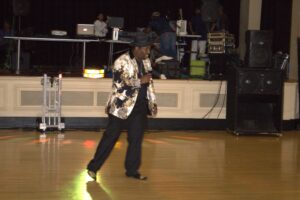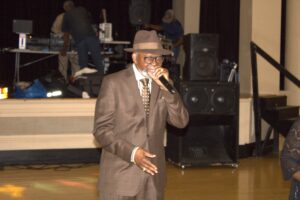 WORLD FAMOUS SOUL TRAIN LINE
It was a night of fun and an exciting evening of live entertainment, "Best Dressed" Contests, Dance Contests, Games, Raffles, Vendors, the Soul Train Scramble Board and of course, The World Famous "Soul Train Line!!"
Remj
Special featured musical guest performers were Remj (a Michael Jackson Tribute Entertainer)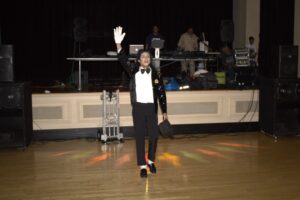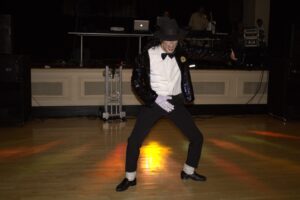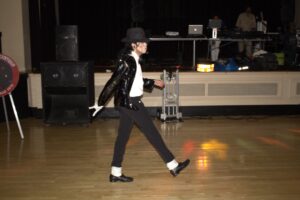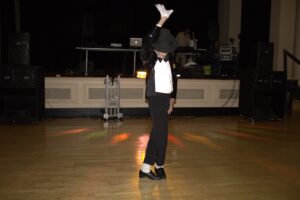 Nu Skool Sings Old School star Mesiyah and Gospel Soul Recording Artist "Lady Leah." Special celebrity guest and Chicago born actress Cynda Willliams, from "Mo' Better Blues" and Oprah Winfrey's "The Wedding" was also in attendance, donning her funky and fabulous 70's outfit. While the distinguished special guest was the SEIU African American Caucus.
CYNDA WILLIAMS & OTHER DISTINGUISHED GUESTS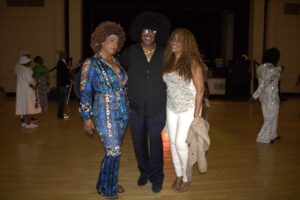 CYNDA WILLIAMS & PIERRE ANDRE' EVANS – GO BANG! MAGAZINE FOUNDER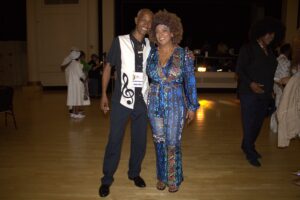 One of the highlights of the event was Brandy's award presentation to the honorees, which included Chicago original Soul Train Dancers Mable Buckner, Albert Adams, The Puppets (Maurice Christian, Anthony Fairchild, Melvin Shumpert, Willie Fultz, Carlton Knight, Yolanda Cooper, Wayne Ward and the late David Crockett), Captain Sky, Poppin Chuck, Robin Roberts Mister, the late Diane Roberts Mister and Stefon Patterson.
POPPIN CHUCK & PIERRE ANDRE' EVANS – GO BANG! MAGAZINE FOUNDER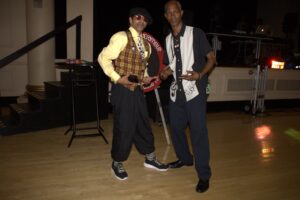 POPPIN CHUCK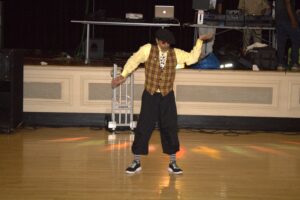 ORIGINAL SOUL TRAIN DANCER ALBERT ADAMS AND HIS ORIGINAL DANCE PARTNER MABLE BUCKNER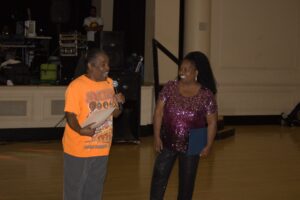 Albert Adams performed a fantastic dance routine and The Puppets put on a spectacular dance performance as well.
THE PUPPETS & DARRELL ROBERTS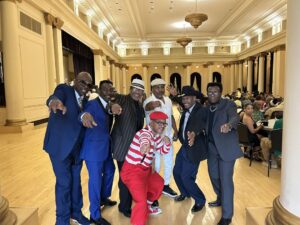 Photo courtesy of Darrell Roberts
Also honored were Chicago's legendary entertainers, including Blues Singer/Songwriter Deitra Farr, entertainment veteran Lee "Mr. Lee" Kirsky, musical group, The Notations (Clifford Curry, Eric Rapier Bryant, Marzette Griffith) and lastly, the Jazz & Blues artist Legendary HolleThee Maxwell, who spoke about her time with Ike Turner and wanted to dispel the talk about Ike being a monster. She stated that he wasn't like that with her. She also promoted her memoir book titled, "Freebase Ain't Free." The book describes Maxwell's wild ride as Turner's friend, trusted associate, and closest ally.We cannot forget to mention the special tribute to Chicago House music pioneer, the late Ron Hardy and Chicago Original Soul Train Dancer Adolfo "Shabba Doo" Quinones. The tributes ended with a special dedication to Soul Train Founder, Producer & Host Don Cornelius and Chicago Soul Train Host Clinton Ghent.
THE NOTATIONS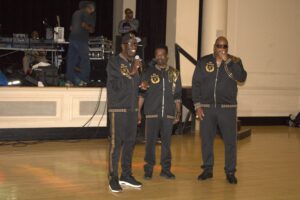 This event not only celebrated the Chicago Soul Train dancers, but it also celebrated 50 Years of Hip Hop with a special presentation by Chicago Hip Hop Historian Darrell "Artistic" Roberts of the Chicago Hip Hop Heritage Museum, located in Chicago at 4505 S. Indiana Avenue, 773.414.2006. We got a chance to briefly speak with "Artistic" and he is just an incredible individual filled with great spirit, personality and knowledge.

Once the presentations and performances were over, the lights were dimmed, the music was pumped and the world famous Soul Train Line was formed. Everyone in attendance jumped out of their seats and hit the dance floor. From young teenagers to seasoned seniors, they all showed off their moves while going down the Soul Train line. This lasted for hours, as the line grew longer and longer. Then, the line broke up and all of the dancers just took to the floor and jammed, packing it from wall to wall.
DARRELL ROBERTS – CHICAGO'S HIP HOP HERITAGE MUSEUM CURATOR/DOCENT/HISTORIAN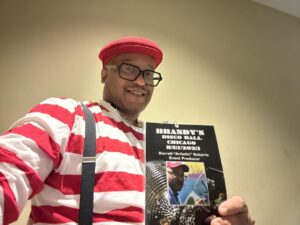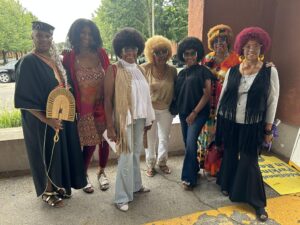 Photos courtesy of Darrell Roberts
Brandy Sanders says "It's always been my dream to bring my show from LA back to Chicago. It's going to be a full circle moment for me. Grab your bell bottoms, your platform shoes, your miniskirts and your go-go boots. It's Gonna Be A Ball Y'all!!!"
THE PUPPETS & BRANDY SANDERS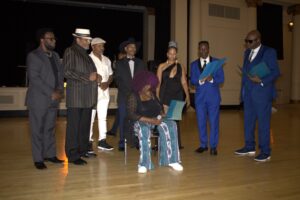 Brandy promised this to be one of the most epic and historical events to ever hit Chicago….and IT WAS!!!

We leave you with the famous words of the late Don Cornelius, LOVE, PEACE & SOULLLLLLL!!!
Brandy's Disco Ball 2022
Video courtesy of Brandy Sanders @ https://www.youtube.com/@nuskoololdschool
BRANDY SANDERS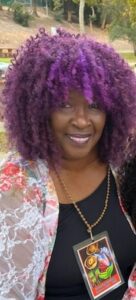 Photo courtesy of Brandy Sanders/Facebook
Special shout out and thanks to Desirae L. Benson, my publicist and PR EXTRORDINAIRE DesiraeBBB@gmail.com
Please follow photographer Isaiah Jamal Evans and Cali Visuals:
LEAVE YOUR COMMENTS BELOW!!!

Pierre A. Evans is a freelance writer of Entertainment, Music, Art, Culture, Fashion and Current Events, and previously for SoulTrain.com, NDigo.com, ChicagoDefender.com, EmpireRadioMagazine.com, and UrbanMuseMag.com, an author, singer/songwriter, actor, model, poet, dancer, and DJ. He is also the Owner of Pinnacle Entertainment Productions and the Owner/Publisher of GO BANG! Magazine. Follow him on Facebook @Pierre Andre Evans, Twitter @Playerre, and on Instagram @Pierre_Andre_Evans.