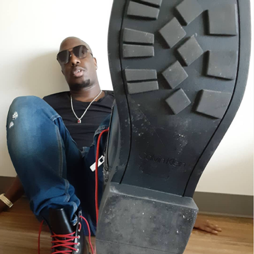 Photo courtesy of Sha Love
John Hill, Grammy nominated singer, songwriter, producer, actor, and entrepreneur is not new to the entertainment industry. By the age of seven, Hill was already singing and performing for presidents and other political officers, as well as competing in opera competitions. Born and raised in Chicago, he has built his empire in the Chicagoland area and is currently working to extend his expertise in the entertainment industry by signing and promoting musical talent. Hill, already the co-founder of J&M Company, CEO of Team John Hill, and co-founder of Star Born Records, only wants to expand.

One of Hill's memories of meeting a music mogul in the industry was meeting artist R. Kelly in the Water Tower mall in downtown Chicago, when they complimented each other's singing in the elevator they rode together. This sparked a relationship between the two artists and led to Hill writing, producing, and performing with R. Kelly on his "R. Kelly Live: The Light It Up Tour" in 2007. Getting nominated for his work with R. Kelly led to even more opportunities writing and producing for artists such as Juelz Santana, Jason Derulo, Young Berg, Ray J, 50 cent and Omarion. Hill then attended the Billboard Music Awards where he met other artists such as Gwen Stefani and Pharrell Williams whom he has collaborated with to produce projects with as well. Hill's own song and music video titled "Cinema" has had success in most of eastern Europe, where he has also established a producing career with Romanian singer/songwriter Inna.

Hill's skills in producing and songwriting have not gone unrecognized since he has won awards such as the "Icon Award" for Bucharest Fashion Week, "Producer of the Year" by The Media Awards, "Entertainment's Man of the Year" on the front cover of M&M Modeling Magazine International Fashion Magazine, "Platinum Award Winner" for 50 cent's "Before I Self Destruct", the "Gold Award" for Jason Derulo's self-titled album and he is credited for Ray J's "Sexy Can I" hit song. "Life inspired me to do music," says Hill. "In high school I received an abundance of offers from colleges for music and all of the opportunities I have had up to this point in my life have been amazing." Just after attending the Music Institute of Winnetka for one year, Hill was already lead of background vocals at the "BET 25th Anniversary Show." After building a strong foundation in the industry at such a young age, Hill now works to produce and promote new up-and- coming artists in the music industry.

Contributions •

● TP3 Reloaded, R.Kelly –Writer •
● R. Kelly Album: "Untitled," song "Pregnant" –Writer •
● R.Kelly Live: The Light It Up Tour –Producer/Writer/Singer •
● "Chose Me" Music Video by Corey Mo ft. Snoop Dogg -Producer •
● Collaborations with Mr. Saxobeat and Romanian singer/songwriter Inna – Writer/Producer •
● 50 Cent Album: "Before I Self-Destruct" -Producer •
● Diddy Dirty Money Album: "Last Train to Paris" -Producer •
● "The Model Idea" TV show –Writer/Producer/Actor •
● "Austin & Ally" TV show (Season 1, Episode 3) –Music composer •
● "The Game" TV show (Season 4, Episode 2) –Music composer, one episode •
● MTV's The Real World –TV personality •
● Jimmy Kimmel Live! (Episodes from 2003-2007) –Singer/Himself •
● "Wrong Package" unreleased film short –Actor •
● "Vulture City 2" film –Marquee Star

Awards •

● Grammy Nominated for TP3 Reloaded, R.Kelly –Writer •
● "Icon Award" Bucharest Fashion Week •
● "Producer of the Year" –The Media Awards •
● "Platinum Award Winner" –50 Cent, "Before I Self-Destruct" Album •
● "Gold Award" –Jason Derulo, Self-Titled Album •
● "Platinum Award" –Ray J, "Sexy can I" single •
● "Platinum Award" -"R. Kelly: The Light it Up Tour"

GO BANG! Magazine: When and why did you start playing music?

John Hill: I started my craft when I was five years old with the violin. I then expanded to piano, drums, guitar, and bass.

GO BANG! Magazine: Is your family musical?

John Hill: My grandfather was a talented singer and went to school with Elvis Presley in Memphis, Tennessee. My grandfather also sang and collaborated with Presley.
Photo courtesy of Ikjong
GO BANG! Magazine: How did your childhood, growing up in Chicago, help mold you into the person you are today?

John Hill: Well, my father John Hill Sr. came from Cabrini-Green, a terrible housing project in Chicago, and my mother Belinda grew up in Englewood, a neighborhood with a low rate of life expectancy. They met and made excellent examples of themselves. My (father) being a political food chief and (mother) the first Black woman in Chicago to sell over $1,000,000 in real estate sales. I had no choice but to continue to be great for my future spawn and family legacy.

GO BANG! Magazine: What are your fondest musical memories?

John Hill: My fondest memories involve having band practices at 14 years old, winning state competitions and rocking a crowd of 20,000 people for the first time with artist R. Kelly.

GO BANG! Magazine: Which famous musicians do you admire?

John Hill: I have learned from powerhouses such as R. Kelly, Jay Z, Jerry Lee Lewis, Etta James, Duke Ellington, and Louis Armstrong.

GO BANG! Magazine: What skills/personal attributes are most important to being successful?

John Hill: The best skills to have are sheer determination, militant discipline, commitment, and loyalty to your projects and becoming the best performer and version of yourself.

GO BANG! Magazine: What is the importance of the connections you make? How can you utilize them?

John Hill: The whole entertainment industry is about relationships. If you are not willing to work with people and take criticism from people who know the business, then no one will remain in a relationship with you to help build your career.

GO BANG! Magazine: What are typical mistakes people make when trying to pursue this career?

John Hill: Most people hope that their success will happen overnight, but there are many musicians and actors who don't even reach their ultimate success until later in life.

GO BANG! Magazine: How do you get people to take you seriously as a musician or a producer?

John Hill: If you take yourself seriously and show you are confident in your work and the work you are doing for others, whether it is production or writing a song, people will want to work with that.

GO BANG! Magazine: How do you balance your music with other obligations – partner, children?

John Hill: Life is about balancing between your family and your passions. If you are passionate about your career and your success, you find the time for both.

GO BANG! Magazine: Now that you have enjoyed a fantastic career as an entertainer, you're currently signing and promoting up and coming talent. Tell us more about this chapter in your life.

John Hill: I felt it was my responsibility to give artists opportunity, especially with so few opportunities out here. However, it is never given, but earned. They have to work for it, pray for it, pay for it, and stay for it. They will get the "hooray" for it.

GO BANG! Magazine: As an entrepreneur, you are CEO of TeamJohnHill (TJH). Please tell our readers why you decided to become a serial business owner?

John Hill: One simple word… "legacy." Many people have different reasons, like money, power, fame, sex, etc. Mine is simple …"Legacy!"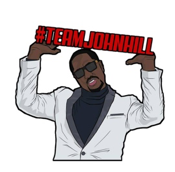 GO BANG! Magazine: TeamJohnHill is a unique name for a company. How was this name chosen and what does TJH do?

John Hill: Its very funny actually. I was venting about how unfair the entertainment business can be on social media one day and a celebrity photographer for the Oscars by the name of ATOC posted the phrase "don't worry king its always #TeamJohnHill." From then on, people started saying TeamJohnHill. I used it as an identity that rolled out into a brand and company that is a brand management company, a label and lifestyle.

BRAND MANAGEMENT …….is the process any musician goes through to develop their craft and skills necessary to build a professional career in the music industry. This means everything from voice, songwriting, image, branding, music/video production, live performance, marketing, and social media.

With our award-winning staff and passion for development, we take a blank canvas or half drawn pictures and create a masterpiece!!!

GO BANG! Magazine: Please describe TeamJohnHill Records, its' unique sound, and some of the artists signed to the label.

John Hill: Working with some of the world's largest artist, it has given me a sound that people call undeniable. My artist roster includes: the 16-year-old artist hailing from Wisconsin, Knox Boomin; my Hip Hop artist Remey Le Flow; Anna Shilove our Pop princess; and Marley Caprice, the "Turn Up Queen." Our Rap Diva will definitely take the world by storm!

GO BANG! Magazine: Many people are divided when it comes to R. Kelly. Supporters can separate the artist from the person, while others can't. How was it working with R. Kelly and what did you learn from this experience?

John Hill: R. Kelly, in today's society, is a hot-button trigger. However, him as a person is definitely not what the media would like to create. In fact, he is a super-charismatic musical genius whom I've written and produced music with. My experience (with him) has led me to understand the world of "Public Figures" in a whole new, raw, uncut light.

GO BANG! Magazine: You've worked with several heavy hitters in the music industry. Is there anyone that you haven't worked with, dead or alive, that you would love to work with, musically?

John Hill: I had a chance to work with some of Michael Jackson's producers on a project he was working on. This was before his "This Is It" tour. He died suddenly, before the ink dried. (smh) I would also love to work with the living legend Sting. Lastly, I'm a bit of an Alternative Rock lover, so Goo Goo Dolls and Nickelback.

GO BANG! Magazine: What can our readers expect from John Hill in the near future?

John Hill: I will be touring Australia with my good friend and 2x Grammy Award winning reggae artist Max-A-Million. We are producing some phenomenal new music, which I will be featured on as an artist. I will also be featuring our artists on the "Book Of John" project, which I'm dropping soon. So many executives and celeb features. I'm also working on Fabian James' project, "Betty & Jimmy: A Love Story." David Givens and the staff are prepping a tour. I also just closed a book deal with Hydra Publications, educating the up and comers on how to survive.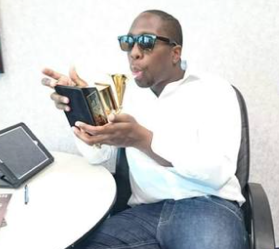 Photo Courtesy of TeamJohnHill
GO BANG! Magazine: In conclusion, please finish this sentence. "John Hill is………."

John Hill: "…inexorable!" (in·ex·o·ra·ble /ˌinˈeksərəb(ə)l/ adjective 1. impossible to stop or prevent.)

GO BANG! Magazine: Well John, I want to thank you for granting me this interview. I also want to inform you that you have now officially been BANGED!!! GO BANG!

WEBSITE: www.teamjohnhill.com

LINKS TO ALL MUSIC & SOCIAL MEDIA BELOW:
SOUNDCLOUD: https://soundcloud.com/teamjohnhill CLICK HERE TO HEAR MUSIC!!!
FACEBOOK: https://www.facebook.com/teamjohnhill2/ CLICK HERE TO HANG OUT!!
INSTAGRAM: https://www.instagram.com/teamjohnhill/ CLICK HERE FOR FUN!!
YOU TUBE: https://www.youtube.com/channel/UCO6UUmz8bnMbdKV9-LmYwOQ
CLICK HERE TO WATCH!! TWITTER: https://twitter.com/TEAMJOHNHILL
CLICK HERE FOR FUN!! SNAPCHAT: https://www.snapchat.com/add/@teamjohnhill
CLICK HERE!!IMDB FILM CREDITS: https://www.imdb.com/name/nm5065153/

http://www.teamjohnhill.com/photoscelebrity-2
http://www.teamjohnhill.com/musicfilmwork/bu7g84vp8t8hzo3j1tyqhpzi90n9ui
https://wikitia.com/wiki/TEAMJOHNHILL

VIDEO LINKS:
https://www.instagram.com/reel/CmcCGuOvt-r/?utm_source=ig_web_copy_link
https://youtu.be/zCzdErihG7I



LEAVE YOUR COMMENTS BELOW!!!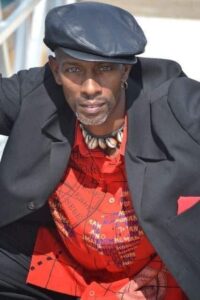 Pierre A. Evans is a freelance writer of Entertainment, Music, Art, Culture, Fashion and Current Events, and previously for SoulTrain.com, NDigo.com, ChicagoDefender.com, EmpireRadioMagazine.com, and UrbanMuseMag.com, an author, singer/songwriter, actor, model, poet, dancer, and DJ. He is also the Owner of Pinnacle Entertainment Productions and the Owner/Publisher of GO BANG! Magazine. Follow him on Facebook @Pierre Andre Evans, Twitter @Playerre, and on Instagram @Pierre_Andre_Evans.