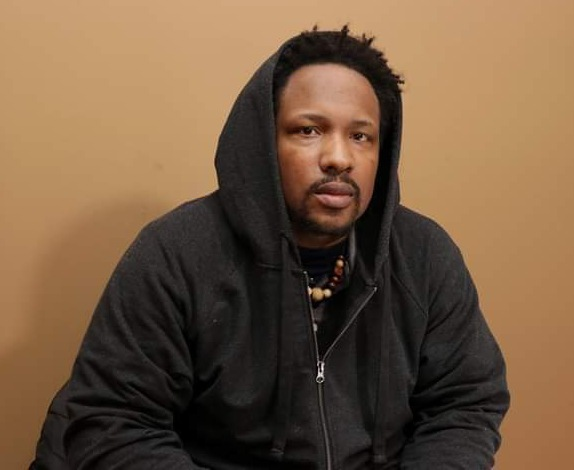 All photos courtesy of: Just Mic "Da Poet"
Just Mic "Da Poet" was born Michael E. Williams on January 2, 1978, on the southside of Chicago in the Roseland neighborhood. At the age of 21, he developed a deep passion for poetry and writing after the sudden death of his younger sister, Larenya Elisa Williams in 1999. Shortly after her passing, he wrote his first poem titled "A Letter To Baby Sister."

After years of writing hundreds of poems and songs, Just Mic was again inspired to take his talents further after entering a spoken word competition in 2012. Even though he did not place, Just Mic was offered his first feature performance at Hot Sauce Poetry, an Inspirational Poetry set on the westside of Chicago. Since that night, Just Mic has gone on to feature and perform live on hundreds of stages throughout Chicago, as well as the United States. He also released his first Spoken Word album in December of 2012. Shortly after, he began organizing and hosting various "Open Mics" and concerts.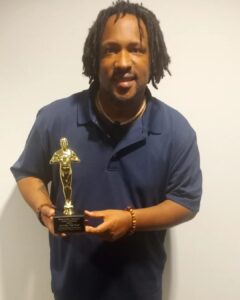 In 2013, he was awarded as the BEST NEW ARTIST AND HOST OF THE YEAR, presented by the P.O.E.T organization. In 2014, he became a two-time published author in the P.O.E.T Anthology Vol. 2 and released his first personal book "POETIC SCRIPTURES: The Life, Growth & Journey of Michael E. Williams." In 2018, Just Mic also released his second self-published poetry book "Recovery: Church Hurt vs. Church Love."

Just Mic "Da Poet" has had the opportunity to interview live on various radio stations, television, and magazines, including 1570am WBGX, Prayze Cafe, Chi-City Underground, 88.9Fusion Radio, and 102.3fm. Television stations include Can TV, Ch.19, Channel 26UToo, Inspirational Television (Roku), Spoken Word Magazine, Speak Life, Chicago Bridge as one of the top 20 Poets Worldwide, and Gospel Magazine 3:16.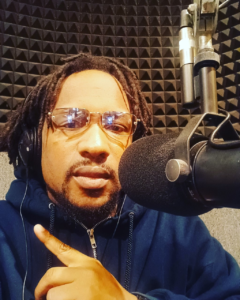 Just Mic has also shared the stage with many talented poets, singers, and comedians such as B. Cole, Damon Williams, Red Storm, Reggie Reg, Jeff B, Spank E., Moe-Mentum, Gemstones, The Jessie White Tumblers, Crucial Conflict, Gospel group Shelby 5, and many others.
In just 10 years of performing, Just Mic "Da Poet" has been awarded 18 times for various awards and nominated 17 times for the National Spoken Word Awards, becoming a 7X National Award Winner, 5-Time Spiritual Poet of the Year, Spoken Word Artist of the year (2017) and Best Spoken Word Album of the year (2018) "Save Our Streets." Just Mic "Da Poet" is also a 2X Slam Champion. He was announced as the 1st place winner for Totally Positive Productions (2021) Talent and Poetry Competition, as well as being awarded as the 1st place winner of the 2022 Galaxy of Poets National Competition.

Just Mic "Da Poet" is a 3X Recording Artist. He has released his second and third Spoken Word Albums; "Save Our Children, Save R Streets" (2017) and "Depths of a Poet's Soul" album (2021) making it available worldwide at online music Stores. His "Depths of a Poet's Soul" album was also submitted and accepted for nominations for the 2023 Grammy Awards, being their first inaugural submissions for the Best Spoken Word Poetry Album category.

In October of 2022, Just Mic "Da Poet" organized the first National Spoken Word Poetry and Writers Conference held at the Bronzeville Vincennes, LLC in Chicago IL, providing workshops, seminars and honored other poets and supporters for their dedication and work to the Spoken Word and Poetry Community!

Just Mic "Da Poet's" hard work and dedication to poetry has led him to be featured on some major stages, such as performing live at Wintrust Arena for the WNBA Chicago Sky Halftime Show (2022) as well as speaking and performing at Trinity United Mega Church for their 2019 Kwanzaa Celebration!

Just Mic "Da Poet" says to "always believe in yourself, follow your passions and love the gifts that God has blessed you with. Continue to use them and your gifts will make room for you!"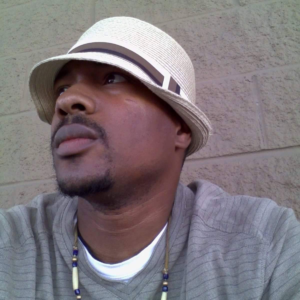 GO BANG! Magazine: How would you describe your childhood?

Just Mic "Da Poet": My childhood was an experience! It was in 1981 that my parents moved our family from the southside of Chicago (Roseland) further south to the suburb of Dolton, IL. We transitioned from where there was predominantly African Americans and where there was often poverty, crime and violence making the neighborhood at times unsafe to reside. The suburbs however, was little to no crime and was much safer and more motivating to pursue an education. There were still other challenges that I had to deal with as a child being one of the only black children in my classroom. It was different but I managed and then years later, the ethnicity would change to being dominantly Black. The crime would eventually increase and so did the peer pressure of being involved with drugs and gangs! I'm thankful however, to have never gotten in too deep with gang or drug activity, not to say that I was a perfect adolescent or teen. I think I blended right in and felt more comfortable being around those that could relate to me.

GO BANG! Magazine: You began writing poetry as a response to the passing of your younger sister. How did that inspire you?
Just Mic "Da Poet": Well yes, it was definitely inspiring, but her unexpected passing had also become an outlet for me to heal and express myself through poetry. I had no idea that such a painful tragedy would lead to my success and finding my purpose in life!
GO BANG! Magazine: Are you a spoken word artist, a poet or both and what's the difference between the two?

Just Mic "Da Poet": I would consider myself a Spoken Word Artist, but a poet and writer first. I would not be able to perform as an artist without first writing and putting my thoughts on paper. And that's basically the difference between being a poet and becoming a Spoken Word Artist! Being an artist requires more work, you must memorize your work while acting it out on stage and becoming more engaged with your audience. As a poet you can get away with just writing books and reading your poetry in a more calm and relaxed setting. You're not focused so much on stage presence, memorizing and audience engagement.

GO BANG! Magazine: How would you describe your poetry style?

Just Mic "Da Poet": Great question! Actually, I've been told that I am not a poet, but more of a lyricist! I would say that I am versatile. I actually write according to what type of poem that I am writing. If the emotion is intense, I'll more than likely perform at a more aggressive pace. My voice may sound different, but that's only because of my mindset when the poem was written. For example, a very intimate poem would be more like a soothing conversation. I'm more shy, relaxed, and calm while writing love stories. So yes, my voice will be different and so will my demeanor.

GO BANG! Magazine: CONGRATULATIONS! You are also a two-time published author. Please describe both of your books to our readers.



Just Mic "Da Poet": Thank you! And yes, I wrote my first poetry book in 2014 titled "Poetic Scriptures: The Life, Growth and Journey of Michael E Williams" and then I wrote "Recovery: Church Hurt vs. Church Love" which is dominantly a spiritual book of poems and quotes. You can find both of those books at your online Amazon bookstore and Poetic Scriptures, also on Barnes and Noble.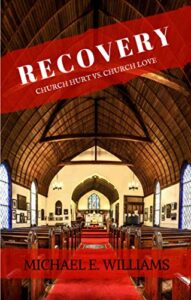 LINK:
https://www.amazon.com/Recovery-Church-Hurt-VS-Love-ebook/dp/B07Q6XQL2W/ref=sr_1_1?crid=36S8541SLS2UR&keywords=%22Recovery%3A+Church+Hurt+vs.+Church+Love%E2%80%9D&qid=1667495312&qu=eyJxc2MiOiIwLjc5IiwicXNhIjoiMC4wMCIsInFzcCI6IjAuMDAifQ%3D%3D&s=books&sprefix=recovery+church+hurt+vs.+church+love+%2Cstripbooks%2C215&sr=1-1

GO BANG! Magazine: Who inspired you in your beginning years and who inspires you now?

Just Mic "Da Poet": In my beginning years, I didn't know any poets, but I was inspired by other music artists such as Tupac Shakur, LL Cool J, Nas, Common, and Michael Jackson to name a few. I just really loved the way that they worked hard and were passionate about making albums, traveling the world, and making music. They touched people's lives from all walks of life and from all over the world. You could always relate to the music that they were creating.

As far as now, I would say that a lot of my inspiration comes from my peers. Being around so many talented poets and artists inspires me to become even more great. Then looking back at how far I've come as a person and artist, I have also become my own inspiration.

GO BANG! Magazine: If you had the opportunity to perform or work with any poet/spoken word artist, dead or alive, who would it be and why?

Just Mic "Da Poet": I would first have to say the late Langston Hughes would be a poet that I would have loved to work with simply because of his wisdom and by him being a part of writing during the Civil Rights Movements! His work would bring some of the best work out if me. I would consider Nas and Common as well. In a way, they are still to me. Yes, I would love to work with them. They are all amazing writers and icons. I am also a fan of Grammy nominated Spoken Word Poet J. Ivy. I would love to work with him as an artist. He would also bring out the best in me.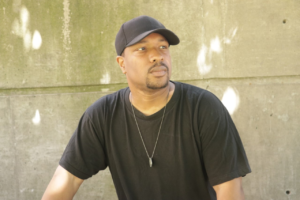 GO BANG! Magazine: You are also a three-time recording artist with spoken word albums under your belt. Please describe these recordings.

Just Mic "Da Poet": I released my first album, which was an EP introduction of five tracks, in 2012. My second album "Save Our Children, Save Our Streets" was released in 2017, which I won a national award for The Best Spoken Word Album of the Year. Then, my most recent album "Depths of a Poet's Soul" was released in November of 2021. That album is more of a personal album. I get more detailed about my life experiences and deepest thoughts.

GO BANG! Magazine: How did you find out that your album "Depths of a Poet's Soul" was accepted for nomination for the 2023 Grammy Awards, where were you and how did you feel?

Just Mic "Da Poet": Well, I had submitted my album to be accepted knowing that the Spoken Word Poetry Community had our own category for Spoken Word Poetry album submissions. It was about a few weeks later after submitting that I found out. I was at home at the time, just relaxing and promoting an upcoming event. I received an email late in the afternoon letting me know that my album was accepted and that I was a part of the first inaugural submissions for Best Spoken Word Poetry Album! I felt great, wonderful and I felt that everything that I have been working hard for was paying off! It's a win for me no matter what happens. I'm just grateful to be a part!

GO BANG! Magazine: Just last month in October, you organized the first National Spoken Word Poetry and Writers Conference. It was held here in Chicago. Why did you feel the need to produce this event and how did the event turn out?

Just Mic "Da Poet": Yes, after over 20 years of writing and 10 years of performing, I felt that it was time for me to give back and to share with others some of the things that I have encountered and learned as a writer, poet, and Spoken Word artist. I can say that everything went well. It was also an experience for me. I am now motivated to teach and really look forward to presenting more workshops and conferences.

GO BANG! Magazine: This Friday, November 4th, you will be a featured poet performing at the Spoken Word Concert at University of Chicago's Logan Center for the Arts. Tell us about this upcoming event and what can attendees expect?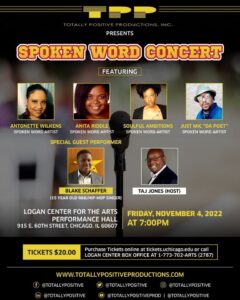 Ticket link: https://tickets.uchicago.edu/Online/default.asp

Just Mic "Da Poet": Yes, I will be performing Friday October 4th, 2022, at The Logan Center for Arts Reva and David Theater. It is a beautiful theater and I believe that it will definitely bring the best out of me as an artist. I look forward to performing for Totally Positive Productions' Sponsored Concert and Showcase.

GO BANG! Magazine: Where do you see yourself five years from now?

Just Mic "Da Poet": Honestly, I just want to keep getting better and growing. I love helping others, so to have an established non-profit organization would be my number one goal within the next five years. Also, hopefully I will be writing for other artist full-time, as well and traveling more of the world and getting paid more to perform my Spoken Word poetry, while uplifting others to use their gifts and follow their dreams as well.

GO BANG! Magazine: If you weren't a poet, what would you be doing?

Just Mic "Da Poet": I love coaching sports and scouting athletes, but I really can't imagine myself doing anything else man. I probably wouldn't even be here! Poetry has literally saved my life.

GO BANG! Magazine: What can our readers expect from you in the near future and upcoming years?

Just Mic "Da Poet": On Saturday, November 5th, I will be conducting a virtual Poetry and Writers Workshop, from 6pm -8pm CT. They can also expect more books, more albums, and an even better poet and artist!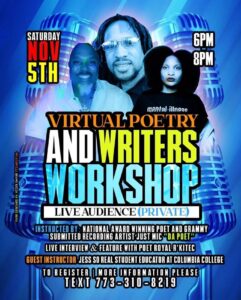 GO BANG! Magazine: Mike, in conclusion, we have known each other for years and even performed at some of the same talent shows and events, back in the day when I was singing under the moniker of Playerre. Since then, we have both went on and excelled in our professions. What advice would you give to an aspiring poet or Spoken Word artist?

Just Mic "Da Poet": Yes, it has been a minute. Congratulations to you and thanks again for having me. I would tell any young poet and Spoken Word artist to first love what you do, enjoy it, be yourself and be comfortable with the creator that you are. When you write and create, you become a part of history, so be proud of yourself. Also, practice frequently, stay consistent, believe in yourself, and continue to use your gifts that God has blessed you with.

GO BANG! Magazine: Thank you Just Mic "Da Poet" for this interview and good luck with all that you are doing. You have now officially been BANGED! GO BANG!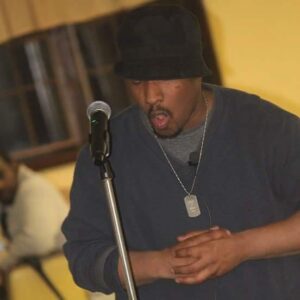 Here is one of Just Mic "Da Poet's" poems:
You Will Not Use Me

You will not use me
You will not pimp me
I worked too hard for this
This talent is my gift
I did all the sacrifice to get here
This is my time
I took those chances I took those risks
Not knowing what was to come or if this was it
You will no longer use me
Treat me as if you don't care
Pay me according to your budget and affairs
No I will not volunteer
Yes I have a price
I also have a message and purpose for my life
No money? then I won't be sending out no invites
I'll work with whom is important in my life
Who sees me as an investment, a partnership and blessing
You see at this moment my time and value is not to be messed with
So, you and anything you have going on is irrelevant
You jankie promoters, artist that's all about themselves
You want me to do for you what you won't and have never done for me,
So, naw you don't get free their is no ill see or maybe,
I'll treat you how you treated me and that means I'll continue to act like you don't exist
I won't like nothing; I won't send you any love for your accomplishments, it can be outstanding but I won't acknowledge it, the only time I'll comment is if I don't agree with a post you did
That's exactly how you did me, I'll never forget
You will Not use me sir
No I won't pay for no radio airplay
Also, the Next person that I accept then right away you come in my inbox; saying Hi
you immediately blocked
You will not use me! No I'm not paying for your contest or your giveaway slots
And don't give me no tickets to sale without a deposit
I'm not your promoter, you need to hire someone else for that job,
I'm not sharing nothing; that takes up my time
You want all these things done but you're not willing to pay me a dime
You got me messed up what type of artist do you think I am fam
It's just no respect, no consideration of my worth
Well you gone learn today
Goodbye you can continue the hell on with your
Artist search
Why can't you find a sponsor?
Why can't you work more harder and more smarter?
Send me a deposit then I'll put it on my calendar
I'll work with you or even work harder than I'm suppose to because I know now that you see my worth and value
Them old ways of doing things yall need to stop that, change those old traditional schemes
Be more creative and use your brains
Come up with your own strategies and different ways of marketing things
But naw I see you disagree and I know what you think of me
But from this day forward you will not use me
I won't let you
I am a trendsetter, I know people see me and they copy me
Yeah I saw you had an event
I acted like it didn't exist
The same way you did me
I'm busy, been busy for the past 5 years now focusing on me
It works both ways you see
I do for you what you do for me
But for some that's just the hardest thing
If you think I'm mean well it's probably because I've been far too nice of a human being, throughout the years; I have let many people use me, they didn't appreciate me, some still owe me their support and unpaid loans and fees, features and shows promised but they were never received, you see its a lot of things that go on behind the scenes, many churches have turned they lights out on me, they then collected funds from the fans and supporters that came out for me, I've been amongst many snakes and hypocrites, if I gave those list of names you probably wouldn't even believe, but its alright its cool though because I know what God has for me it will be given to me, I know I will grow, continue to prosper and succeed, I still will pray for you and forgive you for your wrong deeds, you see I will reap my harvest from those living and even dead seeds, but never again you won't use me for your own brand and needs
You Will Not Use Me

Written By: Michael E. Williams
Just Mic "Da Poet"
Copyright.
2022
POEM | #90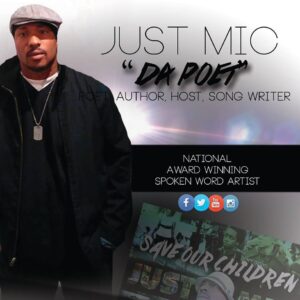 You can follow Just Mic "Da Poet" on social media, You Tube and listen on Apple Music:
Facebook:
Apple Music:
https://music.apple.com/ca/artist/just-mic-da-poet/1272465316

GigSalad:
https://www.gigsalad.com/jus_mic_da_poet_south_holland

Pierre A. Evans is a freelance writer of Entertainment, Music, Art, Culture, Fashion and Current Events, and previously for SoulTrain.com, NDigo.com, ChicagoDefender.com, EmpireRadioMagazine.com, and UrbanMuseMag.com, an author, singer/songwriter, actor, model, poet, dancer, and DJ. He is also the Owner of Pinnacle Entertainment Productions and the Owner/Publisher of GO BANG! Magazine. Follow him on Facebook @Pierre Andre Evans, Twitter @Playerre, and on Instagram @Pierre_Andre_Evans.