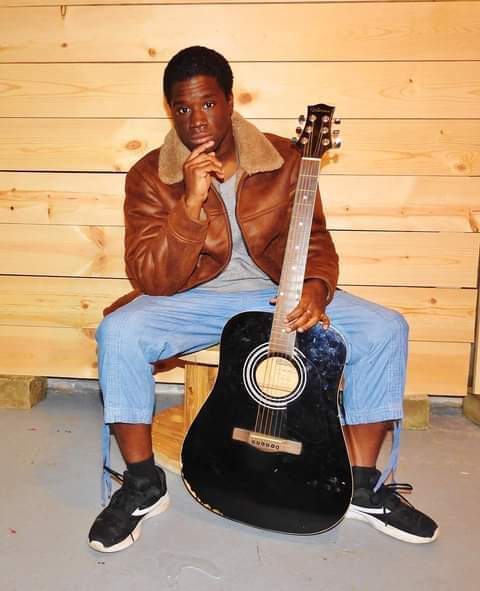 Photo Credit: Dean Bernard



Kerry James Rogers Jr. aka Kerry James or "KJ" is a 28 year old R&B/Soul artist, singer-songwriter and musician born in Chicago and raised in Gary, IN. KJ began singing at the age of 19 when his mother (and #1 fan!)) gave him his first acoustic guitar for Christmas, in 2012.

When born, KJ was a premature infant and has suffered from seizures, COPD and even strokes throughout his life. He has also a speech impairment. But, this has never stopped him from reaching for the highest heights in music and in life!

In the Spring of 2013, KJ began to attract fans while singing on the steps at City Hall in Gary, IN. He also started performing at many local open mic venues and other events, where he broke bread with fans and fellow musicians alike. Very soon, KJ started to earn much media attention for his life story, talent and charm.

KJ was recently featured on the cover of Chicago Bridge Magazine with Brigette Wiley and other popular artists. He continuously appears regularly in newspapers and magazine articles. He's a popular guest performer on radio and television programs throughout Northwest Indiana and the
Chicagoland area.

KJ is an inspirational figure, as well as a natural music talent. He welcomes the opportunity to lift the spirits of all those around him through his story and song!

"I wanna inspires others through my gift and talent efforts to overcome, and to make a difference in
others lives." – KJ
GO BANG! MAGAZINE: When you were born, you entered this world with many complications and hurdles that could have stopped you from reaching your goals. What is it in you that allowed you to strive and reach your goals?
KJ: My mother always motivates me to follow my heart and dreams and to never let my complications, nor disability define who I am as a person. Also, in order to reach my goals, there will be challenges, but those challenges allow me to be strong and tough.
GO BANG! MAGAZINE: You were raised in Gary, IN, the hometown of Michael Jackson. What was your child life like growing up in Gary?
KJ: My childhood was a little rocky, but I had fun along the way growing up with my other siblings. I've grown up most of my childhood and adult life in Gary, Michael Jackson home town. I even learned music and dancing from watching him as well. In addition to gaining an authentic, original autograph from Prince Jackson early in my career in 2014.
GO BANG! MAGAZINE: In 2012, when you were 19, your mom gave you a guitar for Christmas. Did you ask for the guitar or was it a surprise and how did you learn to play it?
KJ: I had asked my mother for a guitar for Christmas and surprisingly it was granted. I learned how to play off of YouTube on my own time, playing cover songs for Justin Bieber, Chris Brown and Justin Timberlake.
GO BANG! MAGAZINE: Who or what is your inspiration and tell our readers why they inspire you?
KJ: Well my mother inspires me. She knows my potential to do great things and has always been by my side, through the good and the bad. She's the reason why I love doing my thing and striving to continue my career.
GO BANG! MAGAZINE: For GO BANG! Magazine readers that may not be familiar with you, how would you describe the KJ sound?
KJ: My sound is different. It's very humbling, relaxing and so heart throbbing. The sound gets you very emotional.
GO BANG! MAGAZINE: In addition to playing the guitar, you also sing and write all of your songs. When did you realize that you had musical talent?
KJ: Well after high school, I noticed that I had a gift and discovered my vocal talent and songwriting ability. I got my writing ability from my mom., who wrote poems. I've learned how to perfect my vocal skills through daily, self- training. My song "Mother & I" was inspired from the way I feel towards what my mother experienced raising me, my other brother and sisters.
GO BANG! MAGAZINE: Over the years you've been interviewed on various radio stations and featured in several newspapers and magazines. Now that you're been featured in GO BANG! Magazine, you're being exposed to an international audience that's worldwide. What would you like to say to our readers in Africa, London, China, Australia and elsewhere, that aren't familiar with you?
KJ: I would like to say that the sky is the limit! Just go with the flow. Follow your heart to where it takes you and never doubt yourself. Believe in yourself, as others believe in you to conquer all of the odds ahead.
GO BANG! MAGAZINE: I'm sure you have a large following of fans, which you lovingly refer to as #kjayerfans #kjarmy. They been supporting you since the beginning of your career. How would you describe your fans when they meet you and hear you perform?
KJ: My fans support me and motivate me to keep on going. They give me that extra push to high five the sky. I truly love them #kjayersfans #kjarmy .
GO BANG! MAGAZINE: Are there any artists that you would love to perform with, or any artist that you would love to write for?
KJ: My idol and the artist that I would love to sing with is Justin Timberlake. He's an awesome icon, businessman, actor, dancer and humanitarian. Also Chris Brown, who is the same way. I would love to write songs for others someday.
GO BANG! MAGAZINE: What projects are you currently promoting or working on?
KJ: Yes my single "Mother & I" is streaming on all music platforms. I'm currently working on a small EP titled "My Journey." It's gonna be dedicated to my musical family Underground Hittas out of Chicago, IL. I love them. My fans will hear my true voice.
Watch: The Boom Bap Hour chops it up with Gary Indiana's own KJ James, who is premiering his new single, "Single Mother and I." He talks about how his mother was a great inspiration to him and his musical journey.
You can follow KJ on Facebook and Instagram (click)
Listen to "Mother & I" (click)
LEAVE COMMENTS BELOW!!!

Pierre A. Evans is a freelance writer of Entertainment, Music, Art, Culture, Fashion and Current
Events, and previously for SoulTrain.com, NDigo.com, ChicagoDefender.com,
EmpireRadioMagazine.com, and UrbanMuseMag.com, an author, singer/songwriter, actor, model,
poet, dancer, and DJ. He is also the Owner of Pinnacle Entertainment Productions and the
Owner/Publisher of GO BANG! Magazine. Follow him on Facebook @Pierre Andre Evans, Twitter
@Playerre, and on Instagram @Pierre_Andre_Evans.