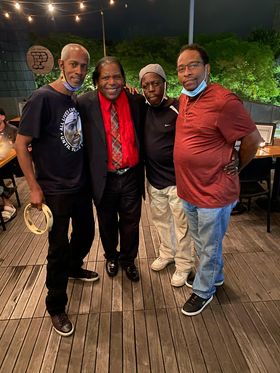 Photo Credit: Roy "Doc" Kemp
(L to R) Go Bang!Magazine's Pierre A. Evans, Andrew Kitchen, Harold Leffridge and Roy "Doc" Kemp
APRIL 1, 2021 UPDATE!!!!
ATTACK OF THE BOOGIE PREMIERS FRIDAY, APRIL 9th AT MIDNIGHT ON WJYS Channel 62 in Chicago & SYNDICATED Nationally in 25 cities
Andrew Kitchen comes to us from right here in Chicago. He started as a dancer and toured with the two-time award winning group "Kitchen, and his Dancin' Magicians, which he founded. He became an original Soul Train dancer in 1971 at the tender age of 11 years old, after lying about his age to meet the high school age requirement of the show.

Recently, the Soul Train dancer veteran, who was also the host of hundreds of episodes of his own tv dance show, the legendary Attack of the Boogie (1983-2014) on local cable access network (CAN TV), celebrated the reissue of his dance show's 1984 theme song. His original release "Attack of the Boogie" is still today one of the most popular and in-demand songs in France and it's hard to find here in the U.S.

Kitchen's latest project is a remix of the tv show's theme song, which is available on a compilation 12-inch from Chicago label Star Creature Universal Vibrations. Kitchen is thinking about rebooting Attack of the Boogie tv show and renaming it Attack of the Boogie Reloaded.
"Attack of the Boogie" 1984 Pilot (Fashion edition) link: https://www.youtube.com/watch?v=MFYGG60IfRo
Classic "Attack Of The Boogie" tv show link (kids edition): https://www.youtube.com/watch?v=L4Jl2TX8c6E

GO BANG! Magazine had a chance to meet and hang out with Andrew Kitchen at his record-release party, which was held in Chicago at the Promontory (upper patio) in Chicago's trendy Hyde Park neighborhood. He attended, along with his longtime DJ Kool Hersh, who hosted the event. Of course RSVPs, masks and temperature checks were required, due to the current Covid-19 pandemic the world is currently going through.

Even with a pandemic going on, the event turned out great and it was such an honor and pleasure to meet and chill with him, his family and friends.

GO BANG! Magazine: When and how did you know that you wanted to professionally be a part of the entertainment industry as a dancer?

Andrew Kitchen: Well, I was dipping into art, doing sketches, drawing comic books, pictures, until one day my dad said to me, "WOW', you're a good artist! You're gonna make a lot of money after you die." I was done. (lol) I started watching local tv dance shows and got interested in dancing fast.

GO BANG! Magazine: Being a former dancer on the original Soul Train show is quite an honor and historic. Please describe to our readers what it felt like to be an 11 year-old boy on the set of Soul Train.

Andrew Kitchen: It felt like another world, knowing that everyone was at least a few years older than me. But they made me feel welcome. Especially after a few dance moves that always turned out different than the original dance moves everyone else was doing. Which caught the host's attention..

GO BANG! Magazine: How long did you dance on Soul Train and what is one of your best memories from the show?
Andrew Kitchen: I danced on the show for at least five years. My best memory from the show was performing in two high energy dance groups:

1.) The Ten Commandments (but there were only 5 of us, so we change the name to "THE COMMANDMENTS"

2.) Dancing Super Heros".

GO BANG! Magazine: Don Cornelius, the founder of Soul Train, was a talented but complicated Black man. Please describe to our readers your memory of him.

Andrew Kitchen: Don was sort of complicated. Kind of hard headed at times. But he knew what he wanted. He wanted to do SOUL TRAIN so bad, that after Channel 26 (WCIU) picked it up and the show got popular, Channel 26 could have taken the show and the rights and replaced Don. Don did not own the rights to the show at the time. His idea was never copyright / registered. Lucky for him his associates informed him so he could take immediate action.

GO BANG! Magazine: Having an entrepreneurial drive, you founded and hosted your own tv dance show, Attack of the Boogie in 1983. Why did you think that you could launch a dance show, host it and make it successful?

Andrew Kitchen: After Soul Train ended in Chicago, I felt there was a void. I always wanted to have my own dance show, but wanted it to stand out more. After the success that Don had with Soul Train in Chicago, I knew it was time for something new. So, I did what no other dance show has ever done. I created "ATTACK OF THE BOOGIE" (the name had to stand out and get people talking) The dancers had to live up to the name when performing. We also did something that no other dance show had ever done at the time. We added a live studio audience to cheer the dancers on, along with a Fashion segment for up and coming models and designers/boutiques. The show was only 30 minutes, but had a big impact and the excitement to keep fans tuning in every week. After a few years, there was a waiting list, for up to a year, to be part of the studio audience.

GO BANG! Magazine: Many of our readers remember the tv show and especially the catchy theme song. What made you decide to re-release the theme song as a remix?

Andrew Kitchen: After seeing copies online like ebay bidding as high as a couple of hundred (dollars) and constant requests for any available copies anywhere, I didn't have any idea where to go until DJ Kool Hersh contacted me about a reissue of the theme as a remix on vinyl.

GO BANG! Magazine: At the recent record release party in Chicago, your longtime DJ Kool Hersh hosted the event. How did you two first meet and what is it that keeps you two working together?

Andrew Kitchen: Our first meeting was at Starbucks, where he told me he was a big fan of the theme song (he had won the bid on ebay to purchase it.) He told me about the labels plans (Star Creature Records) to release a vinyl 12-inch featuring the theme song as a remix and title the Vinyl Release "Attack Of The Chicago Boogie." I like the direction the label is going. I like working with DJ Kool Hersh because he has great communication and fresh ideas to keep moving forward in this ever changing music world.

GO BANG! Magazine: There's also talk about you bringing Attack of the Boogie dance show back to television. Tell us if this is true and if so, tell us more about the rebooted show.
Andrew Kitchen: Yes! We are working on bringing the show back to fans, because we love our fans, and this is something that they have asked and requested for years. So there will be not one, but two versions.

First off, while Covid-19 is still in effect, in early 2021 we will be releasing a weekly re-edited version of the show called "ATTACK OF THE BOOGIE RELOADED" featuring classic episodes with fresh new interviews from your favorite dancers and classic performances from big name artists and entertainers.

After Covid-19 has ended, (being positive), we will be bringing back a full NEW live version of "ATTACK OF THE BOOGIE." We promise it will be just as entertaining as the Original and it will still feature the popular "POWER DANCE CIRCLE!"

GO BANG! Magazine: The Covid-19 pandemic has dampened and ruined the entire year of 2020 thus far, for many people. They are dealing with it in various ways. Some are doing just fine, while others are depressed because of loneliness or death to loved ones, due to the virus. How has the pandemic affected you?

Andrew Kitchen: You are so correct. It has done damage for many people, businesses and entertainers in so many ways. Many projects for me also stopped, due to no studio audience and the lack of dancers and actors to complete the production in a quality way. The challenge of staying healthy is still at risk. I'm praying for everyone for a positive and healthy outcome.

GO BANG! Magazine: Being a Black man in America today is dangerous on a daily basis. We have ALL experienced it in different ways. How have you been affected by systematic racism and have you witnessed White privilege? If so, please describe the instance for our readers.

Andrew Kitchen: During the years of my career, I have experienced more than my share. From being in the right place at the wrong time to being pulled over for taking friends home (and did I mention not making it home?) It's something that we have to be smarter about in certain situations if you want to get through it. But, it is always easier said than done)

GO BANG! Magazine: In conclusion, what are your current plans for the future?

Andrew: We are producing a NEW FRIDAY MORNING WAKE UP ENTERTAINMENT SHOW CALLED: "THE WEEKEND PARTY" that I will be hosting along with a co-host (to assist people to get up for that final drive to work for the weekend with energy, incentives, music, on-location events, guest and a happy/fun feeling to make it through the final work day before the weekend.)

The show will premiere in EARLY 2021 (On local Broadcast Channels) ALSO A BRAND NEW NU-POP/SINGLE WILL BE RELEASE IN A THE NEXT MONTH OR SO ENTITLED: "MY HEART PLAYS FOR YOU" (ANDREW KITCHEN-FEATURING PEPPER GOMEZ) I feel this is my best musical work to date. (Original & Fresh) I hope you enjoy it.

Lastly, to To GO BANG! Magazine, "THANK YOU and MUCH SUCCESS to you.


YOU CAN WATCH
"Attack Of The Boogie" Andrew Kitchen 4 Real Music Official Video Edit By Marcus Mixx
Video Link: https://youtu.be/izEEgP0OMoc


Follow Andrew Kitchen on ALL social media formats @Andrew Kitchen





Pierre A. Evans is a freelance writer of Entertainment, Music, Art, Culture, Fashion and Current Events, and previously for SoulTrain.com, NDigo.com, ChicagoDefender.com, EmpireRadioMagazine.com, and UrbanMuseMag.com, an author, singer/songwriter, actor, model, poet, dancer, and DJ. He is also the owner of Pinnacle Entertainment Productions. Follow him on Facebook, Twitter, and on Instagram