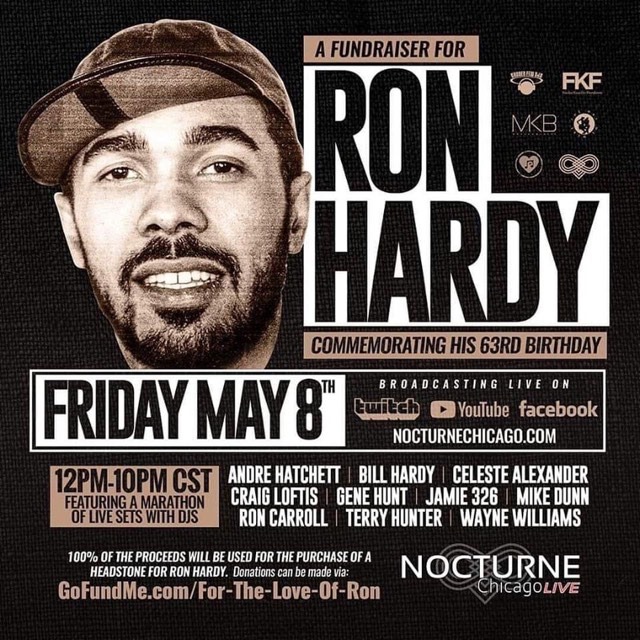 On Friday, May 8, 2020, over 106,000 house music lovers came together and "HISTORY WAS MADE!"

The Frankie Knuckles Foundation, The Chosen Few DJs, and Le Nocturne Chicago united to present a 10-hour musical marathon/benefit honoring the birthday of the late legendary DJ, Ron "Heart Attack" Hardy, and to raise money to buy a headstone for his resting place.

A Go Fund Me account was established with a goal of $2,500, but to date they have raised over $8,100. The excess monies will be donated to a charity of the Hardy family's choice. The purpose of the Go Fund Me drive is as follows:

"On March 2nd 1992 the #HouseMusic community lost one of its great pioneers, the legendary DJ Ron Hardy. Since that time, his final resting place has gone unmarked. Three years ago, Chicago attorney and co-founder of the Frankie Knuckles Foundation, the late Randy Crumpton came up with the idea to raise funds to purchase a memorial marker for Ron. Crumpton mentioned his idea to FKF President/Executive Director Frederick Dunson who then spoke with Chosen Few DJ members @DJWayneWilliams, @DJAlanKing and @DJTerryHunter about a collaboration to purchase the stone and remedy the situation.

Fast forward to this year… a few weeks ago during a conversation, Dunson mentioned the idea again to Hunter, who enthusiastically responded "Let's do it!"

So on May 8th, to observe and celebrate what would have been Ron's 63rd birthday, the @ChosenFewDJs + the @FrankieKnucklesFoundation join forces to host a fundraising effort to raise funds to purchase a marker. The day will consist of a marathon of DJ sets featuring ANDRE HATCHET, BILL HARDY (Ron's nephew), CELESTE ALEXANDER , CRAIG LOFTIS, GENE HUNT, JAMIE 3:26, MIKE DUNN, RON CARROLL, TERRY HUNTER and WAYNE WILLIAMS broadcasted live from @LeNocturneChicago 12pm-10pm (CST) on their Twitch, Facebook and YouTube. Donations to the cause can be made via GoFundMe.com/For-The-Love-Of-Ron."

Well, GO BANG! Magazine tuned in to Le Nocturne's YouTube channel @12 noon and the party wasn't over until 10:30 pm…10 ½ hours later. It felt like back in the day, when we'd go the the Box on a Saturday night after 12 midnight, and emerge 10 hours later to a bright Sunday morning. The comments during the event were heartfelt and hilarious. Even more entertaining were the comments after it ended. Viewers were posting comments like "let's all meet up for breakfast", or "my clothes are drenched", "I threw my back out" and "Let's go to Valois."

The DJ line up was fierce, even including one of Ron's nephews, Bill Hardy. Each DJ gave a Ronnie inspired performance. DJ Celeste Alexander, the only female and the final DJ, brought the house down, and was the perfect DJ finale. After her set, they teased her saying that they're glad she didn't throw up this time. Once before, back in the day, Celeste DJ'd at the Box and threw up in Ron's DJ booth.

Overall, Ronnie's marathon was an overwhelming success and it showed the power and unity of the House community! We came together, showed up, and showed out!

ONE LOVE, ONE HOUSE, ONE FAMILY!
In closing, Fredrick Dunson of the Frankie Knuckles Foundation (FKF) says, "We have been inundated with so many positive comments from a number of 106,000 viewers that tuned in via one of the several platforms that the tribute was streamed on. On behalf of the Chosen Few + the Frankie Knuckles Foundation I'd like to thank all of the individuals whose donations in honor of Ron that we received helped us surpass our goal…we couldn't have done it without your support…again thank you for your generosity!"
Frederick Dunson
President/Executive Director
Frankie Knuckles Foundation

To contribute: https://www.gofundme.com/For-the-love-of-Ron
HAPPY 63RD BIRTHDAY RONNIE!!!!!!!
WE HOPE YOU'RE HAPPY WITH YOUR HOUSE FAMILY!!!
Continue RESTING IN BEATS!!!!!!

PLEASE LEAVE YOUR COMMENTS ABOUT THE EVENT OR RON HARDY MEMORIES BELOW!

#ForTheLoveOfRon



Pierre A. Evans is a freelance writer of Entertainment, Music, Art, Culture, Fashion and Current Events, and previously for SoulTrain.com, NDigo.com, ChicagoDefender.com, EmpireRadioMagazine.com, and UrbanMuseMag.com. In addition, he's an author, singer/songwriter, actor, model, poet, dancer, and DJ. He is also the Owner of Pinnacle Entertainment Productions and the Owner/Publisher of GO BANG! Magazine. Follow him on Facebook @Pierre Andre Evans, Twitter @Playerre, on Instagram @Pierre_Andre_Evans.