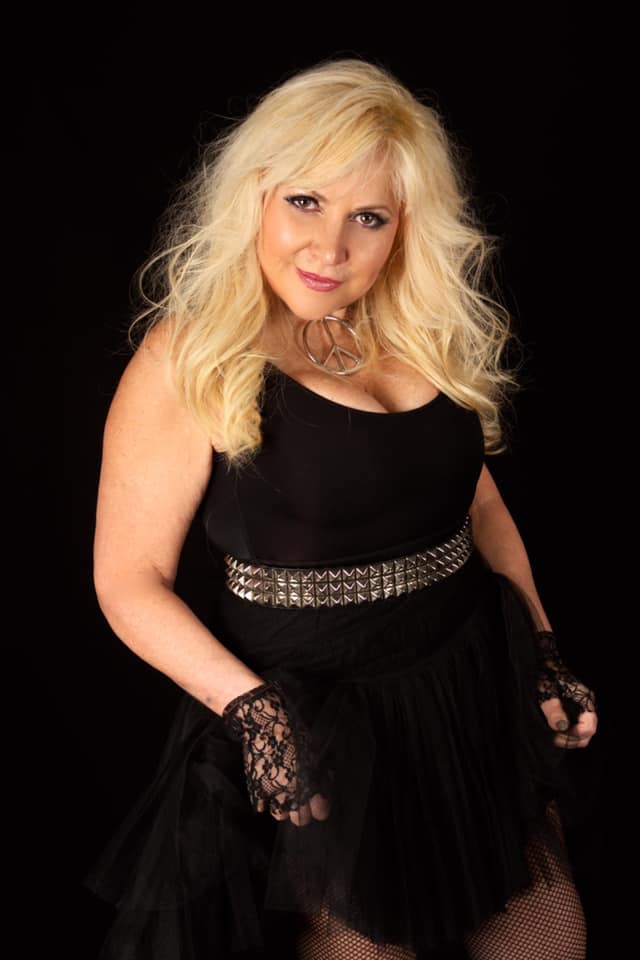 PHOTO CREDIT: Billy Hess

After purchasing Precision Pressing a vinyl-plant in Chicago, Larry Sherman soon meet DJ /producers Jesse Saunders and Vince Lawrence In 1984, a couple of ambitious kids with one thing on their mind, getting their music pressed on vinyl.

One of the first artists signed by TRAX Rachel Cain – known as Screamin Rachael became -the first house artist to have a major label deal when she signed to Teldec in Germany which was owned by Universal. Her continued belief and work with the TRAX label through the years helped to promote and propel classics like "Can You Feel It" by Larry Heard, "Acid Tracks" by Phuture, "No Way Back" by Adonis, and "Move Your Body" by Marshall Jefferson. These tracks, and others such as My Main Man and Rock Me, by Cain herself helped to propel the revolution that is known as house music today.

Screamin Rachael was instrumental in helping spread the House sound to New York City and eventually to Europe. In 1987, she recorded "Fun with Bad Boys" with her friend and mentor, Bronx-born DJ/producer Afrika Bambaataa, who is widely regarded as the Godfather of Hip Hop. This track helped launch the "Hip House" sound.

Today, Rachael Cain has been dubbed "the Queen of House Music" and is the owner and President of TRAX LTD. She also produces Movies and soundtracks with talented director Eric Rivas, which are distributed by Sony Orchard. You can currently see The Vamp Bikers Trilogy on most digital platforms. Since she took over the label in 2000, House Music has continued to thrive within the mainstream pop culture. Popular artists of today, such as Kanye and Drake, are using samples from TRAX Records singles more regularly. MTV also used samples from TRAX artists in their national TV commercials. And DJ/producer David Guetta, who caught major fire from House fans worldwide for being dubbed the "Godfather of House Music" admits that his favorite song and initial inspiration was "Love Can't Turn Around" on TRAX.

Rachael commented, "I'm not here to make fun of Guetta as some House fans do. I appreciate his passion for House and his promotion of it, and some of his own great music. Everyone can be House, as long as the originators like Frankie Knuckles, Jesse Saunders, Ron Hardy, Robert Owens, and others are recognized."

On November 30th, 2018 Screamin Rachael removes all doubt about where House Music originated by releasing her new track called "I am House", a collaboration with legendary DJ producer Joe Smooth. Her single features lyrics Rachael wrote about the House Music lifestyle and what House means to its fans.

In the end, the Queen of House rules with compassion and gratitude for House fans. She says, "We at TRAX thank you and REALLY APPRECIATE your continued support."

Long may she reign!

GO BANG! Magazine: Where were you born and raised and how did you become involved in the House community?

Rachael Cain: I'm from Chicago and proud of it! My affiliation with House music started with my original mentor / manager Jay B. Ross aka "The Rappin' Lawyer." RIP. He represented James Brown and was the "go to" attorney in Chicago for music. Vince Lawrence's father was looking for a female vocalist to sing "Fantasy" and JB introduced me, even though I was a punk rocker at the time. "Fantasy" became the first recorded house record. When it got released after "On and On," which was the first on vinyl, it surprised us all by going Pop radio! Spin Magazine said it sounded like Blondie on a beat box budget.

GO BANG! Magazine: TRAX LTD is a pioneering record company that was founded in 1984 in Chicago, by Larry Sherman. The label was instrumental in the early days of House music by pressing original Chicago house songs on vinyl. How did you become affiliated with TRAX?

Rachael Cain: I started working with Vince Lawrence and Jesse Saunders and we met the designated adult of the movement, Larry Sherman. He owned a vinyl pressing plant in Bridgeport and BANG! TRAX was born and the House revolution was on!

GO BANG! Magazine: After working and being label mates with so many artists over the years, are there any other artists, current or classic, that you would love to work with?

Rachael Cain: I'm blessed to be working with great TRAX artists. Since Joe Smooth has always been one of my favorite people, we will continue working together! We've done a number of great projects including "I AM House" and our collab with George Clinton "Our House Is Funkdified."

LA Williams played me his new stuff "Analog 87" with Manny Cuevas aka DJ TRAXXX, and I was knocked out! I'm really excited to be working with him! Wait until you hear what we've got cooking! Marcus Mixx has really been a blessing to work with. He makes me laugh and doesn't take himself seriously. That takes me back to when we started all this, because both of us are big kids. Someone I haven't recorded with yet, although I've toured with, is Robert Owens. I LOVE HIM!

GO BANG! Magazine: Unfortunately, early last month Larry Sherman recently "got his wings." He was TRAX Records and meant so much to so many people. Please describe what Larry Sherman meant to you.

Rachael Cain: Larry Sherman's passing is indeed a great loss to the world of music. He was a quirky genius.

I was talking to our original vinyl distributor Walter of CW Paas the other day, and he reminded me that back when we all started out, Larry had the ears. People in the industry really didn't understand our music at all. Major labels had no clue of what to do with us, and for the most part, weren't interested anyway. So, I'd say the House genre would not have been amplified without Larry.

There's no doubt that what happened at TRAX was groundbreaking. None of us were really sophisticated about business, including him, but somehow we've made it here and without a doubt, Sherman was the man behind it. He believed in me and gave me a chance to learn the ropes. Even though we didn't always agree, the fact that he was an artist himself gave us a kind of simpatico. It was destiny for us to meet and I'm grateful to God that this has all happened. I'll miss him…

GO BANG! Magazine: Please explain to our readers who owns and manages TRAX LTD now, and what the company plans are for the future.

Rachael Cain: I've been President of TRAX Ltd for a number of years. There is quite a history to be told about the evolution of the label. The real story is stranger than any fiction you can imagine. To quote Patrick Moxey, the President of all Electronic music at Sony, "If you were to write the most unbelievable story about a label, it would be the TRAX story."

While Larry's health was declining, thankfully we came together with Rights Incorporated out of the UK. Greg Roselli, from that firm, was a young lawyer just out of law school when he came to work for Jay B. Ross, TRAX's original attorney. So, I believe that Jay had a hand in bringing harmony to us before Sherman's passing. Unfortunately, Larry died during this terrible pandemic, but before he did, we talked about doing everything we could to get royalties owed paid to the classic artists and organize TRAX to bring about the greatness we know can be achieved by the label. There are things in motion that can't be discussed yet because of legal matters, which I believe will clarify some of the controversy surrounding Larry Sherman, so that his legacy will be vindicated.

GO BANG! Magazine: There may be someone reading this interview wondering if TRAX Records is currently signing any new artists to the label. If they have a song or several songs of the House genre, what should they do to get their music to you to be considered?

Rachael Cain: We are always looking for new artists, so if there are readers interested in submitting music, they can connect with us through our website http://www.traxrecords.net

GO BANG! Magazine: Are you working on anything new that you would like our readers to be on the lookout for?

Rachael Cain: The most exciting chapter at TRAX Records is happening right now! We are working with many new artists and on lots of very exciting projects, including TRAX Network.

Last year, the Chicago Reader did a cover story on Marcus Mixx: (https://www.chicagoreader.com/chicago/marcus-mixx-shannon-house-head-studios-trax-gallegos-puppies/Content?oid=68571649)
Leor Galil contacted me about him because Marcus worked at TRAX years back. I remember walking down Broadway in New York thinking, "I've got to find Marcus," who was homeless at the time. I have always loved his music and he and I have shared an interest in producing underground television for years. You can watch our show TRAX TV on channel 25 in Chicago. Once again God blessed me! We had a small team in Chicago, just me and my partner Mark Suchocki. So, adding Marcus made the secret sauce. He was the missing ingredient.

We have great new artists around the world. Jason Chaos is holding things down in New York, along with DJ Elmo, and Sasha Barbot. We came together through director Eric Rivas, who we've completed four films, with soundtracks by TRAX Records. You can see "The Vamp Bikers Trilogy" on Amazon Prime and a number of digital platforms. "Japanese Borscht" is complete and ready to go into distribution. Our new movie "The Duke of York" takes place during Covid, and is in production right now. We are distributed by 1091 Entertainment, and all of our movies have notable actors, as well as personalities, including myself, Michael Musto, Angel Salazar, Apache Ramos, Lillo Brancato and Ron Jeremy. Mickey Rourke is in talks for our latest film. We've got DJ Matt Black in the UK, who is also part of the TRAX family. I love his new cut featuring Eric B Turner "Put Your Stank on it." There's Kynt out of New Orleans, Chris Jones, ProOne79, Alfrenk, Blurred, and others. My new single "Jack Me Up, Jack Me Down" produced by Marcus Mixx, was just released last week and my EP "ACIDIC" comes out on Mother's Day.

GO BANG! Magazine: You're aka "Screamin Rachael", an original TRAX artist. Please explain your music style and your contribution to House music.

Rachael Cain: As one of the original TRAX artists known as Screamin' Rachael, when people ask me about that name, all I can say is that when I walk into the room, I'm screamin' without even saying a word! My style is whatever I feel, with influences of punk, rap, blues, and rock.

My contribution has been since the beginning with "Fantasy," "Fun With Bad Boys," "My Main Man," "Rock Me," "One Day" and many other cuts included on several albums, as well as lots of singles. All I can say is, I AM HOUSE!

GO BANG! Magazine: We're currently going through the COVID-19 pandemic here in Chicago, as is everyone else in the world. You recently dropped a song about staying safe during this pandemic. The song is titled "STAY AT HOME MOVE YOUR BODY ANTHEM WASH YOUR HANDS" and you're singing lyrics over the music to Marshall Jefferson's House music anthem "Move Your Body." Your new song was received with mixed reviews. Many in the House community did not like the fact that you used "Move Your Body" as the background music for your song. How are you responding to that backlash?

Rachael Cain: I'm glad you asked me about that! OOPS, I did it again!

The idea came about because I heard a parody of The Beatles song "I Wanna Hold Your Hand" turned into "You Gotta Wash Your Hands." Sitting around during the pandemic, and feeling kind of down, that put a smile on my face. I talked to Marcus and we decided to take "Move Your Body," because people love that song, and make a positive message parody. I recorded a vocal on my cell phone, as did Marcus, and we just posted it. Marshall Jefferson was one of the first to re-post it!

When some of the old school house heads heard about it, you'd think we defaced the Mona Lisa! Lighten up guys! We were thinking of the bored moms at home, and many other ordinary people, who actually said "thank you." Yeah, it made them laugh and that was good! One of my favorite producers Easy Mo Bee loved it. In fact, lots of people loved it. We really didn't think it would go anywhere, but when the controversy started and thousands of people reacted, someone said that I was trying to capitalize on COVID-19. So, TRAX decided that if it makes any money at all, it will go to the city's "Frontline Responders" fund. Regardless, we will make a label donation and we encourage others to do the same.

So, to all the haters and cyber bullies, all I have to say is, "don't you have anything better to do?" "GET A GRIP!"

GO BANG! Magazine: In conclusion, the COVID-19 pandemic has caught the world off guard. How are you dealing with it?

Rachael Cain: These are crazy times and this pandemic is difficult for everyone to deal with. When I'm feeling depressed, I think about the first responders, those who lost their lives, the many suffering from the illness, and count my blessings. I put on my mask, take a walk, or do something crazy like write "The Stay At Home Anthem." I get on social media and reach out to friends.

Like Josephine Baker who had two loves, her country and Paris, I have two loves, Chicago and New York. My friends there inspire me with their strength during this terrible time. It was them including James Farley, Jason Chaos, Raya Sunshine and others, who started a chat line on What's App called "Empire Nightlife" that developed into the weekly party that we do every Saturday on www.TRAXPARTY.COM. It's caught on and it's international now. I DJ, with Matt Donavon on guitar. There are other DJ's, a variety of performances, and online mingling. It starts at 3pm EST every week. Come join us!

#STAY AT HOME MOVE YOUR BODY
#TRAXPARTY

YOU CAN FOLLOW "SCREAMIN RACHAEL" CAIN & TRAX RECORDS ON ALL SOCIAL MEDIA FORMATS.



Pierre A. Evans is a freelance writer of Entertainment, Music, Art, Culture, Fashion and Current Events, and previously for SoulTrain.com, NDigo.com, ChicagoDefender.com, EmpireRadioMagazine.com, and UrbanMuseMag.com, an author, singer/songwriter, actor, model, poet, dancer, and DJ. He is also the Owner of Pinnacle Entertainment Productions and the Owner/Publisher of GO BANG! Magazine. Follow him on Facebook @Pierre Andre Evans, Twitter @Playerre, and on Instagram @Pierre_Andre_Evans.