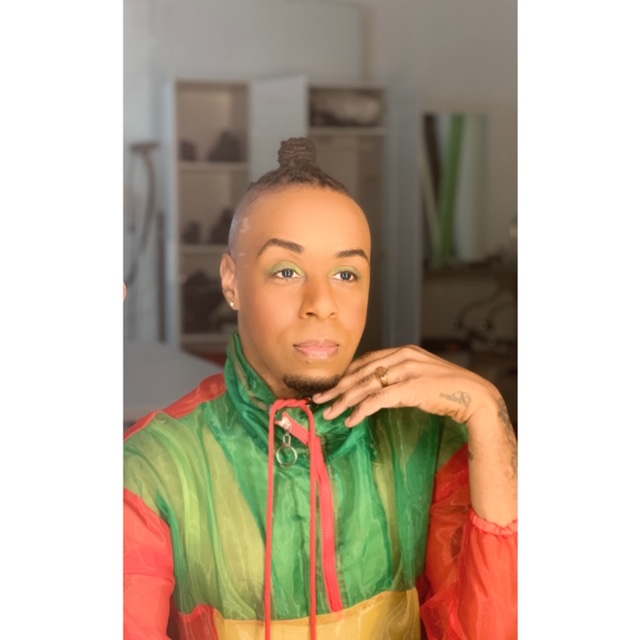 John-Deric Mitchell was born and raised in Chesapeake Virginia. It was at the age of seven that his mother got him involved in an all-black performing arts company called Center Stage in Norfolk, VA. There, he learned all styles of dance from Ballet, Tap, Jazz, Modern and African, along with Acting, Singing and Music Appreciation. It was a year later that his mother heard about another company that was doing even bigger things called Hurrah Players. There he did musicals and shows every weekend. It was at the age of nine that his mother got him into modeling at Barbizon Modeling School in Virginia Beach, VA. This was when he landed his first big commercial, which was for Oscar Mayer Bologna. It was there that his life in entertainment was born!

By the time John-Deric was in high school, he wanted to lay low from his dance background and focus on being a teenager. That was short lived because in his sophomore year he tried out for the cheerleading team and became the first African American male cheerleader in the Chesapeake Public School system. Yes, he was teased and taunted for being himself. By his senior year he had won Prom King and it too really didn't go well. Still to this day, the school doesn't even recognize him for starting the trend of "being whatever you want to be, just as long as you do it with heart."

By college at Norfolk State University, John-Deric found a new love and that was Hip-Hop. Though he had a three year Cheerleading scholarship and was studying Physical Education, it was his love of dance that was taking off. He started in a group called VA-All-Starz that took him from dancing at black college fashion shows, to opening major concerts, all the way to backup dancing with music artists from VA. It was his junior year that he heard about an audition for BET Planet Groove in Washington DC. He booked the job and became a regular on the show. He was asked by a lot of the music artists to be their dancer when they came to VA, but John-Deric wanted to travel the world. They said "Oh, we have NY and California dancers who do that." So that following year, John-Deric packed his bags and moved to NYC.

New York City, the place of dreams and magic, can also be rough and tough, but all of it makes you stronger. It was 2000 and his first big gig was to perform in China for 5 months. It was amazing to be able to dance all styles of dance every night. Once back in NY, he found work as an elevator operator. In 2002, John-Deric was let go from that job, and in the same week he booked his dream job, which was dancing backup for music artist Lumidee. He was offered to travel the world with her for a year. It was great times until one wrong move, which damaged his knee. He thought this was the end of his career as a dancer. He took six years off, before he trusted his leg again.

His next big audition was for the Legendary House of Ninja, where he is still currently a member. He also joined two cheer teams, Cheer New York where he's a gold medal winner for the Gay Games 9, and Gotham Cheer. He still does backup dancing for artists when they come to town in NY, but for work he's a Personal Assistant to Kenya Moore of the Real Housewives of Atlanta (RHOA.) He's also a cheerleading coach for middle and high school's in Brooklyn, NY. That's just half of him. He's a featured background actor on FX's "Pose" and is on other major TV shows. He does print modeling and commercials for PlaySure NYC and the 2020 Census. He is currently working on a YouTube reality show called "Social Lingua", which is coming soon.

There's so much more to come of this young man. Keep your eyes out for him!

GO BANG! Magazine: You act, sing, dance, model and cheer. What is it about performing that attracts you, which of your talents you like best, and why?

John-Deric Mitchell: Correction (lol) I act, dance, model, cheer…no singing. But, I can lip sing as if it was me. My voice, I'm so terrible, but we never know what the future holds!
What attracts me to Performing? I love to see and hear the audience reactions on how it touched someone's heart in such a positive way. If it gave me joy, I want them to feel the joy, times 10!!

I enjoy acting out of all my talents. It's my way of being the opposite of who John is. I get to be a different character. I get to be a singer, when my agent says, "play with it…don't sing out loud!" (lol!!)

GO BANG! Magazine: Being a trailblazer, as the first African American male-cheerleader in the Chesapeake Public School system, you received some negative backlash. Kids and teenagers can be so cruel. Please explain to our readers how the teasing and bullying affected you, how you dealt with it, and how you overcame it.

John-Deric Mitchell: The teasing and bullying affected me a great deal growing up. There were many days and times that I would come home crying and beat myself up because I didn't fit in with the other guys from my hometown. I wanted many times to end my life of the pain that I was receiving every day. I was constantly being told I wasn't worth much of anything because I was a waste of a black boy who didn't play basketball, football, baseball, or dress in baggy clothes. I took pride in my appearance, loved to dance, and got along great with all the girls in school.

I dealt with it by the help of my best friend in the whole world, my mother. She would have long talks with me until I understood that yes, I was very different. But, my being different is what's going to help me in my future, because I was in touch with my male and female side. That puts me above others in my school. They didn't know it, but it showed in my entertainment world (my safe place to be me, with no judgement.) Iit was because of that, so many wanted me to stop, because now I'm learning how to achieve my goals and dreams.

I also had to quickly learn the power of a comeback. I had a guidance counselor in high school tell me, "I think you should stop dancing and do more with your hands, like work on cars." My comeback was, "The only thing I'll do with my hands is clap and snap my fingers to say 5,6,7,8!" She looked at me and said, "Wow, we're done here" and once she saw how alive and electrifying I was on the cheer team, she walked up to me and said, "Wow you really have something here. You're good at what you are doing!"

I overcame a lot of it by not listening to what others had to say and trusting my gut feelings and my faith in God.

GO BANG! Magazine: Your acting and dancing skills have taken you far in the entertainment industry. It's booked you gigs with famous entertainers and gigs on TV. Please tell our readers about FX's groundbreaking show "Pose" and your role on the show.

John-Deric Mitchell: Yes, Pose on FX has definitely been a blessing and I thank everyone involved for making the experience so beautiful and magical for me. I can't wait to get back on set for Season 3. It stems from the documentary "Paris is Burning" from the late 80's-90's Ballroom scene and the lives of five beautiful transgender women and their day to day lives and the people they meet along their journey of acceptance in the world. My role on Pose, I'm a featured background actor in all of the ballroom scenes. My character changes as the episodes go. I start out as a young 19-25 year old man in short shorts, to dressing in drag, to becoming a full on Glam Girl by the end of Season 2.

GO BANG! Magazine: You've been involved in LGBTQ campaigns and several LGBTQ shows. Why is being involvement in LGBTQ issues so important to you?

John-Deric Mitchell: The LGBTQ issues are definitely my issues because growing up I didn't see men like me out in the forefront. Being that I am a Man, Black, Gay and Married, I am very needed to be seen and represented. Not only for the young generation, but for the guys my age and older who were too afraid to be themselves and show their faces.

GO BANG! Magazine: Hollywood mostly show gay black men on TV and film in a stereotypical way. They're usually finger snapping, flip mouth, sex-crazed queens, wearing high heels. What do you think about this depiction of gay black men?

John-Deric Mitchell: RuPaul said it best: We are all born naked and when we get dressed we are all in drag! For some of us, it's our way of survival. People who have little understanding of the culture would think that's what gay men are all about and that's not the case for every gay/bi man. Some men get dressed like this for their jobs, some are battling to take the next step of becoming transgender, and some men love the fashion and the fit of the clothing on their bodies. I say, "to each their own!" This is not everyone's way of lifestyle.

GO BANG! Magazine: There are many people that are not aware of "Houses." You're currently a member of the Legendary House of Ninja. Please explain to our readers what "houses" are and what you do as a member.

John-Deric Mitchell: So, "Houses" within the ballroom community nowadays, is not an actual home that you live in, although we lookout for one another if you need a place to sleep or stay for a few days. A house is a group of LGBTQ members like a frat/soro, within the community, who come together at a dance studio or someone's house to work on their specialized categories to battle against others in the community, called a Ball. They battle in different categories such as voguing, runway, new way, old way, face, trans realness, and best dressed.

I have been in the House of Ninja for over 11 years now. I'm considered an elder, but I've been in the community for 23 years. Now that's legendary! As a member, I help with supporting the new members, be it to help choreograph, talks, go shopping for their looks, to walking them up on stage, and with social media by posting positive feedback and reviews about what our house is doing these days and coming!

GO BANG! Magazine: You're a member of two cheer teams. How has the cheerleading industry changed from when you began up until now, as far as the acceptance of male cheerleaders?

John-Deric Mitchell: I'm a Cheer Coach for two schools in Brooklyn NY, a middle and high school.
Cheerleading has changed a lot since I started over 25 years ago. The stunts, they are bigger, faster and higher. Everyone is so much stronger. It has become more acceptable for guys to be on a cheer squad than it was back in my years. I'm so proud of the doors that have opened for men.

I use to dream of the day I could perform at a NFL or NBA game. Yes, I went to the auditions here in NYC and they would tell me this is only for women, but you are more than welcome to stay and take this as a free class. Heartbroken, I continued on my path to join Cheer New York and now Gotham Cheer. If you look now, guys are doing it and are loving the support of being on these NFL cheer and dance teams! I'm proud to say, I know one of them!!

GO BANG! Magazine: Your "9 to 5" is being the Personal Assistant to the Real Housewives of Atlanta's (RHOA) Kenya Moore. How did you get that position and what exactly do you do?

John-Deric Mitchell: Yes 9-5 or 7-11 (lol). I was blessed with this job through my good friend from college. He is Kenya's hairstylist here in NYC. She said that she needed a Personal Assistant in NY. He told her that he already has someone in mind and remembered that I was an Intern Assistant for Blackstreet, back in college. He called me and asked if I would like a job working with her for Celebrity Apprentice. I said "Sure! Do I need to send her my headshot and resume?" He said, "No, she already Googled you."

She called me on a Sunday evening asking me if I would like to work with her, but before she hired me, she put my skills to the test. Once I found out all the information that she needed within an hour, she said, "Oh, you got the job!" Now, seven years in, she's like family to me. I know what she needs, wants and don't need. I do a little bit of everything for her and her family. She has definitely become my big sister, but most of all, she's a great boss!

GO BANG! Magazine: You're currently working on a YouTube reality show. Can you give our readers an exclusive about the premise of the show and what to expect?

John-Deric Mitchell: "Social Lingua" is a YouTube reality show coming out soon. Due to the Covid-19 pandemic, it has stopped most of production. The show is based on eight LGBTQ artist, and the ups and downs of their career, friendships, love lives, talents, drama and why they are who they are!

GO BANG! Magazine: In conclusion, the COVID-19 pandemic has caught the world off guard. How are you dealing with it?

John-Deric Mitchell: The Coronavirus has thrown us all off, especially here in NYC. I'm a man who loves to work, and to be told work has ended until further notice is a hard pill to swallow. On the bright side, it's an early Spring break, but to not go anywhere or to be around people makes life so scary. I'm making the most out of every day by working on my skills as an actor, dancer, cheer coach, and how to give back to the world, not just my community.

Now, if I can help one person smile, laugh, or hear them say "thanks for being you" during this time of confusion, then I know I done the work of God, by helping his people heal.



Pierre A. Evans is a freelance writer of Entertainment, Music, Art, Culture, Fashion and Current Events, and previously for SoulTrain.com, NDigo.com, ChicagoDefender.com, EmpireRadioMagazine.com, and UrbanMuseMag.com, an author, singer/songwriter, actor, model, poet, dancer, and DJ. He is also the Owner of Pinnacle Entertainment Productions and the Owner/Publisher of GO BANG! Magazine. Follow him on Facebook @Pierre Andre Evans, Twitter @Playerre, and on Instagram @Pierre_Andre_Evans.