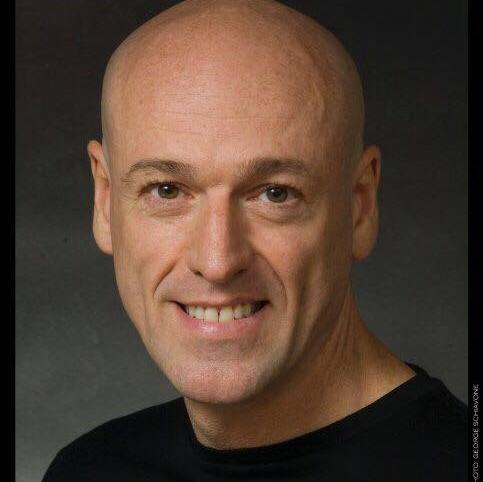 Richard Cameron's love of the theatre began at age five, when he was kicked out of kindergarten for singing in the bathroom. From that moment on, he was destined for cattle calls!

An alumnus of the America Academy of Dramatic Arts, Richard (Cameron to his friends) performed around the globe on cruise ships & worked with Tony Award-winner Wayne Cilento (Wicked, The Who's Tommy), global & regional favorite, Director Glenn Casale (Little Mermaid, Hunchback…) & performed in Japan at Huis Ten Bosch, Disneyland's first live show for Aladdin.

Richard Cameron is the Founder of Broadway Global, which honors Broadway Producers for their work on & off the stage, with the "Broadway Global Producer of the Year" award – the "Producer's Puzzle" (art for creating art), designed by internationally acclaimed artist, Steve Marshall.

He also created Theatre Chat, with over 300,000 online arts supporters who share auditions & show information in over 30 city & state "Theatre Chat" groups on Facebook, including the West End, Canada & the USA.

As a performing arts writer, Richard was one of the top three at Examiner.com for six years & has interviewed many arts professionals, from Tony Award-winning Broadway producer Stewart Lane to Emmy Award-winning casting director Jeff Greenberg ("Modern Family," "Cheers") & countless notable actors, directors, choreographers, designers & producers.
Writing didn't come easily for Richard, since he was born dyslexic & only learned to read in 8 th grade. He shares a quote from international director/choreographer Ron Hutchins for success, "If it comes from the heart, it will touch the heart." Arts, theatre, dance & music are the international languages that bring nations together. We hope you enjoy & share Richard Cameron's performing arts articles on BroadwayWorld.com.

GO BANG! Magazine: Where did you grow up and spend your childhood?

Richard Cameron: I was born and raised in Watertown, NY till eighth grade. My mother moved me and my brother to Springville, Utah from ninth grade until my senior year of high school.

GO BANG! Magazine: I understand that your love of theater began at the age of five. Please tell our readers about your childhood and when you first got "bit" by the theater bug.

Richard Cameron: My mother was cast in a local production of "The Sound of Music" in Watertown, NY. She would bring me to rehearsals and seeing the rehearsal process, back stage and the show gave me a sense of family. My mother had divorced when I was three so she worked three jobs to support me and my brother. I had never really had a sense of family until I was introduced to theatre. Theatre can become the family you never had!

GO BANG! Magazine: Not only are you an actor, you founded Broadway Global. Please explain to our readers what Broadway Global is and its purpose.

Richard Cameron: My partner is internationally acclaimed SDC director/Choreographer Ron Hutchins. He wrote a musical about Sammy Davis Jr., using the iconic songs Sammy sang during the events in his powerful lifetime. In researching investors for his musical "Once in a Lifetime from Harlem to Hollywood: the Sammy Davis Jr Musical," I started to see that investors would join as teams to invest in plays or musicals that educates humanity and their own values. I also realized there was no award for Producers, just a Tony Award for Best Play or Best Musical. But theses producers were investing in humanity. So we will honor our 9th Broadway Global Producer of the Year for their work on and off the stage. Many donate to leukemia, HIV funding like Broadway Cares, animal programs like Broadway Barks and global humanitarian efforts. There investments on Broadway are just part of the legacy they are leaving behind.

GO BANG! Magazine: What is the Facebook group "Theatre Chat" main purpose?

Richard Cameron: We created over 30 city/state Theatre Chat groups for target areas that support arts. Artists and patrons share arts news that keep artists employed and patrons informed. We also allow the groups to share emergency post to help others in earthquakes, hurricanes, Amber alerts, and right now they have been successful during #COVID-19 for artists to share in line dance classes, shows and instruction by offering links for method of payments. We do remind all of our members, totaling over 300,000, to go to the original source for info as scammers do post fake links or even fake opportunities.

We ask for a phone and website with business address, as that prevents many scammers, but there are very clever scammers out there. You might think you are seeing American Idol auditions and put your personal info in there Google form or website info, but it could be a fake link collecting your info to send you anything from fake loans, fake debt control or maybe just trying to market classes to you! So be careful about social media post that you might see as an opportunity, they could be putting your life in danger or trying to scam you into buying fake tickets. Again, always do your homework on any opportunities. Go to the original source!

GO BANG! Magazine: You're also described as a performing arts writer. What exactly does that job entail?
Richard Cameron: For many years I wrote for Examiner.com. I reviewed Broadway shows, regional theaters and local shows. I was usually in the top three writers for arts, and that's not because I was a great writer. I didn't learn to read until eighth grade. I'm very dyslexic, but the important message for writers comes from my partner Director Ron Hutchins, "If it comes from the heart, it will touch the heart!" You don't have to be an amazing writer as long as the message you are sharing is compelling and comes from truth.

GO BANG! Magazine: As a child with dyslexia, that didn't learn to read until eighth grade, please explain how that affected you as a person, and as an artist.

Richard Cameron: As a person, I felt I couldn't compare to others who could read or already had the knowledge of reading for many years. As an artist, my weakness was my strength. I could remember music from memory, or memorize lines, and I could tell the story through music or script, through my past life sufferings, to portray the emotions needed for characters I was cast for.

I've been lucky enough to perform around the world, from the first "Aladdin" musical at Disneyland to Huis Ten Bosch Theme Park in Japan to Broadway shows on cruise ships under the direction of Wayne Cilento ("Wicked"). So your weaknesses can be strengths!

GO BANG! Magazine: Are you currently working on anything new in theater that our readers should be on the lookout for?

Richard Cameron: As theatres are closed during #COVID-19, this is the best time for artists to push their limits. It's a time to try to perfect your craft by leaping higher, singing higher or learning a script of a character you know you will play someday in your repertoire of characters. Most of my time is spent investigating the accolades of Broadway investors to make sure they are not only investing in Broadway shows that will make their way around the globe, but to also make sure they are donating to not for profits that make our global society a better place to live. Now realize, many give without bragging about doing it. In fact, some religions teach you to give without letting others know, so that makes my job of investigating their accolades even harder.

GO BANG! Magazine: In conclusion, the COVID-19 pandemic has caught the world off guard. How are you dealing with it?

Richard Cameron: We all are learning that there are viruses that can wipe out cultures. If we look through history, we can verify that. What is obvious is that satellites show less global pollution, and that oil is waiting on ships and trains to be brought from trucks to a gas station near you. The virus has Mother Nature cleansing the Earth. We will learn to be more respectful of each other. It can be as simple as wearing a mask when we are sick, and possibly when we are healthy, as symptoms can hide for 14 days. Asia has worn masks for years. They have bowed to each other for years to show respect. The days of a handshake might be over. We can learn from other cultures.

Broadway Global chooses winners that produce shows that educate respect for cultures, respect for religions and of course respect those who embrace diversity! We as a global society can set standards and educate through arts education. There isn't one person, during this virus, that hasn't watched a movie, a tv show, a concert, a dance or listened to songs. Arts, theatre, dance, music and artists are here to stay! We can't live without artists. So, learn what makes you unique and learn to market those talents to your target audience.

Your craft is a superpower. You as artists are superheroes. Just learn to use those powers for good and we can someday bring #GlobalPeace through art!

YOU CAN FOLLOW RICHARD, THEATRE CHAT AND BROADWAY GLOBAL ON ALL SOCIAL MEDIA PLATFORMS.

LOG ON TO THE BROADWAY GLOBAL WEBSITE @http://www.broadwayglobal.org



Pierre A. Evans is a freelance writer of Entertainment, Music, Art, Culture, Fashion and Current Events, and previously for SoulTrain.com, NDigo.com, ChicagoDefender.com, EmpireRadioMagazine.com, and UrbanMuseMag.com, an author, singer/songwriter, actor, model, poet, dancer, and DJ. He is also the Owner of Pinnacle Entertainment Productions and the Owner/Publisher of GO BANG! Magazine. Follow him on Facebook @Pierre Andre Evans, Twitter @Playerre, and on Instagram @Pierre_Andre_Evans.