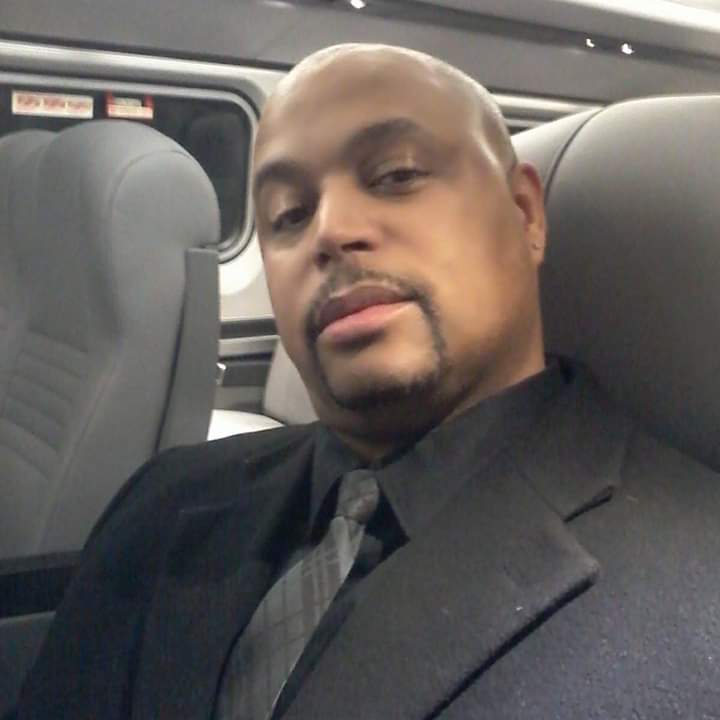 George "Iz" Correia is a BMI Songwriter, Artist, Artist Manager, Road Manager and Music Historian.
Born in Massachusetts and raised in New Jersey, George "Iz" Correia has been a huge lover of music since infancy. As a schoolboy, he was involved in many facets of the arts including singing, songwriter, dancer and model. He was obsessed with vinyl collecting, radio and nightlife in NYC and NJ in the 80's & 90's.
George got his professional start in the Entertainment business doing freelance work with a friend who worked for Emmis Communications. Their properties included jazz station CD 101.9, Hip-hop station Hot 97.1 and R&B station 98.7 KISS FM in New York City. He would assist in production concepts and organize various community outreach events, concerts and parties for the radio personalities. He was also summoned to book various recording artists with some of the events, which lead to many friendships and management opportunities. He has worked with many classic artists such as Linda Clifford, Crystal Waters and Rochelle Fleming, (the lead singer of "First Choice".)
He was featured and contributed to the 2013 book authored by James Arena, "The First Ladies of Disco" and was featured on TVOne's television biograpghy documentary, "UNSUNG" with Crystal Waters.
Although he still tours the world with classic artists, now he has joined Basement Boys Records and is working on various songwriting projects with co-founder, Teddy Douglas.
GO BANG! Magazine: What was it that sparked off an interest in you to become professionally involved in the Music industry as an Artist Manager?
George "Iz" Correia: I had always been interested in having a career in music, since infancy. Initially, I had wanted to be more involved on the creative side of the business. However, a friend of mine, who was employed by the now defunct 98.7 KISS-FM (WRKS) in NYC ,was the founder of a Gospel group, Beyond Blessed.
After being invited to see his group perform, I had started asking questions pertaining to business and his vision for his group. After providing him with few suggestions and ideas, he had asked me if I would work on marketing campaigns and represent his group. It was real exciting and I was able to have the group open for: The Clark Sisters, Tramaine Hawkins, and Richard Smallwood, among others. In addition, I was able to assist in writing, producing and arranging songs for his debut album. It was a great starting point, but I wanted to work with secular artists and music. My focus was on House music.
GO BANG! Magazine: As a BMI Songwriter, you've written songs for various artists. Could you please name a few of the artists you've written for, or some of the song titles?
George "Iz" Correia: Well, songwriting has been sort of a new venture for me. I have done some writing, sporadically, over the years. Like I had mentioned, I co-wrote songs for a gospel group, but being on the road makes it a little difficult to focus and create. I have teamed up with The Basement Boys' Teddy Douglas. He has been so encouraging and really likes my writing. We have the best time when we collaborate. I wrote and co-wrote for Rochelle Fleming, "Nobody's Fool" and the #1 Traxsource hit, "I'm Gonna Give it to You" with Teddy as the producer. Teddy has brought me on as a writer for Basement Boys Records and we have a couple of amazing projects that involve a few different classic artists. I am so excited about this, but I can't really talk about it right now.
GO BANG! Magazine: You're also an artist yourself. How would you describe your musical style?
George "Iz" Correia: My songwriting style I would describe as eclectic. I love to inject a little humor and clever word play. That is what Teddy (and others) likes about my writing. As a songwriter, I don't have to necessarily write from my own personal experience. Sometimes I write from other people's perspectives. In 2016, Rochelle Fleming released a song I had written and produced by Teddy Douglas called, "Nobody's Fool." The lyrics came from a telephone conversation Rochelle and I were having. Rochelle was not used to a songwriter writing about something that was specifically going on in her life at that time. There is nothing more validating than people relating to a song you have written.
GO BANG! Magazine: You're currently managing the legendary Rochelle Flemming, of the iconic disco group First Choice, who recorded "Let No Man Put Asunder (It's Not Over.)" What are some of your main goals for her new solo career, as her Manager?
George "Iz" Correia: Rochelle's solo career is not new at all. First Choice had disbanded around 1980 and Rochelle took some time off. In 1986, "Let No Man Put Asunder" got remixed and became this huge club anthem. Rochelle went back out on the road as a solo artist and never looked back. She has had solo success with club hits, "Love Itch", "Suffer The Consequences" and others. Rochelle hired me as her personal manager while I was still working with the gospel group about 12 years ago. This was right before social media became the huge entity that it is now. I had to completely revamp everything, from her image to her performance tracks, and introduce her into the internet age as a solo artist. It was a lot of work and I think my forwardness frightened her in the beginning since Rochelle is a creature of habit and not comfortable with a lot of change. Once she saw that everything started to fall in place, she started to develop this amazing confidence. As a manager, it is your job to build a strong trust with the artist. She could never go back to being in a "girl group" even if she was the founder & lead singer.
My goal for Rochelle was to make sure she enjoyed the fruits of her labor and have fun. I said to her, "Ro, I can't promise you millions of dollars, but you are going to get your props while you are living." Since then, she has received close to 10 Lifetime Achievement awards from different organizations. Her current music is different from her tenure with, First Choice. I didn't want Rochelle to be a "victim" in the new material, especially anything that I write for her. I wanted her to be strong, independent and calling the shots.
GO BANG! Magazine: The late Loleatte Holloway is arguably the "Queen of House." You knew her personally and professionally. Is there anything memorable that you can recall about her or her legacy?
George "Iz" Correia: I got to know Loleatta through my association with Rochelle & Tom Moulton. She was a very, sweet down-to-earth person with a very big personality. You can tell that she didn't take any mess from anyone either. There were only a few people who could talk to her "any 'ole way" and Rochelle was one of them. My other client, Linda Clifford was also very good friends with Loleatta. I happened to be on the road with Linda when she had passed away. Loleatta's legacy is her iconic music, her fiery, passionate vocals and being one of the most sampled voices in music. She is sorely missed.
GO BANG! Magazine: As a fan of House music, how does it feel to be working with artists who songs you grew up on and loved?
George "Iz" Correia: It's been an amazing ride to rub elbows and work with the artists that I thought I would only get to know by just buying their records or hearing them on the radio. There have been so many wonderful producers, writers, and DJ's. One of the perks that I really love is hearing, not just stories behind the songs, but hearing about their own personal lives and experiences. It's really inspiring and an honor that they feel comfortable to open themselves up to me. I feel very lucky and a wonderful sense of belonging.
GO BANG! Magazine: You've worked with classic legends, as well as current chart-topping artists. Which artist or artists would be your dream artist(s) to manage, and why?
George "Iz" Correia: I am having an amazing time working with many classic artists who still top the charts. I get to travel to places I never knew existed, and made many friends. Since we are all getting older and so many artists are leaving us, I want to branch off into more songwriting and get back to the creative side of music. Most of the artists I admire currently have representation.
GO BANG! Magazine: How has being a Music Historian enhanced your life and career?
George "Iz" Correia: Well, Music Historian is another word for, "Music Geek" and I wear it proudly. I love ALL types of music. I was the guy who would read the liner notes on all of the albums I bought. Knew all of record labels, musicians, producers you name it. I loved the radio and listened 24-7. Radio personality, Casey Kasem was my idol. He had so much knowledge and passion for the songs he was playing and I was his student. So, when I starting meeting these artist, I was hitting them with knowledge that the average fan wouldn't know. It impressed them and they loved it. My knowledge of their work really helped me get my foot in the door. I have had some artists ask if I was a reporter on the side. 😆
GO BANG! Magazine: What advice would you give someone that is interested in pursuing a career in Artist Management?
George "Iz" Correia: It is important to educate yourself on all aspects of the business of music. Learn about royalties & publishing. Also, be realistic on what you bring to the table when it comes to representation. Get to really know the artist. Ask a lot of questions. Having the ability to be quick on your feet will really be beneficial. Be mindful of your actions because you never know who is watching. Tom Moulton gave me the best advice, "Iz, the artist is NEVER supposed to be the heavy." He was right!
GO BANG! Magazine: In conclusion, the COVID-19 pandemic has caught the world off-guard. How are you dealing with it?
George "Iz" Correia: Although everything is on hold now, everyone needs to be smart and safe. I am not used to being so sedentary this time of year, but there is always something to do. I believe that this pandemic is forcing people to redefine their terms.
YOU CAN FOLLOW GEORGE "IZ" CORREIA ON ALL SOCIAL MEDIA FORMATS
Pierre A. Evans is a freelance writer of Entertainment, Music, Art, Culture, Fashion and Current Events, and previously for SoulTrain.com, NDigo.com, ChicagoDefender.com, EmpireRadioMagazine.com, and UrbanMuseMag.com, an author, singer/songwriter, actor, model, poet, dancer, and DJ. He is also the Owner of Pinnacle Entertainment Productions and the Owner/Publisher of GO BANG! Magazine. Follow him on Facebook @Pierre Andre Evans, Twitter @Playerre, and on Instagram @Pierre_Andre_Evans.