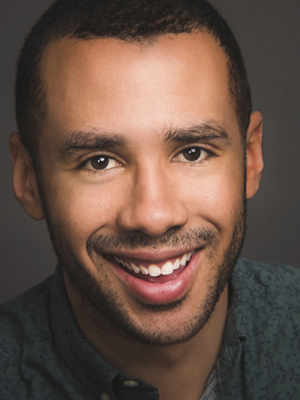 Peter Andersen is a theatre artist originally from Wisconsin who is based out of Chicago. He is a graduate of Emerson College where he obtained his BFA in Acting.
Peter is currently finishing his season as a teaching artist for Steppenwolf Theatre Company, Northlight Theatre Company, and Writers Theatre.
​This summer he will be assisting Bill Brown at American Players Theatre.
His passions include Shakespeare, Photography, Museums, and Laughter.
GO BANG! Magazine: How and when did you get an interest in Theatre?
Peter Andersen: I have had an interest in Theatre almost my entire life. I started performing in my home town of Milwaukee with several of the local repertory companies, and then pursued my BFA in Acting in Boston. I've also always held an interest in Arts Education. I personally believe it is the job of the artist to give back to the community they practice in, and teaching alongside acting has been my way of doing that.
GO BANG! Magazine: What about it attracts you?
Peter Andersen: Theatre is so fascinating to me because of its ability to bring people together and ask difficult questions about our collective humanity. It is one of the few spaces that people from a wide array of backgrounds can come together in this way. It encourages people to develop empathy for stories that are radically different than their own. This is why I think it is so important to expose young people to theatre. They are in a place where they are eager to ask these difficult questions and theatre is space where they can be challenged to do so.
GO BANG! Magazine: How did you get involved with Writers Theatre and what is your role?
Peter Andersen: I first started working with Writers as both an assistant director and a teaching artist. Now I am the Education Manager where my primary responsibility is managing The MLK PROJECT, our touring educational production.
GO BANG! Magazine: Are you also an actor or a staff member only?
Peter Andersen: I am a freelance actor around the city when I have the time! Most of my time is spent working in the Education Department at Writers.
GO BANG! Magazine: What is The MLK Project: The Fight for Civil Rights and when did it begin?
Peter Andersen: The MLK Project: The Fight for Civil Right started 14 years ago as a conversation between playwright Yolanda Androzzo and Artistic Director Michael Halberstam. It is a one-woman show that follows a Chicago student's personal transformation through studying the Civil Rights Movement. Alaya uses her fists as an outlet for anger, but after interviewing local heroes of the Movement she discovers she can put "anger into action" and that her power is in her voice and her hip hop, not violence. Weaving together real interviews, poetry, hip-hop, history and multimedia projections the performance features stories of both celebrated and unsung Chicago-based Civil Rights Activists.
GO BANG! Magazine: How do you make your choices each year?
Peter Andersen: The MLK Project: The Fight for Civil Rights has been touring Chicago for the last 14 years. To make sure the script stays relevant we make small changes each summer. This year was the 50th anniversary of the death of Fred Hampton, and our playwright Yolanda wanted to ensure that students knew that and understood the depth of his impact in Chicago. As such, we added a small section about Fred Hampton and the Black Panther Party.
GO BANG! Magazine: What other educational programs does the Writers Theatre offer?
Peter Andersen: Writers Theatre has a number of educational programs. Our flagship program is The Novel Series, which is a theatre and literary arts curriculum designed to allow students to explore literature and the artistry of bringing text to life. Students engage in a layered investigation of text and enter a rigorous artistic process that includes deep academic enrichment and meaningful text-to-self and text-to-world connections.
The Novel Series was developed by Writers Theatre in collaboration with teachers and administrators in Chicago schools. It takes the best practices of literature programs like Writers Workshop, Guided Reading, and Literature Circles and blends them into a student-driven, arts-integrated program. The program fosters a love of reading, appreciation of how themes and events in literature relate to real life, and stretches students' creative potential.
We also invite schools to matinees of our productions and offer workshops and curriculum based on each production, and we have a teen Youth Council that meets biweekly at the theatre to see plays, participate in workshops with industry professionals and contribute their perspective to the long-term vision of Writers Theatre.
GO BANG! Magazine: What is the Writers Theatre working on now, that our readers can be on the lookout for, after this COVID-19 is over?
Peter Andersen: With the recommendation of Governor J.B. Pritzker and Mayor Lori Lightfoot, Writers Theatre has suspended performances of The Last Match. Writers is currently looking into many options when it comes to presenting the remainder of our 2019/20 Season as well as looking ahead at announcing our 2020/21 Season.
While we wait, WT is sharing many different forms of art and enrichment on our social channels, including resources and study guides from our WT Education, counting down our 10 most successful YouTube videos of all time and sharing never before seen footage of some of WT's favorite artists!
Those interested in keeping up with Writers Theatre's programming affected by COVID-19 should visit our official page for updates: https://www.writerstheatre.org/response
GO BANG! Magazine: In conclusion, the COVID-19 pandemic has caught the world off guard. How are you dealing with it?
Peter Andersen: Right now, our Education Department is planning on moving a lot of our programming to online platforms. We want to ensure that we can continue to program resources and curriculum to young people during this difficult time. Follow our social media links below to learn more!
FOLLOW WRITERS THEATRE: https://www.writerstheatre.org/
WT Education Facebook: www.facebook.com/WTEducation
WT Education Instagram: @wt_education
WT Main Facebook: www.facebook.com/WritersTheatre
WT Main Instagram: @writers_theatre
WT Main Twitter: @writerstheatre
Pierre A. Evans is a freelance writer of Entertainment, Music, Art, Culture, Fashion and Current Events, and previously for SoulTrain.com, NDigo.com, ChicagoDefender.com, EmpireRadioMagazine.com, and UrbanMuseMag.com, an author, singer/songwriter, actor, model, poet, dancer, and DJ. He is also the Owner of Pinnacle Entertainment Productions and the Owner/Publisher of GO BANG! Magazine. Follow him on Facebook @Pierre Andre Evans, Twitter @Playerre, and on Instagram @Pierre_Andre_Evans.