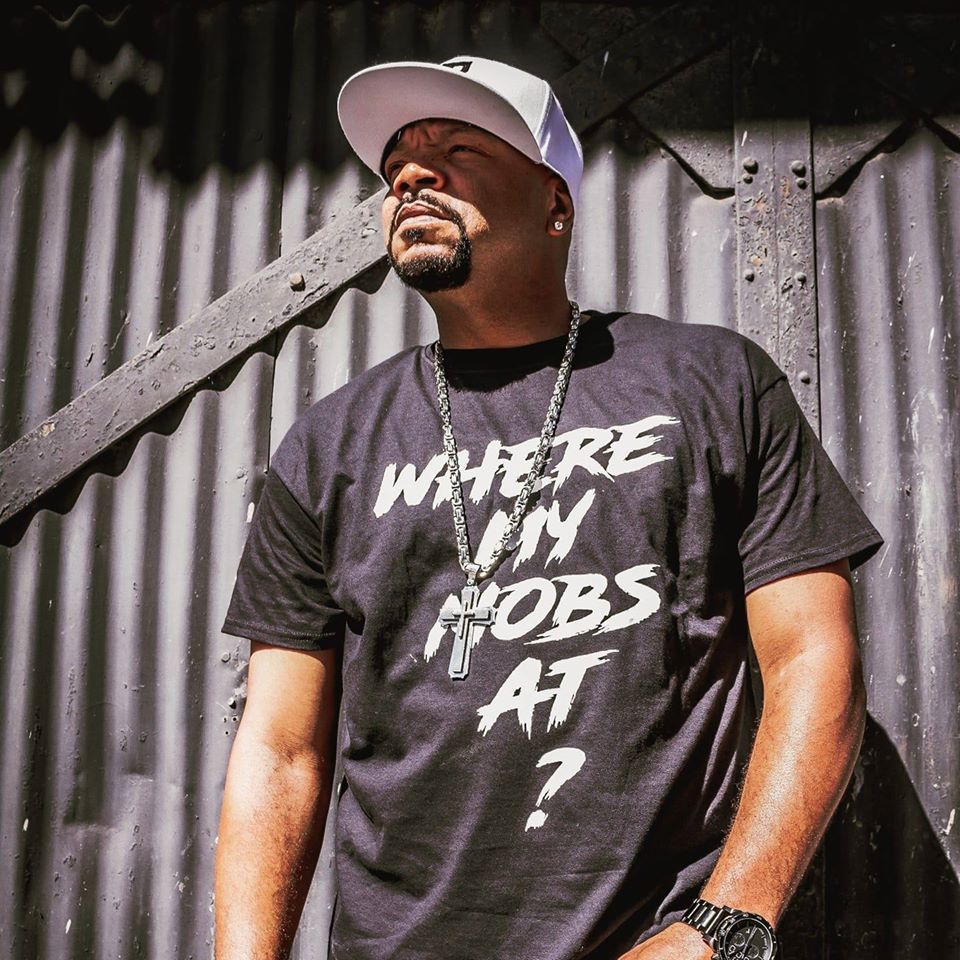 DA Smart = Devastating Abolisher Smashing Mostly Around Ruff Territories
"Chicago! Chicago! My kind of town." I'm sure you're familiar with that song. It's our hometown anthem. Did you know that Chicago has another anthem? This anthem you won't hear being sang by Frank Sinatra. Instead, you'll hear it being rapped and bumping from the speakers of cars on the street. The other anthem is called "Walk Wit Me" by Chicago's own DA Smart. It's known as Chicago's "Hood Anthem" because he names every neighborhood within Chicago as well as the corresponding gang within each. This legendary track was released in 1997, but sounds just as good today. Unfortunately, the violence that was going on then has gotten even worse.
Now making a comeback, D. A. SMART is choosing to walk in a new direction. Growing up in the Robert Taylor Homes and Altgeld Gardens on the south side of Chicago, he endeavored at a young age to make a name for himself in Chicago Hip Hop as a break dancer. Although known to rap, he did not release his now famous anthem until 1997.
For those wondering what happened to the Black Terror, D.A. Smart is not only still rapping, recording and performing, he started Terror Records (TR) in 2006. And he started it with the intent to bring back his true love – Hip Hop. But TR was also intended to be more than that. TR is intended to be a light in the darkness – to shed light on what is going on in the industry, and to be a light of freedom for artists who are tired of being taken advantage of and want to remain true to their art.
Terror Records is also here to promote positive change in the community. Through neighborhood outreach, working with local business owners, neighborhood activists and reaching out to and working with the youth – helping them to explore their own creative ideas, and show them that there is a healthy way to express themselves – our goal is to assist in breaking the cycle of poverty and violence that plagues our community.
Now in 2020, TR is taking over the scene. With a stable of artists in place – Tae Bae, (the late) Mz. Lady, Da General, and Tra Cee, the compilation album, "The Reign of Terror", was released in May 2014. The artists have also been releasing their individual singles, and one listen will let you know that Terror Records is ready to remind the world what REAL Hip Hop sounds like.
Other old school rappers that hail from Chicago are Common, Twista and Da Brat. It would really be epic if all four of them would collaborate on a NEW track. The public would love it!
GO BANG! Magazine: At what age did you know that you wanted to get into Hip Hop?
DA Smart: I was 12 years old.
GO BANG! Magazine: How would you describe your style of Hip Hop?
DA Smart: Hardcore entertainment!
GO BANG! Magazine: "Walk Wit Me" described the gangs in each neighborhood. Why?
DA Smart: I wanted to represent Chicago from my vantage point. I wanted to describe the things that I saw every day.
GO BANG! Magazine: What do you think about Chicago's gang presence now?
DA Smart: It's different.
GO BANG! Magazine: Tell our readers about your record label, Terror Records, Inc.
DA Smart: Terror Records Incorporated is a label created by myself in 2006, after I had been signed to the major label known as RCA. Me, along with other partners in Chicago, created the label everyone knows as Creators Way Associated. I came up with Terror Records to create a "fair Institution" for artists and businessmen alike, to share in the coffers of what's created from this thing we all love…music.
GO BANG! Magazine: What projects are you currently working on?
DA Smart: Well, we are currently working on a project that is to commemorate one of our members that passed away named Cabrina "Mz. Lady" Smith. The song is called "Missing You." Stay tuned to https://www.youtube.com/user/T3RRORR3CORDS for that. Also, we will be releasing Mz. Lady's new single and video "OOOOWEEE" ft. Tra Cee, the songbird of Terror Records. I will be having a single release of a song called "Put The Shoulder On Em" and Terror Records will have new releases from Da General, Tra Cee, and Tae Bae this year.
GO BANG! Magazine: What types of community involvement are you associated with?
DA Smart: Where ever I am in the community, I'm involved. I work with everyone, but affiliated to none.
GO BANG! Magazine: What do you think about the current rap music on the radio?
DA Smart: I think some of the music on the radio is dope, but I also think some of the music on the radio is trash. The problem with hip hop on radio is that there is no balance.
GO BANG! Magazine: Tell us about your showcase "Control the Mic."
DA Smart: "Control the Mic" is a platform created by Terror Records Incorporated for all artists in Chicago to showcase their talent, their art, or their merchandise, to networks. It's to build bridges, not tear them down, and become a unified front here in Chicago for hip hop.
GO BANG! Magazine: In conclusion, the COVID-19 pandemic has caught the world off-guard. How are you dealing with it?
DA Smart: Like a normal day.
You can follow DA on ALL social media formats!
Pierre A. Evans is a freelance writer of Entertainment, Music, Art, Culture, Fashion and Current Events, and previously for SoulTrain.com, NDigo.com, ChicagoDefender.com, EmpireRadioMagazine.com, and UrbanMuseMag.com, an author, singer/songwriter, actor, model, poet, dancer, and DJ. He is also the Owner of Pinnacle Entertainment Productions and the Owner/Publisher of GO BANG! Magazine. Follow him on Facebook @Pierre Andre Evans, Twitter @Playerre, and on Instagram @Pierre_Andre_Evans.