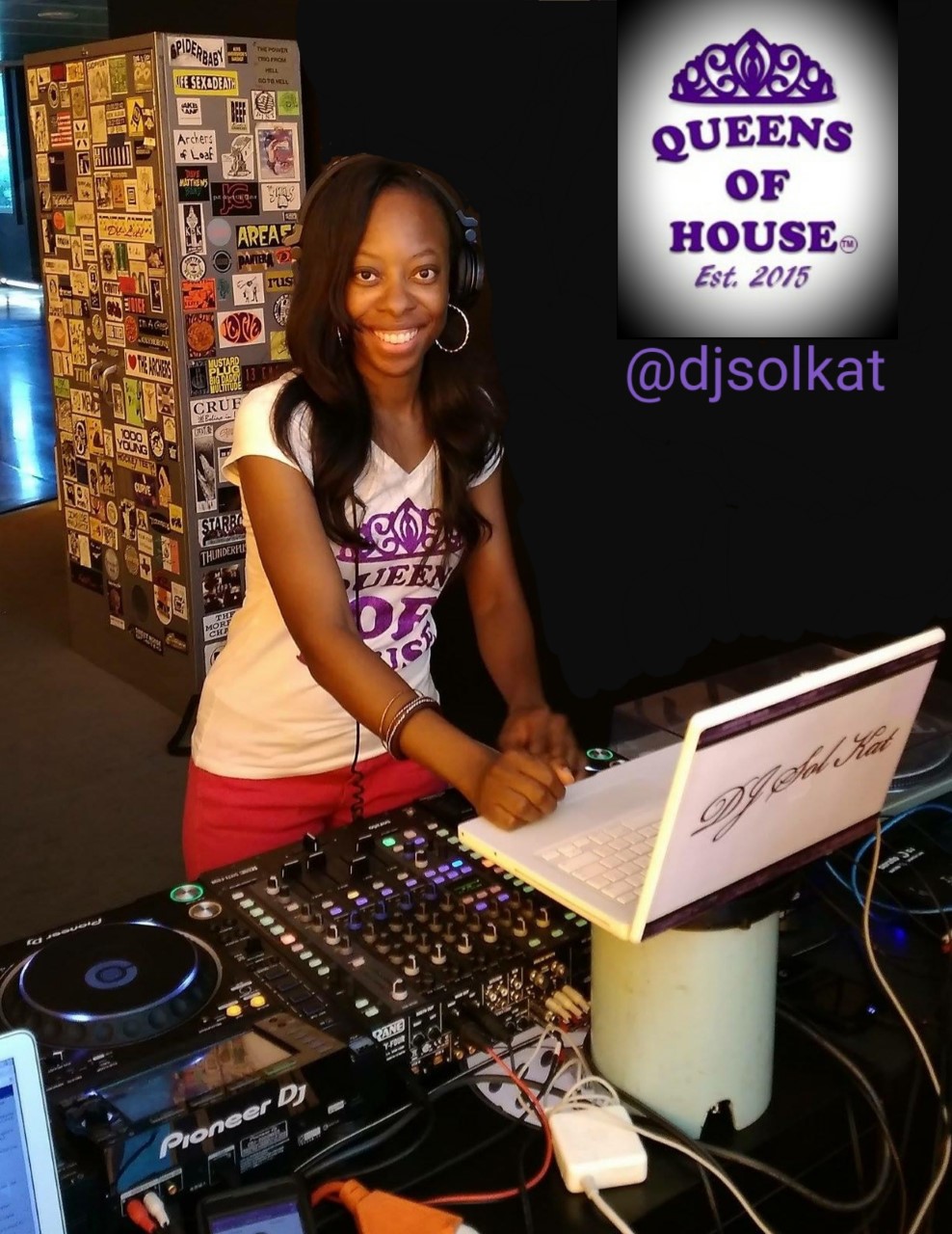 Who would have ever thought a little girl from the south side of Chicago's West Englewood neighborhood, would be one of the hottest DJs in the city!!!
Nakia Allen pka DJ SolKat grew up listening to different genres of music like R&B, Funk, Hip Hop and House. At family parties, her aunt (who went by the name Miss Beasley) would be the DJ. Nakia became curious about the two turntables and the microphone. She would stand there, watching how her aunt would select the records, and found it fascinating how each song created a reaction from the crowd. After watching her aunt, as well as one of Hip Hops most famous lady turntablist DJ Spinderella on television, Nakia was inspired to DJ.
Beginning in 2007, Nakia felt the urge to pursue one of her dreams to DJ. She became DJ SolKat, embodying her love of music playing from the soul and her love of cats. On Saturday, August 5, 2015, DJ SolKat started the "Queens of House Picnic" (QOH) in Chicago, IL. The Queens of House was created for female DJs to showcase their skills on the 1's and 2's in the genre of House music. In 2016, SolKat created the "Princesses of House," a collective of young aspiring ladies, between the ages of 10 and 21, held at the QOH as an opening act.
Quite often, SolKat assembles a small group of lady DJs to represent the "Queens of House" brand outside of the picnic event. The Queens of House have been invited to perform at every major event in the city, including the Millennium Park "House Music Festival," Navy Pier's Grand Ballroom House Party and The "Taste of Chicago."
2020 marks the Queens of House Picnic's 6th annual jamboree, which will be held in Calumet Park, Chicago Park District, 9801 S. Avenue G. Chicago, IL 60617 on Sunday, August 2nd. The Queens of House Picnic has become one of Chicago's hottest free House music events in the summer, with thousands of attendees every year and growing.
GO BANG! Magazine: How & when did you get started as a DJ?
SolKat: I got started DJ'n back in 2007, shortly after I graduated with a B.A. from the International Academy of Design & Technology in Chicago. One day a voice said, "well you always wanted to DJ." At first, I scoffed at the idea, then the voice replied "DO IT NAKIA!" I scraped up the little money I had, drove to Guitar Center located in Country Clubs Hills, and purchased a small Gemini CD Controller and two 15″ Behringer Powered Speakers. When was I there, I met DJ Murf E. and he introduced me to the House Community, assisted with getting me DJ gigs, and gave me some pointers on how to be a better DJ.
GO BANG! Magazine: What DJs inspire you?
SolKat: Besides myself, all DJs inspire me! Male and female alike. I'm always watching and admiring what other selectors are doing creatively. One day I hope to be that inspiration for other DJs.
GO BANG! Magazine: As a resident of Chicago, the home of House music, you are recognized among the best of the female DJs. What influence, if any, do you feel you have brought to House music and how has House music influenced you?
SolKat: I believe I've influenced the spotlight on female DJs again. I say again because most people may not know there was a popular all female DJ line up in Chi – Town in the early 80's. Trailblazers such as Celeste The DJ, Lori Branch and First Lady. Currently there are all "she-jay" House Music events being thrown everywhere, by not only women, but male DJs/promoters too.
GO BANG! Magazine: In the past, female DJs were more of a novelty, and not taken as serious as their male counterparts. Do you think that image has changed and why or why not?
SolKat: I wouldn't say novelty necessarily, but I think it's changed considering the overwhelming amount of female DJs nowadays. The world is recognizing women have skills too in this field.
GO BANG! Magazine: After sharing the stage with several DJs over the years, which DJs would you love to DJ with?
SolKat: Black Coffee from South Africa, I like his music. Deadmau5 from Canada is dope. Helen Ting from Hong Kong, her name is always buzzing in my circle. I'll just allow nature to take it's course, so whomever I work with would be off the chain.
GO BANG! Magazine: In addition to being a DJ, you're also a business woman. You're the founder of The Queens Of House. How would you describe The Queens Of House to someone that may not be familiar with the brand?
SolKat: Thanks for asking! The brand is the Queens of House Picnic. I created this in 2015 to exclusively showcase female DJs in Chicago and around the Midwest. This August 2020 will be our 6th annual House Music event. I would be remiss if I didn't say that I welcome female talent from any where in this world to come throw down on the" wheels of steel."
GO BANG! Magazine: Who are the core members of the Queens of House brand?
SolKat: Our MC Lady Alicia; Jaci Greer, Coordinator; Mr. Joey Jazz, Lighting; Mr. Ricky French, Sound; and Mr. G Whip, Manager. I value their insight, opinions and business sense. I'm forever grateful to those men and women for their dedication to ensuring Queens of House keeps moving forward and grows beyond the imagination.
GO BANG! Magazine: Over the years you morphed from being only a DJ. You've accomplished great success as an entrepreneur and producer, with the Queens Of House Picnic (QoHP). What motivated you to create the QoHP, and what is your mission?
SolKat: In 2007, after attending several House music picnics, I noticed the lack of female DJs in the line up, and a total void of an ALL female DJ House picnic. I took it upon myself to create the event on my own. My intentions were to throw one, big, all female DJ House music event to show not only can the men do it, but the women can do it too! "WE CAN PLAY!"
On Saturday, August 1, 2015, With the help of Joey Jazz, Chicago had it's first ALL female DJ House music picnic. The Queens of House Picnic was born. Now my mission is to expand the brand, starting with the Princesses of House. In 2016, I created the Princesses of House which is a collective of aspiring young ladies between the ages of 10 and 21, who are the opening acts for the QOH Picnic.
GO BANG! Magazine: Many that know you personally and/or professionally, including myself, describe you as down to earth and cool. Sometimes, when others in the entertainment industry reach the level of notoriety that you're achieving, with QOH, some of them go "Hollywood" and become big-headed. You seem to have not gone down that path. How have you maintained your level-headedness and why is that important to you?
SolKat: I keep in mind that what I'm doing is one of my passions and a God given gift. I have to protect it from the negative idea that "I'm better than" or "Above" anyone.
GO BANG! Magazine: Besides being a DJ, you are also involved in the arts. What other artistic gifts do you possess?
SolKat: I have training in playing the flute and a background in West African dance with Alyo Children's Dance Theater. I studied adult drama at the ETA Creative Arts Foundation. That's where I got my start acting on stage and stand up comedy. I also enjoy drawing, painting and singing.
GO BANG! Magazine: In conclusion, the COVID-19 pandemic has caught the world off guard. How are you dealing with it?
SolKat: I'm trying to stay positive, stay quarantined and stay prayed up. It's sad because I feel like I'm on punishment. May God be with us all.
Before I go, I'd like to thank you for this opportunity Pierre. I'm so proud of you and GO BANG! Magazine. Until next time.
GO BANG! Magazine: Thank you SolKat. I appreciate you and I'm PROUD OF YOU TOO Queen!
You can follow DJ SolKat on Facebook and Instagram @djsolkat
You can follow the Queens of House Picnic on Facebook and Instagram @queensofhousepicnic and on Twitter @QueenOfHousePic
Queens of House Picnic Website: https://queensofhousepicnic.com/
6th annual Queens of House Picnic
Sunday, August 2, 2020
Free Entry, Free Parking
Location: Calumet Park Chicago Park District
9801 S. Avenue G. Chicago, IL 60617
Pierre A. Evans is a freelance writer of Entertainment, Music, Art, Culture, Fashion and Current Events, and previously for SoulTrain.com, NDigo.com, ChicagoDefender.com, EmpireRadioMagazine.com, and UrbanMuseMag.com, an author, singer/songwriter, actor, model, poet, dancer, and DJ. He is also the Owner of Pinnacle Entertainment Productions and the Owner/Publisher of GO BANG! Magazine. Follow him on Facebook @Pierre Andre Evans, Twitter @Playerre, and on Instagram @Pierre_Andre_Evans.