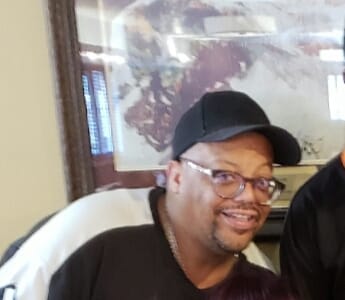 Marcus Ben Balenton is a guy I met as a teenager in 1984. He was attending McCosh grammar school, on the south side of Chicago. I was attending Kenwood Academy in Hyde Park, although I lived in South Shore. At that time, I was DJ Playerre and was mixing with my brother Dorado aka DJ Jock, my uncle Varsai aka Big Time, and my cousin Cedric aka The Fly. We were known as DJ Jock and the Paramedics. My cousin Cedric introduced me and Marc and the rest is history. He's the lil bro I never had and I'm the big bro he never had. We were no longer friends, we are brothers.
We and Marc vibed right from the start and I saw that he took an interest in learning how to mix. We started hanging out regularly, mixing my friends with his and vice versa. One day, he asked if he could learn to mix and I was more than happy to show him. Basically, I asked him, "Can you count? If so you can mix. All that you have to do is count the beats, 1,2,3,4 and do the same with the song you're about to mix in. When they get on beat, bring it in! He caught on immediately, and has never stopped. DJ "Dawg Howse was born!
Since then, he has achieved great success and has DJ'd with several prominent DJs, including DJ Gene Hunt, as well as others.
GO BANG! Magazine: How and when did you get involved in the DJ game?
DJ Marc B: I got in the game in 1984. I loved watching the greats, and I also noticed that the ladies loved the DJs.
GO BANG! Magazine: How would you describe your DJ style?
DJ Marc B: It's hard to describe my style, because I cover all spectrums of House.
GO BANG! Magazine: What DJs inspire or motivate you?
DJ Marc B: The DJs that inspired me are DJ Playerre, Ron Hardy, Frankie Knuckles, DJ Jocko, and Gene Hunt.
GO BANG! Magazine: You've been a part of the House community since the early years. How has House changed to you?
DJ Marc B: House has changed me in so many ways. It gave me comfort with the music, it also gave my peers and an outlet to do something, other than just hanging out.
GO BANG! Magazine: If you had the opportunity to share the stage with any DJs, who would they be, and why?
DJ Marc B: If I could share the stage with a DJ, it would be Steve "JM Silk" Hurley, because I've always wanted to, since the 80's. I love his energy. He's always been one of my idols. I forgot to mention him earlier, as one of the DJs that inspire me.
GO BANG! Magazine: You are a member of a DJ squad. Tell us more about it and the members.
DJ Marc B: I am a member of "The Original 4 Deep DJz." The group was formed on January 17, 2017, and the group members are DJ Dink, DJ Major, and DJ Marc B aka Dawg-Howse. The thing that I love about this group is that no two DJs sound the same.
GO BANG! Magazine: If you weren't a DJ, would you still be in the music industry. If not, what would you be doing?
DJ Marc B: Yes I would, because music is my life. I don't think the world could survive without music. I'm grateful to you, my teacher, Pierre "DJ Playerre" Evans.
GO BANG! Magazine: Some DJs play for the crowd and some DJs play for themselves. How do you determine what songs you're going to play at a gig?
DJ Marc B: I play for the crowd, I don't come in with a plan I go where the music takes me.
GO BANG! Magazine: Is it true, that you have a secret passion to do comedy. Can you tell our readers more about that passion?
DJ Marc B: It's not a secret, I pursued it. I did "Stand Up" for two years in Eau Claire, Wisconsin. To me, comedy and music go hand and hand. I feel that to be able to make people laugh and dance is a two for one.
GO BANG! Magazine: In conclusion, the COVID-19 pandemic has caught the world off-guard. How are you dealing with it?
DJ Marc B: I still have to go to work. But, when I get home, I jam out and get lost in the music, thinking about when this is over, the fun we will have this summer.
You can follow DJ Marc B aka Dawg Howse on FACEBOOK @Marc Balenton AND The Original 4 Deep Djs on FACEBOOK @The Original 4 Deep DJz
Pierre A. Evans is a freelance writer of Entertainment, Music, Art, Culture, Fashion and Current Events, and previously for SoulTrain.com, NDigo.com, ChicagoDefender.com, EmpireRadioMagazine.com, and UrbanMuseMag.com, an author, singer/songwriter, actor, model, poet, dancer, and DJ. He is also the Owner of Pinnacle Entertainment Productions and the Owner/Publisher of GO BANG! Magazine. Follow him on Facebook @Pierre Andre Evans, Twitter @Playerre, and on Instagram @Pierre_Andre_Evans.