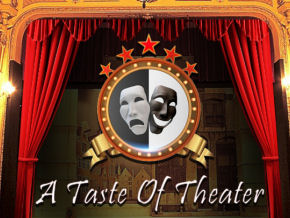 A Taste of Theatre is a 501(c) organization dedicated to supporting self-producing playwrights by providing them a platform to showcase one scene of their play.
2012 – The very first festival occurred at the Portage Theatre. At the event, Shelly Garrett, the American Association of Community Theatre, Actors Equity, Mike Oquindo, IATW Rep, Dramatist Guild rep and the marketing director from Writers theatre provided insight on how participants can improve the marketing, performance and technical aspect of their shows. Monique Lisa won the Shelly Garrett award.
2013 – A Taste Of Theatre TV show was created to provide theatre professionals opportunities to showcase their work on cable access tv stations around the world. Cape Town South Africa, Phillidelphia, Chicago, Atlanta, Minneapolis, Boston, and 50 other cities.
2014 – A Taste of Theatre started a radio show on WGSJBC's called – Playwright Tuesday's Playwrights were given a free platform to talk about their shows. . A Taste of Theatre Festival continued at Carver Military Academy featuring Shelly Garrett. In addition ATOT started a new platform, Acting With The Stars. This is where up and coming actors perform a reading from a Hollywood movie with the actor who was in the movie. Cynda Williams and Cedric Young gave personal feedback to up and coming actors to help them improve their acting skills. Sabrina Perrin won the Shelly Garrett. Devin Banks won the Acting with the Stars competition.
2015- A Taste of Theatre festival occurred at Gwendolyn Brooks College prep with Phillip Van Lear, Lydia Diamond, Antoine McKay, Tommy Ford and special performance by Black Ice and Muzic Fusion. Playwrights showcased one scene of their play. The acting with the Stars winner Joy Steele Harris. Jackie Chambers won the ATOT Festival award.
2016 – A Taste of Theatre Festival occurred at Gwendolyn Brooks College prep. Featuring Jerome Benton from the time, Illunga Adel, Eric Lane, Drew Sidora, Cynda Williams and Harold Dennis. Roy Sherriff won the Playwright Award. Domonique Glover won the Acting with the stars competition.
2017 – A Taste of Theatre festival occurred at Gwendolyn Brooks College Prep again. This year acting workshops were taught by Runako Jahi. Drew Sidora, DeEtta West, Thea Camera and Eric Lane, The winner of the festival was Loretta Haskins. Mel Yarbrough won the Acting with the stars competition. A Taste Of Theater Team was started to serve as a support group for playwrights to share with one another what works and what doesn't work. In addition, various members have not only volunteered to assist with other plays but have provided props and other support as well.
2018 – A Taste of Theatre completed their app Myupstage.com. This app modernizes the management of theatrical shows. THen the public can use it as a search tool to find any play within 50 miles of their phone.
2019 – A Taste of Theatre Festival returned featuring Robert Townsend and Leon Robinson from the five heartbeats. Robert taught Directing by the stars. The winner of the event was Jarren Hampton.
You can follow A TASTE OF THEATRE at http://www.atasteoftheatre.org/ and ALL social media platforms.
Pierre A. Evans is a freelance writer of Entertainment, Music, Art, Culture, Fashion and Current Events, and previously for SoulTrain.com, NDigo.com, ChicagoDefender.com, EmpireRadioMagazine.com, and UrbanMuseMag.com, an author, singer/songwriter, actor, model, poet, dancer, and DJ. He is also the Owner of Pinnacle Entertainment Productions and the Owner/Publisher of GO BANG! Magazine. Follow him on Facebook @Pierre Andre Evans, Twitter @Playerre, and on Instagram @Pierre_Andre_Evans.