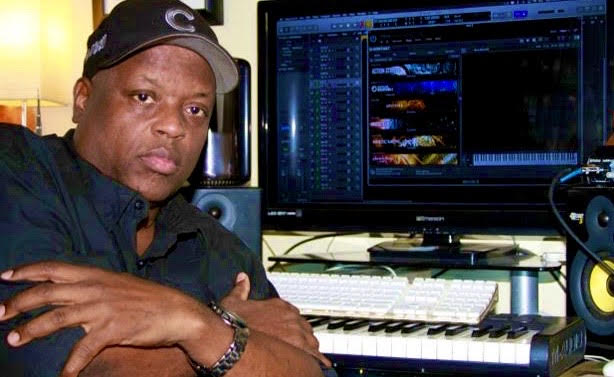 rRob "Diggy" Morrison, from Chicago, IL, has proven to be a testament and mainstay in music and entertainment over and over again. With an ear for creativity and well-rounded discipline, he proves himself to be ready for any challenge having to do with the essence of Music Production, Vocal Arrangement, Film Composition, Sound Design, Engineering and live musician to piano and guitar are only a few of the multiple he harnesses.
Diggy has always had a desire and admiration to play instruments. Starting young, at 14, he received a '63 Gibson SG guitar that he still plays to this day… this was the start of it all. Joining the high school band, he also found his love for brass. Being around that array of sound seamlessly changed his life. He also embraced his newfound love, the piano and that was the game changer throughout college and adulthood.
Rob has many teachers and mentors throughout the industry. As an international Film Composer, Mr. Diggy has been very successful, accrediting his success to Hans Zimmer and Quincy Jones, his mentors. He has also been compared to the likes of Danny Elfman, John Williams and Brian Tyler, often being called the "Sixth Man of Music."
As a musician and keyboard arranger, Rob accredits Morris Hayes for teaching him keyboard syntheses and still learns from him to this day. When Beyonce released her Multi-Platinum Award Winning "Dangerously In Love" 2004 album it featured the hot club remix "Crazy In Love," earning Diggy a Grammy and Certified Gold Record for his outstanding participation as Musician and Arranger.
Rob Diggy also has learned under Grammy Nominated producer and Film Composer Vassal Benford, completing music cues for Sony Pictures' "The Swan Princess Christmas." Diggy currently is working with production partner, award winning Video Director J. Jesses Smith, and many various local independent film directors and producers as the "go-to" Post-Production Composer of their choice.
GO BANG! Magazine: You're a Chicagoan and are recognized as one of the best film composers in the business. You are also a musician. How and when did you first get involved with music, and then film?
Rob Diggy: I began enjoying music at an early age, watching my uncle play with his band on Friday nights, and listening to my dear grandmother who always played ragtime on the piano. My brothers and cousins would join me in trying to imitate the band, not knowing that one day we would be musicians ourselves. I didn't start composing films until the late nineties. I found it very interesting how the music flowed with each and every scene. After watching the movie "ROOTS', and seeing Quincy's name in the credits, I was sold on becoming a film composer.
GO BANG! Magazine: You've had the opportunity to score several tv shows (Chi-Raq: The Series), short films (A Sisterhood of Signatures), and movies (Just A Friend). How would you describe the opportunities for minorities in film composition?
Rob Diggy: The opportunities are there, but understand, everybody can't score to picture. I am in a male-dominated, white society of composers, where they get the bulk of the work. Black, male composers are very few. Your work as a composer must stand out to be recognized. It's by word of mouth, and a lot of faith.
GO BANG! Magazine: You've also accomplished great success in the music industry. Your remix production of Beyoncé's "Crazy In Love" from the 2004 album "Dangerously In Love", earned you a GRAMMY® and a Certified Gold Record. How did it feel to be recognized and awarded by your peers? Link: https://www.youtube.com/watch?v=mGLkmlKYugo
Rob Diggy: The feeling of having earned the Grammy was cool! Most people are happy for you and wish you the best. Some…not as much. I've managed to get a lot done with it, and I use it when I feel I can get a bigger gig!
GO BANG! Magazine: After working with such a high ranking artist, are there any other artists, current or classic, that you would love to work with?
Rob Diggy: Yes! In the area of R&B, Pharrell would be my choice. Brian Tyler (Thor, Fast and Furious), and Hans Zimmer (The Dark Knight, Inception). Those guys rock!
GO BANG! Magazine: In addition to being creative, you are a savvy businessman. Please tell us about Rob Diggy Entertainment, as well as the other business ventures that you are involved with.
Rob Diggy: I am currently working on projects out of Valencia, Spain and Dubai, a great new tv series titled Conrad starring Eric Roberts and Harry Lennix. I just signed a deal with a company that has taken me under their wings, called Big Citi Loops, where I'll be creating loops and custom music. It's a big business, and I plan on making them proud. I have some projects in Atlanta that are forthcoming, so stay tuned. And, a huge THANK YOU to my mentor and high school band director, Delano O'Banion, who paved the way and shaped me as a musician.
GO BANG! Magazine: What is your ultimate goal in the film and music industries?
Rob Diggy: The ultimate goal is to win an Oscar® for a score, and another Grammy®.
GO BANG! Magazine: Do you ever plan to pursue any type of career as a recording artist, knowing that you have talent as a musician? If not, why not?
Rob Diggy: Nah… I'll stick to music production and work with some talented youth interested in learning how to score their own films. I actually work with a very young filmmaker out of Atlanta, Bryce Michael, who just produced his very first short, horror film. My point for mentioning him is…my desire to work with more young people of color, specifically aspiring filmmakers.
GO BANG! Magazine: I have witnessed your participation in several charitable and community events. Why is that important for you to do?
Rob Diggy: It's important to attend gala's to get away from the business sometimes. I love to network and meet new people. Believe it or not, some people don't know how to network, which stifles or slows their growth and keeps them from getting other work. You have to be your own spokesperson.
GO BANG! Magazine: Are you currently working on anything or would you like to mention anything that you'd like our readers to check out?
Rob Diggy: Well, I have content posted on my IG and SoundCloud page. I am working with my dear friend Carl Gillard (Actor-Director-Producer) and his new digital web series "Two Degrees" which has a host of great L.A. talent. It's gonna be nice. I was inducted into the University of Arkansas at Pine Bluff (UAPB) Music Legends Wall of Fame, my alma mater. Lastly, I received a "For Your Consideration" Grammy® Nominations Consideration for the 62nd Grammy® Awards.
GO BANG! Magazine: In conclusion, the COVID-19 pandemic has caught the world off-guard. How are you dealing with it?
Rob Diggy: Man, I have gained a few pounds, on the phone for new projects, songwriting and staying current. I think C-19 has brought people together through social media and at home. Creatives and burning, getting new projects ready. People are seeking new content out of the creative community, because we can work from anywhere on the globe in our home studios. Rest in Peace to my dear brother Barry J. Morrison, who was also a big inspiration to me and my #1 fan.
You can follow Rob Diggy on ALL social media formats.
LINKS:
https://www.conradseries.com/soundtrack
https://trailers.apple.com/trailers/independent/the-gandhi-murder/
https://www.instagram.com/composer4filmz/
https://www.facebook.com/reelmusicgroup/
https://pro.imdb.com/name/nm2156011/?ref_=recent_view_5
Pierre A. Evans is a freelance writer of Entertainment, Music, Art, Culture, Fashion and Current Events, and previously for SoulTrain.com, NDigo.com, ChicagoDefender.com, EmpireRadioMagazine.com, and UrbanMuseMag.com, an author, singer/songwriter, actor, model, poet, dancer, and DJ. He is also the owner of Pinnacle Entertainment Productions. Follow him on Facebook, Twitter, and on Instagram.