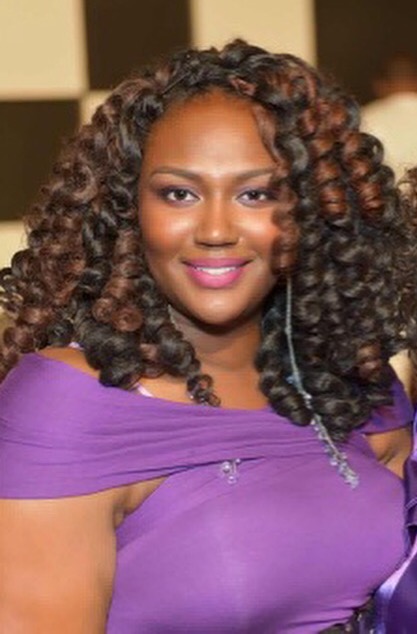 All photos courtesy of Je'Niece McCullough & Facebook.com/Je'NieceMcCullough


Je'Niece is the only child of the late and legendary comedian Bernie Mac. She holds a B.S. in Psychology and an M.A. in Mental Health Counseling. She worked for several years in social service. In 2005, she left the field and began working for her father as his assistant. They worked closely together until he died in 2008.

After her father's death, Je'Niece began working as Vice-President of his foundation, The Bernie Mac Foundation. While working for the foundation, she unlocked her hidden gift of speaking. She has been a featured speaker for several events, including The Black Women's Expo, Heart & Soul Women of Excellence Awards, and Everest College's 2012 Commencement Program. She has since stepped down as Vice-President of the foundation but continues to speak regularly on issues such as women's empowerment, Sarcoidosis awareness, and overcoming depression.

Je'Niece has appeared on several news outlets, television shows, and documentaries. She is a published author and has been featured in several publications, including Today's Black Chicago Woman and Ebony magazine, as well as several collaboration books. She currently writes for Medium.com.

Je'Niece lives in the south suburbs of Chicago with her daughter, Jasmine.
Je'Niece with her mother, father and a bride

GO BANG! Magazine: Where were you born and raised?

Je'Niece McCullough: I was born and raised on the south side of Chicago.

GO BANG! Magazine: How would you describe your childhood and teen years?

Je'Niece McCullough: Hmm…I'm not sure I have a descriptor. It was all I knew. There were good times, not so good times, and just about everything in between. It's probably easy for me to have difficulty describing my childhood because I was so disconnected from myself as a kid. I was more concerned with making sure the adults around me were ok—which they never seemed to be. I remember everything being a big deal and I was usually left wondering why things were so difficult when it seemed like they could have been much simpler.

GO BANG! Magazine: Do you have a role model, or someone that you look up to or who inspires you? If so, who would that be?

Je'Niece McCullough: I don't have a role model. My dad was the closest thing I had to one. I looked up to him, and not because of his fame, but because he was a superhero in my eyes, and I desperately wanted his love and approval. I always admired how sure he seemed of himself because that was the complete antithesis of how I was.
Four generations of family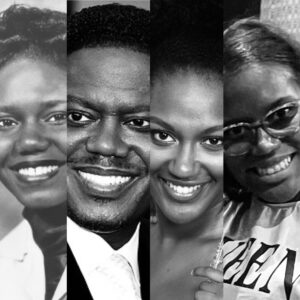 GO BANG! Magazine: As you got older, your father Bernie Mac, began to get famous as the legendary comedian we all know and love? How did his fame affect you and your personal life growing up? What were some of the challenges and advantages?

Je'Niece McCullough: My dad becoming famous was surreal. While he was simply Daddy to me, he was this larger-than-life thing to others. It changed how people saw me. I wasn't just Je'Niece, but this this extension of my dad. It was like I wasn't allowed to have an identity separate from him. I literally went from being teased and bullied one school year because I didn't have enough money to dress well in others' eyes, to being lauded for being best dressed the next year. Keep in mind, we still didn't have money and I was wearing the same clothes they were teasing me about. Lol. Then came the hatred just for being me. Suddenly people hated me because I was Bernie Mac's daughter. It was either I was doing too much, or I wasn't doing enough. It was weird and truthfully, it still is. The obvious advantages were that I got to witness my dad achieve the success he always dreamed of. That was amazing. And his success provided great perks—no longer having to worry about money, opportunities for travel, meeting famous people. The challenges involved having to work hard to remain grounded in a sea of people who would exalt or punish me in a blink of an eye. And knowing who to trust. So many wanted to be around me, but it was hard to know who was really there for me vs. who was there to have the chance to say they were friends with "Bernie Mac's daughter."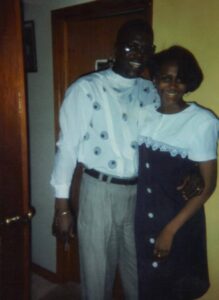 GO BANG! Magazine: What are some of your fondest memories that you had with your dad?

Je'Niece McCullough: Some of my fondest memories that I had with my dad are in my early years, long before his fame. I was a Daddy's girl at that time. He would take me just about everywhere with him—the beach, to the community center where he coached basketball. He would even comb my hair and take me to school in the morning. I loved being with him. He was my everything.


Je'Niece with her parents

GO BANG! Magazine: The public is very aware of your famous father, but not so many know about your mother. Could you tell our readers a little about your mother?
Je'Niece McCullough: My mom is my dad's high school sweetheart. They actually met when they were like 13-14 years old, but she thought he was ugly and ran away. Lol. They met again in high school and while she didn't remember him, he remembered her. She always says she still thought he was ugly, but she changed her mind once she talked with him because he was so nice and charming. Once they married, she took care of our family on the domestic front, even after she went to nursing school. She would go to school and work, come home, cook dinner, and clean and make sure we were good. She did that for years—even after my dad began to achieve financial success. I always say she was the yin to my dad's yang. While my dad was the dreamer, she was the realist. While my dad was like "I'm going to be rich and famous one day," she was the one who was like, "Yeah ok, but what are we going to do now?" Once she stopped working as a nurse, she took care of my dad's books.

GO BANG! Magazine: Besides being Bernie Mac's daughter, you are also your own person doing great things that the readers need to know about. You are a beautiful and intelligent young woman who holds a Psychology degree and worked in Social Service for many years. Why is it important for you to work with the community?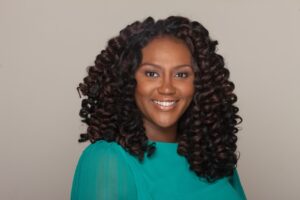 Je'Niece McCullough: Well thank you. I appreciate the kind words. I have always been passionate about doing what I can to help others. When I went to school, I originally went with the goal to go to medical school and become a neurosurgeon. As I progressed in my studies, I realized I didn't have the heart for that, but I did fall in love with psychology. In studying psychology, I began to understand how much our unconscious minds are running the show. It's so easy to look at others through a superficial lens. However, we need to go deeper to truly get to the heart of the matter. Most of my time in social services has been spent in the addiction community. I saw how much it is needed because those are the people that get disregarded most often. We all need support, most especially those of us who get written off as the worst.

GO BANG! Magazine: You are also a doula. Please explain what that is and why you do it.

Je'Niece McCullough: I am a birth and labor and postpartum doula. A doula is a professional labor assistant whose role is to provide emotional and physical support to those who are birthing babies and their partners to help them achieve the most healthy and satisfying experience. I became interested in becoming a doula years after I gave birth to my daughter. I hated my birth and postpartum experience and I wanted to do whatever I could to help those around me who became pregnant so that they didn't have the same regrets and dissatisfaction as me. The more I offered help, the more my desire for knowledge and ways to support grew. I learned that we so often neglect to support birthing individuals as well as we should. We tend to take for granted the birthing process because women have been birthing babies since the dawn of time, but it's a complicated process—not only physically, but emotionally as well—especially for Black women in this country. It was important to me to do what I can to help.

GO BANG! Magazine: You worked with your father until he passed in 2008 and then began working as Vice-President of The Bernie Mac Foundation. Tell our readers, THE BANGERS, about the foundation's mission.

Je'Niece McCullough: My father was diagnosed with Sarcoidosis in 1986. At that time, there wasn't much known about the disease, and sadly, in the early 2000s, that had not changed. He started the foundation to bring awareness to Sarcoidosis and to raise funds to aid in research towards a cure.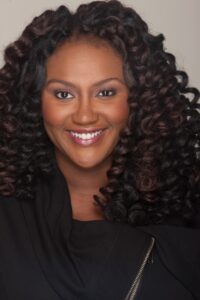 GO BANG! Magazine: You've moved on from the foundation and started your career as a speaker. What are some of the topics that are important to you that you speak on at your various events?

Je'Niece McCullough: I moved on from the foundation over a decade ago. As important as I believe the foundation is, I learned that running a nonprofit was not my gift. I've been speaking for about a decade as well. Topics that are important to me to speak about are mental health, especially overcoming depression, women's empowerment, and living authentically.

GO BANG! Magazine: You have collaborated with various authors on numerous published books. Please tell our readers more about these books.

Je'Niece McCullough: I've been fortunate to be a part of a couple of collaborations with wonderful women. It's been an honor to be included with these women because they've done some wonderful things in their lives. One book is Transition: Create the Life You Desire. It includes 16 phenomenal women telling their stories of how they opted to follow their dreams and take a leap of faith. The other is titled What is a Courageous Woman, presented by the beautiful Telishia Berry. It is just as it's titled, beautiful courageous women sharing their definition of a courageous woman. I've also been featured in Ebony magazine.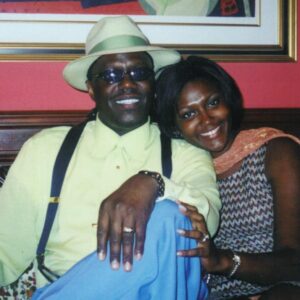 GO BANG! Magazine: You also have a blog, "Bernie's Daughter." Please tell our readers about your blog and why you started it.

Je'Niece McCullough: I have always loved to write and help others. The blog fuses the two. I share my life experiences in the hopes that others can see themselves and know that they are not alone and that they can glean something that may help them to not give up, to course correct their own lives, and sometimes to even laugh. The title came about because I've always struggled with being known as "Bernie Mac's daughter." It was my attempt to claim that for myself instead of feeling like it was always being thrust upon me.
Je'Niece with her daughter Jasmine and dad
GO BANG! Magazine: In addition to doing all that you do, you are also a mother to your daughter Jasmine. Tell us about your daughter and what dreams you have for her life in the future.

Je'Niece McCullough: My daughter is the best person in the world! I always say that I got lucky. I got to be raised by one soulmate and then had the privilege to give birth to my other one. She's a beautiful soul—kind, funny, and quite creative. She has a lot in common with me and her grandfather. As far as my dreams, I learned a long time ago that I am the vessel and guardian of her. That's a great responsibility, however, it does not grant me the right to dream for her. She came here to live her own life and so I only dream that she lives life authentically, on her own terms, that she knows her worth, that she loves well and is loved in return and that no one (not even I) gets in her way.

GO BANG! Magazine: If you had one chance to spend one day with your dad again, how would you spend it?

Je'Niece McCullough: I used to think it would be something grand. But now? I'd probably just spend the day sitting in his lap like I used to, just talking, and laughing. I'd show him "Black Dynamite" because I still hate he didn't live to see that movie. I know he'd crack up laughing the entire time. I'd get him his favorite food, and his MGD (Miller Genuine Draft), and watch him marvel at his granddaughter. And I would cherish every moment.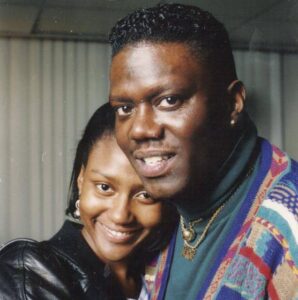 GO BANG! Magazine: In conclusion, what do you want your legacy to be?
Je'Niece McCullough: I want my legacy to be that I loved with my whole heart and that I made life a little more joyous and bearable for (if even just a little) for others.
GO BANG! Magazine: Well, Je'Niece, I want to thank you for granting me this interview. I also want to inform you that you have now officially been BANGED!!! GO BANG!


"Bernie's Daughter" blog link: https://medium.com/@berniesdaughter

You can follow Je'Niece on ALL social media platforms @berniesdaughter



LEAVE YOUR COMMENTS BELOW!!!







Pierre A. Evans is a freelance writer of Entertainment, Music, Art, Culture, Fashion and Current Events, and previously for SoulTrain.com, NDigo.com, ChicagoDefender.com, EmpireRadioMagazine.com, and UrbanMuseMag.com, an author, singer/songwriter, actor, model, poet, dancer, and DJ. He is also the Owner of Pinnacle Entertainment Productions and the Owner/Publisher of GO BANG! Magazine. Follow him on Facebook @Pierre Andre Evans, Twitter @Playerre, and on Instagram @Pierre_Andre_Evans.