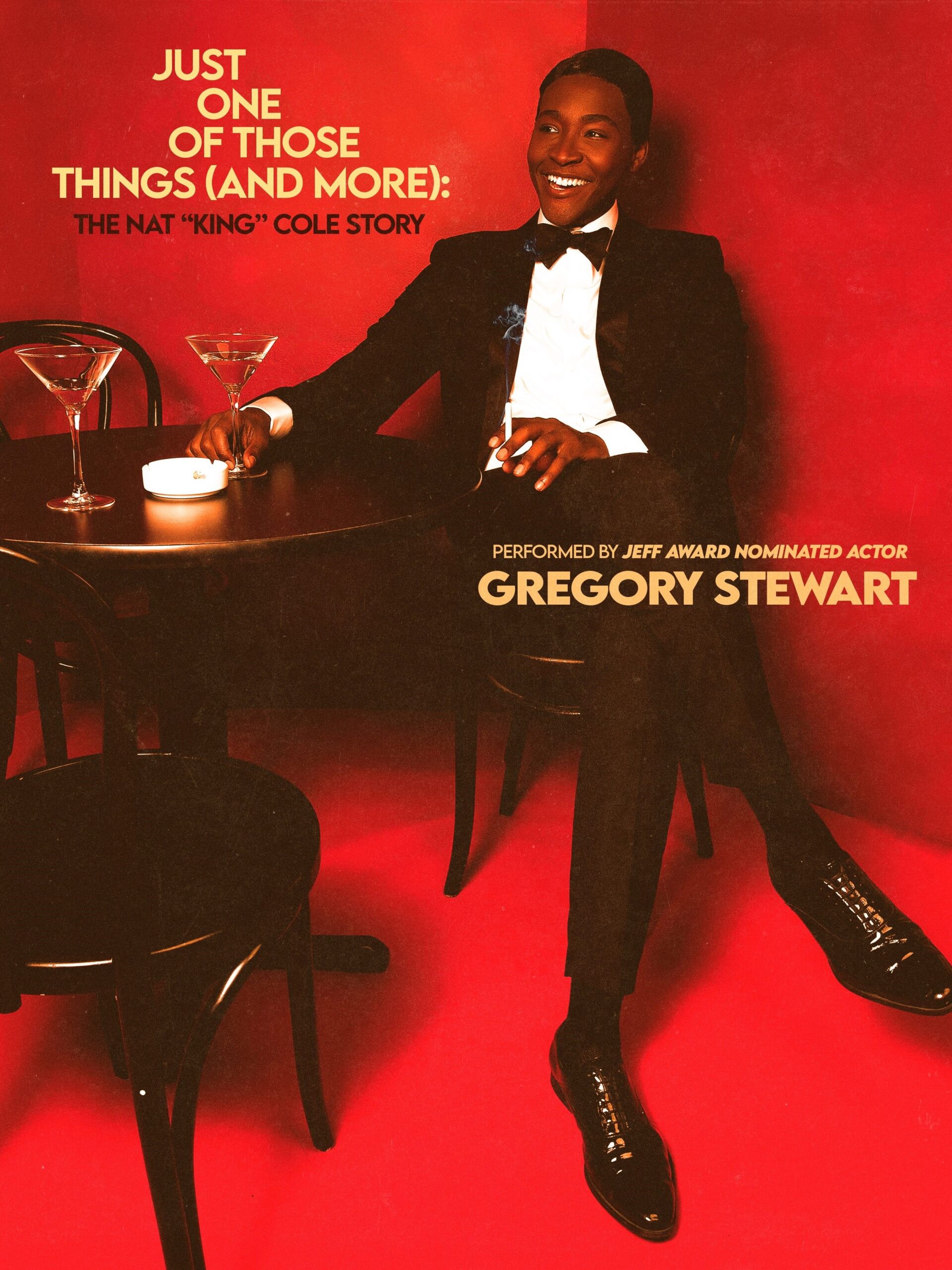 Chicago, IL – Stewart Music Emporium presents performer Gregory Stewart, 2023 Jeff Award nominee (Reasons: A Tribute to Earth, Wind & Fire) in a limited run of his tribute Just One of Those Things (And More): The Nat King Cole Story, December 8, 2023 – January 7, 2024, at Venus Cabaret Theater, 3745 N Southport Ave. The opening is December 9, 2023 at 7:00pm.

Tickets, $60-$70, are on sale at MercuryTheaterChicago.com. Performances are December 8-9 at 7pm, December 10 at 3pm, December 21-23 at 7pm, January 5-6 at 7pm and January 7 at 2:30pm.

In Gregory Stewart's production, he reveals the perseverance and tenacity of a musical legend who made an indelible mark on the music industry during the height of racial and social unrest. Stewart will perform all of Cole's best-known melodies, including the favorites "Unforgettable", "When I Fall In Love", and "The Christmas Song", among others.

Music heals the soul, and Nat King Cole bridged the racial line by leading with love. Just One of Those Things (And More): The Nat King Cole Story, is about a remarkable human being and trailblazer. His catchphrase, "Just one of those things," reflected his attitude toward the world during his time.

Stewart will be joined by musicians Will Oats (piano), William O. Whitehead III (drums), and Isaiah Horne (bass). The creative team includes Janine Stroemer (director), Ameer Roberts (creative direction and set design), Janine Stroemer and Aundria TraNay (writers) and Jessica Taylor (hair and make-up).
Gregory Stewart comments, "If it weren't for Nat King Cole, there wouldn't be a lot of entertainers that we love so much performing today. Nat became the first of many historical moments. He was the first African American to be a host on national television. He was the first African American to have a residency in Vegas. He was the only African American man to build and be the face of Capitol Records. The music industry would not be as powerful as it is today if it were not for Nat King Cole's contribution and his fight for equal opportunities for everyone. Nat was faced with endless obstacles, and he still rose to the top. I am honored and proud to pay tribute to an icon that deserves more recognition than what he is getting."

Gregory Stewart, Jr., became a music enthusiast at an early age. As a child prodigy on the Southside of Chicago, Gregory was shaped by diverse types of musical genres that helped establish his career in the entertainment industry. In 2018, Gregory's talent brought him to live abroad in Osaka, Japan where he completed a two-year foreign entertainment contract with Universal Studios. While in Japan, Gregory produced multiple independent musical performances featured in nightclubs, entertainment venues and events.

After returning to Chicago, Gregory established his roots as a professional entertainer throughout Chicagoland, including as one of the lead singers of the popular band Maggie Speaks. Gregory was nominated for a Jeff Award for the role of Philip Bailey in Reasons: A Tribute to Earth Wind & Fire at Black Ensemble Theater. Gregory performs as a cross-cultural entertainer, paying tribute on stage with renditions of historical artists that have made indelible marks in the music industry. He produces his own productions under Stewart Music Emporium and will release his debut album, "Back in Love," in early 2024.