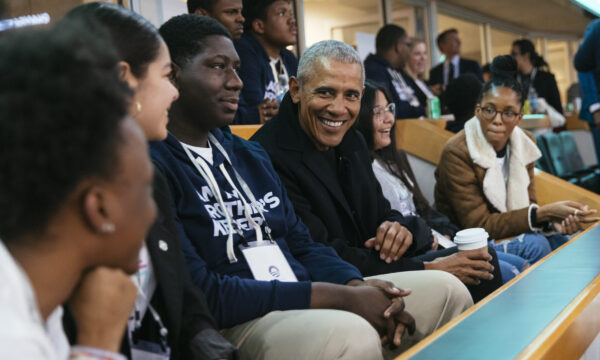 Story and photos courtesy of: Obama.org and The Obama Foundation

CLICK VIDEO: https://www.youtube.com/watch?v=ikbWbQylWNc&t=250s
PHOTOS LINK: https://www.flickr.com/photos/160187588@N03/sets/72177720302973317/?utm_source=crm&utm_medium=email&utm_campaign=Chicago%20wkly_102122&sfmc_s=0033600001gweZFAAY

Hi Pierre,

This week, Michelle and I traveled home to Chicago to meet with students on the South and West Sides and see the impact the Obama Foundation is already having on the ground there.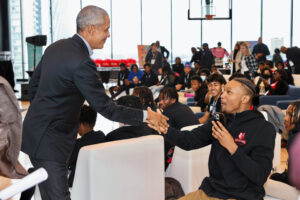 The two-day trip was an inspiring one! At 167 Green Street, President Obama surprised over 60 Chicago high school students for a day of activities and conversation. In collaboration with local businesses and support from Nike, students had the opportunity to engage in a wide range of activities – from yoga and meditation to art therapy and even a hair product creation tutorial.

As part of our My Brother's Keeper Alliance initiative, Freedom Summer 2022, the President participated in a panel conversation with Chicago Bulls player, Ayo Dosunmo, Chicago Bulls Creative Strategy and Design Advisor, Don C., and Chicago high school students about their experiences, as well as the importance of utilizing community resources and organizations, like the Obama Foundation, to find their purpose.

President Obama also moderated a panel discussion with leaders from McDonald's and Prudential, for an audience of small business owners and Chicago business leaders to discuss how small businesses and large corporations can work together to invest in economic growth for the South and West sides.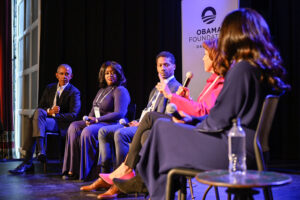 On the South Side, Mrs. Obama surprised students at Hyde Park Academy High School to formally kick off the Obama Foundation Futures Series for the 2022-23 school year. The Futures Series brings in speakers to expose students to the stories, experiences, and insights of leaders across a wide range of industries and paths in an effort to deepen their understanding of the various career pathways they could take upon graduation.

Mrs. Obama spent most of the hour-long conversation answering questions submitted by students around hardships, success, and finding one's purpose. She also sat down with 10 girls from the Working on Womanhood (WOW) program, a year-long group counseling and clinical mentoring program for middle and high school girls, for an intimate discussion centered around their well being and developing a healthy sense of self.

"It's been incredible to see the impact our programming has started to make on the lives of our young people – from the work with the My Brother's Keeper Alliance and the Girls Opportunity Alliance to the Futures Series," said Obama Foundation CEO Valerie Jarrett. "A part of our work at the Obama Foundation is to empower young people in underserved communities and increase their access to opportunities. It's the kind of programming we will bring to the Obama Presidential Center when it opens in 2025."

CLICK VIDEO: https://www.youtube.com/watch?v=ikbWbQylWNc&t=250s
PHOTOS LINK: https://www.flickr.com/photos/160187588@N03/sets/72177720302973317/?utm_source=crm&utm_medium=email&utm_campaign=Chicago%20wkly_102122&sfmc_s=0033600001gweZFAAY