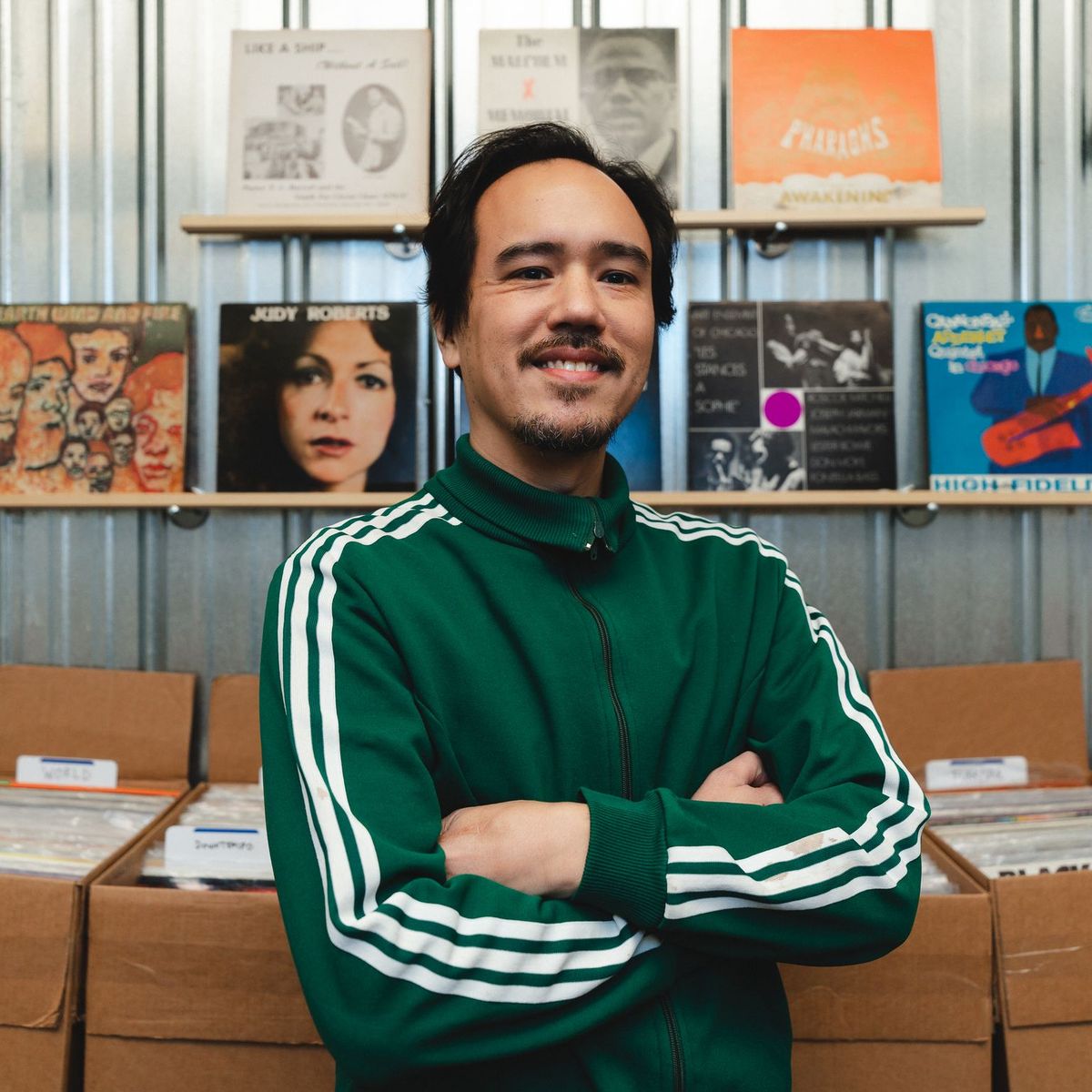 Photo credit: Clayton DeLa Chappelle
Nigel Ridgeway aka TREW has a love for DJing that began in grade school when using two tape decks to spin basement parties. TREW's main aim is to weave a common thread through seemingly disparate genres. Drawing inspiration from the early 1980s NYC art/music world, he believes no genre is off limits and no collaboration too outlandish. Honing his chops with the east-coast Rave & Hip-Hop scenes (Baltimore/DC), it was Chicago's wealth of musical and architectural history that pulled him westward. "Like most kids back then, I thought 'Percolator' was a Baltimore club track. Once I found out the truth, I knew this is where I was meant to be!" he exclaims. Soon after, he quit his corporate job, cashed in the 401k, and invested his life into music.

Since landing in the "Windy City", TREW has performed or held residencies all across Chicagoland. He's played stages at West Fest, Spring Awakening, Do Division, Taste of Randolph, and North Coast Music Festival. He has been lucky enough to perform with artists like Snoop Dogg, Mayer Hawthorne, People Under The Stairs, Keys N Krates, Nightmares On Wax, Mint Condition, Bone Thugs N Harmony, Jeremiah Jae, Bobbito, House of Pain, Van Hunt, Jneiro Jarel, Devin the Dude, Bonobo, Cut Chemist, Quantic, Currensy, Afrika Bambaataa, MF Doom, Mos Def and dozens more.

When not DJing, he co-owns Ground Lift Media – a digital marketing company, he's 1/2 of the DJ/Production duo Altered Tapes, owns and operates Heat Rock Records, and is deep into vinyl excavation, having amassed thousands of rare Soul, Funk, Disco, and Jazz records. This is a hobby/obsession he shares with the world via his Miyagi Records Shop.

GO BANG! Magazine: Where did you grow up and where do you call home?

Trew: I grew up on the east coast, in and around the Baltimore/DC area. But, I've lived in Chicago for 23 years (Jordan!) and for a while now, Chicago has felt very much like home.

GO BANG! Magazine: When did you first become interested in the music industry?

Trew: Well, I don't know that I've ever been interested in the 'industry' per se, navigating the business and politics side of things, but I'm a 100% fan of making a living from my craft(s)! How I first became interested in music itself is an entirely different story though. The way my Mom tells it, I was heavily into anything musical from a very young age, toddler style. What I remember however, is my first electronic instruments and getting into cassette tapes.

Once I learned you could record onto cassettes, it was over! My debut 'mix' was made using songs from the radio. I was a huge fan of ElectroPop 80s and Freestyle – Nu Shooz, Taylor Dayne, The Miami Vice theme (lol), Expose, Giorgio Moroder, Newcleus, Shannon – so that was the vibe for those early mixes. At some point, it wasn't enough to just listen to the music, or make a mix… I had to do the thing I loved so much.

On that first keyboard, I was a beast playing "Greensleeves" and making weird tracks with the 'Rhumba' drum accompaniment. Or replaying the simplest melodies I could figure out from songs like "I Need Love" by LL, and "Lean On Me" by Club Noveau. What really changed the game though was getting my first drum machine…a little Yamaha four-pad electronic thing. I was and am still, a percussion guy and have owned mannnyy different drum machines. That, along with a set of 1200s has been the most consistently present pieces of gear in my studio over the years.

GO BANG! Magazine: Growing up, you liked the sounds of House music and realized that it originated in Chicago. Soon after learning this, you relocated to Chicago. What is it about the sound of House music that attracted you?

Trew: It was good dance music, plain and simple. "Perculator" was my gateway drug because it was constantly played by Baltimore club and Rave DJs. At that point in my music discovering journey, everything was informed by what I was hearing from Rave DJs and on the late shows/college radio. Honestly, I hadn't even really discovered the depth of Disco yet, so once I got here House started to make much more sense. What I definitely understood is Chicago is a music town. Not as in, everyone enjoys music (although that's probably true!), but genres are created here. Movements are created here. So, between the allure of House music / DJ culture, and visiting a few times a year for Jazz & Blues Fests, I knew I wanted to be here more than I wanted to be there.

GO BANG! Magazine: As a DJ/Producer, what type of events have you worked and what type of production do you do?

Trew: My production style is as varied as my musical tastes. I'm currently making a lot of Dancehall / Reggaeton influenced remixes of classic Hip-Hop and 90s RnB, and some Steppers too. If there's a common thread through it all, it's that I love to use samples.

As far as performing, I've worked with artists in most all genres I enjoy. Definitely grateful to be able to perform / produce multi-genre and not be pigeon-holed! To even have the opportunities to be on stage with these folks, I've worked my way onto lineups. Let's see… Bone Thugs. I earned my stripes that night I think. It was at House of Blues, and I was supposed to only be the opening DJ, but the lead-in band decided they wanted to go on early. This boggles my mind to this day. What an opportunity lost! Anyhow, I ended up being direct support for BTNH. Everyone at HoB was already salty about the high drink prices, and was getting impatient… So when the curtains came up and they realize it's me and not Bone, I knew from that moment I had my work cut out.

Quick side note, if anyone reading this was at the Doom / Mos Def concert at Congress many years ago, you know what the vibe was like before Doom appeared. I remember we were awaiting his truck at the stage door inside the green-rooms. We were hoping he'd show, but also wondering if maybe he'd be the supervillain that night. A local MC had to take the stage next. I'll always respect Qwel for how he handled himself, getting 4,000 angry Doom fans to come to an almost complete silence and put their focus back on the music. So that night at HoB, I like to think I was able to channel a bit of that Qwel energy.

Everytime the crowd erupted, chanting 'Bone, Bone Bone!' I hit them with a track as a reminder of who was on stage. I'll never forget that night and lesson. My nerves are wrecked, no matter who I'm performing with. The exception was probably People Under the Stairs (RIP Double K). These guys were so utterly genuine about feel-good music and wanting to rock an old-school-vibe Hip-Hop show. It was tough to feel anything but excited about wanting to do the same. Plus, their crowd is easy. They come ready to GO.

GO BANG! Magazine: In addition to being a DJ/Producer, you are also a businessman and an entrepreneur. Can you please tell our readers a little more about your businesses Ground Lift Media, Altered Tapes, Heat Rock Records and Miyagi Record Shop?

Trew: Short version, they're all related to music. When I moved here, I was the weekend resident at SubT for a good six years. But, as soon as I lost that gig due to the changing neighborhood, I realized I hadn't put in the proper work building myself, the TREW brand. I should have been putting a value on the party I'd created and the dollars I was bringing in. Most importantly, I hadn't built strong enough connections with the patrons I'd met during that time. I forgot to make an email list, which is now why that's the first thing I do whenever beginning a new endeavor. Definitely won't make that mistake twice.

But anyhow, lesson learned. I dove into marketing and design, because as most DJs know, DJs aren't just DJs. They're a 10-person team all-in-one. By working in any one of these roles – promoter, designer, website builder, street team manager, etc – I was able to bring together a decent resume and rep that allowed me to branch off as Ground Lift Media. This is currently my event marketing and brand strategy company. We focus on contracted Street Level marketing these days, but there was a time when we mainly did concert production. Along with my production partner and friend Patrick Grumley (Cold Grums), we produced dozens of large-scale concerts and events over the years. I'm proud to say we did Mayer Hawthorne's first-ever show in Chicago, which was a sold-out heater of a night at Darkroom.

All my other projects focus around the tangible aspect of music. I release remixes as Altered Tapes with my buddy Marco Jacobo (Maker). Just two years ago, we began an all-remix 45rpm vinyl label which is distributed globally as Heat Rock Records. Most recently, I launched a record shop, Miyagi Records, in the summer of 2020. That's my baby at the moment and I spend much of my time now digging for vinyl, making road trips, and slapping ads wherever it makes sense. (haha)

GO BANG! Magazine: Recently, you had an event at The Silver Room in the eclectic and trendy Hyde Park neighborhood in Chicago. Please recap that event for our readers and explain why it is important to you to support local small businesses.

Trew: This event series was attached to Miyagi Records and came about via a conversation I had with Eric (Williams) at The Silver Room. I recently set roots on the south side with my beautiful and brilliant partner. Part of the reason for moving here was to bring everything that I do culturally, to the south side. Miyagi is still in startup mode and we setup shop at our pop-up and wherever else that will host us.

I'd always admired Eric's work as a community business. He was the first person I'd hoped to work with in Hyde Park. The Record Store Day series ended up being a happy coincidence since we both wanted to produce something cool for the celebration. So over the course of two events, we hosted 10 DJs, two live performances, and eight local, indie record dealers. The overall goal was to bring some light to these sellers and give people live music again! I'd say it worked.

Well enough that we've expanded the event into the Chicago Vinyl Connection. This is technically a record show, but it's more about bringing together the vinyl-loving community in Chicago. My production partner on this one is Grant Crusor of South Rhodes Records. This was another happy coincidence. We both wanted to fill a void in the world of record shows. To give businesses help they need, while also bringing a community together.

To finally answer your question, I support local and small because that's who need it and that's also who I am. What Miyagi is. Chicago is a big city, and the south side is whole world. We need all the help we can get!

GO BANG! Magazine: GO BANG! Magazine see's that you like a wide variety of music genres including Rave, Hip Hop, Soul, Funk, Disco, Jazz and House. On an average night, when you're trying to chill, what songs would most likely be found on your playlist?

Trew: When I'm at home just listening to records, it's all about Jazz. I'm a big fan of 60s Soul Jazz stuff and 70s Fusion. I was introduced to Jazz via reading cassette tape liner notes, looking at which songs were sampled. Then a good friend gave me Herbie Hancock's 'Headhunters' album. Things just got out of hand from that point. 70s Spiritual Jazz is my all-time chill soundtrack though. Stuff like Alice Coltrane, Nathan Davis, Phil Cohran, or The Awakening. But most importantly, New Jack Swing & 80s/90s Slow Jams will always make an appearance at some point!

GO BANG! Magazine: Being a DJ/Producer, you have a musical style / sound that identifies you. How would you describe your sound, as far as a DJ and producer?

Trew: As I mentioned before, I'm big into sampling. So that definitely influences my sound. But if I had to describe it as a whole, I'm just trying to make soulful music with dope drum programming, except when I make Drum and Bass. That's 100% me trying to work out some feelings. Most everything I made last year was Drum and Bass or related.

Nowadays, I'm channeling Island vibes because my band Guayabera Unlimited has been on hiatus since Covid, and the Islands are where I'd rather be this winter.

GO BANG! Magazine: If you were not involved in music, what would you be doing?

Trew: I've thought about this in depth many times over the years. I even thought about it this weekend. The answer is always: I have no idea. This is it. I've tried working in my other passions (Engineering, Architecture, and Interior Design) but they all felt like jobs. And without fail, while working these jobs, I constantly had music on my mind. It's the one thing I'm able to do, day in day out. No question, and so far, it's been great. I've seen the world, met and worked with some amazing talents, and have found a way to make feeding my record collecting addiction a full time thing 🙂

GO BANG! Magazine: COVID 19 has hit the world hard. How has it affected you and how are you dealing with it.

Trew: Well, outside of the bigger lessons about humanity I've learned, it basically killed my performance schedule and tour plans for 2020. But on the flip, it finally gave me the time and space to focus on launching Miyagi Records and doing more A&R work for Heat Rock Records. That's where I'm seeing my future. I still love to perform, but I'm more particular now and only do it when the gig is right. I don't see that changing once things actually return to a state of normalcy.

I feel that Arts & Culture has helped and is still helping save the world during the pandemic, when they are one of the most affected industries. Also, I think this is only one of many trials to come for the world. I want to be prepared to do all I can to help where I can. So overall, I'd say Covid has made me more focused and ready for action.

You can follow Trew on ALL social media platforms @trew3000



Pierre A. Evans is a freelance writer of Entertainment, Music, Art, Culture, Fashion and Current Events, and previously for SoulTrain.com, NDigo.com, ChicagoDefender.com, EmpireRadioMagazine.com, and UrbanMuseMag.com, an author, singer/songwriter, actor, model, poet, dancer, and DJ. He is also the Owner of Pinnacle Entertainment Productions and the Owner/Publisher of GO BANG! Magazine. Follow him on Facebook @Pierre Andre Evans, Twitter @Playerre, and on Instagram @Pierre_Andre_Evans.