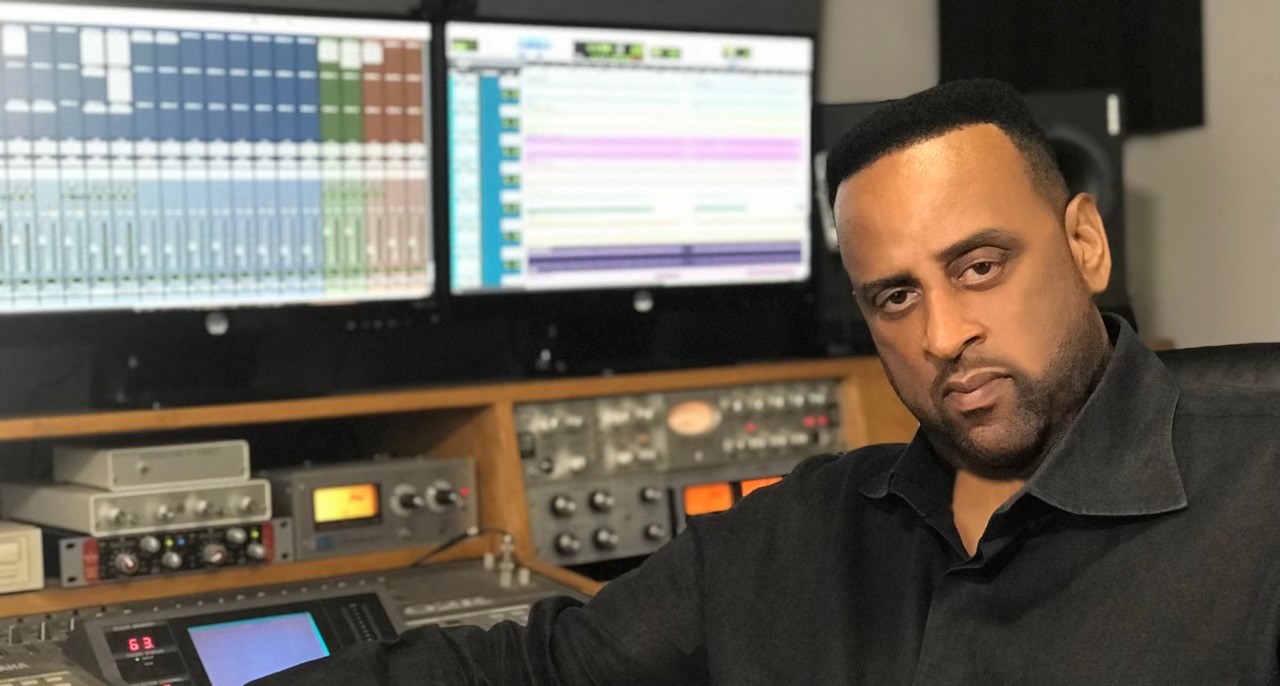 Photo credit: Kevin Corbett
Songwriter, Producer, Vocal Arranger/Producer, Recording/Mixing Engineer, Videographer, and Visionary are a few of the hats Tyrone Corbett wears to accomplish his goals in the entertainment industry.

He studied Commercial Music at Virginia Union University in Richmond, Va. and has worked in the entertainment industry for more than 30 years.

Tyrone has worked with artists from DK Khaled and Diddy's TV show, The Four, 'American Idol' and 'The Voice'; artists signed to Wyclef Jean, Kay Gee (Naughty by Nature) and Diddy's 'Making the Band', as well as artists signed to Clive Davis' J Records, Bad Boy and Def Jam. His work has attracted the attention of record executive, Vince Herbert; producer, Daryl Simmons; legendary songwriter, Carole Bayer Sager; and super producer, David Foster.

In 2020, Mr. Corbett pitched songs to a variety of well-known artists including Lady Gaga, Ariana Grande, Chris Brown, Brandy, Justin Bieber, Kelly Clarkson, Stevie Wonder, Charlie Wilson, Kem and Joe.

"As a singer, I've had the great opportunity to work with some of the industry's top Jazz and R&B artists", says Tyrone. The list of esteemed artists includes Will Downing, Gerald Albright, Lalah Hathaway, Onaje Allan Gumbs and many others. With these veteran artists, he's toured nationally and internationally.
Additionally, Tyron has developed a unique ability to work in all genres of music and has a diverse catalog of songs, including releases in R&B, Pop, Gospel, Jazz and Country. His discography includes having worked on a #1 Billboard R&B/Hip Hop album as an engineer, while also providing background vocals on a Grammy winning Folk album.

"I am passionate about music and the artists I work with." "Music is my life!"

GO BANG! Magazine: Where were you born and raised?

Tyrone Corbett: Richmond, VA

GO BANG! Magazine: How did you first get started in the entertainment industry?

Tyrone Corbett: My father use to take my brother and I out and stand us on a shoebox to sing as an opening for his community work in activism.

GO BANG! Magazine: When did you get that first "big break" in the industry, where you had an opportunity unlike any other before, up until that point? Please describe it and how you felt.

Tyrone Corbett: My first professional break started during my collegiate tenure as I had a band that opened for artists like MTUME, Miles Jaye, The SOS Band and others. It was an exciting time to be able to share the stage with those I had revered.

Several other big breaks came along my musical journey. As a background singer, working alongside Gerald Albright, Lalah Hathaway, Norman Brown, Will Downing, Phil Perry and others was another milestone for me.

Later on, being invited to LA to meet songwriting legend, Carole Bayer Sager (Burt Bacharach, Marvin Hamlisch) and super producer, David Foster (Whitney Houston, Celine Dion and Toni Braxton) was an incredible milestone as well. As a result of my relationship with Carole and David, I was introduced to Babyface and Daryl Simmons.

As a songwriter, having Lady Gaga record one of my songs has been the absolute highlight of my career, but getting a song recorded is still not the same as getting a placement. There are many factors that are out of the songwriter's hands, but cutting through circles that big is still an incredible achievement. My fingers remain crossed that the song gets released as I'm not looking for the moral victory. 😉

GO BANG! Magazine: You've worked with several famous artists over the years. Is there any artist that you would love to work with, that you haven't as of yet?

Tyrone Corbett: I've worked artists signed to Clive Davis, Wyclef Jean, Kay Gee (Naught by Nature), as well as artists who were on American Idol, The Voice and Diddy & DJ Kaled's tv show, The Four, Ali Caldwell, Anwar Robinson and "Big" Mike Lynche are a few of the artists I've worked with.

As a songwriter with an eclectic body of work and large catalog of music, I have songs I'm shopping for artists like Arianna Grande, Beyonce, as well as Andrea Boccelli, Chris Brown, Justin Bieber and others. My work covers R&B, Pop, Gospel, Country and Jazz. I'm always swinging for the fences, so any (and all) of those above are on my radar for song placement.

GO BANG! Magazine: Being a multi-talented artist, you are a songwriter, producer, vocal arranger/producer, recording/mixing engineer, videographer and visionary. Of all of the talents and skills that you possess, which do you enjoy doing the most, and why?

Tyrone Corbett: I really enjoy everything about creative process as a whole, so wearing all of those hats are actually exciting and enticing to me, but I think songwriting still sits atop the list as I love telling a story and seeing how it is related to by the listener. I love taking the listener on a journey.

GO BANG! Magazine: The music industry is totally different now, as far as the type of music that is popular and the stars that are doing the performing, in comparison to the "good old days" of music. How would you describe the difference in the industry now, in comparison to let's say the 90's or 2000's?

Tyrone Corbett: The music industry as a whole has evolved…in some ways good, and in others not so much. Recognizing that having a great song or even having a great team can have staggering limitations is sobering, but understanding that evolution can't be fought is the key to forward movement. There was a time when a great song got you in the door and further, now it's "How many views do you have?" Networking is still a constant though and a necessity.

Lastly, there is also something to be said about the "good old days" sometimes just being "old days with good memories".

GO BANG! Magazine: What advice would you give to someone that is trying to get into the "behind the scenes" part of the entertainment industry, the technical or creative side, not the performance side?

Tyrone Corbett: Learning your craft remains high atop any list of advice offerings I have. Obviously though, for someone just starting out, ones skills will be lacking. The advice I give is to pair yourself with someone who can take your game to the next level. Never be afraid to acknowledge your short-comings, as that is the key to overcoming them.

GO BANG! Magazine: You are capable and talented in several genres of music including R&B, Pop, Gospel, Jazz and Country. Who are your favorite artists in each genre?

Tyrone Corbett: Here they are, in the order of genres listed:

R&B: Chris Brown
Pop: Arianna Grande
Gospel: Yolanda Adams
Jazz: Lalah Hathaway
Country: Dan and Shay/Rascal Flatts

GO BANG! Magazine: Who is your overall favorite entertainer, producer, and songwriter? It can be one person or several people.

Tyrone Corbett: This is a difficult question to answer as I love different things about different artists and genres of music. Having said that, I tend to stay with older songwriter / producers because of the longevity of success they have had in the entertainment industry. Considering that, LA, Babyface, Daryl Simmons, as well as Jimmy Jam and Terry Lewis are amongst my favs.

GO BANG! Magazine: Carrying on the legacy is something that parents want their children to do. I've seen you work with your son during the interview that you had with me. Your son seems to have great knowledge of the videography industry. Tell our readers why it is important for you to teach your son the business.

Tyrone Corbett: Having my son work alongside me is the best part of my day. He is talented in music and videography. Teaching him a skillset(s), while also spending that additional quality time, is truly invaluable in my opinion. I remain open and supportive to whatever choices he decides to make career wise, but providing a hands-on experience will prove useful with whichever direction he decides to go.

GO BANG! Magazine: On a personal level, I can tell that family is important to you and you include your son in your business operations. Can you tell us a little about your son, who is somewhat a miracle?

Tyrone Corbett: We found out at birth that my son has a catastrophic brain illness called Cerebral Arteriovenous Malformation (AVM). He is considered both the worst case in the world and the most successful case on record. The ongoing procedures to cure him have as much of a detrimental consequence as the illness itself, as leaving him untreated will cause an aneurysm/stroke, but the repeated treatment to sustain him can cause blindness, mental retardation, paralysis and or death. We were told to anticipate 10 years to life of brain procedures and 25 years later we are still on that course. Saying it's been difficult is beyond an understatement, but I am grateful that he continues to flourish despite this devastating illness.

Go Bang! Magazine: Looking towards the future, what do you hope to accomplish businesswise, and what would you like your legacy to be?

Tyrone Corbett: I continue to be vibrant in the creative space and have a number of projects at hand…songs and music video releases, I am working on a video interview series, as well as a documentary of my life in music while contending with my sons' catastrophic brain illness.

In terms of legacy, I'm a southern boy, so I continue to do the work so that my family is proud of me. That's all there is for me.

You can follow Tyrone by logging on to his website




Pierre A. Evans is a freelance writer of Entertainment, Music, Art, Culture, Fashion and Current Events, and previously for SoulTrain.com, NDigo.com, ChicagoDefender.com, EmpireRadioMagazine.com, and UrbanMuseMag.com, an author, singer/songwriter, actor, model, poet, dancer, and DJ. He is also the Owner of Pinnacle Entertainment Productions and the Owner/Publisher of GO BANG! Magazine. Follow him on Facebook @Pierre Andre Evans, Twitter @Playerre, and on Instagram @Pierre_Andre_Evans.