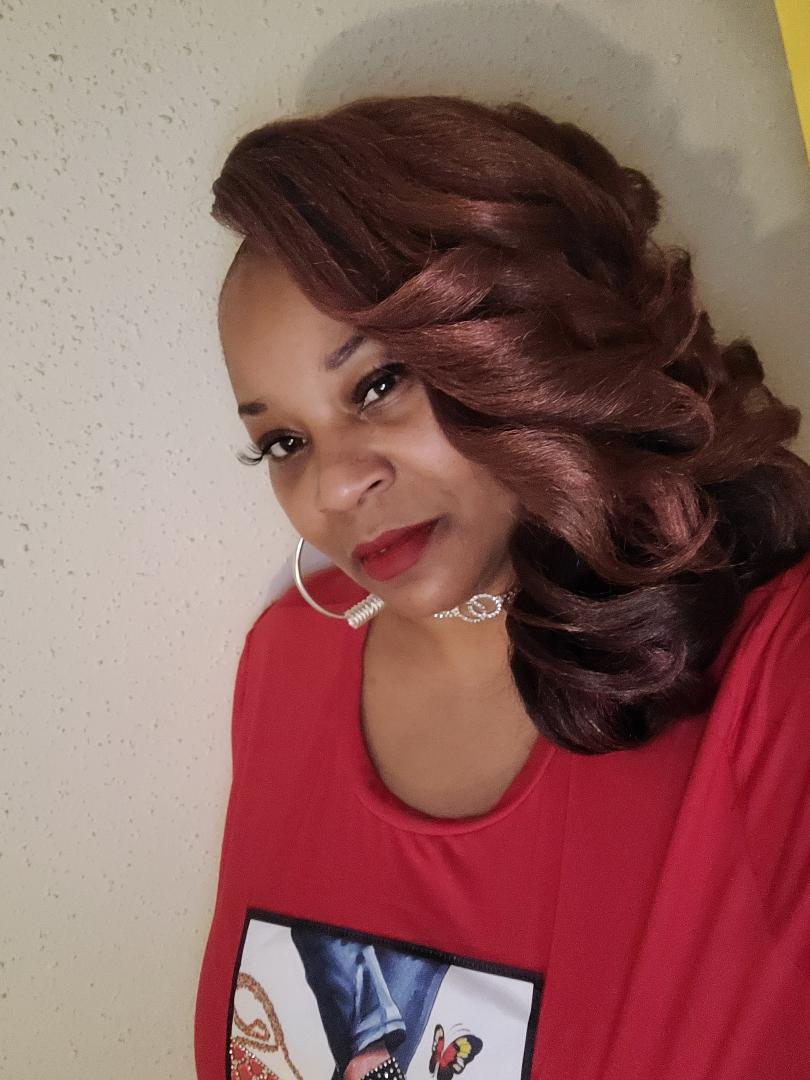 "From Miss Gucci to Mizz MeMe to the infamous FoxXxy!"

THE LOVE FOR THE MUSIC STARTED AT 13 IN 8TH GRADE. LISTENING TO ANYTHING SHE COULD GET HER HANDS ON AND THEN GOING TO THE PARTIES @ 14, SNEAKING IN THE POWER PLANT (HOT CLUB IN CHICAGO EARLY 80'S) TO EXPERIENCE (NOT HEAR) FRANKIE KNUCKLES PLAY SHE WAS TOTALLY HOOKED.

IN 1986 SHE WAS TAUGHT AND BROUGHT UNDER THE WINGS OF JOHN HUNT & STEVE POINDEXTER WHICH TOGETHER WERE "GUCCI PROMOTIONS". "MS GUCCI" BECAME THE HOSTESS FOR ONE OF THE TOP YOUNG ADULT PROMOTIONS IN THE CITY BETWEEN THE YEARS OF 1986-1991. BEST KNOWN FOR PARTIES @ HIGH SCHOOLS SUCH AS HALES & LEO AND ON TO THE CONGRESS HOTEL, POWERHOUSE, AND OF COURSE THE RACKETBALL CLUB, GUCCI PROMOTIONS WERE KNOWN FOR HAVING THE HOTTEST YOUNG DJ LINE UP AND KEEPING THE HOUSE PACKED.

DJ'S THAT STARTED WITH GUCCI PROMOTIONS WERE ANDRE HATCHETT, PHARRIS THOMAS, GENE HUNT AND TERRY HUNTER, TALENTED YOUNG MEN THAT GREW TO BE NOT JUST DJ'S, BUT PRODUCERS & RECORDING ARTIST AS WELL. GUCCI PROMOTIONS LIVED ON THROUGH HER, MIZZ MEME MANAGEMENT & PROMOTIONS. HOSTING PARTIES AS WELL AS PROMOTIONS AND BOOKING FROM 2007 TO PRESENT, SHE IS ALWAYS INTERESTED IN DOING DIFFERENT THINGS AND HAVING SUCCESSFUL EVENTS.

IN 2009, SHE WAS FAVORED TO DO AN INTERNET RADIO SHOW WITH CHICAGO HOUSE RADIO/LLOYD DEV "THE DEEP DIS" RETRO HOUSE SHOW WHERE SHE CO-HOSTED WITH TWO WONDERFUL PEOPLE (MIKE HOTT/NOSHALUV) WHERE THEY TALKED ABOUT DJ'S, PARTIES, MUSIC AND CURRENT EVENTS.

IN JANUARY 2010, JUS MUZIK (THE SHOW) WAS BORN ON A PUBLIC SITE (STICKAM.COM). A SPIN-OFF FROM BEING ON "THE DEEP DIS"/CHICAGO HOUSE RADIO IT CONTINUED WITH STILL THE SAME SUBJECTS; INTRODUCING TALENT, MUSIC EDUCATION, PROMOTIONS, ETC.

BEING A TALK SHOW HOST AND HAVING SOME OF CHICAGO FINEST DJ'S AS GUEST GREW AND JUS MUZIK THE SHOW BECAME THE #1 INTERNET RADIO SHOW IN CHICAGO WITH OVER 100,000 VIEWERS IN 6 MONTHS (FROM 2010-2014).
MOTHERS DAY 2010 JUS MUZIK (THE SHOW) WITH CYBERJAMZ .COM (2ND SHOW) WAS ADDED WHERE "FoxXxy" WAS BORN. JUS MUZIK- CYBERJAMZ , SHOWCASED HER KNOWLEDGE OF MUSIC AS WELL AS EDUCATING HER IN HER ABILITY TO PLAY.

CURRENTLY FOXXXY NOW HAS GROWN HER SHOW "JUS MUZIK", INTO "JUS MUZIK RADIO"(2015) WHERE SHE STARTED TO SHOWCASE DIFFERENT DJS EVERY WEEK DOING LIVE SHOWS (AUDIO, VIDEO.) SHE TOOK A LITTLE HIATUS UNTIL 2020 WHERE JUS MUZIK RADIO (WWW.JUSMUZIKRADIO.COM) WAS LAUNCHED WITH A WEBSITE.

SHE IS THE ONLY AFRICAN AMERICAN WOMAN OWNING AN INTERNET RADIO STATION! IT IS BUDDING INTO SOMETHING GREAT. JUS MUZIK RADIO WILL SHOWCASE DJ'S AND MUSIC FROM AROUND THE WORLD LIVE, GIVING ARTIST A PLATFORM TO SHOW THE WORLD THEIR MUSICAL KNOWLEDGE, AS WELL AS THEIR CREATIVITY, ARTISTRY AND EXPERIENCE.

SHE CONTINUES TO PLAY MUSIC LOCALLY IN CHICAGO, STILL DOING HER INTERNET RADIO SHOW AND STILL TEACHING AND MENTORING.

SO STAY TUNED…

GO BANG! Magazine: When did you first get that spark in you to want to learn to DJ?

Meme Hughes: I first got that spark back in 2008. I was meeting so many people at the time. I was just hosting, throwing and promoting parties and I tried it a couple of times and was discouraged. Years later, it fell on me as I was doing my show because some of my guest DJs did not want to play my intermission music, so I was forced to play my own to keep the show in its format. Once I started doing a show on CYBERJAMZ in May 2010, I pretty much started then.

GO BANG! Magazine: What was it about the House scene that made you want to be a part of it as a young teenager?

Meme Hughes: It was the music and the people. To this day, throwing events and being a part of other events, I love to see people dance and have a good time.

GO BANG! Magazine: You and I grew up in the same South Shore neighborhood in Chicago and know many of the same people. DJ Steve Poindexter and John Hunt formed Gucci Promotions and you were a part of it, as Ms. Gucci. This was your foundation and beginning in the Entertainment industry. How did this time in your life influence the woman that you are today?

Meme Hughes: It brought me joy. I learned so much from them and I took that knowledge with my own twist and made it something different and great from a woman's point of view. Watching them, it just seemed like things flowed because even though they had people they looked up to and learned from, most things for them came naturally from using their own ideas and moving in their own way and I am like that. I have taught myself most things from doing research and reading to experiencing blessed ideas. I say blessed ideas because they come out of nowhere and I just do it.

GO BANG! Magazine: Gucci Promotions was the foundation for several people, who later became great DJs of today. Is there anything that you would like to say to Steve Poindexter and John Hunt that you can share here with our readers?

Meme Hughes: I would like to say thank you and I love you guys forever! You were a part of my youth and didn't realize how much you taught me and raised me to be the lady that I am today.

Thank you John Hunt!
Thank you Steve Poindexter!

GO BANG! Magazine: You've had the opportunity to share the turntable stage with several prominent DJs over the years. Is there any DJ or DJs in particular that you want to DJ with or any events/venues that you'd love to spin at?

Meme Hughes:OMG YES! Everybody knows how much I Love Louie Vega! I would love to open up for him and it doesn't matter where it is. To open up for him would be epically incredible! Is that even a word? LOL

I have played locally in many places from north to south of Chicago, places that I'd never imagined that I would play at. It's been a super incredible ride!

GO BANG! Magazine: Who are some of the DJs that you admire or who inspire you, past and/or present?

Meme Hughes:I was crazy about Frankie Knuckles. He did parties for Gucci Promotions but I first heard him when I was 14 at the Power Plant. I got in twice, but the third time they got me at the door. I was not old enough to get in at that time, but I did get that club experience at an early age. I like Ron Hardy too. His energy was atomic! I was around Pharris Thomas a lot. He was amazing. Watching Terry Hunter and Gene Hunt grow… these were the young men that I used to watch when I was younger, even though I am older than them. The Fantastic Four (Celeste Alexander, Khrisse Henderson, Kenya Lenoir) SheJays back then, let young women know that they too can play music too, just as well as the fellas.

I taught myself how to play and I am still learning. The learning never stops with all the different equipment that is used these days. It's never ending education.

GO BANG! Magazine: Your talents range further than just being a DJ. You are also an entrepreneur, owning Mizz MeMe Management & Promotions. Please share with our readers more information about your business.

Meme Hughes: Mizz MeMe Management & Promotions was formed in 2007. I was hired to promote their events. I would go "old school" going to different parties and promote with flyers and small banners as well as host them. As time went on, I got into booking different talent for parties. This only lasted a few years, because I got my hands into other things.

GO BANG! Magazine: Then there's even more talent flowing out of you, being an internet radio host. Tell us more about "The Deep Dis", "Jus Muzik" and "Cyberjamz.com."

Meme Hughes:I first started being a radio host with Chicago House Radio (Lloyd Dev) which was an "up and coming" radio station at the time (2009). This started me on my journey to radio. I always knew I was different and I do love radio. I was asked to do a show "The Deep Dis" with two other co-hosts, Noshaluv and Mike Hott. Every Tuesday night at 8pm, we would discuss and debate the music scene here in Chicago, along with a guest DJ playing music after our discussions. It was great and we did that for about a year. I woke up one day and said, "I want to do my own show." I had so many ideas and I just put them into fruition.

January 18, 2010, Jus Muzik (The Show), was born. I would invite DJs from all over the city to interview and play a set. At the time, I was using a free LIVE streaming site called Stickam.com that became very popular at that time for many. I taught myself the ins and outs of audio/video. Jus Muzik W/MizzMeMe was the #1 Internet Radio Show for three years, reaching over 100,000 viewers in its first six months of airing.
As I was growing, I didn't realize the growth. I was just enjoying doing it, as well as the music education that I was presenting with all genres of dance music. People from all over the world were tuning in faithfully every Monday night at 8pm. I had people telling me that I was part of their Monday night football regimen, with Mizz MeMe on one screen and football on the other.

Sammy Rock owner and founder of CYBERJAMZ was one of my many viewers who loved the show, reached out to me and asked me to bring Jus Muzik to CYBERJAMZ. I was so honored because at that time Sammy Rock and CYBERJAMZ was the hottest station moving with all dance music broadcasters. Everybody wanted to do CYBERJAMZ, so for me to get a prime-time slot on his station was everything. The way my show was formatted and the way the broadcasters were on CYBERJAMZ, I was a little timid about bringing my format to his station, so I switched it up and just played a 2 hour set. At that time my mixing was not the greatest but my programming made up for it. He pretty much let me be me and I taught myself to mix just by doing his show.

It was great to be encouraged so much and the east coast gave me much love and nickname "The FoxXx That RoxXx the BoxXx." Right after, I changed my name to FoxXxy in credit of Greg Gray who was already a programmer and one of the first to do shows when the CYBERJAMZ station was growing. FoxXxy came from me doing my shows on CYBERJAMZ. I did two shows a week for years, Monday nights, producing my own show and Tuesday nights Jus Muzik on CYBERJAMZ.
GO BANG! Magazine: More recently, you launched "Jus Muzic Radio." This accomplishment places you in a class by yourself, being one of the only African American women to own an internet radio station. Please tell us about the station and describe to our readers how that makes you feel.
Meme Hughes:As I said before, I have always felt different from others. I wanted to take this show to other levels, knowing that years ago dance music mixes were taken off the FM dial for a long time. I wanted to bring that back, but with a new flavor and that was internet radio.

I started the station back in 2014 with 15 broadcasters on another free LIVE streaming site which took more than I could even imagine. It was put on hold for a bit and now Jus Muzik Radio has an actual seven page website which is growing, but still needs a lot of work to be where I feel it should be. I am honored and pleased to know that I am the first African American woman to build an internet radio station, bringing some of the best and up to date music there is. I am still in the growing process and looking forward to the future.

GO BANG! Magazine: You also are passionate about teaching, mentoring and giving back to the community. Please describe some of the things that you do, for the love of your people.

Meme Hughes: I love music. I feel that every time I play a set, even if sometimes it's not received, I am teaching. The radio station is a platform for people to express their talent. Whether you want to add to your resume, give knowledge with your view (talk), express your knowledge of music (broadcaster), Jus Muzik Radio is the platform to help you live your dream and add on to your future.

My future plans are teaching and mentoring some of the youth who are interested in becoming talk/music show host, as well as having pop-ups to spread the word in the community and giving back with different functions to bring the neighborhood together in unity. I feel that it is important that people who love music and have the talent, to be able to express and show their talents to the world. I feel that I have a platform just for them.

GO BANG! Magazine: Are there any projects that you are currently working on that you can share with our readers?

Meme Hughes:I'm still growing and building the station. There will be an annual festival coming at the end of July. "Jus Muzik Radio's 1st Annual Festival" where there will be music all day for the community. We will be also celebrating our first year anniversary in September as an actual radio website. Then there's Breast Cancer Awareness in October, Thanksgiving Food giveaway in November and a Clothes & Toy drive for the children in December.

Stay tuned…

GO BANG! Magazine: In conclusion, the COVID-19 pandemic has caught the world off guard. How are you dealing with it?

Meme Hughes:It was so scary, but I have learned to cope and just continue living and accomplishing my goals and dreams safely.

Peace & Blessings to everyone and Safely Social Distance.

Thank you so much!

GO BANG! Magazine: You're soooo welcome!


FOLLOW MeMe Hughes AT:
MeMe Hughes/FoxXxy Email: jusmuzikradio@gmail.com
FoxXxy Fan Page: https://www.facebook.com/foxytriplex Jus Muzik Radio Group Page: https://www.facebook.com/groups/jusmuzik Jus Muzik Radio Fan Page: https://www.facebook.com/JusMuzikRadio FoxXxy Instagram: https://www.instagram.com/jusmuzikradiofoxy Jus Muzik Radio Instagram: https://www.instagram.com/jusmuzikradio Jus Muzik Radio Twitter: https://www.twitter.com/jusmuzik_radio FoxXxy MixCloud: https://www.mixcloud.com/FoXXXy/ Jus Muzik Radio MixCloud: https://www.mixcloud.com/Jus_Muzik_Radio/ Jus Muzik Radio SoundCloud: https://soundcloud.com/jusmuzikradio


Pierre A. Evans is a freelance writer of Entertainment, Music, Art, Culture, Fashion and Current Events, and previously for SoulTrain.com, NDigo.com, ChicagoDefender.com, EmpireRadioMagazine.com, and UrbanMuseMag.com, an author, singer/songwriter, actor, model, poet, dancer, and DJ. He is also the owner of Pinnacle Entertainment Productions. Follow him on Facebook, Twitter, and on Instagram