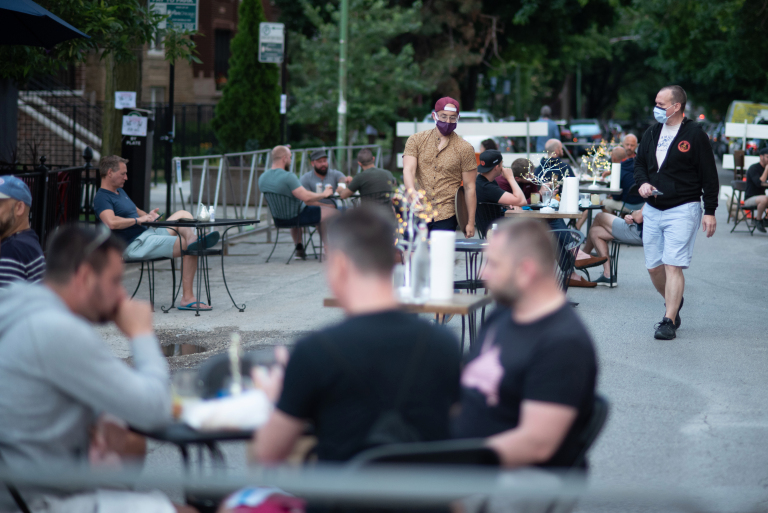 Balmoral Avenue near Clark Street is closed to traffic for expanded outdoor dining for the Replay, Hamburger Mary's and Vincent restaurants in the Andersonville neighborhood on Wednesday, June 24, 2020. | Colin Boyle/Block Club Chicago
Reprinted from: https://blockclubchicago.org/2021/03/25/city-loosening-restrictions-on-outdoor-events-so-people-keep-outside-as-coronavirus-rises-in-chicago/?mc_cid=a26dc625b3&mc_eid=e278cacef7



CHICAGO — The city is trying to encourage people to take their activities outside amid a rise in coronavirus cases by loosening restrictions on outdoor events.

The city is keeping its restrictions on indoor activities, like dining in at restaurants. But it will raise outdoor capacity limits to encourage more events outdoors, where the virus is less likely to spread, according to a Thursday news release.

Here are the new outdoor capacity rules:

Bars and Restaurants: Maximum outdoor table size can increase to 10 people, with tables set up so that patrons are 6 feet from patrons at other tables.

Social Events (e.g. weddings, potlucks and other community events): Total outdoor capacity can increase to the lesser of 50 percent or 100 people.

Performance Venues, Theaters and Seated Spectator Events: Outdoor venues with capacity greater than or equal to 200 can operate at 25 percent capacity. Smaller venues can operate at no more than 50 percent capacity or 50 people.

Outdoor Recreation: Maximum groups of 50; multiple groups permitted

Places of Worship: No outdoor capacity limit provided that 6 feet of social distancing is maintained between parties.

Health and Fitness Centers: Outdoor classes can increase to 100 people.

In a call with reporters Thursday, Mayor Lori Lightfoot said the uptick in new cases is being seen among young folks, particularly in Lincoln Park, Old Town and Portage Park.

"The bottom line is here is we're seeing a very disturbing trend that could significantly impact our ability to move forward with reopening," she said.

While the state has loosened restrictions on indoor dining and other businesses, Lightfoot and Dr. Alison Arwady, Chicago Department of Public Health commissioner, said numbers are moving in the wrong direction in Chicago.

After three months of declines, the city has seen a 23 percent increase in new COVID-19 cases diagnosed per day, an 18 percent rise in test positivity, a 38 percent rise in emergency room visits for COVID-like illnesses and a 3 percent rise in ICU bed occupation, the Department of Public Health announced.

Lightfoot said increasing outdoor capacity should not exacerbate this problem, but the city pressed pause on loosening restrictions for indoor activities.

"The issue that we face really isn't around outdoor events," she said. "The issue that we're seeing is people not following the public health guidance around masking, social distancing, particularly indoor activities."

Capacity at bars, restaurants, social events and other indoor establishments will remain at 50 percent capacity or 50 people per room or floor, officials said.