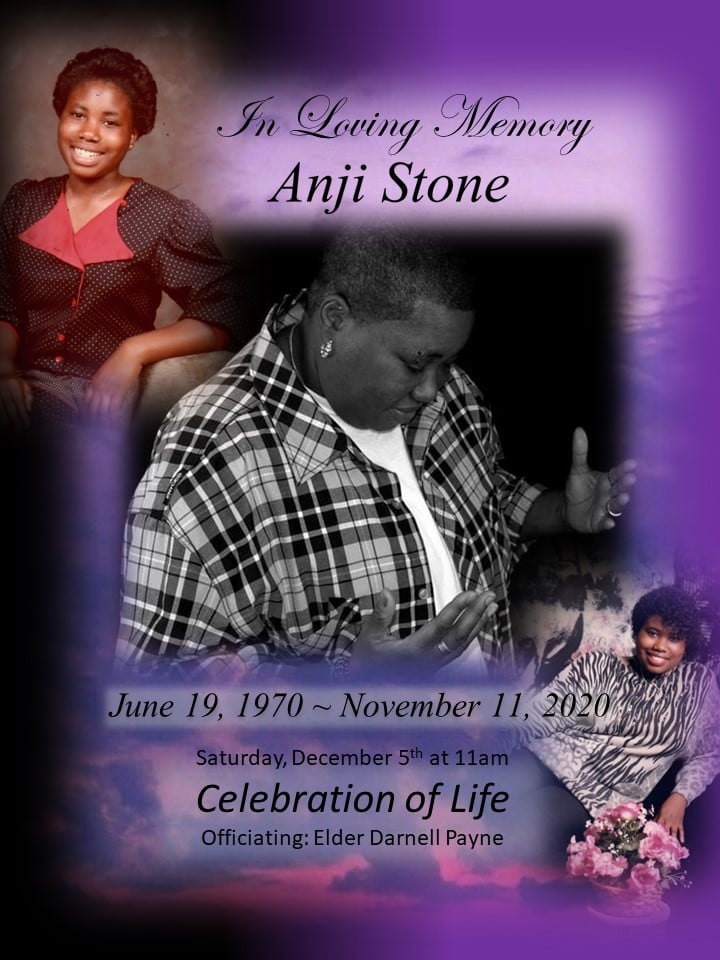 TRIBUTE: DJ Anji Stone (Beu)
(June 19, 1970 – November 11, 2020)

"If u Don't Stand 4 Something, U'll Fall 4 Anything!"

"I am a LOVER of the music culture. 3rd Generation Legends of Vinyl"

"Live, Love & Enjoy Life!!!..2morrow isn't promised, and don't wait 2 make things right, do it right now!!..4give those that have wronged u, and love "unconditionally."

"I am a "work" in progress, and He's working 2 make me a "BETTER" person…Love!!!"

-Anji Stone

(Per Dee Jay Alicia's Facebook post):

It's a celebration of life!

Join us as we remember our dear sister and friend, Anji Stone. December 5, 2020 at 11am CST.

Elder Darnell Payne will officiate the service.

The memorial celebration will be held on zoom via the following link:
https://us02web.zoom.us/j/83703051710?pwd=bnFlaDlBUTRXa05hUERGeFBmZDBGQT09&fbclid=IwAR3VlkkNNXXCgbY0HM_mbcnXLZNpNJhQqR14gEJW5ThuC-R9R_z94x9StoY#success

(Meeting ID: 837 0305 1710 – Passcode: 885733)

We hope you join us in sharing memories and in honoring Anji by those who loved her most.


"I'm the one that's got to die when it's time for me to die, so let me live my life the way I want to."
― Jimi Hendrix


In Anji's OWN words:
( Courtesy of Resident Advisor: https://www.residentadvisor.net/dj/anjistone/biography )

"Born and raised on the Southside of Chicago. Been spinning records since I was 14. I took a "brief" intermission from the House scene. I came back onto the scene in 2009. I have had the pleasure of working with some important people in the industry.

Includes, but not limited to: MzNicky Morrison (D'Vine 1 Ent., Leo's Den, The Celebrity & Tantalizing Thursdaze), Dorian DuPree (The Dating Game), Erick Mosby aka E5 (The President's Lounge), Snooze Reid (WHPK), Derek "Smoking" Jones (PMG1, Genesis & Knockouts), Matt Zilla (Dungeon Muzik/Linc's Records & Knockouts), Czarina Marini (Knockouts & The President's Lounge), DJ Philander (The President's Lounge), Eric "MrE" Potter (The Celebrity, Buzz Bomb), DJ Anton (Block Club DJ's & Power 92), Dee Jay Alicia (Artis' Lounge, Family Den & The Celebrity), DJ Ike Williams (Empowerment Zone), Emmanuel Pippen (The Dating Game), Gene Hunt (Family Den, The Celebrity, Knockouts & Rendezvous), MeMe Hughes (The Shop & Jus Muzik www.stickam.com), DJ Shadow (Buzz Bomb), DJ Fiddy Millz (D'Vine 1 Ent.), UFC DJ'z (DJ Boozie, DJ Tony Jakks, DJ Kat Chasa, Matt Zilla, DJ Rocky), Club 5 (Madison, WI), DJ Semaj (The Hydrate), Celeste Alexander (The Checkerboard Lounge), MushroomNGrass (The Checkerboard Lounge), Darrell "DJ Fat Cat" (The Carribbean Lounge), Urban Myths After Hours Spot, Corky "Traxman" Strong (GETO DJ'z Inc.), and DJ Clash Titan (GETO DJ'z Inc.)

I have a serious "PASSION" for my craft, and I love bringing enjoyment to people's hearts w/the music I play. Stay tuned for music from me soon. I "continue" to grow as a DJ, and I'm venturing off into PRODUCTION as well. Mu goals are to bring you, "HOT, UP & COMING" DJs, Producers, Musicians, etc. I'm striving to go ABOVE the norm. I am "HUMBLED" in everything I do. I have "GENUINE" passion 4 HOUSE MUZIK…and I hope that each and every one of you take the time out to "listen" to my music, mixes, as well as the people that I present to you."

In Anji's OWN words:
( Courtesy of The DJ LIST: https://thedjlist.com/djs/anji-stone/ )

"Everyone talks about how they have a "passion" for deejaying. Well, I say that it's the "PASSION" that drives me 2 play the way that I play. I was told that DJs are "performers," we are hired to "perform." When people come out 2 hear you play, they wanna hear music that isn't "NORMALLY" heard… They want 2 dance the night away…

That's how I play..I play not just 2 "tell" a story, but 2 keep you dancing till it's time 2 go!!They call me "Bang Em Up<" and 2 be honest, I didn't understand the name until I realized, that's what I do…I BANG! I go "Hrd" and I feel that's what deejaying is..You go hard, each and every time you play. You are "suppose" 2 go HARD!!..That's what draws people to you..That's what makes and keeps the crowd moving..

I've been spinning a looooonnnng time, and I have seen DJs come and go…I've seen DJs make it big, and I've seen DJs "full" of themselves..But, if you stay "TRUE" 2 your passion, and "expand" on that passion…..There IS no limit as to what you can do or become…but don't let a little "exposure" change your disposition about the people that come 2 hear you play…"

A few words from Sizzler GloveMaster Siz Lee, a lifetime friend and who taught Anji to DJ:

"I MET DJ ANJI STONE WEN SHE WAZ JUZ A TEEN. SHE WAZ A BEAT GURL B 4 SHE WAZ HOUZE, BUT SHE ALWAYZ LUVD MUZIK…..& HOUZE MUZIK A LIL BIT MORE…SHE ASKED ME 2 TEACH HER HOW 2 DJ WEN SHE WAZ 14 COZ SHE WANTED 2 LEARN…SHE TOOK DA TIME & DA EFFORT 2 LEARN.

I TOOK HER 2 HER 1ST DJ BATTLE. WAZ AGAINST DWAYNE BROOKS & SHE WON… & BATTLES AFTER DAT…1986 DEY LABLED HER AZ DA "BEST FEMAL DJ N DA WORLD," WHICH SHE TURND DOWN, HER EXACT WORDZ WAZ 'I DNT WANT IT, COZ U DIDNT GIVE IT 2 ME COZ OF MY SKILLZ.'

HER 1ST NAME SHE WENT BY WAZ "KIDD KICKIN ANJI" & DEN SHE FOUND HER OWN STYLE & HER SOUND,WHICH SEPARATED HER FROM DA REST OF DA FEMALE DJZ. SHE FORMED HER OWN BRAND WHICH WAZ CALL "B.E.U" PRODUCTION( BEAT EM UP PRODUCTION) DA NAME DAT FIT HER STYLE."

DJ ANJI STONE…
MY BEST STUDENT OUT OF ALL DA REST…MY LIL SISTA UR BIG BROTHA LUV U…… I BASICALLY RAISED HER….


You can follow Anji Stone on ALL social media @djanjistone



Pierre A. Evans is a freelance writer of Entertainment, Music, Art, Culture, Fashion and Current Events, and previously for SoulTrain.com, NDigo.com, ChicagoDefender.com, EmpireRadioMagazine.com, and UrbanMuseMag.com, an author, singer/songwriter, actor, model, poet, dancer, and DJ. He is also the Owner of Pinnacle Entertainment Productions and the Owner/Publisher of GO BANG! Magazine. Follow him on Facebook @Pierre Andre Evans, Twitter @Playerre, and on Instagram @Pierre_Andre_Evans.