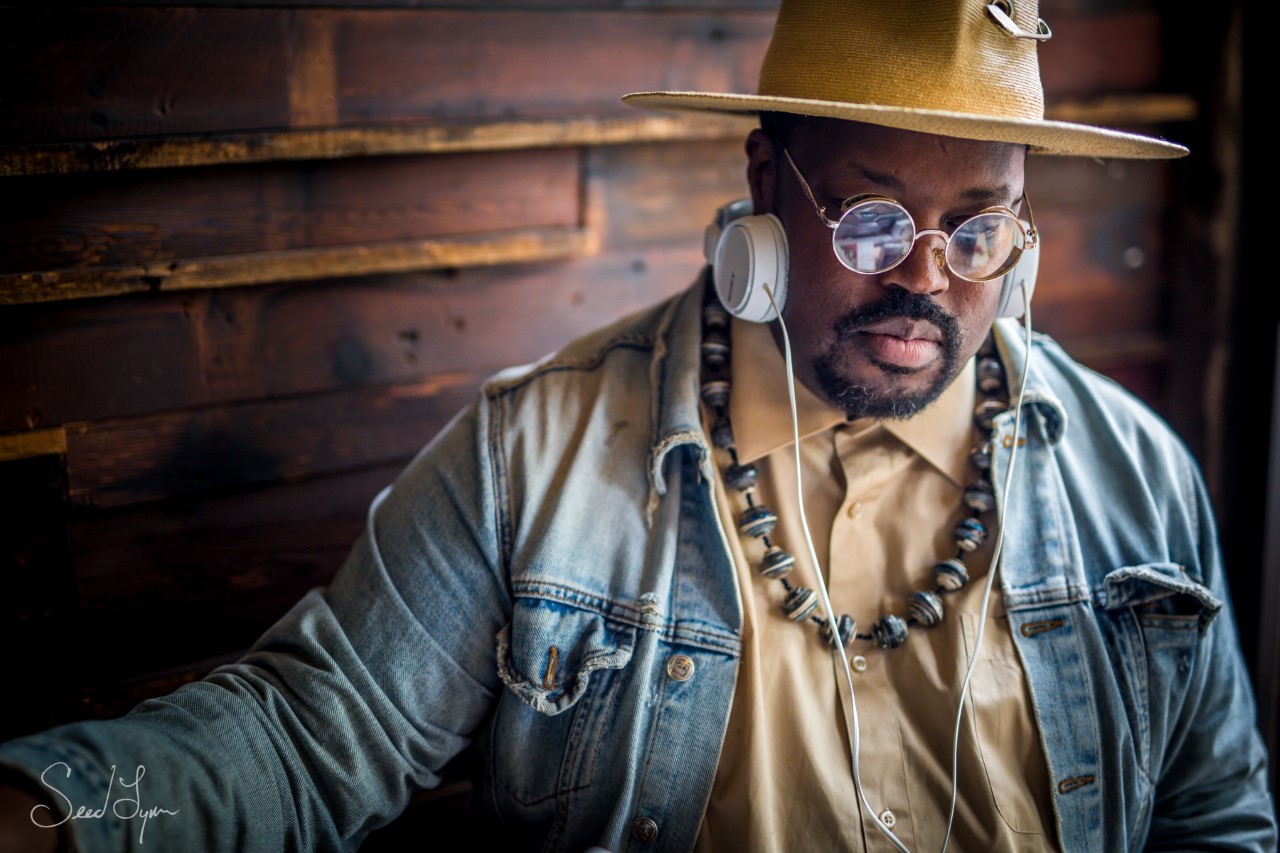 Photo credit: SEED LYNN
Duane Powell's love for music started an early age growing up in the 1970's being exposed to Chicago's rich Soul music scene. His uncles were disc jockeys until the mid 80's and artists including Minnie Riperton, The Emotions, Chaka Khan, Miki Howard and The Staple Singers were their classmates and/or family friends.

In 1985, Duane entered into the world of street promotions pounding the pavement promoting events for prominent DJs within Chicago's burgeoning House music scene starting with Lil Louis. In a five-year span, because of their Avante Garde style and presence, Duane and his crew became the "go to" individuals in marketing to get all of the "cool kids" to events. By 1990, Duane had done street promotions and served as Marketing Manager and Consultant for many clubs and DJs including the historic Powerhouse. In 1998, he became an Import Buyer for Cargo Music Distribution and by the end of that year, an employer at one of Chicago's most legendary record stores, Dr. Wax Records. It was his 12 years there that the title of "tastemaker" really took shape by almost single-handedly breaking several artists in the market, including Ledisi, Eric Roberson, Julie Dexter, Jill Scott, Raheem Devaughn, N'Dambi and many more.

As a promoter, he launched the SOUNDROTATION brand in 1999, further cultivating the underground soul scene in Chicago giving many of those acts their performance debuts in the market. Through this, he became a fixture on the global Soul scene and began speaking about his knowledge of the business on panels and workshops including The International Soul Summit (ATL), Urban Organic (Detroit), I Got Soul Conference (Dallas), Chicago Artist Resource and the Chicago Cultural Center.

As a DJ, he had a popular internet radio program on Swank Society. He has spun at and has residencies at many of the most popular venues around the city including the House Of Blues, Virgin Hotel, The Promontory and Reggie's Music Club. In addition, he has opened for many heavyweights in Soul music including opening for Frankie Beverly & Maze at The Taste Of Chicago and has shared the bill with many legendary DJ's and Grammy-winning producers in the Dance music world including Joe Claussell, DJ Spinna, Steve "Silk" Hurley, Maurice Joshua, Josh Milan, Timmy Regisford, Ron Trent and more.

Thousands of people are glued to his social media pages for his updates on music, as well as his knowledgeable tributes to the greats in music history. He also served as the Soulful Sundays Editor for the reputable Hip-Hop blog kevinnottingham.com. According to his following, his SOUNDROTATION compilations create sonic satisfaction that impinge on their emotions and lend freedom to their souls.

Duane's choice of music genres include Soul, Jazz House, Acid Jazz, Nu Grooves, Broken Beat, Bossanova and Afro Rhythms.

Lastly, his influences include Ron Hardy, Lil Louis, DJ Rush, The Twilite Tone, Ron Trent, Oscar McMillan and countless other Chicago legends.


GO BANG! Magazine: Where did you grow up and spend your childhood?

Duane Powell: Predominantly Roseland with Auburn-Gresham and Englewood in the mix.

GO BANG! Magazine: How did you first become involved in the appreciation of music?

Duane Powell: I've been a lover of music as early as three years old. My Mom tells a story of how at that age I would tell her which records to put on and what side to play just by seeing the label. (I couldn't quite read yet of course). She also says that when I was three she bought me a tricycle, but instead of riding it I would lay it on its side, put 45 records on the wheel and spin it thinking it would make a sound. lol. All of her brothers were DJs all throughout my childhood and one of them in particular, my uncle Buster, was my first inspiration. His record collection was VAST and his knowledge of music was unmatched.
GO BANG! Magazine: There was a time when you were homeless. Please describe that moment in your life and how you overcame it?

Duane Powell: This happened when I was 27 years old. I just left a job that I hated with no clear path as to what to do next. Things got ugly with my roommate and me, but it was his place so I had to leave. I didn't have a great relationship with my stepfather at all so going home wasn't an option and I had no other immediate relatives in the city at the time. I had a few friends who'd let me sleep over, here and there, including Eric Williams who had just opened his new business The Silver Room. I started a new job as an Import Music Buyer at a distribution company but needed to work a bit to get up enough money to get on my feet again. I hated asking people for help, so I put my belongings in a storage facility right across the street from my job and pretty much lived out of it. Slept a few nights on the blue line train, a few nights in Wicker Park (the actual park on Damen) before finally moving into The Milshire Hotel, this transient hotel on Milwaukee in Logan Square where lots of addicts resided. (No, I never did drugs lol). My luck again, the company I worked for was going under so I moved out of the hotel and moved in with my brother DJ Rush who had just come home for a spell, but was still residing in Germany. The next day after moving in, I started my new job at Dr. Wax in Hyde Park and remained there for 12 years. A year into that job, I finally moved into my own apartment in Hyde Park. I also have to mention reading metaphysical books including Celestine Prophecy, Seat Of The Soul and Conversations With God helped me immensely during those times. It was actually a game changer.

GO BANG! Magazine: Working at the legendary Dr. Wax record shop in Hyde Park changed your life. Can you please explain to our readers the impact that job had on you?

Duane Powell: Being the person putting great new music into the hands and homes of the people was invigorating. I created so many relationships, friendships and bonds in that time. Music is truly the healing force of the world and seeing others enjoy the natural high, as I did, was life. So many artists became household names because of us at Dr. Wax pushing the music.

GO BANG! Magazine: In addition to being a successful DJ, you are also an entrepreneur. In 1999 you launched the Soundrotation brand and blog. Please describe what Soundrotation is.

Duane Powell: Soundrotation initially was the name of a weekly event I used to host with Anthony Nicholson and Joe Bryl when Joe was managing the Buddha Lounge. We were in love with music and artists on the Nujazz, Nu-Soul and Broken Beat scenes of the UK, Japan and other places around the globe and desired to showcase them here, as no other venue was doing it at the time. We brought in acts and DJs like Gilles Peterson, Jazzanova, Phil Asher, Joe Claussell to name a few. I held on to the name as a brand for all things related to promoting the good music I loved. I started throwing concerts for up and coming Indie Soul artists as well as consulting them. Grammy nominated singer Ledisi's Chicago debut performance was with me at the Buddha. I did Soundrotation compilation cds. I had a blog to promote all the great music from around the world that I felt wasn't getting the shine it should and eventually had a Soundrotation radio show which will be revived soon.

GO BANG! Magazine: You are known as the 'Tastemaker' in the Soul music world, breaking new Soul artists on a regular. How do you select artists and know which songs are gonna be hits?

Duane Powell: That was a title given to me lol. I'm not sure. I just love great produced music and you know it when you hear it. The senses are aroused. Something funky in the beat pattern that make you frown up, a chord change that make the hairs stand up on the back of your neck or that voice and phrasing that just soothes or give you goosebumps. It's a feeling.

GO BANG! Magazine: As a resident of Chicago, the home of House music, you are recognized as one of the Soul music DJ pioneers. What influence, if any, do you feel you have brought to the House music scene and how has House music influenced you?

Duane Powell: I'd like to think I bring or have brought freshness to the House scene. I'm always thinking progressively and since the 90s, I've always influenced those younger to experience the scene and the culture. It's the only way it'll survive. I love what House culture has done for the city. This city is known in a negative light as being segregated. House culture broke down those barriers for me and many others. We got out of our insular bubbles, our hoods and experienced all sides of the city and surrounding areas following the music. I lived in the 100s but partied and hung out downtown, far north, west, and even as far as Dekalb, IL. We went where the music was. Because of this, we partied, fellowshipped and formed bonds with people from all walks of life and still do til this day. It liberated us.
GO BANG! Magazine: How would you describe the DJ Duane Powell sound?

Duane Powell: In terms of DJing, I'm influenced by the very things that created the genre of House; Soul, Jazz Funk, New Wave, Italo, Industrial, B Sides, etc., etc. so I have to have a combination of it. Nothing is off limits. I love music with great energy. I was a dancer in dance crews years and years before I threw my hat in the DJ ring. I gotta have movement, peaks and valley…a journey…a climax.
GO BANG! Magazine: After working with several high ranking DJs over the years, are there any DJs that you would love to work with now?

Duane Powell: There are several I would love to share a bill with. Lil Louis, Theo Parrish, Louie Vega, Dego, and Jamal Ahmad are the first names that come to mind.

GO BANG! Magazine: As a DJ, you've traveled extensively over the years, but you're still down to earth, humble and a considerate person. When others in the entertainment industry reach the level of success that you have, some of them go "Hollywood" and become arrogant and cold-hearted. You seem to have not gone down that path. How have you maintained your level-headedness and why is that important to you?

Duane Powell: Well, a couple of things. I haven't nearly traveled as much as more accomplished DJs have, but even if I did, I don't see the need for anyone to not be a nice person. We all have fallen on hard times at one point or another. I always treat people how I want to be treated.

I will say though that sometimes people would label someone "arrogant" "difficult" or say someone has gone "Hollywood" when that person knows his worth and asks to compensated accordingly. If you've worked hard to build your brand, your name and your audience, you're not gonna continue to accept $100+ gigs. You've earned that right.

GO BANG! Magazine: The COVID-19 pandemic has caught the world off guard. How are you dealing with it?

Duane Powell: This year has been rough to say the least. I was deeply depressed for a second, although not from the virus itself. I lost a lot of loved ones and losing my sister to cancer in September was/is the hardest thing I've ever had to live with it. Outside of that, I shook off my depression and was able to navigate in the virtual world and gigged online between DJ sets, artist talks and history panels. I'm one of the few DJs that are lucky enough to get paid work online. It filled in the gaps a bit, although nothing can replace the feeling of playing live and being out, feeling that vibration amongst a crowd. Also, there was soooo much great music that came out this year, in the midst of it all, that kept my spirit lifted.

You can follow Duane here: https://allmylinks.com/djduanepowell


Pierre A. Evans is a freelance writer of Entertainment, Music, Art, Culture, Fashion and Current Events, and previously for SoulTrain.com, NDigo.com, ChicagoDefender.com, EmpireRadioMagazine.com, and UrbanMuseMag.com, an author, singer/songwriter, actor, model, poet, dancer, and DJ. He is also the Owner of Pinnacle Entertainment Productions and the Owner/Publisher of GO BANG! Magazine. Follow him on Facebook @Pierre Andre Evans, Twitter @Playerre, and on Instagram @Pierre_Andre_Evans.