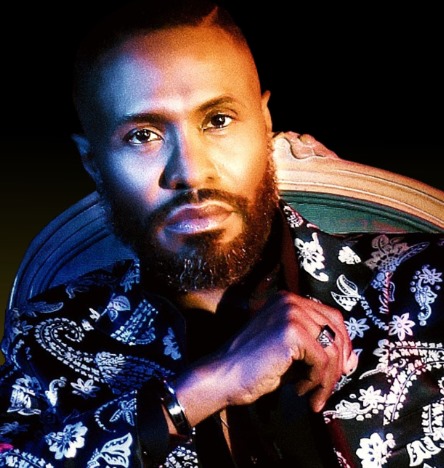 Photo Credit: Brandon Appleton/Refined You Studio
It is a proven fact that only two percent of people truly pursue their dreams, while 98% spend most of their lives lamenting lost opportunities. Chicago's Lorenzo Owens is not one of those unfortunates. As a finalist on Oprah Winfrey's "Pop Star Challenge" back in 2004, he finished with the second-highest vote total at slightly over 11 Million votes.

The production prowess of Grammy winning producer Michael J. Powell (Anita Baker, Tyrese, Aretha Franklin), led to his debut album "After The Show", being well-received by audiences and critics alike. His breezy, soulful debut single "Wanna See You Smile" captured music fans everywhere. Lorenzo's magnificent voice, a brash register that brings to mind the late, great David Ruffin, stunning sensuality and a dazzling smile, all continue to produce an amazing stage presence and powerful live show. He also holds the distinction of being one of the few artists to make Ms. Oprah Winfrey shed a tear.

It wasn't until he had begun attending college that he realized singing was his life's calling. Says Owens, "Singing was something I'd always done, but I never paid much attention to it. It was something that just came naturally."
One of his most recent offerings "Walk Away From Love" is a stirring dance-tinged remake of the David Ruffin classic, that has set dance floors ablaze everywhere. Lorenzo's current single "When The World Says No" is a soulful yet inspirational Top 40 hit impacting charts all around the world.
Lorenzo is presently working on a new album expected in spring of 2021.

GO BANG! Magazine: Where did you grow up and spend your childhood and how interested were you in singing as a kid?

Lorenzo Owens: I grew up in Milwaukee WI. I have enjoyed singing since I was a tiny tot. I am told I sang full songs at three years old. Much like my 3 year old nephew is doing now. It makes me totally smile.

GO BANG! Magazine: Please describe to our readers the moment when you knew that you wanted to professionally pursue a career in the Entertainment industry.

Lorenzo Owens: I got the bug early on. It was literally the first time I heard the roar of the crowd after singing. I knew that's where I wanted to be, but it took time for me to realize that I could actually make that a reality. Coming from the Midwest, it was fairly unimaginable to me.

GO BANG! Magazine: David Ruffin has been an inspiration to you. What is it about David Ruffin's voice and singing style that captured you and how has that influenced you musically?

Lorenzo Owens: It was the grit, the girth of David's voice coupled with the extreme highs he could reach. It was very similar to my own (not that I would dare compare myself to him) but hearing him struck a chord in me. I noticed the similarities and I thought his voice was wonderful. I never quite felt that way about my own (lol) tho I do appreciate it and feel blessed to possess such a gift.

GO BANG! Magazine: How would you describe the Lorenzo Owens sound?

Lorenzo Owens: My sound is very me. That's the best I got for ya. (lol) My sound is rooted in soul. It is literally an expression of me, how I feel, what I think and all that has influenced me.

GO BANG! Magazine: Are you primarily a vocalist or can you/do you write lyrics, compose music, play an instrument or produce tracks as well?

Lorenzo Owens: I would say that I am primarily a vocalist, but yes I do write as well and have written for all of my past projects. I will be doing the same for the forthcoming.

GO BANG! Magazine: As a finalist on Oprah Winfrey's "Pop Star Challenge" you shared your talent with the world, as well as had the opportunity to network in a major way. How would you describe that unique time in your life, how did it affect your career, and what advice did Oprah or any of the judging panel give you that you took to heart?

Lorenzo Owens: That was a magical time in my life/career. It was not the silver bullet that some would think, but it definitely open many doors and instantly took me to much higher heights than I had ever been before.

As far as advice…well, it was more encouragement for me to keep going and reinforcement that I could do this.

GO BANG! Magazine: Please name any producers, songwriters or other artists that you would LOVE to work with, that you haven't thus far, and why?

Lorenzo Owens: I would love to work with Babyface, Ryan Leslie, Brian Micheal Cox, I could go on.

Artist wise…Ledisi would be amazing. Again I could go on forever.

GO BANG! Magazine: The Covid-19 pandemic has dampened and ruined the entire year of 2020 thus far, for many people. They are dealing with it in various ways. Some are doing just fine, while others are depressed because of loneliness or death to loved ones, due to the virus. How has the pandemic affected you?

Lorenzo Owens: We have never experienced anything like this before. It's been scary, sad, depressing and more. But, as with all things in life, you will either stay the course or give up. Giving up is not an option for me. As the song goes, "I believe I'll run on to see what the end will be."
GO BANG! Magazine: Being a Black man in America today is dangerous on a daily basis. We have ALL experienced it in different ways. How have you been affected by systematic racism and have you witnessed White privilege? If so, please describe the instance for our readers.

Lorenzo Owens: Let me count the ways/days. Systematic racism and white privilege is literally almost a daily thing for most of us living Black in the United States. If you live in America, you witness it often, unless you decide to wear blinders. It just is.

GO BANG! Magazine: What current and upcoming projects are you working on that our readers should be on the lookout for?
Lorenzo Owens: I have a current single out called "When The World Says No" a collaboration with James Day. It's available right now on all digital platforms. I am also working on a new protect slated for spring-ish 2021.

Watch "When The World Says No" VIDEO: https://www.youtube.com/watch?v=CIt1oOW6iFU


FOLLOW LORENZO OWENS ON ALL SOCIAL MEDIA PLATFORMS @Lorenzo Owens
IG: https://instagram.com/lorenzo_owens?igshid=1czhyj7x8olr5
FB: https://www.facebook.com/lorenzo.owens.58
DOWNLOAD HIS NEW SINGLE "WHEN THE WORLD SAYS NO" AVAILABLE ON ALL DIGITAL FORMATS




Pierre A. Evans is a freelance writer of Entertainment, Music, Art, Culture, Fashion and Current Events, and previously for SoulTrain.com, NDigo.com, ChicagoDefender.com, EmpireRadioMagazine.com, and UrbanMuseMag.com, an author, singer/songwriter, actor, model, poet, dancer, and DJ. He is also the owner of Pinnacle Entertainment Productions. Follow him on Facebook, Twitter, and on Instagram