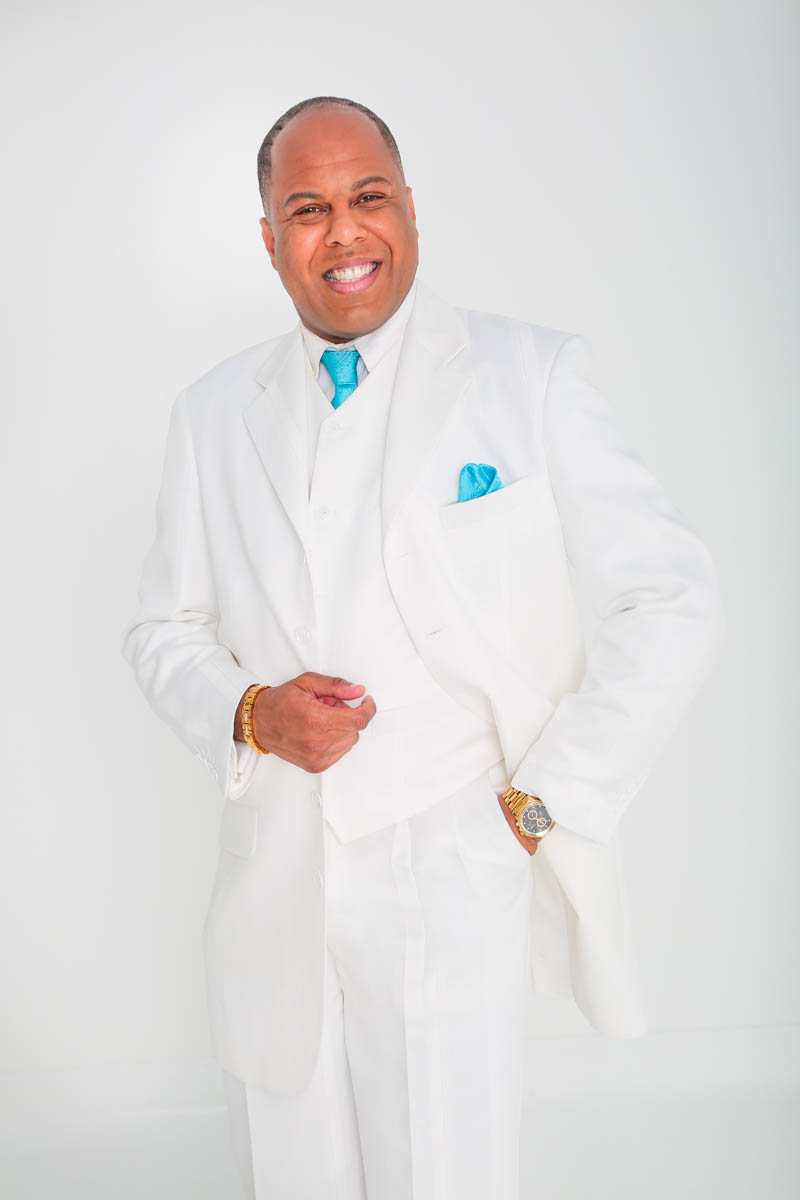 James C. Birdsong, Jr. is an aspiring gospel vocalist, songwriter, motivational speaker, entrepreneur, advocate for our children and author of The Best is Yet to Come: A Testimony of One Young Man's Redemption, an inspirational memoir published nationally and to this date, received positive reviews and appearances on multiple television, radio and print media platforms nationwide and globally.

A native of Richmond, CA, his efforts have caught the attention and respect of politicians, community, media and entertainment leaders and luminaries. A member of the famed Birdsong family, his lineage includes R&B legend Cindy Birdsong, a former member of Patti LaBelle and the Bluebells and the Supremes, former four-time NBA All-Star pro basketball player Otis Birdsong and the late Edwin Birdsong, a GRAMMY®-Award winner and legendary 1970s era funk keyboardist, who's music has been sampled by Kanye West, Snoop Dogg and Dalf Punk.

Mr. Birdsong was the great-nephew of the late Rev. Sidney Birdsong, Sr., a respected icon who served as the pastor of the historical Solid Rock Baptist Church in Los Angeles from 1959 to his death in 1976. A graduate of Fairfield High School in Fairfield, CA, Mr. Birdsong earned his Bachelor of Arts in Biblical Education at Beulah Heights University in Atlanta, GA. He is currently pursuing a Graduate certificate in Marketing at the University of Phoenix in Phoenix, AZ.

The recipient of the Albert Nelson Marquis Lifetime Achievement and Marquis Who's Who Top Artist Award, a listee in Who's Who in America and Who's Who in the World, the Outstanding Georgia Citizen Award, the Congressional Record, the Black Essence Award in Gospel Music, numerous citations, honors, nominations, proclamations and resolutions and an inductee on the Wall of Tolerance at the Civil Rights Memorial Center in Montgomery, AL.

His memberships of major music organizations include the Gospel Music Workshop of America Atlanta Chapter (GMWA), the Stellar Awards Gospel Music Academy (SAGMA) and the Gospel Music Association (GMA Dove Awards). He is working on his next book for youth as a discussion of various topics they face today from dating and relationships to the hip-hop culture and advice on how to enroll in college. The book is scheduled for publication in 2021.

GO BANG! Magazine: When and how did you know that you wanted to professionally pursue a life in the church?

James C. Birdsong, Jr.: First and foremost, I want to thank the GO BANG! Magazine family for giving me this opportunity to speak with your audience and the many readers throughout the WORLD.

I was born and raised in Richmond, California. I lived at the corner of Maine Avenue and Harbour Way South in the inner-city southside. My father, the late Rev. James C. Birdsong, Sr., who died in 1997 at 58 years old, was a respected and well-known minister and community activist in Richmond. He was a gifted and talented singer in his own right. However, my father had the opportunity to record, but he never pursued it. My mother, Belinda Germany-Birdsong resides here in Atlanta, Georgia.

I am a member of the world-renowned famed Birdsong family that consists of R&B legend Cindy Birdsong, a former member of the 1960s iconic R&B female groups Patti LaBelle and the Bluebells, and the Supremes; retired NBA four-time all-star pro basketball player Otis Birdsong; and Grammy Award winner, the late Edwin Birdsong, who became famous in the 1970s funk era and sampled by today's multi-platinum artists such as Snoop Dogg, Kanye West and others. My great-uncle, the late Rev. Sidney Birdsong, Sr. was the pastor of the historic Solid Rock Baptist Church in Los Angeles, California.

I always tell people that God, my family, and my upbringing became the foundation of what I am doing today in my career in the gospel music industry and being a public figure on the national platform. I received my calling and beginnings at a very young age.

GO BANG! Magazine: Nowadays many people are turned off by "religion" and the church, with all of the politics involved and the judgement that sometimes happens between the parishioners, and prefer to say that they are "spiritual" and not "religious", meaning they don't attend church. What do you think about that?

James C. Birdsong, Jr.: This is a question that has and still continues to raise awareness related to the church. My family roots are Baptist, dating back to my great-grandparents, the late Ed and Ida Birdsong of Greenwood, Louisiana. I come from a long line of preachers in the Birdsong family.

For me, I was raised in the Church of God in Christ and Apostolic denominations during the 1980s and 1990s. I have seen and observed a lot in my childhood and adolescence. I grew up around pastors, first ladies, ministers, evangelists, missionaries, deacons, choir members, musicians, Sunday school teachers and the mothers of the church. There are politics in the church, especially when it comes to the leadership role.

You asked me about people being spiritual and not religious. We are living in a time now that people are not attending church, especially our younger generation. They truly love God. At the same time, people are already wounded from hurts. Instead of them leaving the church delivered and set free, they are going home more hurt, more wounds, and more of their self-esteem being torn down.

There are some people in the leadership role, not all, in the church that are very judgmental and have that "holier than thou" mentality. I can go on and on with this response. This is another reason why the current state of the church is this way. We still have true men and women of God that live and stand on His Word and have a heart for the people. It is sad that certain individuals classified in a group of church leadership are doing wrongful deeds, and make it look bad for the good pastors, leaders, and congregants. The scripture tells us in Matthew 5:16 (KJV), "Let your light so shine before men, that they may see your good works, and glorify your Father which is in heaven." In other words, our assignment is to be an effective and positive example to others by demonstrating God's love towards one another. We are not doing enough of that today.

GO BANG! Magazine: In addition to being a religious leader, you are also a motivational speaker. What topics have you spoken about and why do you feel that you are an effective motivational speaker?

James C. Birdsong, Jr.: I have been doing public speaking since I was 12-years old. I have told this story many times before. I was attending Nystrom Elementary School across the street from my house in Richmond, California. The school still exists today. I was in the sixth grade and preparing to graduate. The day before the graduation, my sixth-grade teacher named Donna Grove, a white woman, accompanied me to the auditorium. She and her husband had supported me through the years. I had to rehearse my speech. When I walked on stage, I was feeling very nervous. I said, "Mrs. Grove, I can't do this." She looked straight at me and said, "James, you can do this." Her words gave me confidence. The next morning, I gave my speech and resulted in a stand ovation.

In 2002, God blessed me to return at Nystrom Elementary School to deliver the graduation commencement address. The school honored me in 2003 as the first former student in history to receive their most prestigious award. I usually share my story of being an overcomer to the young people and give them encouragement on how to succeed. I also encourage the parents and adults to love our children and never discouraged them. Prior to speaking at my sixth-grade graduation, my mother told me it was already there.

GO BANG! Magazine: Please explain to our readers what child advocacy is and describe what work you are doing in this area.

James C. Birdsong, Jr.: Child Advocacy is promoting and supporting their needs through mentorship. I am a strong supporter of our youth. God has allowed me to do this in my profession and throughout the community.

GO BANG! Magazine: As an entrepreneur, you recently established Birdsong Association of Broadcasting & Arts, Inc., which trains and guides youth who are interested in performing arts and broadcasting. What motivated you to establish this organization, and why initially in Atlanta, then in Los Angeles, and soon in New York City?

James C. Birdsong, Jr.: I am very glad you asked me this question. Birdsong Association of Broadcasting & Arts, Inc. is a new 501©3 non-profit organization to help our Black youth in Atlanta, Los Angeles, New York City and throughout the United States, to pursue their dreams and careers in performing arts and broadcasting with various programs and initiatives, partnerships with public school districts, 39 HBCUs, productions, workshops, fundraising activities, scholarships, mentorships, an annual gospel concert and pre-concert VIP awards gala as our benefit and much more.

God gave me this vision in 2018 to move forward in my goal of mentoring today's youth. I am a strong supporter of our children and have been recognized by elected officials and organizations in this effort. Coming from a family that has been blessed with rich, strong legacy in the entertainment industry, I wanted to do my part to give back. The Birdsong family are strong believers in community service and philanthropic efforts.
Since I reside in Atlanta, our main operations of the organization are located here. We will then move forward with the launch of our second operations in Los Angeles and by faith, a third operation will be established in New York City.

Many of my friends and colleagues in the Gospel music industry and the Entertainment arena at large along with media broadcasters, my supporters and the public at large are very pleased about this organization. They all agree about this effort is needed in the Black community for our children from 5 to 18 years of age. One of our main targets will be our inner-city youth. My publicist is working on an extensive media and marketing campaign for this organization locally and nationally.
GO BANG! Magazine: After all of the previously mentioned accomplishments, you are also an aspiring gospel songwriter and vocalist. I suspect that you are spreading "the word" through song. What is your mission or goal as a Gospel performer?

James C. Birdsong, Jr.: I grew up singing as a child by listening to my father's old school records of Rev. James Cleveland and other iconic Gospel artists of the Golden Era. We had a popular gospel radio station, KDIA 1310 AM, in the San Francisco Bay area. I remember this radio station playing the popular hits by Shirley Caesar, Rev. Timothy Wright, Vanessa Bell Armstrong, the Winans and especially my fellow Bay Area natives, the Hawkins Family. They are from Oakland, California. I would make up songs, and later, I would sing in the choir at 10 years old.

By the time I was 16 years old, I begin my journey of studying the business side of the Gospel music industry while obtaining vocal coaching. God has blessed me to be connected in the Gospel music industry throughout the United States. My goal is to proclaim a message of hope while mentoring our younger generation as a vocalist, songwriter and industry professional.

GO BANG! Magazine: You have authored two books thus far, "One Marriage, Many Tales, And a Separation: A Message of Hope" and "The Best is Yet to Come: A Testimony of One Young Man's Redemption." In 2021, you plan to publish a third book, which is a discussion geared toward the youth and the various topics they face, such as dating, relationships, hip hop culture and college enrollment. I commend you and look forward to its' publishing. What do you think about the current youth of today, in relation to their participation and responsibility in the civil-unrest movement going on today?

James C. Birdsong, Jr.: I am very concern about today's youth. I am from the Millennial generation. Right now, I am going to focus on Generation Z, which are the children born between the late 1990s to now. A lot has changed in the course of 25 to 30 years. I am comparing my upbringing to the generation today. I was blessed with both parents in the home. When I see the current state of today's youth, we have a lot of work to do. Many of them are from single parent homes, the fathers are not present, living in an environment where drugs, gangs and violence are around, and the list goes on. Many of these young people feel there is no hope for them, nobody is listening to them, nobody is giving them the chance to showcase their God given talents, and certain people they look up to as mentors and role models have failed them. I want to encourage our youth of today. God has chosen, created, and given you a purpose in life. You are going to succeed regardless of what is going on in society. Never allow any obstacles hold you back from your goals. Stay out of trouble. You are special in God's eyesight. People are going to criticize and have their voice of opinion. Do not allow that to define you or your character. You are loved and respected.

GO BANG! Magazine: Being a Black man in America today is dangerous on a daily basis. We have ALL experienced it in different ways. How have you been affected by systematic racism and have you witnessed White privilege? If so, please describe the instance for our readers.

James C. Birdsong, Jr.: Growing up in Richmond, California in an all-Black neighborhood, I learned early in life who I was as a Black man in America through observations. I grew up surrounding by diversity, since I am from the San Francisco Bay Area. I had been blessed to attend schools in both the Black and White communities and had friends and acquaintances in different nationalities and cultures. I had Black and White teachers and they all pushed and encouraged me to strive for greatness.

I have experienced racism myself, but not on the systematic level. I remember during the 1990s, the Black community was being affected from being followed in the stores and shopping malls, as if they were going to commit a crime such as stealing. This particular situation made national headlines and caused anger throughout the Black community.

I had experienced this firsthand when I was 16 years old. My mother came to pick me up from school. I was in my sophomore year at Fairfield High School in Fairfield, California. My parents were already divorced. This happened a year before my father's sudden death. Before we went home to our apartment, my mother needed to go to the store. This particular grocery store was very popular at the time before they merged with another company. I grew up shopping at this store with my parents in Richmond. While my mother and I were in the store, she went to the poultry department to purchase catfish and tiger prawn shrimp for dinner. I went to the area where the school supplies were located. I needed a pack of line paper for school. While I was over there, there were two older White men employed at this store. I saw them on other occasions prior to this incident. They followed me over there and assumed I was going to steal. My mother was nearby and saw what they were doing. She was about to go off on these men. Now, my mother is a sweet, God fearing woman. She said to them, "If you do this to my son again, I will report you to the NAACP." They backed off and walked away shameful.

My name was already being recognized in Fairfield, Suisun City, and surrounding areas due to ministry, leadership abilities and my classmates referring to me as "the Pastor of Fairfield High School." Not too long after that, we received word these same two White men were fired, due to other complaints from other Black shoppers. These men did not know that I had a cousin that worked at this same store in the poultry department, nor they did not know I am a member of a renowned famous family. My cousin was not working that day. My mother had a serious discussion with me about this situation on our way home. God was with me that day and I am grateful he revealed to my mother what was going on. If she did not see this, those racist white men would have called the police on me on a false accusation.

GO BANG! Magazine: The Covid-19 pandemic has dampened and ruined the entire year of 2020 thus far, for many people. They are dealing with it in various ways. Some are doing just fine, while others are depressed because of loneliness or death to loved ones, due to the virus. What words of encouragement or motivation can you provide to readers who need help dealing with our current new normal?

James C. Birdsong, Jr.: I have been asked this particular question in recent press interviews regarding the Covid-19 pandemic. The pandemic has been very challenging for all of us, especially for those of us in the Gospel music industry and Entertainment arena at large. We have been doing award ceremonies, concerts, and meetings virtually.
It does not matter what race, culture, or your social status maybe, we have experienced something that never came to our minds. For me and my family, we have been taking measures to remain safe. God is still blessing us in spite of the pandemic. This situation is only temporary.
At the same time, we need to take a close examination of ourselves and get more close to God. These are the signs of the last days. My thoughts and prayers go out to those who lost their loved ones to the pandemic. I want to encourage them to be strong and to remain positive.

GO BANG! Magazine: Many youth, particularly young black men, may look to you as a role model and an example of how to achieve success while being Black. Can you please explain how you overcame the many obstacles in your life to achieve the accomplishments you have?

James C. Birdsong, Jr.: God brought me through a mighty long way from Richmond, California to now. I could not talk at the age of three, due to being born with a speech impediment. He healed me and I share this story on multiple media platforms on television, radio, newspapers, and magazines. I attended school in the Special Education Program. I have experience teasing and bullying, the divorce of my parents, the death of my father and other situations. It made me strong. I thank God for the people in my life that loved me, supported me, prayed for me, and never gave up on me.

I never thought I would be the recipient of over 30 awards, including proclamations from mayors to members of the United States Congress. Now I am going to be honored in the Congressional Record. I have been told by so many people, "James, you are truly a role model to our young people, especially our young black men." Recently, I had someone tell me, "You are about to be an icon."

The prayers of my parents and the encouragement of friends, loved ones, teachers and mentors inspire me to be the man God placed me today. Your gift will make room for you. I was not raised to be a quitter and our young people need to remind themselves, "I am not going to quit. I am somebody."

GO BANG! Magazine: What words of wisdom can you provide to our non-Black readers to help them understand what life is like being Black during these tumultuous times, and can you suggest what they can do to help make this world a better place for us all?

James C. Birdsong, Jr.: I want to encourage the non-Black readers to learn and be open about our struggles. It is not easy for us as Black people. We go through so much, but more so as a Black man. If you truly love and care for the Black community, demonstrate how much you care through your actions. Be an effective listener and be yourself. Remember, action speaks louder than words.

I believe the world can be a better place if we apply God's Word in our lives and perform the works.

I want to thank you for giving me this opportunity to share my story with your audience.

Be safe and may God bless you.

GO BANG! Magazine: You are more than welcome…Thank YOU!


Additional Links
James C. Birdsong, Jr. Website: www.jamescbirdsongjr.net.
Birdsong Association of Broadcasting & Arts Website: http://www.babaonline.org
Facebook: http://www.facebook.com/jamescbirdsongjr
Instagram: http://www.instagram.com/jamescbirdsongjr
Twitter: http://www.twitter.com/TheRealJBOnline




Pierre A. Evans is a freelance writer of Entertainment, Music, Art, Culture, Fashion and Current Events, and previously for SoulTrain.com, NDigo.com, ChicagoDefender.com, EmpireRadioMagazine.com, and UrbanMuseMag.com, an author, singer/songwriter, actor, model, poet, dancer, and DJ. He is also the owner of Pinnacle Entertainment Productions. Follow him on Facebook, Twitter, and on Instagram