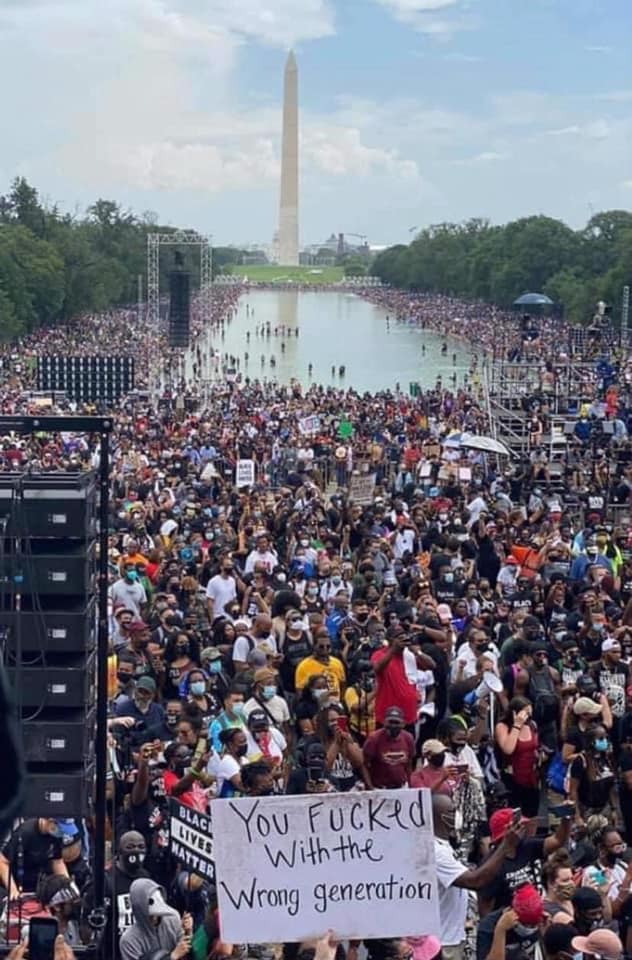 WATCH THE ENTIRE EVENT courtesy of C-SPAN.org VIDEO:
Click here: https://www.c-span.org/video/?475069-1/national-action-networks-get-knee-necks-rally-march&live=&vod=&eType=EmailBlastContent&eId=e7e463ea-0c4e-428f-b62c-b4504254a42e&fbclid=IwAR1fNs64SGk1o_KASgWIBPxfdSWUW-THOI-FJDmRqM1KQuyhUXmmeqtw1bg


The National Action Network (NAN) held a "Get Your Knee Off Our Necks" rally at the Lincoln Memorial on the 57th anniversary of Martin Luther King Jr.'s "I Have a Dream" speech. Among the speakers were Vice Presidential Candidate Sen. Kamala Harris (D-CA), Rep. Ayanna Pressley (D-MA), Rev. Al Sharpton and Martin Luther King, III. Also delivering remarks were family members of George Floyd, Breonna Taylor, Jacob Blake, Trayvon Martin, Eric Garner and Ahmaud Arbery. Following the conclusion of the rally, participants marched to the Martin Luther King Jr. Memorial.
I, Pierre A. Evans, had the desire to attend this historic event from the time that I first became aware of it. In early June, 2020, at the funeral of George Floyd, Reverend Al Sharpton announced that it would be a MARCH ON WASHINGTON set for Friday, August 28, 2020. At that moment I knew that I was going! I immediately hit up my homie, Donald Burns, and asked him if he was interested in attending the march with me. He said "HELL YEA!" We booked our flight and hotel immediately and just waited on the date to arrive.
Once we started our journey on Thursday, August 27, 2020, the first thing that I noticed was that Midway Airport was empty and the plane will filled half capacity. I didn't mind either of those changes and welcomed the space and room. Bear in kind, we are traveling in the midst of the COVID-19 pandemic. We we're literally putting ourselves in the midst of it by traveling. But the urge and need for me to go was overwhelming. The last time that I went to DC was to attend the "Million Man March" in the 90's. Over the years, I've come to realize that I am a human rights activist.
We get to DC Thursday afternoon and begin to kick it! Basically, we just traveled around the area our hotel (The Homewood Hilton) was in, which was Navy Yard/Washington Nationals Stadium. There was a lot to see and do. We did it ALL!
The next day, Friday, August 28, 2020, is March day! The event started gathering at 5:30 am and the speakers started at 9am and continued until about 2pm. Many of the people and families that have been affected by the unjustice and murders committed against Black/Brown people spoke. The mood of everyone attending was PRIDE!
Being a journalist, I always document and share my travels with my Facebook family, so I went LIVE several times throughout the trip and took numerous photos at historic locations. You can see the footage on my Facebook page @https://www.facebook.com/pierre.a.evans
The ceremony went overtime and the march didn't start until about 2ish, an hour late (CPT) lol. Unfortunately, my phone died before the march started so I was unable to record it but it was DOPE! You already know it was. I was afraid that it would get violent, especially with ORANGE MAN being in town for the Republican National Convention (RNC). I was prepared though. I'm always ready! Thank GOD all went well and there was no violence on the day of the March. Unfortunately, I found out that there was violence a few days later at a nighttime march there.
Saturday, August 29, 2020 was my chill day. After traveling, waking up early Friday, spending all day on my feet and marching, my 53 year old butt needed to chill and recouperate. #Realtalk So that's all I did. Chill, drink, sleep and eat….ALL DAY!
Sunday, August 30, 2020 started at 4am with a man beating on my door, turning the door handle, trying to push his way into my room, and say over and over "RICHARD!" Instinctively, I was ready to kick ass! I rushed to the door, looked though the peep hole and saw a man, who looked intoxicated. I said "Wassup? What you want?" He said, "Richard!" I said, "Ain't no Richard here, you got the wrong room, keep it moving bro!" Again he shouted "Richard" and was trying to turn the knob to get in. I told him, "I'm bout to call security." He ain't give a f*ck, he kept on.
So I called the front desk and told them what happened. To my AMAZEMENT, they told me that they do not have ANY Security at 4am. I was like DAMN! So, I called the Police. Long story short, they came in about 20 minutes. The man was gone, but when the Police arrived they said that he was stuck in the stairway, was drunk and was trying to find him room, which was in the same location of the building as mine, just on a different floor.
Later that day, I went to the Martin Luther King Memorial and the Lincoln Memorial and other historic sites. It's all on Facebook too and was quite a great experience. I am part of a Facebook group called March on Washington 2020. This group kept all of the members informed of everything we needed to know and a place to communicate with each other. Through that group, I got the chance to bond with a cool brutha that lived in Arlington, VA. Once arriving to DC, we linked up and he was my second kick it partna! His name is Antonio Pearse. I told him come to Chicago and I'll show him around CHItown. A cool brotha and woke!
So, overrall, it was a well-needed trip for me to take. Many people ask, what did you accomplish? My response is that it's not like I came back form the march saying NOW I'M FREE! No, not at all! I come back to URGE PEOPLE TO VOTE TRUMP OUT AND FOR ALL OF US TO VOTE, WHETHER MY MAIL OR IN PERSON.
Youth, YOU ARE THE LEADERS OF THIS TIME NOW AND ALL OF YOU need to turn out and VOTE on November 3rd!
I feel that the march was a way to channel my anger, frustration and rage in a way that allows me to remain a FREE man, not locked up in JAIL!
PEACE & POWER TO THE PEOPLE!
Pierre A. Evans is a freelance writer of Entertainment, Music, Art, Culture, Fashion and Current Events, and previously for SoulTrain.com, NDigo.com, ChicagoDefender.com, EmpireRadioMagazine.com, and UrbanMuseMag.com, an author, singer/songwriter, actor, model, poet, dancer, and DJ. He is also the owner of Pinnacle Entertainment Productions. Follow him on Facebook, Twitter, and on Instagram