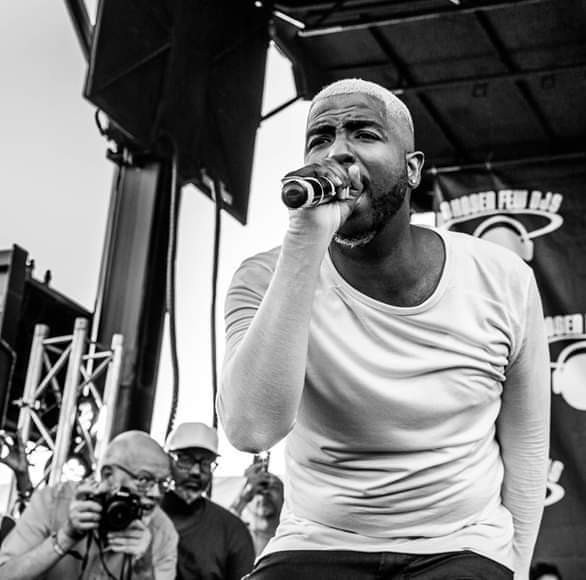 A native of the south side of Chicago, Jon Pierce packs quite a bit of baritone into his slim 5'10, 175lb. frame. At just the impressionable age of 11, he realized his deep love and sheer passion for music having been exposed early on to such musical genius as Stevie Wonder, Fela Kuti and Maze featuring Frankie Beverly. At age 12, Jon remembers that his mother had given him a Walkman along with a Luther Vandross cassette tape that he would study for hours, getting lost in the melodies of the rifts and vocalizing the intricate harmonies. It is the soulfulness of these and many other influences that helped shape Jon Pierce's personal full-energy sound, which is filled with a hint of jazz, hypnotic house rhythms and his natural fit, R&B.

A professional singer since age 15, Jon Pierce has been a consistent performer with both stage and vocal projects ever since. Fueled by his drive to, "take a set of songs and turn them into memorable moments for the audience," Jon engages his unique style and creativity to deliver lasting impressions that have not only made him a permanent fixture in Chicago's diverse soul and theatre scenes, but they have catapulted him globally with tours and performances throughout Germany, Japan and the UK.

Jon Pierce has worked with some of the industry's top producers such as Ralf Gum, Louie Vega and Terry Hunter to name a few. His latest project is the poetic rhythms of his EP "The Love Take Over" a vibrant and up-tempo dance collection produced by Chicago-based DJ Sean Ali for Sounds of Ali Recordings. Already a fan favorite, this project is a true testament to Jon's vocal capabilities and the authenticity of his unique sound.

Enter Jon's Planet and experience his artistry!!!!

GO BANG! Magazine: What was it about Luther Vandross' voice and singing style that captured you as a kid growing up and how has that influenced your musical style?
Jon Pierce: Luther was a master vocal arranger and writer! The way he put together melodies and harmony stood out for me more than anything! He had a way of being himself that attracted me to him. Most of the singers that I like are original and have their own style! I listened to Luther and received some of his energy. I don't sing anything like him. I took lessons from him to add and find more of me!

GO BANG! Magazine: Are you primarily a vocalist or can you/do you write lyrics, compose music, play an instrument or produce tracks as well?

Jon Pierce: I write all my songs. In the last five years I have also put on the producer hat.

GO BANG! Magazine: In addition to singing, you're also a stage actor and dancer. How does your dancing and acting experience influence your singing style or stage presence AND are you still pursuing acting and dancing?

Jon Pierce: I went to school for musical theater. So as a performer, a lot of the dance and a lot of the production value that comes with performing in theater adds to my performances. So, I love theater and I love acting. I have performed at most of the major theaters in the Midwest region.

Before the shut down, I was scheduled to be in "The Gospel at Colonus" at the Court Theatre here in Chicago and I'm currently a principal dancer of Muntu African Dance Theater. So it's a very big part of who I am. All of it works together.
All of it is me. I'm blessed to be a full-time entertainer.

GO BANG! Magazine: You've toured and performed in the U.S., U.K., Germany and Japan. How would you describe the main differences in U.S. audiences, versus other countries audiences, in reference to their appreciation of dance music and artists?

Jon Pierce: When someone flies you across the water to sing for them, they want you there. They have shown an appreciation for who you are and what you bring. I think Americana are so spoiled to having amazing talent, that sometimes they take it for granted.

GO BANG! Magazine: Is Dance the only genre of music you create or do you perform other styles of music? If so, what others? If not, why not?

Jon Pierce: I am a Dance artist and a soulful House artist! I chose it. I didn't have a failed attempt at any other genres! I love the music and the energy it brings and the freedom of the message! I am all in for House!!

GO BANG! Magazine: With Chicago being the home of House music, and as a Chicago native, you've had the privilege of growing up House your entire life. How has the House music culture and community influenced your music?

Jon Pierce: It's the music I do! That's the influence of being young and listening to it on the radio and watching my family dance to it.

GO BANG! Magazine: Please name any producers, songwriters or other artists that you would LOVE to work with, that you haven't thus far, and why?

Jon Pierce: I have had the honor of working with the top producers in dance music from all over the world! I am open to working with someone new that really has a grasp on music that pushes the sound forward. So, if there are any producers who feel they can bring something fresh, I would love to work with that energy!

GO BANG! Magazine: What can our readers expect from Jon Pierce in the future, after the Covid-19 pandemic clears up?

Jon Pierce: I plan on releasing more music! I wrote a book, so the release of my book, as well! I am on a journey of learning and growing, so I constantly want to share those lessons

GO BANG! Magazine: The COVID-19 pandemic has caught the world off guard. How are you personally dealing with it?

Jon Pierce: Doing my best to maintain some levels of normalcy and at the same time adapt to whatever this government is about to throw our way!

GO BANG! Magazine: Lastly, on May 25, 2020, George Floyd, a 46-year-old black man, was killed in Minneapolis, Minnesota, during an arrest for allegedly using a counterfeit bill. Derek Chauvin, a white police officer, knelt on Floyd's neck for almost nine minutes while Floyd was handcuffed and lying face down, begging for his life and repeatedly saying "I can't breathe." This incident has caused civil unrest and massive protests across the world. How do you feel about this unfortunate situation and call for police reform due to the horrible treatment of minorities by the police?

Jon Pierce: I believe that the complete system we call LAW needs to be revamped! Our judge and jury have become the police in the streets! Judges are just enforcing the judgement of the police. It is very sad that in 2020, we still have to deal with this level of human immaturity! We have to constantly show and call out crooked cops. Eventually, we will have to protect ourselves against racist cops, if Police Reform is not a priority to leadership in this country!

You can follow Jon Pierce on ALL social media @JonPierce and log onto his website @http://www.jonpierceplanet.com


Pierre A. Evans is a freelance writer of Entertainment, Music, Art, Culture, Fashion and Current Events, and previously for SoulTrain.com, NDigo.com, ChicagoDefender.com, EmpireRadioMagazine.com, and UrbanMuseMag.com, an author, singer/songwriter, actor, model, poet, dancer, and DJ. He is also the owner of Pinnacle Entertainment Productions. Follow him on Facebook, Twitter, and on Instagram