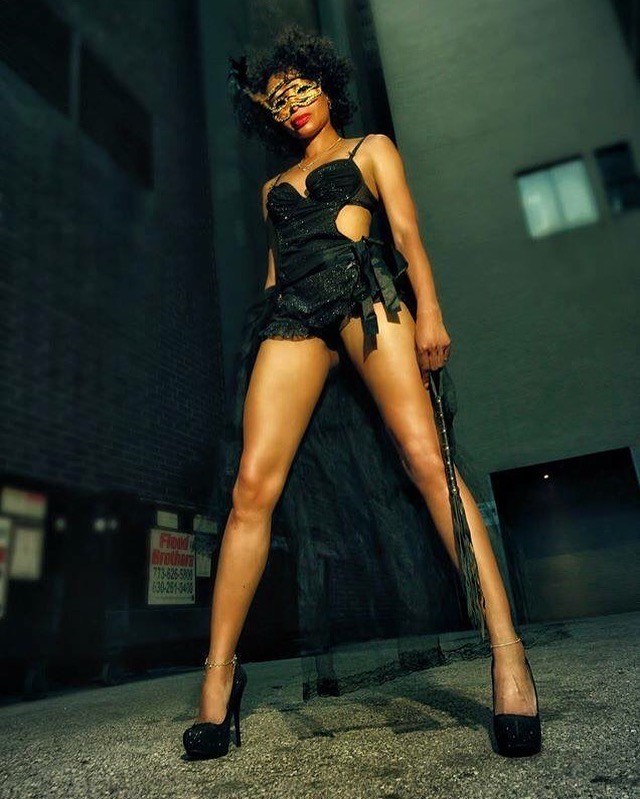 Choreographer, producer, impersonator, and author, ERIKA JARVIS studied dance under the direction of Deidre M. Dawson, Joseph Holmes Chicago Dance Company and The Dance Center of Columbia College Chicago. She received her Bachelor of Arts degree in Fashion Merchandising from International Academy of Design and Technology.
As Artistic Director of Creative Soul Entertainment and Unleash Your Inhibitions, Erika and her company has appeared on television shows, music videos and radio. In addition to performing, Erika is the 2018-2019 recipient of the African American Arts Alliance of Chicago BLACK EXCELLENCE AWARD as "Outstanding Achievement in Film – Best Actress for David Weathersby's documentary, Thee Debauchery Ball. Her self-published book, "Unleashed, Seductive Poetry", is available on Amazon.
GO BANG! Magazine: What inspires you?
Erika Jarvis: I'm inspired by love, music, children and experiences. Actually, there isn't one particular thing that inspires me. Waking up inspires me to inhale and embrace every breath taken and exhale my God-given talent.
GO BANG! Magazine: What is erotic poetry?
Erika Jarvis: Erotic poetry is a form of creative expression where written or spoken prose marries sensual phrases. The product is a sexy and seductive piece of art that'll make any sapiosexual salivate. At least that's what happens to me. 😉
GO BANG! Magazine: How would you describe your style of poetry?
Erika Jarvis: I believe it's sensual and whimsical. I'm a romantic.
GO BANG! Magazine: In addition to doing poetry, you're also a choreographer, educator, writer, producer and model. How do you do it all?
Erika Jarvis: With faith, perseverance and patience. It stems from a supportive family and an amazing circle of friends. I would not have done all of these exciting things alone without the people in my life. Never take anything and anyone for granted.
GO BANG! Magazine: You are also the Artistic Director of Creative Soul Entertainment. Please describe the company, your role and what the company does.
Erika Jarvis: A multi-talented company that showcases various artists through movement, music and fashion.
GO BANG! Magazine: I see that you actively give back to the community. Please describe your community involvement, and why it's important to you.
Erika Jarvis: Being a woman, a woman of color, a Black Woman, who happens to be an artist, I have a responsibility to my community. I don't speak much on what I do. I find joy and helping others without social media or public announcements. To answer your question, I contribute my efforts to women and children. I'm committed to them. I was a teen mom who struggled between classes, job and raising a child before graduating high school. The organizations who helped me like Catholic Charities, taught me to give back.
GO BANG! Magazine: What words of advice can you offer an aspiring artist?
Erika Jarvis: Be honest. Be intentional. Work hard. Don't worry what others think, it's none of your business.
GO BANG! Magazine: Are you currently doing any poetry gigs?
Erika Jarvis: During this time of worldwide pandemic, all of my events are on hold.
GO BANG! Magazine: What does the future hold for you?
Erika Jarvis: More blessings and lessons. After all, I'm a work-in-progress.
You can follow Erika on ALL social media formats!
Pierre A. Evans is a freelance writer of Entertainment, Music, Art, Culture, Fashion and Current Events, and previously for SoulTrain.com, NDigo.com, ChicagoDefender.com, EmpireRadioMagazine.com, and UrbanMuseMag.com, an author, singer/songwriter, actor, model, poet, dancer, and DJ. He is also the Owner of Pinnacle Entertainment Productions and the Owner/Publisher of GO BANG! Magazine. Follow him on Facebook @Pierre Andre Evans, Twitter @Playerre, and on Instagram @Pierre_Andre_Evans.