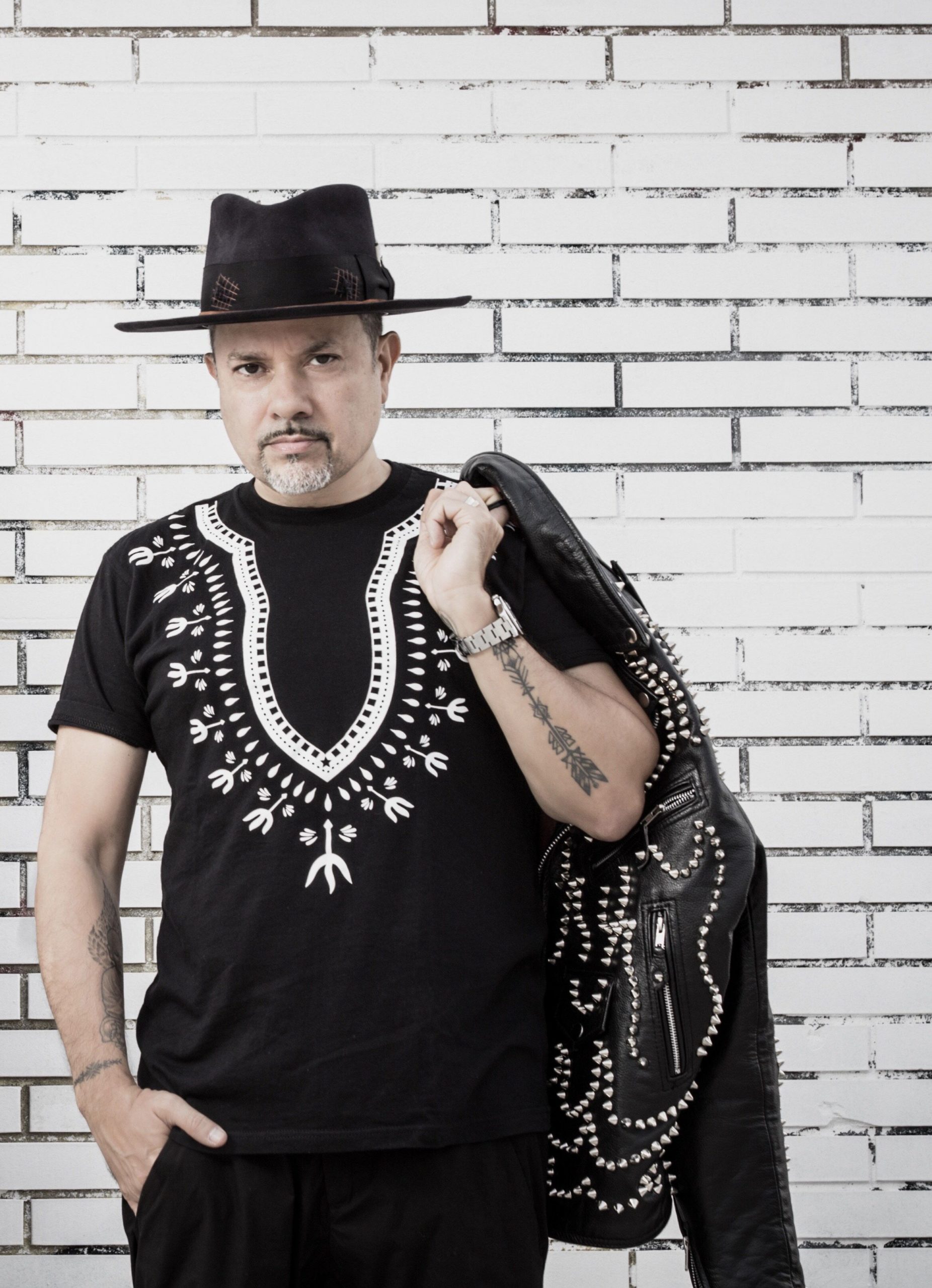 A leader in global dance music, Louie Vega has painted an award-winning career from a palette mixed with everything from house, salsa and afro-beat, to jazz, hip hop, gospel and soul.

What distinguishes the Grammy winner and 7-time nominee as one of the best living house music deejays is his ability to evolve alongside the times, distill the current musical landscape through his unique taste and put his own timeless spin on all the music he creates.

"Little" Louie Vega, as he is sometimes affectionately known, was born in the Bronx into a musically gifted family (his father is a jazz saxophonist and his uncle, Salsa King Héctor Lavoe). The "Little" moniker is ironic, given the fact that by the 80s he was deejaying at clubs he wasn't even old enough to attend, holding residencies at Studio 54, Devil's Nest, Heartthrob, Roseland and playing at the Palladium, Area, 1018 and other seminal New York City Clubs. Soon Vega was producing his own remixes, which included Information Society's "Running", "What's On Your Mind", Noel's "Silent Morning", Cover Girl's "Because Of You", and Debbie Gibson's "Only in my Dreams."

Then in 1991 he joined Atlantic Records and recorded an album — hitting the mainstream. Teaming up with an up-and-coming Marc Anthony, he produced "Ride on the Rhythm" co-written with India & Derek Whitaker. An immediate club hit, the single put Vega and Anthony on the map. The duo would rock the club circuit with their success culminating when they opened for Tito Puente at his 100th Album concert at Madison Square Garden.

One of the keys to Vega's success is his refusal to be boxed into any one category, marked by the various styles his songs play with and by his fruitful collaboration with other artists.

More success came in 1991 from the production team he created with Brooklyn-based deejay Kenny "Dope" Gonzalez. Masters at Work, as they were called, were responsible for the critically acclaimed albums "Nuyorican Soul" and "Masters At Work – Our Time is Coming. " Not to mention the duo found the time to remix and/ or produce for Michael Jackson, Luther Vandross, Madonna, Jamiroquai, Tito Puente, India, Janet Jackson, Tania Maria, George Benson, Black Eyed Peas, Femi Kuti, Jocelyn Brown, Los Amigos Invisibles, Bebe Winans and Earth Wind & Fire.

Vega, always hungry for a challenge, expanded into a new role of record label owner. Featuring a roster that included Anané Vega, Luisito Quintero, Elements Of Life & E.O.L. Soulfrito (his live bands), Mr. V, Boddhi Satva, Hugh Masekela, Roberto Roena, Lisa Fischer, and Cindy Mizelle, Vega Records has released over 180 singles and 11 Full Length CD / Albums. In addition, Louie Vega has released over 30 compilations (with over 2 million cds sold) on the industry's most revered imprints, including Ministry of Sound Recordings, Defected Records, Kingstreet, Azuli, Division (Italy), BBE, Concept, R2, and Strictly Rhythm records.

Like his businesses, Vega's music also flourished. In 2006, he received a Grammy Award for his remix of Curtis Mayfield's "Superfly" on Rhino Records. Then, not more than a year later, Cirque Du Soleil approached him and the house-music group Blaze to compose and produce a song for a once in a lifetime event. Anané Vega sang the lead and the Elements Of life band performed the song "One Dream" to the acrobatics and art of Cirque Du Soleil during the 2007 Super Bowl Pre-Game Show to over 70,000 people at Miami's Dolphin Stadium. The performance was viewed by 145 million television viewers.

…Yet as we move through the twenty-tens, Louie shows no signs of slowing down…

Vega's global fandom requires the famed producer extraordinaire to be in many places at once. Radio was a natural extension to his dj performances. In 2010, Vega and Kevin Hedge started a show, Roots NYC Live Radio Show on WBLS 107.5 (New York's longest running and biggest R&B and soul radio station). Rated the #3 radio show in New York on Friday night, they air every Friday from 10PM – Midnight (stream live www.wbls.com). To keep the music flowing on all continents, Vega can also be heard every Friday from 8pm – 10pm at House Fm on the Dance Ritual Radio show with (www.housefm.net) in London, and every Saturday since 2010 at 10pm via KAYA FM's Dance Ritual with Louie Vega (www.kayafm.co.za) in Johannesburg, South Africa.

Ever the music innovator, in 2013 Vega released Elements of Life – Eclipse on the legendary Fania records. The record, 4 ½ years in the making, keeps the style of Vega's earlier albums intact (African, Jazz, Latin, World), but is mixed with Soul, R&B, Gospel and Blues sounds. Featured artists on the album include Anané Vega, Josh Milan, Lisa Fischer, Cindy Mizelle, Ursula Rucker, Jose Mangual Jr., Luisito Quintero, Oveus Maximus and an all-star cast of musicians.

The album's occasion was momentous because it was the first 'new artist' album Fania released in years. In Vega's words, "…It really comes full circle now, being able to be on the label my uncle Héctor Lavoe was on and the Fania All Stars who are all great inspirations for me. Fania Records is to Latin music what Motown is to R&B and Soul, so to even be a small page in this encyclopedia of music is a dream come true."

2016 was a monumental year for Vega. His emblematic 2016 album Louie Vega Starring… XXVIII was nominated for a Grammy award for Best Dance / Electronic Album. After 30 years in music, Vega has reached a distinct and unmatched level in his career. He knows where global sounds live and hide. And he skillfully capitalized on relationships with the leaders of those sounds by understanding what they represent and how they can be infused. There are few times in an artist's career where their sonic pallet and connections with other artists reach a level of pure magic. This album is the latest testament to Louie's growing legacy as a master bricoleur. Starring…XXVIII is a dual disc conceptual record featuring over twenty-five artists on twenty-eight different songs. Collaborators on the album are George Clinton & Funkadelic, 3 Winans Brothers & the Clark Sisters, Josh Milan, Ananè Vega, Lisa Fischer, N'Dea Davenport, Caron Wheeler, Monique Bingham and more.The record is Louie Vega's first solo album and a contender for his magnum opus.

And music critics aren't the only ones celebrating Vega's influence and impact. Kanye West released his seventh studio album, "The Life of Pablo" to ravishing fanfare and spectacle. One of the album's standout tracks and fan favorite was "Fade," which finds West diggin' in the crates to sample two Vega and Barbara Tucker classics – "Deep Inside" by Hardrive featuring Barbara Tucker and "I Get Lifted" by Barbara Tucker. Vega and West fans alike will rejoice thinking of the amazing studio sessions involved in creating the original and the contemporary remix of the classic. Once again, Vega constructing bridges that traverse boundaries and bring people together through music.

It's worth mentioning that Kanye wasn't the only hip hop superstar lending his raps to Vega's sound. Compton- MC Kendrick Lamar jumped on the remix of "Ain't That Funkin' Kinda Hard On You", the standout track from Vega's 28 album featuring the pioneering funk legends, Funkadelic and their leader, George Clinton. The power of Vega's ability to serve as a sonic liaison on full display.

2018 is gearing up to another MONSTER year for Vega. He's in the the studio with fellow jet setters and dj duo The Martinez Brothers working on a new album project. Their first release "Shut The Door" features the vocals of Hector Lavoe on an energetic techno track is hitting dance floors worldwide, truly bringing together 3 generations. Vega and Kenny "Dope" Gonzalez (Masters at Work) are also gearing up for new releases with Kenlou, Masters At work and commemorating the 20th anniversary of Nuyorican Soul. Vega is also releasing in June 2018 his new album "Nyc Disco" on Nervous Records paying homage to the sounds of disco and the infamous Sam Records Catalog. The creative collective Elements Of Life and E.O.L. Soulfrito are hitting the road live soon. Vega provided a sneak peak of the tour's energy in October 2016 when he played to a crowd of 22,000 people over the course of two days at South Africa's Delicious Food and Music Festival. Vega brought along featured artists such as Lisa Fischer, Josh Milan, Anané Vega, Monique Bingham, Bucie and Adeva. Other Vega projects include album and or single collaborations with The Martinez Brothers, Joe Claussell, Joseph Capriati and a future jazz project with some surprise artists and producers. On the solo production side, Vega is producing new releases for Luther Vandross, Bebe Winans & the Winans Brothers, Karen Sheard Clark, Josh Milan, Anané Vega, Cindy Mizelle, Sharon Bryant, Monique Bingham, Barbara Tucker, & Rochelle Fleming.

Louie and Anané will carry on tradition with Sunset Ritual aka "The Ritual", an outdoor party held at prestigious indoor venues and beach clubs around the world and drenched in the sounds of House, Global Disco, Afro tech and Old School. Sunset Ritual has toured the Mediterranean every summer since 2010, including a two-year residency at the Blue Marlin Beach Club in Ibiza. They played at the famed Ushuaïa Hotel and released a Sunset Ritual cd/dvd. Anané & Louie Vega continue the party's legacy during summer 2018 coming back to Ibiza for their second year residency at Heart "The Ritual With Ananè & Louie Vega, and the continued annual touring of the Mediterranean. Guests at The Ritual Heart Ibiza have included Moodymann, The Martinez Brothers, Joseph Capriati, Soul Clap, Nicole Madauber, Henrik Schwartz, Jazzy Jeff, Kenny Dope, & David Morales.

With all the good fortune he's received, Vega finds it crucial to give back. During most of his free time he donates Vega Memorabilia to auctions, deejays at fundraisers and serves as a goodwill ambassador for the Cristian Rivera Foundation.

Breaking down musical barriers and bringing people together through a love of music has always been Vega's aim; after more than 20 years in the game his contributions continue to positively influence global dance music. Listen closely as the best has yet to come from Louie Vega!

GO BANG! Magazine: When and how did you know that you had a LOVE for playing music?

Louie Vega: Playing music, I knew as a child. I'd say 10 or 11 years old checking out the block parties and jams in the Bronx. I saw DJs like Jazzy Jay on the ones and twos playing all the break beats and records we call classics today.

GO BANG! Magazine: Please explain to our readers how a child DJ evolved into an international DJ and a super-producer.

Louie Vega: I evolved into an international DJ and producer because I was driven. If the opportunity was there to sit and learn from the masters at that time, I was in a studio or at a club watching bird's eye from the booth what would be happening on the dance floor. If I was invited to a studio by a producer, I'd sit in back and absorb. I was lucky to be in NYC, which was the Mecca of dance music being made. But as a DJ, I worked hard since my teenage years and eventually started doing my own parties with many people, which then led to playing at clubs. I was making a name for myself in NYC. So many were hearing about what I was doing and how I played music.

GO BANG! Magazine: When you are producing a track, what in particular, musically, are you trying to achieve?

Louie Vega: When I produce a track, I try to achieve making a record that will stand the test of time and have longevity. Production is important here. You must use or make all the right sounds and record them properly, as well as record the musicians properly, if you're not using synths. But I usually combine the best of both worlds. Recording is an important factor as well, getting to the mixing stages, and making it sound good. So I really want to make records that touch people and that you'll be hearing 10 or 20 years from now.

GO BANG! Magazine: How would you describe the LOUIE VEGA sound?

Louie Vega: There is a soul to my sound, and as far as styles, it can vary. I would say a bridge between sounds. Of course it's a Latin Soul sound, with inflections of many sounds.

GO BANG! Magazine: Over the years, you've morphed from only being a DJ. You've also accomplished great success as a producer and remixer. You've worked with various artists from multiple genres in the music industry as well. You've remixed and/or produced Michael Jackson, Luther Vandross, Madonna, Jamiroquai, Tito Puente, India, Janet Jackson, Tania Maria, George Benson, Black Eyed Peas, Femi Kuti, Jocelyn Brown, Los Amigos Invisibles, Bebe Winans and Earth Wind & Fire. How did it feel to work with artists of this caliber?

Louie Vega: It was a "dream come true!" As a child, I've always dreamt of working with artists in my record collection and when it happened it was surreal. I mean getting a call from Mick Jagger was deep, working with Luther Vandross, Donna Summer and George Benson to name a few, was surreal! In the end, it was a mutual respect and professionalism that came about. It's truly awesome.

GO BANG! Magazine: After working with such high ranking artists over the years, are there any other artists, current or classic, that you would love to work with?

Louie Vega: I'd like to work with Stevie Wonder, D'Angelo, Herbie Hancock and Chic Corea. I mean, it can be a brand new artist. If they move me with their talent, I'm in!

GO BANG! Magazine: Why is it important to you to produce music from various genres and eras?

Louie Vega: Variation is key, and that's just me.

GO BANG! Magazine: Being a DJ myself, as well as a songwriter, I know how the DJ ear helps in producing a song. How has your DJ ear helped you when producing new music?

Louie Vega: DJ ear is special. You just know what works for your dance floor, so when making a record, you know when it's right. Then there's also arrangement. I learned a lot from DJ'ing and listening to my record collection. In terms of sound, you also know what your record should sound like, and the DJ ear has helped in this case.

GO BANG! Magazine: Who are some of the DJ's and producers that inspire or motivate you?

Louie Vega: There's many from the past, which've made a difference, and some that I was lucky enough to experience. There's Larry Levan, David Mancuso, Walter Gibbons, Gamble & Huff, Quincy Jones, Steely Dan, Vince Montana, Jay Dilla, and so many more.

Some here today, Tony Humphries, David Morales, The Martinez Brothers, Kenny Dope, Todd Terry, Moodymann, Kerri Chandler, Anané, Sting International, Joe Claussell and Manoo. Many, in different ways, bring out inspiration.

GO BANG! Magazine: You are recognized as one of House music's pioneers. What influence, if any, do you feel you have brought to House music and how has House music influenced you?

Louie Vega: I think many have been inspired by my way of DJ'ing and the way I produce music. House music has influenced me since 1984!

GO BANG! Magazine: You've had the opportunity to travel around the world, in the name of House. How would you describe House's acceptance in other countries, in comparison to here in the States?

Louie Vega: House is loved worldwide. I have been to many countries, various times, and it's now turned into generations of people following my music, djing, and my career. I mean it's really serious to many, and a way of life. The States have their thing going. I mean, it's on the come up again, as it was years ago, but much bigger internationally.

GO BANG! Magazine: In your opinion, what is the difference in Chicago's house scene, in comparison to New York's house scene, as far as the music and the dance styles?

Louie Vega: New York House scene and Chicago House scene have similarities, but also have their own thing. We have classics in NYC that may not be a classic in Chicago, and Chicago has classics that may not be a classic in NYC. But, we also have some that live in both of those worlds. But it has a similar history, legendary DJs and producers that made a difference!

GO BANG! Magazine: You are a GRAMMY® winner, as well as a 6-time GRAMMY® nominee. When others in the entertainment industry reach the level of success that you have, some of them go "Hollywood" and become arrogant and cold-hearted. You seem to have not gone down that path. How have you maintained your levelheadedness and why is that important to you?

Louie Vega: It's all my upbringing. I come from an amazing family who were always humble and good people. I'm just the same. I flow in and out of those worlds, but I'm always myself no matter how big it gets.

GO BANG! Magazine: What can our readers expect in the near future from you?

Louie Vega: I have a new album coming out on Nervous Records entitled "Expansions In The NYC." It's inspired by my Wednesday night, weekly, 6 hour journey parties that I've done in 2019 and continue to do.

My friends have joined me on this album. Some amazing collaborations with Bernard Fowler (formerly of the Peech Boys), Unlimited Touch (the original band), Robyn, Moodymann (singing on the album), Kerri Chandler (singing on the album), Honey Dijon (vocals on the album), Lisa Fischer, and a special collaboration with my son Nico Vega, who has a single out now on the "Expansions In the NYC Ep 2." These co-productions are on point!! Album is due out in a few months.

Vega Records also just had a release of the "Eclipse" album by Elements Of Life, with remixes by Lost Souls of Saturn (Seth Troxler, Phil Moffa), Dj Spen, Gary Hudgins, Soul Clap, Gilles Peterson and David Harness. It's out now on all digital and streaming platforms.

GO BANG! Magazine: In conclusion, the COVID-19 pandemic has caught the world off guard. How are you dealing with it?

Louie Vega: Together at home with my family. Thank God we are healthy. Musically, I took a few weeks from music, but kept my radio shows going ("Roots NYC Live" on 107.5 WBLS, Kaya FM in Johannesburg, "Dance Ritual With Louie Vega" On House FM, and "Open Air Sessions with Louie Vega" on worldwidefm.net)

Worldwide FM is Gilles Peterson's station, which I've had my show on for almost two years and I do it monthly. It's streamed live from my studio, Daddy's Workshop, audio and video. So it's on worldwidefm with amazing quality audio, and it's on Facebook Live as well, from Daddy's Workshop in New Jersey.

A few weeks ago, Gilles Peterson asked me if I would be interested in a daily show, two hours a day. I thought about it and said" let's do it for 4-6 weeks." Now we also have "Louie Vega Lockdown Sessions" on Worldwide FM Live, every day, Monday's thru Friday's from 1pm – 3pm NY time, and 6pm – 8pm London time. Gilles had this idea to end his radio day with my show. His show plays earlier. So every day is a different musical style:

Monday: "Disco & Boogie"
Tuesday: "House Classics"
Wednesday: "Expansions In The NYC Sounds"
Thursday: "Eclectic Trips"
Friday: "Unreleased Jams, Tributes and Label Highlights"

I've already played April 20, 21, now on the third show. The audience seems to like it and I'm on radio every day now, so my fans have somewhere to follow, listen and enjoy. Hopefully I can help bring up everyone's spirit and enlighten their day!!!

You can catch the show on http://worldwidefm.net or LIVE on Facebook, and soon on Twitch!



Pierre A. Evans is a freelance writer of Entertainment, Music, Art, Culture, Fashion and Current Events, and previously for SoulTrain.com, NDigo.com, ChicagoDefender.com, EmpireRadioMagazine.com, and UrbanMuseMag.com, an author, singer/songwriter, actor, model, poet, dancer, and DJ. He is also the Owner of Pinnacle Entertainment Productions and the Owner/Publisher of GO BANG! Magazine. Follow him on Facebook @Pierre Andre Evans, Twitter @Playerre, and on Instagram @Pierre_Andre_Evans.