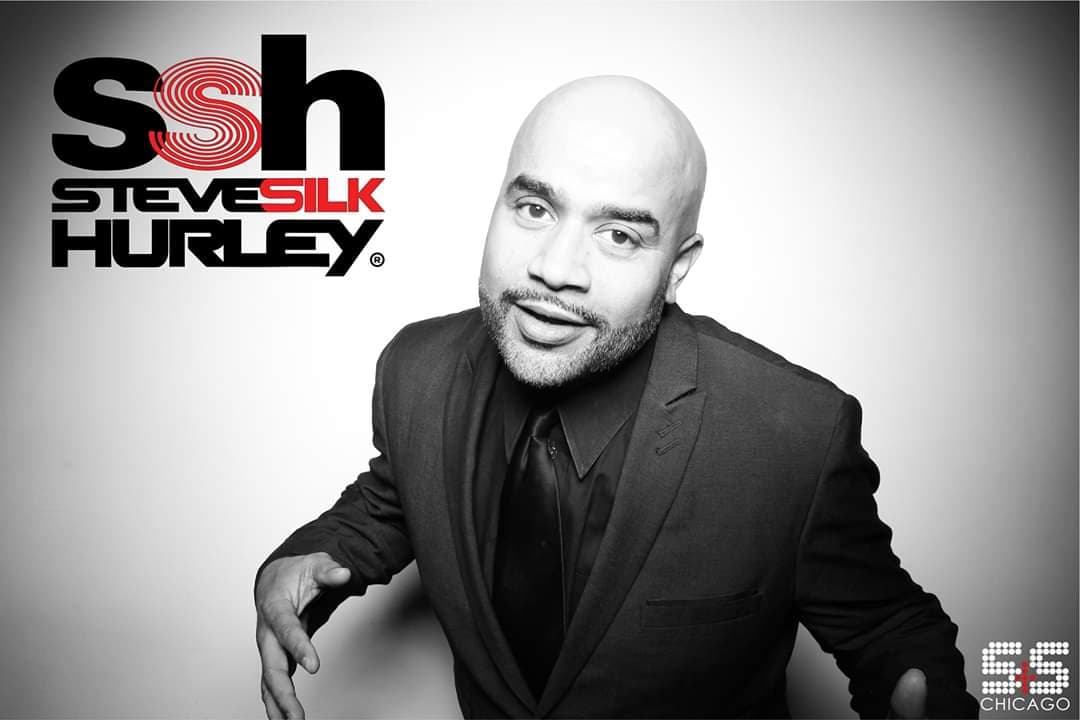 Steve "Silk" Hurley, a Chicago native, is a producer, songwriter, DJ, and 4-Time GRAMMY® Nominated Remixer. He began his career as a DJ, artist, producer, and pioneer of Chicago's "House Music". After creating several No. 1 hits with RCA, London, and Atlantic Records as a recording artist, Silk shifted his focus to songwriting, producing and remixing. He has since worked with hundreds of various artists including Prince, Madonna, Janet Jackson, Michael Jackson, CeCe Peniston, R. Kelly, and Mary J. Blige. While maintaining a successful production career in which he has sold several million records, Silk has still remained true to his DJ roots. He is an international DJ, and has been featured since 1994 on the nationally-syndicated Tom Joyner Morning Show, which has over 8 million listeners. Hurley has managed to build a reputation as "The Mashup King" with his mixshow segment called "The Old Skool New Skool Remix", which is featured 5 times weekly.
As a member of the "Dream Team" for Oprah Winfrey's "Pop Star Challenge Contest", Silk produced the music tracks for the 8 contestants' performances, as well as Oprah's Pop Star Challenge 2004 Cast Album on Epic/Sony Records.
Silk's new company S&S Records was formed in 2005 with fellow international DJ Shannon "DJ Skip" Syas. They released "The Chicago LP", a double DVD/double CD featuring an All-Chicago, All-Star cast of House Music Pioneers and Hip Hop stars. S&S has also been responsible for major House Music events in Chicago that have averaged an attendance of 4,000 people.
In addition all of these accomplishments, Silk has always given back by moderating and /or speaking at countless panels and at schools across the country. He has also served the GRAMMY® Organization, NARAS, for years. He was the Chicago Chapter President from 2004-2005, National Trustee from 2000-2004, and was an instructor for the GRAMMY CAMP® in 2006.
Influences includes Quincy Jones, Jimmy Jam & Terry Lewis, Gamble & Huff, Norm Whitfield, George Clinton, Bootsy Collins, Debarge, Switch, Shep Pettibone, D-Train, Colonel Abrams, and Arthur Baker.
Go Bang Magazine: As a resident of Chicago, the home of House Music, you are recognized as one of the pioneers. What influence, if any, do you feel you have brought to House music and how has House music influenced you?
Steve Silk Hurley: When House Music officially became a genre in 1984, it was the result of a culmination of events that led to original music being pressed up and sold commercially. House music as a culture started many years before that, as in Chicago we loved all of the Disco, R&B, Funk, Philly soul, and Garage music from New York, not to mention Italio Disco and other music from Europe, such as Kraftwerk, from Germany, and we embraced it all as "House."Not the Genre of House, but the Culture of House. I was part of this culture, but as a DJ, I wanted even more. I wanted to create my own music that would set me apart as a DJ. So I experimented with re-edits, and then moved on to adding drum machines to my DJ sets, and that evolved into me re-creating disco and soul music with synthesizers and drum machines.
I have to also mention that although Jamie Principle's bedroom-created music was only being played from cassettes and reel to reel tapes at the time, his influence on House Music (and on me) was one of the greatest. His song, "Your Love" was created in 1982 and was played by Frankie Knuckles exclusively before copies leaked and before long, it was being played by all of us DJ's. So although Jamie's music wasn't Officially released until 1985, he was already a Legendary Pioneer of House Music in Chicago before the rest of the world even knew what House was.
Jamie's legendary status in Chicago made me raise my bar for what I wanted to accomplish musically. I started getting my own original ideas, and "Music Is The Key" became my first actual release. I created that song and many others in 1983 and 1984, but "The Key" wasn't released until 1985. I wanted it to be right, since it was my first official release. So I hired Keith Nunnally to replace my voice on the demo with that of a real singer. Keith did his thing on the record, and we became the group, "JM Silk." We toured all over, and that was a great experience.
Go Bang Magazine: You've had the opportunity to travel around the world, in the name of House. How would you describe House's acceptance in other countries, in comparison to here in the States?
Steve Silk Hurley: I find it amazing that outside of the United States, the appreciation for our genre is elevated to another level. I think this is due to them educating themselves to where the music came from, and the fact that the next generations since the birth of House Music have also maintained that same curiosity and hunger for the new House Music that is released every day. This is why Skip and I continue to release new house music on S&S Records, because abroad there is still a very captive audience.
In the United States, although there is still an appreciation for House Music, and there are true die-hard fans in every state, there are younger generations that chose to gravitate to other genres of popular music over the years. House music was the music of teens here in Chicago when it was born, but around the late '80s, Rap/Hip-Hop, exploded and became the music of most teens, followed in subsequent years by other urban genres such as New Jack Swing, and now Trap Music. So here in the State's it's more of a Niche market, but the parties still have the same intensity. Also, there is starting to be more and more curiosity for house music from the millennials now.
Go Bang Magazine: Over the years you morphed from being only a DJ. You've accomplished great success as an artist, producer, and remixer. You've worked with many icons in the music industry as well, including Prince, Madonna, Janet Jackson, Michael Jackson, CeCe Peniston, R. Kelly, and Mary J. Blige. How did it feel, to be requested to remix songs from artists of this caliber?
Steve Silk Hurley: What's great is that I didn't just jump right into working with Michael Jackson, Janet and Madonna, etc. I had an opportunity to learn my craft and "earn my stripes" so to speak. I had the opportunity to work with Byron Stingily and Ten City early in his career, plus at ID Records we developed Chantay Savage, Kym Sims and many others early in their careers. We built a great writing team at ID with all of the singers, plus E-Smoove, Maurice Joshua, M. Doc, Jere MC, Manny Mo and Jamie Principle among others. This allowed us to write songs for CeCe Peniston and have her come to our "Mini-Motown" early in her career.
So by the time I got to MJ, Janet and Prince, I had the confidence of knowing my craft. I was honored of course to work with my idols, but Thank God I was also prepared!
Go Bang Magazine: After working with such high ranking artists over the years, are there any other artists, current or classic, that you would love to work with?
Steve Silk Hurley: I always wished I could have worked with Whitney Houston and Luther. But maybe Mariah Carey and I will work together one day. I love Drake. I think my music would work great with his melodic tunes. Ella Mai, Beyonce and many other new artists that come along every day.
Go Bang Magazine: You are a 4-Time GRAMMY® Nominated Remixer. Many that know you personally and/or professionally, including myself, describe you as a down to earth, humble and considerate person. When others in the entertainment industry reach the level of success that you have, some of them go "Hollywood" and become arrogant and cold-hearted. You seem to have not gone down that path. How have you maintained your level-headedness and why is that important to you?
Steve Silk Hurley: Once you feel like you have "arrived," Your career is over. I just think that remaining humble is the right thing to do. And you can't learn if you already know everything. I've always been a student of the game, no matter what the game is at the time. Every morning I study something that I don't know, or reinforce my knowledge on something that I want to improve on. It can be music theory, engineering, DJ skills, marketing, business, merchandising, or even self-help audio books like The Secret, or The Power.
Go Bang Magazine: In addition to being a creative and a business man, you're also "Married with Children." Has business or the music bug rubbed off on your children, or are they not interested in the entertainment industry?
Steve Silk Hurley: All my children love music. My son Steve Jr. works in marketing and coaches basketball, and my youngest Kayla is studying Nursing, and does hair and fitness videos, but only one is a professional singer, B. Laurén. She's appeared on a few tunes we've released on S&S with Marshall Jefferson and K-Alexi, plus some in France with the group Superfunk. We've also got a collaboration coming out on S&S with B. Laurén, Bad Boy Bill and Steve Silk Hurley. My other daughter Jai Nicole has a poetry book releasing this year. She can really play the guitar, and can sing and write also.
Go Bang Magazine: S&S Records consists of yourself and international DJ Shannon "DJ Skip" Syas. How did you guys meet and why did you decide to form a company?
Steve Silk Hurley: Skip and I knew each other through mutual friends and always passed each other in French Airports! One day we ran into each other at the grocery store (Ultra Foods) and decided we would hoop together one day. We did that for about a year, and then started talking about doing something with our music, since we both owned record companies. We wanted to join forces and take Chicago to the next level, so our first project was "The Chicago LP", a DVD / CD project featuring 33 new house music records from Chicago House music pioneers, plus interviews with each pioneer.
Go Bang Magazine: Having two international music industry moguls working together has got to be an exciting venture. How does the individual notoriety of each of you complement each other and enhance your business.
Steve Silk Hurley: Skip and I are 15 years apart in age, so first of all, our perspectives are different 99% of the time. But the key to our success is the respect we each have for each other and the open mind to each other's opinions. We will argue it out and figure out a happy medium every time, and it doesn't affect the friendship. That's the key.
Go Bang Magazine: In conclusion, the COVID-19 pandemic has caught the world off guard. How are you dealing with it?
Steve Silk Hurley: I'm just staying self-quarantined and using this opportunity to purge, organize, and enrich my mind. Also it gives us the opportunity to reach out to those that we love, whether it's family, friends, colleagues or acquaintances.
Of course I'm also creating music, and we are launching a clothing line, so we are putting the finishing touches on that as well.
https://sns-chicago.myshopify.com
S&S Records still consistently puts out fantastic music, on a day-to-day basis
We encourage our supporters, fans and customers to join our Facebook group, S&S Records Inc. Global Family, an entertaining and interactive platform to highlight S&S Records, Inc. artists and producers associated with S&S Records, Inc. music, as well as foster open communication between artists, producers and supporters from around the world.
https://www.facebook.com/groups/snschi/
Follow us on Facebook: https://www.facebook.com/snschi
On Twitter: @snschi
On Instagram: @snschi and @snschibrand
Pierre A. Evans is a freelance writer of Entertainment, Music, Art, Culture, Fashion and Current Events, and previously for SoulTrain.com, NDigo.com, ChicagoDefender.com, EmpireRadioMagazine.com, and UrbanMuseMag.com, an author, singer/songwriter, actor, model, poet, dancer, and DJ. He is also the Owner of Pinnacle Entertainment Productions and the Owner/Publisher of GO BANG! Magazine. Follow him on Facebook @Pierre Andre Evans, Twitter @Playerre, and on Instagram @Pierre_Andre_Evans.