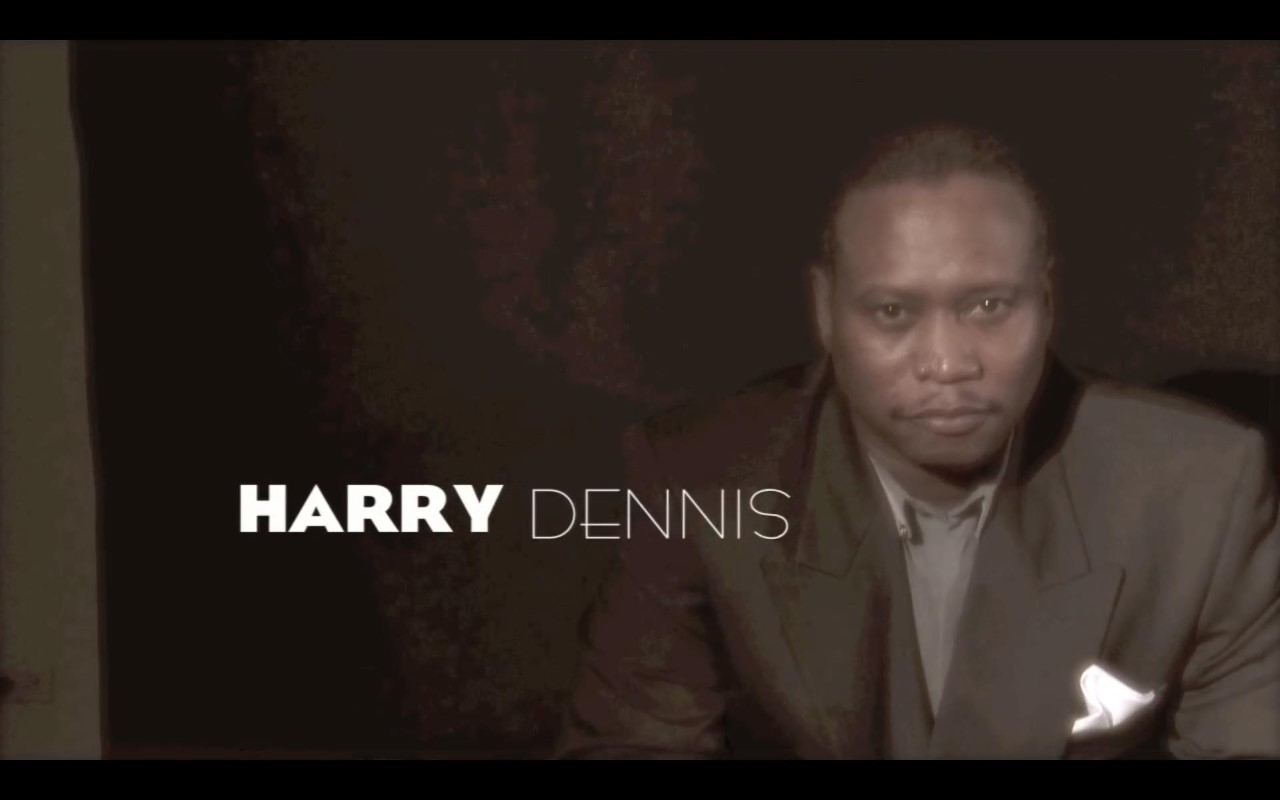 Harry Dennis is a House music producer and lyricist from Chicago, United States, who was part of the original generation of house music in the late 1970s and early 1980s. Dennis is a native Chicagoan who completed his elementary and high school education in Chicago Public Schools (CPS). While attending Illinois State University (ISU), he incorporated drama and music into his core studies and became interested in songwriting and lyric development. In 1982, Dennis graduated from ISU, returned to Chicago to work, and began his music career. A frequent party-goer, he met Robert Williams, owner of a The Warehouse, a local nightclub that catered to House music enthusiasts, where Dennis met and became friends with DJ Frankie Knuckles, Ron Hardy, and other leading members of the House music scene. Through these connections Dennis became a lyricist in the House scene.
Dennis began his recording career in 1983, releasing the single "Donnie" in 1985. He formed a group named The It with Larry Heard and Robert Owens. "Donnie" was launched on the Chicago underground House scene (with Chip E. as producer) in 1985, quickly spreading to the east coast, and was distributed worldwide by DJ International in 1986. During 1986–1989, Dennis was recruited to Trax Records by Marshall Jefferson. Together, they formed the group Jungle Wonz, recording the house hits "Time Marches On" and "Jungle".
In 1988, Fingers Inc., a group formed by Larry Heard, released "Distant Planet" with Dennis as writer and vocalist. The single was released under the Indigo Music/Jack Trax label. Dennis also collaborated as a lyricist and vocalist with Owens and Heard to record the single "Gallimaufry Gallery", released on the Black Market International label.
During 1990–1991, Dennis penned other House tracks in collaboration with Larry Heard. They recorded an album in London on the Big Life Records label, featuring "In This Place Called Nowhere", "Endless Journey", "Brazilian Love Dance", "Rain Forest Serenade", "When Will We Learn", "Endless Flight", "Living For The Man", and "Brazilian Love Dance (Interlude)".
In 1993, Dennis collaborated with Marshall Jefferson again to release "Bird In a Gilded Cage" on Trax.
Dennis returned from a sabbatical in 2005 with new material. While working on a new album, Dennis appeared on Chicago House Radio, WHPK 88.5 FM, and Triton College. He provided voiceover on tracks for DJs. Dennis also performed live at various Chicago venues, including the Regal Theater, and often appeared with fellow House music performer Curtis McClain.
Dennis' business affiliations include House music executives such as Marshall Jefferson, Chauncey Alexander, and David Dee of Openhouse Recordings. Dennis and Jefferson released a new album on Openhouse in June, 2011 entitled Jungle Wonz: The Jungle Sky EP, produced by Marshall Jefferson. This album included an updated version of the original "The Jungle" recording, along with several renditions of a new single, "Kiss the Sky", written by Dennis, McClain and Jefferson.
Following the 2012 release of his album, The Jungle Wonz: Deliverance, Dennis was featured on Chicago's Black Business Network, interviewed by founder and host, Sonja Perdue.
In 2013, Dennis wrote and released a new single, "No Matter", produced by Ricard Perez on the Epoque Music label.
In September 2014, Alleviated Records released an EP entitled The IT, another collaboration between Dennis and Larry Heard. The EP contains two tracks by Dennis entitled "Beauty in a Picture" and "Somebody Somewhere".
Dennis performed at the 2016 Chosen Few Picnic held July 2–3 in Chicago, IL.
GO BANG! Magazine: When did you know that you had a talent in music?
HARRY DENNIS: Well Mr. Evans, I first found out about me having musical talent when I attended Illinois State University in Normal, Bloomington, Illinois. I was in this Drama class one day, and the teacher gave us an assignment. He gave us each a word to do a poem about. It's been so long now, that I have forgotten what word he gave me. But whatever word it was, I aced it, and he wanted to see me after class. He told me about how he loved my poem, and the way I wrote it. He said that it was so elegant, etc. etc.. He asked me to let him send it off to a friend of his in California that I guess had some ties in poetry, big time. My reply was no! I don't know why I told him that at the time, but it was no. I never looked back after that. I knew I had something special in the poetry field, and that was my talent. I was a writer that could put songs in my own style, with my own Lyrics, and this has been my style from day one in this "Business of Music." No one can do it the way that I do… Fact 🙂
GO BANG! Magazine: How did you get involved in House music?
HARRY DENNIS: I got involved in House music back in 1980 something, when I ran across my "brother in crime" Ron Hardy. This guy named Marvin Wilson introduced me and Ron. Marvin knew Chip E, who had made "Time to Jack" and "It's House" and he introduced me to Chip. In the meantime, "Your Love" was out by Frankie (Knuckles) and Jamie (Principle). So, I asked Ron to go with me over to Frankie's house to find out how he was getting them sounds to make them fine tunes of his. He told me and Ron that he was using a Roland 707. Me and Ron asked my mother for a loan to get the machine and we told her we would pay her back, which we did. But the funny thing about this machine was that it already had that drum beat for Donnie, my first tune I ever made on it, already. I had always been a part of the (House) scene ever since the Den One days in the 70's, while in high school at Senn up north, the Warehouse, of course the Music Box and the Powerplant. So, while out one night, I ran across my good friend Robert Owens, who also had a project going on with Larry Heard. I asked him and Larry to come on board as the group called THE IT and they did. THE IT was Chip E, Larry Heard, Ron Hardy, Robert Owens and myself. We went to a place called Soto Studio in Evanston (IL), did what we needed to do, and the rest is history… Donnie is a classic!
Robert Williams is also a Sigma brother of mine. He and his family have always been there for me. He was also an awesome part of me becoming Harry Dennis. They showed me love by letting me and friends experience new sounds back in the 70s with Ron (Hardy) and Frankie (Knuckles.) Robert would let us in free, but we would pay sometimes, and it has always been a love thang for one another, ever since they let us into their world. Robert Williams will always be a part of the "Blue & White" family, as will I, and I will always thank him for teaching me how to get along in the "House Music World."
GO BANG! Magazine: You are a lyricist, songwriter and vocalist. Of those talents, which do you love the best?
HARRY DENNIS: I can't say that I love one better than the other, because all of these combined is what makes my style different than anyone else's. I need them all to be present, whenever I go to the studio.
GO BANG! Magazine: Do you have natural talent, or have you received professional training in music, or both?
HARRY DENNIS: Natural talent I do have, when it comes to writing some of the best thought provoking lyrics, and I never had training. Everything I have learned came from schooling and my mother introducing me to different styles of music and vocalists like Howling Wolf, BB King, and Albert King. When I got older, I started listening to other people's vocals like Donald Fagan of Steely Dan fame, Ric Osack of The Cars and many, many more. All of this, was to get me a style that no one else had, and after years and years of listening, it all came together for me.
GO BANG! Magazine: You've worked with some major players in the House genre, including Larry Heard, Robert Owens, Curtis McClain and Marshall Jefferson. Each of those individuals, including you, have created or been involved with groundbreaking House music. How would you describe each of these individuals?
HARRY DENNIS: Well Pierre, let's make the list a little longer to keep it up to date. Larry Heard is a natural musician that does it all. He produced some of the best music you will ever hear anywhere…a genius in my opinion. Robert Owens can wobble with the best of them. He has a great voice, one of a kind style wise, and a great writer. Marshall Jefferson, my Jungle Wonz Brother, was not a trained musician, but can program, produce and write some of the greatest music. Move Your Body is only one, and he has brought a lot of people along in the game, including Curtis McClain, Byron Stingly, Hercules, Sleezy D (rest in peace), and many others. In other words, he's genius. Curtis McClain, one of my best friends, also has a knack for performing and stage presence. He can sing his butt off. He's loyal to the end and truthful to the point that it might hurt, but it's the truth…another genius. He's the "Bad Boy" of the bunch, that's kept the torch burning. Ron Trent is a part of the "new" THE IT. He's genius, with bold new music that will ensure that our Chicago flavor will always be on top of the game. I call him the "Young Gun" 'cause he is always loaded with some hot ass tunes. He's a DJ, one of the top producers, and one of the best musicians, who in my book can hang with Larry (Heard), note for note. Joe Clausell, another genius, who I've long admired, is now a part of Harry Dennis folklore. He is one of the best producers, DJs, and one of the best persons you can call a friend.
GO BANG! Magazine: One of your legendary songs "Donnie," was a megahit. Describe how that song was born, and was Donnie a real or a fictional character?
HARRY DENNIS: Donnie was one of my first classics. It came from my college days. It was about a real woman named Donnie. She was a Zeta at Illinois State, and I was a Sigma. Hell, I can say that we loved each other, but I was a player at the time. Donnie knew it, and didn't want to be a part of the Harry Dennis movement. So, she left me for another man, who happened to be an Omega, thus the song "Donnie." We still talk, til this day.
GO BANG! Magazine: You've had the opportunity to travel around the world, in the name of House. How would you describe House's acceptance in other countries, in comparison to here in the States?
HARRY DENNIS: House Music overseas is great and always will be. The people and the places overseas accept American things with their whole hearts. They love new stuff and different things, and they appreciate new and bold. So when we went over there, they loved us… still do. They pay for what they love, pay to see acts, and the whole nine yards. They keep the arts alive and well. While here in America, we have this notion that we should get things free or pay less. That's why I do believe that Josephine Baker and other Americans went overseas and stayed, to get paid. Most people pay for what they want, and if they think that they can get away without paying, why not try. But as for me, the buck stops here. I want and need to get paid for what I do. My free days are all gone. If I chose to come out to a party, I'm willing to pay, if I'm not on a guess list. Acts and performers need to get paid, to keep up the Arts and the art form. Pierre, I know you, of all people, know this.
GO BANG! Magazine: How does it make you feel to see the pure joy and excitement that you bring to people with your live performances?
HARRY DENNIS: When I was a little tyke, never knowing what GOD had instore for me, I use to be afraid of big crowds. But, from doing shows in different states and countries, I have learned to look into the crowd and enjoy that they are enjoying what I do, so now the more the merrier. I enjoy what I do. I hope everyone else does too.
GO BANG! Magazine: Are you currently working on anything or would you like to mention anything that you'd like our readers to check out?
HARRY DENNIS: I'm currently working on some new thangs with Ron Trent, Roy Davis Jr., Mike Huckaby, Don Carlos, and Miles Atmospheric. If some of my fans and supporters over the years would like to checkout some new stuff, go to YouTube and checkout Joe Clausell Boiler Room x piknic Electronik Montreal and Joe Clausell Atlas Electronic 2019. Then checkout his mix of another classic "Black Magic Woman" also check out Ron Trent & Harry Dennis' "Black Magic Woman" all on You Tube. Also, checkout any of the Ron Trent / Harry Dennis joints, or you can just go to Harry Dennis on You Tube baby!
GO BANG! Magazine: In conclusion, the COVID-19 pandemic has caught the world off guard. How are you dealing with it?
HARRY DENNIS: The COVID-19 pandemic is the worst thing to come along in years and in my lifetime. The way I'm coping with it is just by minding my business. No cure, but it can be killed with this little secret. Since the virus is airborne, if you've been out getting food, or going to Walmarts, most likely you have come in contact with someone. So since we know it's airborne, then when you breathe, it goes through the nasal passage and can live there, because it's cool, not like the rest of the body. So it can travel through the respiratory (system.) That's why you may get a sore throat. From there, if you are old and got pre-existing conditions, and it gets into the lungs, that's when the fight for life begins. Once on the lungs, it's like pneumonia. So a sure-fire way to kill the virus is to heat some water, put orange peel and sea salt in the boiling water. When it gets hot, turn it off and breathe in that steam, let it go through the nasal passage and your mouth. If you got the virus anywhere in your respiratory system, it will die. If you go out, when you come back in, repeat. So far, if you think you've got the flu, do what we do. Drink plenty of fluids, chicken soup and tea. But, if you can avoid going out, stay in and self-medicate, if nothing is seriously affecting you. Peace out and thanks!
Pierre A. Evans is a freelance writer of Entertainment, Music, Art, Culture, Fashion and Current Events, and previously for SoulTrain.com, NDigo.com, ChicagoDefender.com, EmpireRadioMagazine.com, and UrbanMuseMag.com, an author, singer/songwriter, actor, model, poet, dancer, and DJ. He is also the owner of Pinnacle Entertainment Productions. Follow him on Facebook, Twitter, and on Instagram.