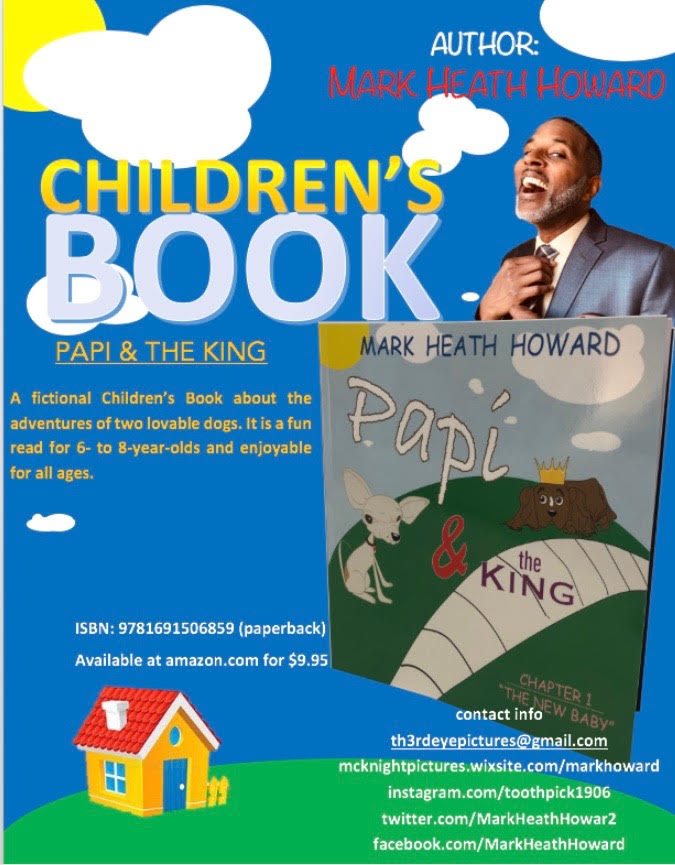 Things get really interesting when a protective Chihuahua and a friendly Cavalier King Charles Spaniel meet a new addition to the family.
Available on AMAZON:
https://www.amazon.com/Papi-King-Baby-Heath-Howard/dp/1691506850/ref=sr_1_1?keywords=pAPI+%26+THE+KING&qid=1584677134&sr=8-1
Mark Heath Howard is a director and writer, known for Winter Smoke (2020), Zachariah Tucker (2015) and No Chaser (2010).
GO BANG! Magazine: When did you know that you wanted to be an author?
MARK HEATH HOWARD: I knew I wanted to be an author around 1994 or so when I started writing stories as a compliment to the drawings I created and also as a response to my imagination and desire–for creative arts–that seemed to keep me up at night. I also owe my decision to become an author, to my best friend, who–at the time–would read my stories and say, "Mark you can really write." His encouragement simply fueled me to continue to find my voice. Another reason I wanted to be an author was because of the impact my stories had on people who would read them. I remember a college classmate read a short story I wrote about a daughter who was very closer to her father. The classmate–immediately after reading the story–emotionally commented how the story reminded her of her relationship with her father. From then on, I've wanted to bless the land through words and pictures.
GO BANG! Magazine: How did you know you were ready to write a book?
MARK HEATH HOWARD: I knew I was ready to write a book when the story became more and more real to me. I would often think about it and I would "say it [the story]" out loud because it would constantly speak to me. When I could hear and see it clearly, that's when I knew I was ready to write.
GO BANG! Magazine: What inspired you to write Papi & the King?
MARK HEATH HOWARD: I had a Chihuahua and (my wife at the time owned) a King Charles Cavalier Spaniel when my first daughter was born. The combination of two dogs–one loud & old and the other quiet & young–in the house of a new born baby, created moments that I would often write and laugh about. Because of the birth of my first child, I really felt inspired to "give birth" to my dream of being an artist (i.e., writer, illustrator, filmmaker, actor) FULL TIME.
GO BANG! Magazine: What message are you trying to get across with the book?
MARK HEATH HOWARD: The main message I am conveying in my book is simply "family". At the time, I operated as a husband, father, pet lover/owner, and it was ALL family to me. The idea of being together with the beginning of life (my daughter and marriage) and the aging and eventual end of life (my dog, Papi), created a solid foundation for all of my other stories that would follow.
GO BANG! Magazine: Have you written any other books? If so, what are their titles?
MARK HEATH HOWARD: Papi and the King is my first and only book. It is actually the first in a series of 12 chapters that chronicle the adventures of the two lovable dogs. The next chapter will be entitled "At the Park", and it will focus on the fun mishaps that ensue when a butterfly interrupts doggy-walking time. I also write screenplays.
GO BANG! Magazine: Do you have any other talents besides writing books?
MARK HEATH HOWARD: My other talents include acting, screenwriting, and filmmaking.
GO BANG! Magazine: What advice would you give to a writer that may be interested in writing their first book?
MARK HEATH HOWARD: The advice that I would give to a writer that may be interested in writing their first book is–GO FOR IT AND MAKE IT HAPPEN! I published my first book for free with amazon.com (KDP – Kindle Direct Publishing) and I am glad I did it. It was an act of faith and belief in my work that I will have with me forever. And I share that accomplishment with my daughters, my family, my friends, and the world.
GO BANG! Magazine: In conclusion, the COVID-19 pandemic has caught the world off-guard. How are you dealing with it?
MARK HEATH HOWARD: In my book, Papi & the King, the mommy and daddy characters pray over their new baby. They touch hands and agree that the baby grows up to be healthy, wealthy and wise. This is the initial approach I take in dealing with COVID-19. The practical approach I take is to make sure I wash my hands and take care of how I interact in public and social gatherings. Thankfully, my children and extended family take a very similar approach. As far as work goes, I conduct that from my personal mobile office that allows me to continue to be productive without being able to go to work…at this time.
You can follow Mark Heath Howard by logging on to his website: https://mcknightpictures.wixsite.com/markhoward
Pierre A. Evans is a freelance writer of Entertainment, Music, Art, Culture, Fashion and Current Events, and previously for SoulTrain.com, NDigo.com, ChicagoDefender.com, EmpireRadioMagazine.com, and UrbanMuseMag.com, an author, singer/songwriter, actor, model, poet, dancer, and DJ. He is also the owner of Pinnacle Entertainment Productions. Follow him on Facebook, Twitter, and on Instagram.