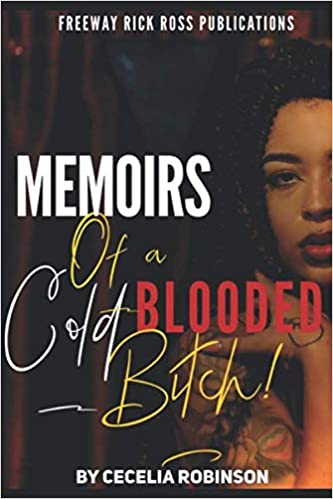 EToni was blessed being one of the most beautiful women that most men had ever laid eyes on, but her beauty was the smoke screen for the camera and what actually went on inside her pretty little twisted mind. Aggressively manipulative, Toni used her sex and gift of gab as a weapon turning friends into foes, brothers into enemies and predators into prey.Breaking up Homes, destroying dreams and shattering lives, Toni could care less whom fell victim inside her tangled web of deceit. Nothing or no one was off limits when it came to her getting what she wanted.… And what she wanted was the only thing that mattered. Eventually her ways would catch up with her and she would end up in a place that "no bitch with good pussy wanted to be"… In this world all by her damn self.
Available on AMAZON:
https://www.amazon.com/Memoirs-Blooded-Bitch-Cecelia-Robinson/dp/B0858TPGPY/ref=sr_1_5?keywords=Memoirs+of+a+Bitch&qid=1584676108&sr=8-5
GO BANG! Magazine: Have you written any other books? If so, what are their titles?
Cecilia Robinson: Yes I have. "Memoirs of a Bitch" was my first book. I wrote that in 2007 and my second book is titled "Suga". That was released in 2010. At the time, I was signed to La'Femme Fatale Publications. Now I'm signed to Freeway Rick Ross Publications.
GO BANG! Magazine: Do you have any other talents besides writing books?
Cecilia Robinson: Actually I do. Currently, I'm a radio personality. I have a talk show called "Trill Talk in the Morning", that airs Monday thru Friday on YouTube. I'm also a screenwriter. I have two movies being filmed, this coming May.
GO BANG! Magazine: What advice would you give to a writer that may be interested in writing their first book?
Cecilia Robinson: Go for it! The hardest part about doing it is thinking that you can't. Follow your dreams because they do come true!
Go BANG! Magazine: In conclusion, the COVID-19 pandemic has caught the world off-guard. How are you dealing with it?
Cecilia Robinson: I'm writing. Because I know once this is over… there's success waiting on me!
Pierre A. Evans is a freelance writer of Entertainment, Music, Art, Culture, Fashion and Current Events, and previously for SoulTrain.com, NDigo.com, ChicagoDefender.com, EmpireRadioMagazine.com, and UrbanMuseMag.com, an author, singer/songwriter, actor, model, poet, dancer, and DJ. He is also the owner of Pinnacle Entertainment Productions. Follow him on Facebook, Twitter, and on Instagram.