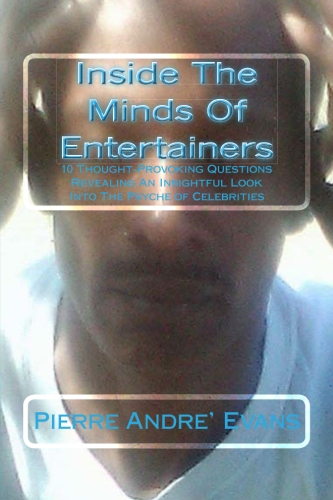 Pierre A. Evans reached out and into the entertainers' mind in his debut book "Inside The Minds Of Entertainers" – Thought-Provoking and Insightful Interviews, Revealing The Spiritual and Political Pysche of Celebrities.
Dedicated to the memory of the late Cuba Gooding, Sr., the list of Celebrity Entertainers interviewed includes:
Alan King, Antoine McKay, Art "Chat Daddy" Sims, Bobby Hutton, Chris Jasper, Christopher Nolen, Cory Taylor, Cuba Gooding, Sr., Curtis McClain, Cynda Williams, Damon Williams, Darrell "The Legendary Sax Preacher" Wilson, De'Andre "Blaq Ice" Hawthorne, Ilunga Adell, Jackie Taylor, James "D Train" Williams, Lawrence Hilton-Jacobs, Linda Clifford, Rick Sizemore, Robert Williams, Runako Jahi, and more, featuring Ambassador Oscar J. Webb, Jr. (International Goodwill Ambassador and Co-founder, African Global Heritage Foundation Johannesburg, South Africa) who penned the Foreward to the book!
www.InsideTheMindsOf.com
Available on AMAZON:
Pierre Andre' Evans, a graduate of Chicago's prestigious Columbia College, possesses a Bachelor's of Arts degree in Arts, Entertainment & Media Management. He is an accomplished Freelance Writer with published articles, high profile interviews and event recaps, which currently appear in numerous publications and websites including the legendary and iconic New York based SoulTrain.com, Chicago based Ndigo.com, Dallas based UrbanMuseMag.com, D.C. based TheSOULetter.com, and London based EmpireRadioMagazine.com. In 2018 he authored his first book "Inside The Minds Of Entertainers," which is available on Amazon. In 2020 everything came into focus and he became a publisher, with the launch of his online magazine "GO BANG! Magazine." Log on at https://gobangmagazine.com/. Coming later in 2020 he will reveal his House dancing alter ego, Andre' Pierre, when his House dance class, "Gotta Have House" kicks off!
As a freelance journalist, he has interviewed television and movie legend Eric Monte´ (creator of Good Times, The Jefferson's, What's Happening and Cooley High,) theater legend Shelly Garrett (Beauty Shop), the rising star Richard Pryor, Jr., legendary jazz/soul/fusion recording artist Roy Ayers, and various R&B singers including O'Bryan, D'Wayne Wiggins (founder of Tony, Toni, Tone´) and Karyn White. He's even interviewed legendary DJ Herb Kent "The Kool Gent." In the House music world, he has interviewed 4x GRAMMY ® nominee DJ/Remixer Steve "Silk" Hurly and DJ Jesse Saunders and his 30th Anniversary of House Music Tour. His tribute to the late DJ, Producer and House music legend Frankie Knuckles was well received, worldwide. Although his primary beat is Entertainment, he is well-versed and passionate about Community Affairs, Cultural Events and Educational topics, as demonstrated by his coverage of The Soul Train Impact events and his attendance at the 2014 Soul Train Awards show.
In addition to writing, he is active in several other artistic endeavors, including acting, performing, DJing, modeling and spoken word. As an Actor, he has appeared in numerous Hollywood blockbusters, including both Home Alone II and Richie Rich with Macaulay Culkin, The Negotiator with Samuel L. Jackson, Never Been Kissed with Drew Barrymore and Road to Perdition with Jude Law, Tom Hanks and the late Paul Newman. Performing under the moniker Playerre, he's a well-known singer/songwriter with a loyal fan base and several self-produced and released recordings, including the dance hit "Mind Groove" and the stepping classic "Guaranteed Love." He's been a DJ for the past 35 years, since he was 12, and is known in the House community and clubs as DJ Playerre. Modeling and Spoken Word are also passions that he performs professionally.
He's also an astute businessman. He's been a Board member of Friends for Life Resource Center, Inc., a non-profit organization. He was also the Booking Agent for The Chicago Talent Factory television show, which debuted locally on Chicago's WCIU, "The U," the Media Director for The Soul Train Impact team, as well as the host of A Taste of Theater television show which highlights screenwriters and their plays and broadcasts nationwide. He also hosted the annual A Taste of Theater Festival, which occurs in October, and has been conducted in the past thru a collaboration with "The God-Father of Black Theater," Mr. Shelley Garrett, where playwrights showcase their plays to a live audience and competed for the coveted Shelley Garrett Award.
He's an entrepreneur and the CEO of Pinnacle Entertainment Productions, which produces a wide variety of events including networking events, dance parties, fashion shows, plays, and concerts. He served as Co-Host on Herb Kent's "Battle of the Best" radio show, which airs on Chicago's V103. He served as Host and Master of Ceremonies (MC) of Anita Jefferson's original stageplay "Jackie's Secret Life" which was held in Chicago at the Harold Washington Cultural Center.
Pierre A. Evans is a freelance writer of Entertainment, Music, Art, Culture, Fashion and Current Events, and previously for SoulTrain.com, NDigo.com, ChicagoDefender.com, EmpireRadioMagazine.com, and UrbanMuseMag.com, an author, singer/songwriter, actor, model, poet, dancer, and DJ. He is also the Owner of Pinnacle Entertainment Productions and the Owner/Publisher of GO BANG! Magazine. Follow him on Facebook @Pierre Andre Evans, Twitter @Playerre, and on Instagram @Pierre_Andre_Evans.