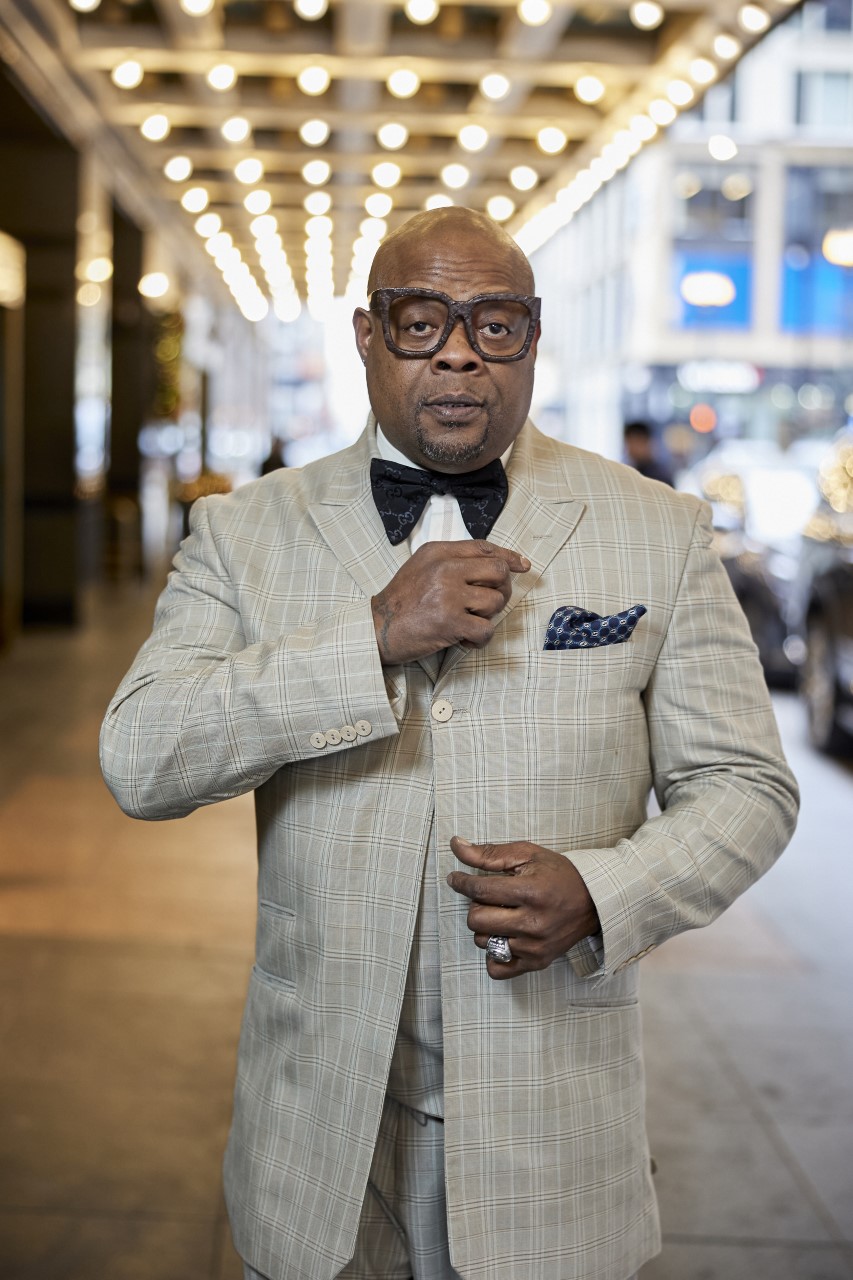 All photos courtesy of Peter Koutun Photography


THE WAIT IS OVER!!!
Fashion World Grammy's
"2022 – 2023 Male Model of The Year" Candidate
VOTE: ATOC Guthrie Bonnétt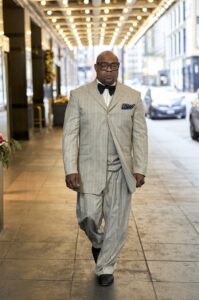 Scroll down to

:
Male Model of The Year category


VOTE

:
Atoc Guthrie Bonnétt
FOR MALE MODEL OF THE YEAR 2022-23

ALL YOUR VOTES ARE APPRECIATED!
VOTE, THEN SHARE WITH YOUR SUPPORTERS!!!


Mr. Guthrie Lamont Bonnétt has such an interesting life. He is an Army veteran that travels for a living and is a personal photographer for many in the Fashion and House music industry.

Born in Chicago, Illinois' southside neighborhood of Morgan Park, he attended Morgan Park High School. Upon graduation he joined the 82nd Airborne, United States Army. Out of the military, he had to focus on what lifespan he had left.

In 2013, while he attended college, he opened a store called "A Taste Of Chicago. This earned him the nickname (ATOC). He sold Chicago memorabilia in his store i.e., artwork, sports merchandise, candy etc., while he earned two bachelor's degrees. He earned a Bachelor of Science (BS) in Psychology and a BS in Social Work.


ATOC still wanted more and decided to attend the Art Institute of Indianapolis, where he earned a third degree. He completed the art school with a Bachelor of Arts (BA) degree in Digital Photography. He is not only talented, but also educated and his educational goal became a reality.

He started photographing events for free, then started only taking donations as his professional career started, over 15 years ago. In his first fashion event, he met Sandra Smith-Doghmi, and he began shooting for Red Silk Carpet at The Oscars, New York Fashion Week, Style Fashion Week, Midwest Fashion, Latino Fashion Week, and Amsterdam Fashion Week. ATOC's photography and modeling career took flight. ATOC's photography business has been a big asset in his life.

ATOC always enjoyed fashion, but he lacked the confidence to want to model. He enjoyed what he saw through the lens. He started to follow his dream to start modeling, as he began losing weight, about five years ago. He started off at 365 lbs and now he's comfortable, weighing between 225 – 240 lbs. His lowest weight was 198.7 lbs.

Currently, he's been turning heads modeling and doing photography during "The Oscars", "The Soul Train Awards", "New York Fashion Week", "LA Fashion Week" and other runway shows. Guthrie's loving the opportunities he's been given to model at 52 years young and looks forward to doing more photography and modeling internationally in 2023.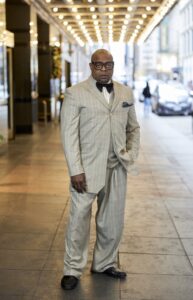 Guthrie says, "I'm humbled to have worked with some amazing designers, artist, celebrities, and photographers. A couple of my personal photographers that I go to when I'm being photographed are Jerome Lynch of Jerome Lynch Photography in Gary, IN and Peter Koutun of Peter Koutun Photography in Chicago, IL.

Shout out to everyone living their dreams because I believe #DreamsAreMeantToBeLived!


GO BANG! Magazine: What is it about photography that attracted you to it?

ATOC: The one thing about photography that attracts me to it is the opportunity it gives me to actively participate in capturing moments and sharing them with others.

GO BANG! Magazine: Over the years, you've created quite a name for yourself. What are some of your most memorable photo gigs you've had thus far?

ATOC: Over the years, some of my more memorable moments as a personal photographer have been covering "The Oscars" and "Oscar" related events with Red Carpet Concierge of Chicago. There's nothing like covering "The Red Carpet" in Hollywood for "The Oscars."

GO BANG! Magazine: How would you describe your style of photography?

ATOC: The best way to describe my style of photography is me capturing moments and sharing them with others. It's more like a personal photographer or a photojournalistic approach to each shooting opportunity. I've done it all, from studio work to corporate events, a personal photographer for many artists in the Chicago House music community, to sports, to weddings and divorce parties.

Back then, I had to go get a fake high school ID to get into Mendel (Catholic high school in Chicago) gymnasium House parties back in 1984. I started following "The King of House Music" Farley Jackmaster Funk, and today I've had the privilege of photographing his family and their events.

I'm currently shooting House parties for many DJs, Event Planners, and musical artists in the industry from beginning to end, which includes the DJ'ing, the dancing, and the mingling. I'm capable of printing images on the spot and take pride in making myself available to travel more and doing events outside of Chicago.

I take pride in the face that I'VE NEVER CHARGED A CLIENT FOR MY SERVICES, BUT HAVE ONLY TAKEN DONATIONS SINCE I BEGUN PROFESSIONALLY BACK IN 2005.

GO BANG! Magazine: How did you become interested in the fashion area of photography?

ATOC: As far back as I can remember, I've always enjoyed taking photos of others, as well as being photographed. While in school getting my BA in Digital Photography at The Art Institute of Indianapolis and in Chicago, I started shooting events as an opportunity to start promoting my BRAND as a personal photographer.

I came to Chicago mostly to shoot, due to it not being as many opportunities in central Indiana (Lafayette, In). My first event was a Meet & Greet and Fashion Show that followed. That day, I started asking others there if they had anyone there taking photos of them for their personal use. Most said no. I then began shooting one event and cover photos for anyone in hope of getting them that night. That's how I started shooting photography in Chicago for Red Carpet Concierge of Chicago, and that's how I still roll to this date.

GO BANG! Magazine: Fashion photography is your forte, but you've always wanted to be in front of the camera, but lacked the confidence, being overweight. Please explain to our readers what happened and inspired you to lose weight.
GUTHRIE AT HIS HEAVIEST WEIGHT OF 365 LBS.

2005
ATOC: When I first started losing weight, if I didn't lose the weight, my health would have continued to decline. I wanted to take the shortcut and have the surgery. But to even qualify to have it, you must show that you can change your lifestyle. I was asked to lose 25 – 50 lbs. I said that if I could start losing the weight on my own, I would continue losing without the surgery. I never had it and I just kept losing it, one pound at a time.

GO BANG! Magazine: At your heaviest, you were up to 365 lbs. You reached an all-time low of 198.7 lbs. Currently you're between 225 lbs. – 240 lbs. How did you lose the weight and how has your life changed?

ATOC: I changed my portion sizes, cut out the sugars, drunk more water, and ate mostly plant based items. I never missed meals because when you miss meals your body stores fat to prevent starvation. I do moderate exercises three to five times a week. I, like everyone else, go back and forth with weight loss and gain. I just try to not stay too far away from these basics and I've kept the weight off.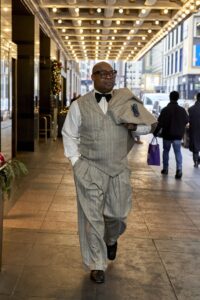 GO BANG! Magazine: You've had the opportunity to live your dreams of being a model and have graced the runways all over. Currently you're in a competition presented by WORLD GRAMMY 2022'S BEST IN THE BUSINESS. Your category is "Male Model of The Year." Please tell our readers about the competition, how they can vote for you and when it ends.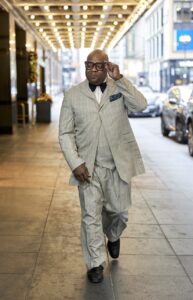 If you haven't yet voted, here's how…

A. Go to Fashion World Grammys link:
https://bit.ly/3Zw4kJz

B. Scroll down to the "Male Model of The Year" category,

C. VOTE: Atoc Guthrie Bonnétt

ATOC: ALL YOUR VOTES ARE APPRECIATED!
VOTE, THEN SHARE WITH YOUR SUPPORTERS!!!
Thanks For nominating me MALE MODEL OF THE YEAR 2022-23 Meme Braboy and Dee Divine Ceo. @Michelles_House_Of_Designs

GO BANG! Magazine: What would winning this competition mean to you?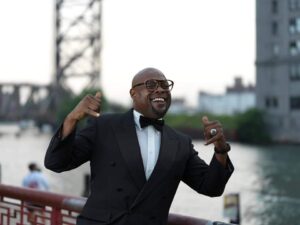 ATOC: Winning the Male Model of The Year competition would reinforce my DREAM MODEL, which is:

1. COME UP WITH A PLAN
2. COME UP WITH A TEAM
3. FIND OUT STRENGTHS/WEAKNESS
4. IMPLIMENT PLAN

"NO ONE CAN EVER DENY YOU THE RESULTS OF THE WORK THAT YOU PUT INTO SOMETHING!"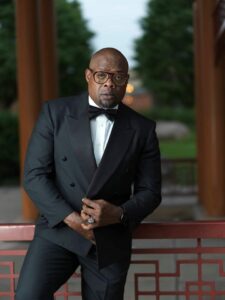 GO BANG! Magazine: What advice would you give to someone that is overweight but wants to start the weight loss journey?

ATOC: If you come to the conclusion that you need or would like to lose weight, then you've already won half the battle. Now, all you must do is BELIEVE THAT YOU CAN DO THIS, ONE DAY AT A TIME. Just start, don't stop! If you do get stagnated, just press your RESTART BUTTON, and "P.U.S.H." (PRAY UNTIL SOMETHING HAPPENS)

GO BANG! Magazine: What advice would you give to a budding photographer who doesn't know exactly how to get into the business?

ATOC: If you think PHOTOGRAPHY is for you, find people that inspire you in the industry, do homework, and follow their lead. Practice capturing moments and then "WELCOME TO THE GUILD OF PHOTOGRAPHY!!!"

GO BANG! Magazine: What can our readers, THE BANGERS, expect from ATOC soon?

ATOC: The BANGERS can expect ME WALKING AND PHOTOGRAPHING THE RUNWAY INTERNATIONALLY IN 2023.

GO BANG! Magazine: In conclusion, what do you want your legacy to be?

ATOC: Just know that the LEGACY OF #ATOC will be helping those in need of HIS HELP, without ever charging them a dime. I'VE NEVER CHARGED ANYONE FOR MY SERVICES SINCE DAY 1. I TAKE PRIDE IN MY WORK BEING STRICTLY DONATION BASED!

GO BANG! Magazine: Well, ATOC, I want to thank you for granting me this interview. I also want to inform you that you have now been officially BANGED!!! GO BANG!

Scroll down to:
Male Model of The Year category

VOTE:
Atoc Guthrie Bonnétt
FOR MALE MODEL OF THE YEAR 2022-23

ALL YOUR VOTES ARE APPRECIATED!
VOTE, THEN SHARE WITH YOUR SUPPORTERS!!!


YOU CAN FOLLOW ATOC ON ALL SOCIAL MEDIA PLATFORMS


FACEBOOK: @Atoc Guthrie Bonnett @Guthrie Lamont Bonnétt
INSTAGRAM: @atasteofchicago @atocmagmag1

HASHTAGS:
#BonnéttsTravelAndLeisureCo
#DreamsAreMeantToBeLived
#TEAMATOCPHOTOGRAPHY
#TEAMATOC
#Atasteofchicago #PhotosByAtoc
#ATOC




LEAVE YOUR COMMENTS BELOW!!!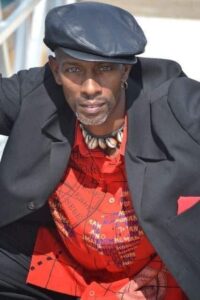 Pierre A. Evans is a freelance writer of Entertainment, Music, Art, Culture, Fashion and Current Events, and previously for SoulTrain.com, NDigo.com, ChicagoDefender.com, EmpireRadioMagazine.com, and UrbanMuseMag.com, an author, singer/songwriter, actor, model, poet, dancer, and DJ. He is also the Owner of Pinnacle Entertainment Productions and the Owner/Publisher of GO BANG! Magazine. Follow him on Facebook @Pierre Andre Evans, Twitter @Playerre, and on Instagram @Pierre_Andre_Evans.