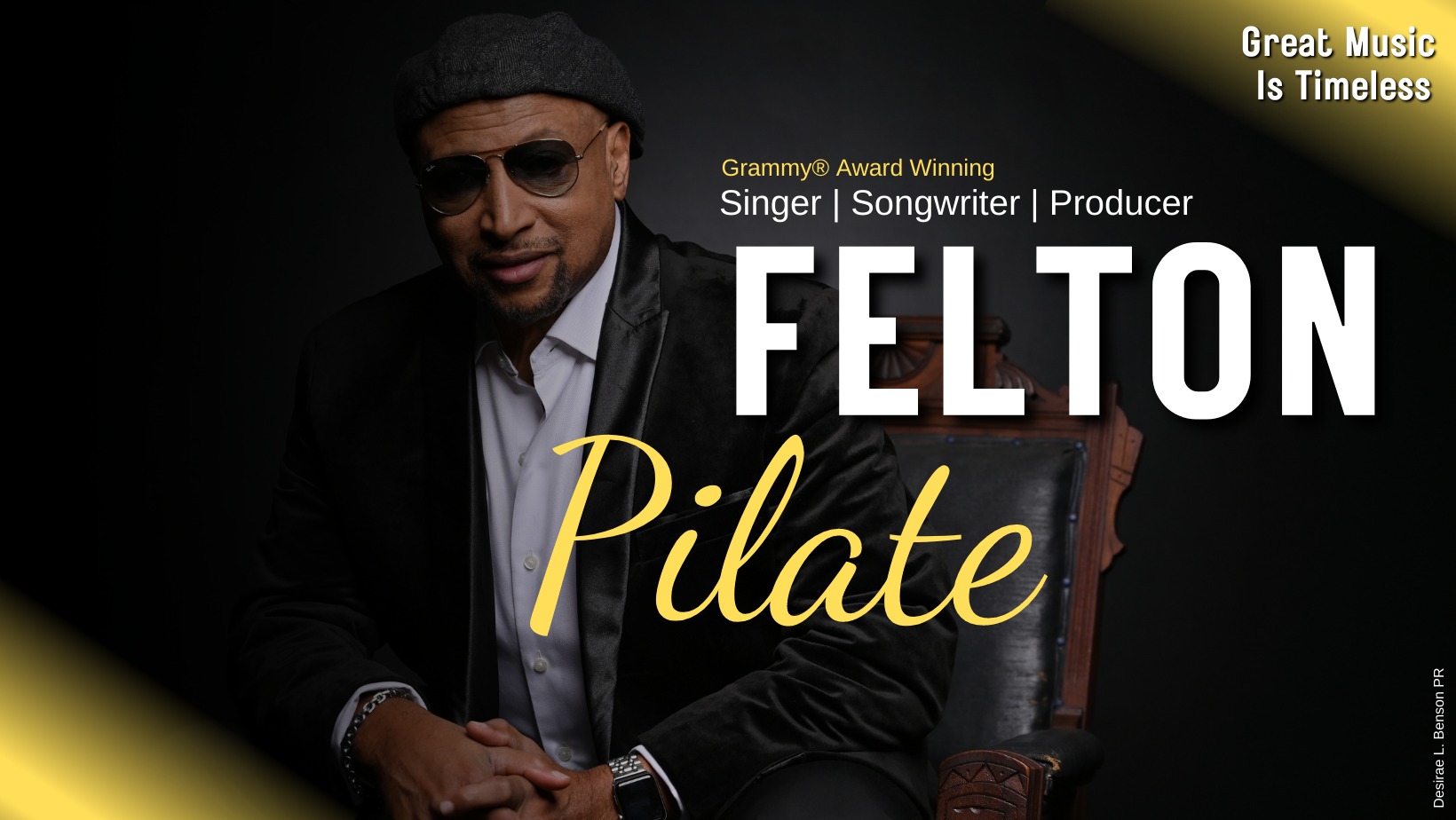 All Photos courtesy of Felton Pilate/ConFunkShun


Felton Pilate is best known as the lead singer of Con Funk Shun, an R&B Old School band created in 1974, while in Memphis, TN.

Pilate was born in Jackson Mississippi to Felton Pilate Sr., a naval physician, and Benita Akines Pilate, a music major and social worker. After many military assignments, The Pilate family's last move would be a move to Vallejo, CA, where Felton Jr. would spend his formative years.

Pilate knew from a very young age that music would be an important part of his life. He took trumpet and piano lessons very early and self-taught himself to play guitar and trombone. In high school, he created a band and performed locally while honing his craft.

Michael Cooper, who had another local band, asked him to join his group during their final high school years and with no hesitation, Felton said yes. That was the beginning of his career as a member of Project Soul who went on the road with Stax recording artists, The Soul Children, and moved to Memphis, TN. Project Soul got a record deal and were asked to change their name. The band chose Con Funk Shun and the rest, as they say, is history.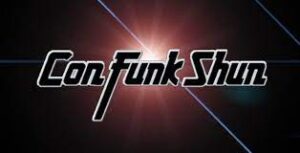 The band went on to record hit after hit in the 70's & 80's where Pilate served as co-producer and songwriter. He still performs with Con Funk Shun to date and proudly proclaims that the music business has been his only income since 1972.
ConFunkShun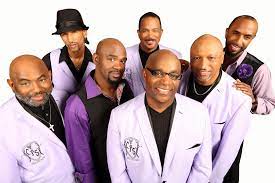 Photo courtesy of ConFunkShun
Pilate's accolades include Record Producer, Songwriter & Recording Artist with (USA) Diamond Platinum Sales Status and numerous Gold, Platinum, Multi-Platinum, and Mega-Platinum selling albums; participated in and contributed to numerous Grammy winning and nominated recording projects; Recording Engineer, Mixer, and Mastering Engineer. Pilate has 45+ years touring history as an internationally recognized R&B artist principal, recording studio owner and manager having trained numerous other eventual Grammy winning record producers.

Pilate gained his greatest world-wide acclaim for production/writing with rap phenom M.C. Hammer. The Hammer-Pilate joint effort staggers the imagination with sales from '89 to '92 alone, of 30 million, including "Please Hammer Don't Hurt Em" the #2 all-time selling R&B LP. Other landmarks in Pilate's Capital records days include his film and TV soundtrack work, such as his Oscar-nominated "Addams Groove" (Addams Family Movie theme) and "Hammerman" (Hammerman cartoon show). Pilate has many other accolades to his credit including his 2010 contribution of "I Wanna Play For You" to the Grammy award winning "The Stanley Clarke Band" album. Pilate has produced artists in other genres, such as Country, Rock, and Gospel.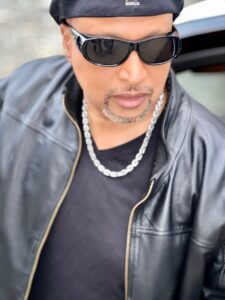 When Pilate began touring, his soulful falsetto voice, sexy, romantic lyrics and his guitar, keyboards and trombone skills immediately gathered a loyal fan base that has remained with him for almost 50 years. His style of music is not just limited to R&B but is also influenced by many other music genres. His melodic mix creates a distinctive sound that intrigues and transports his listeners, and his larger-than-life persona on stage penetrates his fans hearts and souls.

In 2004, Pilate released a fantastic solo LP entitled, "Nothing But Love Spoken Here". He provided all the production, vocals, and instrumental tracks and most of the songwriting. A Taste of Honey's Janice Marie Johnson duets with him on it, and on "Only For You", which is about that elusive quality: Devotion.
Pilate exquisitely demonstrates his many talents in the recording booth and at the mixing console too. During Covid, he released two singles, "We're Still Here" and "Waiting Just to Dance" and is currently in the studio working on finishing the album. Both songs are doing extremely well on the charts worldwide. As for Con Funk Shun, Felton and Michael Cooper fine tuned Con Funk Shun's new Christmas album, "Home For Christmas" released in the fall of 2022, and a new R&B album set for release in early summer 2023.


Pilate has a gift of perfecting and creating multiple projects at one time and is extremely busy with his music as well as writing, editing, and creating a soundtrack for a new TV pilot. Over the last two years, he has also developed several stage shows including "Everybody Dance!", a tribute to Nile Rodgers and Chic, "I Love Music!", a tribute to the Philly Sound, and "Rock Steady!", a tribute to Kenneth "Babyface" Edmonds.
In Pilate's spare time, he loves to show off his magician skills to friends and family. He also enjoys taking photos, recording videos, and editing them, cooking, watching movies, and traveling!
Pilate resides in the Atlanta area with his wife Jennifer and loves spending time with their children, family, and friends.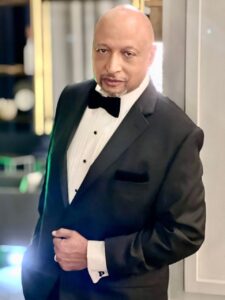 GO BANG! Magazine: It is a pleasure and an honor for GO BANG! Magazine to have this opportunity to interview you Sir. When you were developing your talent in the early years of your life, who was your inspiration then and who do you admire now?

Felton Pilate: There's been a piano in my home as far back as I can remember. My first inspiration was my mother, who was a music major and a very accomplished singer and pianist. Latter inspiration came from music I heard around the house. If my mother got to the "hi-fi" first, it was classical music, and if my father got to it first, it was the jazz masters of the day, like Duke Ellington, Count Basie, Frank Sinatra, etc.

GO BANG! Magazine: March of 2020 is when the world went on lockdown due to the Covid-19 pandemic. The world opened back up in 2022. How did you cope during the pandemic?

Felton Pilate: It was a difficult year for Con Funk Shun performing live. We did a quarter of the gigs that we would have normally done. However, on the creative side, it gave me a lot of time and opportunity to work on the songs for the Christmas album that we just released within the last 30 days. It's called "Home for Christmas" and has five original songs on it. We had a chance to perform four of the songs in front of our Bay Area audience when we performed at Yoshi's this past weekend.
Home For Christmas – ConFunkShun
Video Courtesy of YouTube/ConFunkShun Band
ConFunkShun – Love's Train – LIVE
Video courtesy of YouTube/LiveLikeItShows

GO BANG! Magazine: Things are getting a lil better now and a "new normal" is here, which means live concerts are returning. Are there any concert tours planned for Con Funk Shun and for you as a solo artist, any time soon? If so, when?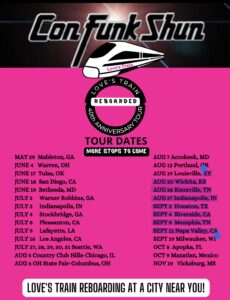 Felton Pilate: Silk Sonic's release of "Loves Train" this year just happened to coincide with the song being released on the "To The Max" LP, 40 years ago. Although it's been one of our most popular songs, the newfound interest allowed us to tour even more this year. We'll have one more concert before the end of year that will be the end of the "Loves Train 40 Year Anniversary Tour." We already have 20 or more gigs lined up for next year and are talking to promoters about us possibly touring Europe after the first of the year.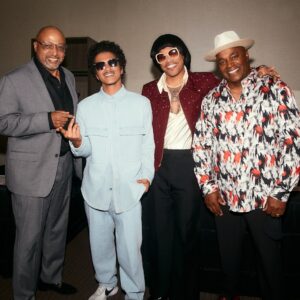 (L to R) Felton Pilate, Bruno Mars, Anderson .Paak, Michael Cooper
GO BANG! Magazine: As you just said, Love Train was recently revived and covered by Silk Sonic on the 2022 Billboard Awards show this past spring in May. What did you think about their performance of your song, and have you had a chance to speak with them and provide any feedback to them? If so, what did you say and how did they respond?
Felton Pilate: Mike (Cooper) and I had a chance to fly to Las Vegas, meet with them, and thank them personally for recording the song. We were invited backstage at their performance at the MGM Grand in Las Vegas. After 10 minutes of waiting in the reception room, Bruno Mars, followed closely by Anderson .Paak, burst through the door, dropped to his knees, and did his best Michael Cooper imitation singing "If by chance…"!! We spent the next few minutes talking music in general and learned that Silk Sonic initially had concerns about doing the song justice. Bruno asked did they do ok…
Silk Sonic Billboard Music Awards 2022 Performance "Love's Train"
Video courtesy of YouTube/Bruno Mars
Puh-leezzzzz!!!! I think they did a magnificent job! They managed to keep the emotional intensity of the original recording, while adding their own signature flourishes. We didn't know in advance that they were going to be recording it. Mike and I both found out on February 14th and the first time I heard it, I was blown away!

GO BANG! Magazine: Congratulations are in order for you as a producer, songwriter and Grammy award nominee and winning recording artist. Who are some of today's producers, songwriters and recording artists that you admire?

Felton Pilate: I've been a Bruno Mars fan since he first came out. I will have to admit that I knew nothing about Anderson .Paak until the last two years, but I have recently come to really like what he does as a writer and producer. Artists such as Neyo, Kem, and Khalid are on my playlists and I've been paying close attention to producer, Ian Kirkpatrick.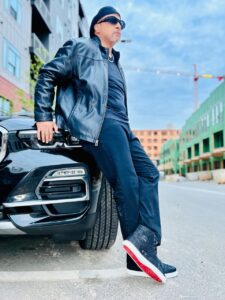 GO BANG! Magazine: In that same vein as my previous question, are there any creatives that you would love to work with that you haven't thus far? If so, who are some of them?

Felton Pilate: In addition to everyone I've mentioned, I would have loved to work with Quincy Jones. I still may get a chance to work with Babyface and Teddy Riley.

GO BANG! Magazine: You are a survivor in the music industry, with over 45 years of successful international performing and touring. While others have faded away. You have withstood the test of time. What is the secret to your longevity?

Felton Pilate: Well, I wouldn't call it a "secret", but I actually try to create with the word "longevity" in mind. There's a reason why songs such as Lionel Richie's "Endless Love", Whitney Houston's "I Will Always Love You", and Michael Jackson's "Rock With You", have survived over the decades and will be around and loved for decades to come. I believe it is entirely possible to stay relevant without having to completely depend on whatever the current musical trends are.

GO BANG! Magazine: Besides being a legendary artist, you have something else up your sleeve. We here at GO BANG! Magazine are fans of magic, and we heard that you are quite the magician. How did you get started in magic and are you really that good?

Felton Pilate: My mother bought me a magic set one Christmas when I was young and I've dabbled in it ever since. Nothing elaborate, just spur of the moment stuff with cards, rope, coins, etc.

GO BANG! Magazine: What's your most popular, and, what's your most favorite magic trick that you like to perform?

Felton Pilate: My best one so far was done decades ago (before cell phones). I had my girlfriend randomly select a card from a deck and put it into her back pocket. No one left the room and everyone stayed in plain sight. A few moments later her home phone rang and a mysterious voice told her what the card was. Everyone was quite impressed!

GO BANG! Magazine: What other hidden talents do you have, that our readers may not be aware of?

Felton Pilate: I take my cooking VERY seriously! I'm a big fan of Asian food of all kinds. I've got a wok and I'm not afraid to use it! I also have a salmon salad with sundried tomato pesto that's quite popular.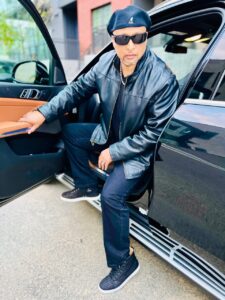 GO BANG! Magazine: Felton, I want to give you your flowers while you're still alive. You are blessed, talented and your music has touched the world and made it a better place to live. Your music has been the soundtrack to millions of people's lives. Thank you! In conclusion, what would you like to say to all the GO BANG! Magazine readers, aka the BANGERS, around the world?

Felton Pilate: I have been blessed to have my music be my only source of income for over 50 years and I'm honored for my songs to have been a special part of people's lives. Thank you, BANGERS, for allowing that to happen!
Stay tuned… there's more to come! Happy Holidays!!!

GO BANG! Magazine: HAPPY HOLIDAYS Felton Pilate. You have now been BANGED!!!

You can follow Felton Pilate on social media @Felton Pilate and check out his website.





Pierre A. Evans is a freelance writer of Entertainment, Music, Art, Culture, Fashion and Current Events, and previously for SoulTrain.com, NDigo.com, ChicagoDefender.com, EmpireRadioMagazine.com, and UrbanMuseMag.com, an author, singer/songwriter, actor, model, poet, dancer, and DJ. He is also the Owner of Pinnacle Entertainment Productions and the Owner/Publisher of GO BANG! Magazine. Follow him on Facebook @Pierre Andre Evans, Twitter @Playerre, and on Instagram @Pierre_Andre_Evans.