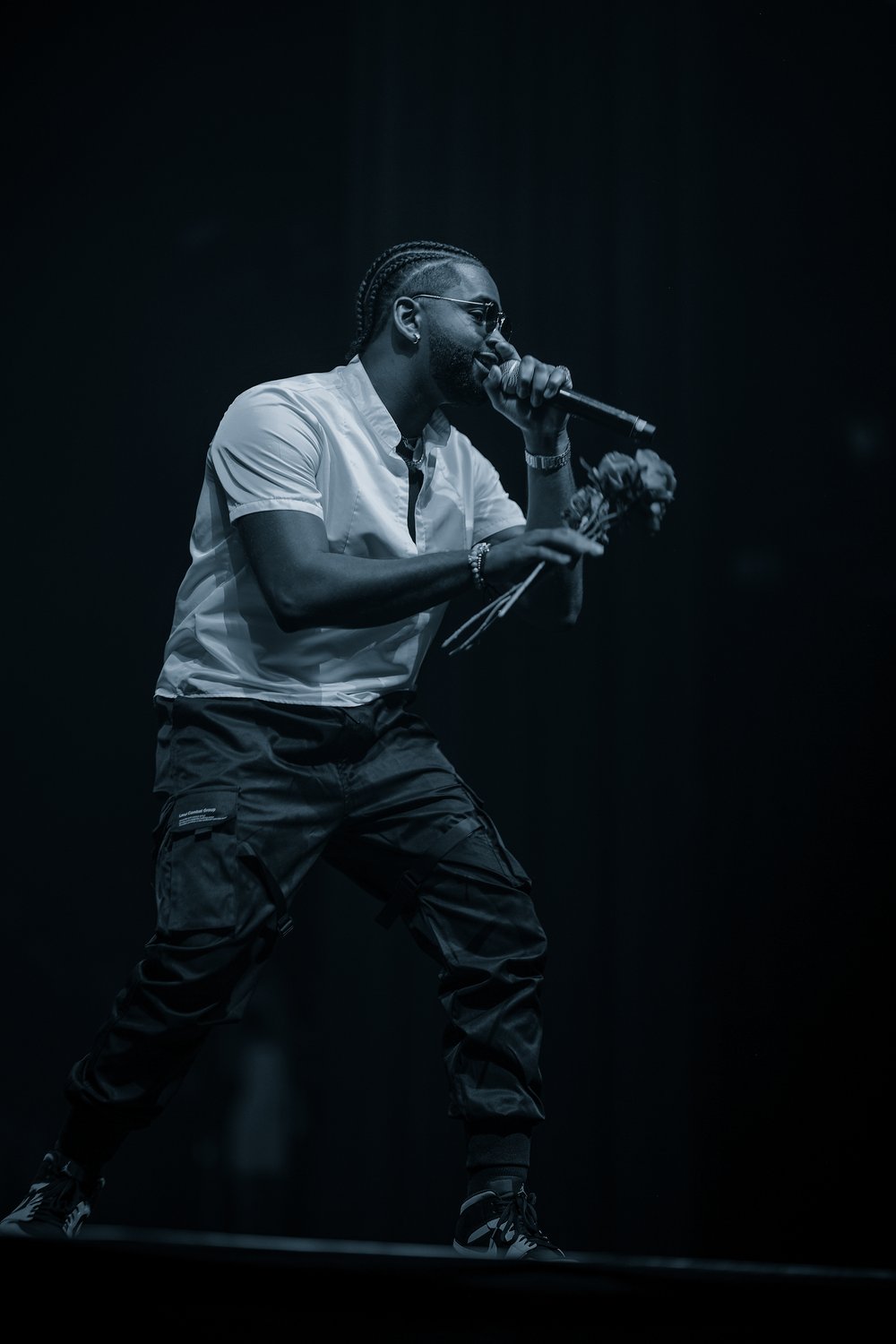 Photo courtesy of: Pirooz Moshavash
Julian Demond Thomas (born November 5, 1993), known professionally as Julian Keyz, is an American recording artist, musician, record producer, disc jockey (DJ), singer/songwriter, actor, dancer, author, philanthropist, and entrepreneur.

Born and raised in Chicago, IL, he became involved in the local music scene at the age of 10. He became a 3x Amateur Night winner at the world-famous Apollo Theatre in Harlem, Manhattan, New York by age 12. Simultaneously, he became one of the original Chicago BullKidz dancers for the Chicago Bulls for three seasons. Shortly after, he established an acting and modeling career by booking commercials and commercial prints for McDonalds, Coca-Cola Minute Maid, MTV, Disney, Nickelodeon, Burlington Coat Factory, Value City and others.

In 2012, Julian established his independent record company and brand under the name VIBES By InNo or simply InNo. The company serves his business interest with subsidiaries that include a music academy and a music marketing agency.

On March 9, 2020, Julian released his debut independent album InNo State of Mind to favorable reviews.

Apart from music, in May 2019 Julian graduated from California State University, Northridge with a Bachelors Degree in Marketing.
EARLY LIFE (1993-2003)

Julian Keyz was born Julian Demond Thomas on November 5, 1993 at Mercy Hospital & Medical Center in Chicago, IL, to Dana Brown, a family law and entertainment attorney, and Willie Thomas.

Growing up, Julian experienced bullying due to his speech impediment, which caused slurs in his speech, and him being overweight. He and his siblings also witnessed domestic violence at home. This led to troubled behavior and poor grades in school. His punishment for his behavior was writing essays and giving presentations to his mother. From this, he developed a love for writing and expression. He states his biggest inspiration at the time was Tupac Shakur for his passion and diversity in subject matter.

To build confidence and a sense of identity, his mother Dana enrolled him into numerous extracurricular activities to keep him busy and focused. He joined local sports organizations, the Barbizon Modeling and Acting school, took dance lessons and began piano lessons at age eight.

With music, he thrived. He trained classically, then transitioned into Jazz Contemporary. He eventually switched schools and met his mentor Alan Franklin, owner of Muzicnet School of Music in Chicago. After years of training and building a local reputation, he began to receive offers for local performances and competitions.

EARLY CAREER (2003-2011)
Julian won numerous local music competitions and was eventually dubbed "A Real Showman" from local media outlets for his performances. During this time, he was selected to become a BullKidz dancer for the Chicago Bulls organization for three seasons. His modeling and acting career began to prosper as well with multiple national commercial and commercial print bookings with companies such as McDonald's, Coca-Cola Minute Maid, Burlington Coat Factory and more. During this time, Julian also learned new skills with recording and production. He worked with known Chicago DJ's such as Lamar "Hula" Mahone from the Outhere Brothers for his first record.

Julian's major breakthrough came when a talent coordinator, Jane Jackson Harley, discovered him and asked for him to audition for the Apollo Theatre in Harlem, Manhattan, New York. He was accepted and became a 3x Apollo Amateur Night Winner at the World-Famous Apollo Theatre by age 12.

From the Apollo stage, Julian received press recognition and national performance opportunities. These performance opportunities ranged from; Voter Rallies in Chicago, IL for then Senator Barack Obama, The Chabad Telethon with the Ray Chew's Boys Choir, opening act opportunities for recording artist Stevie Wonder, Fred Hammond, Ginuwine, and private dinner events with celebrities such as the Kardashians, politicians such as Jessie Jackson Jr. and many more.

In 2008, Julian's focus shifted to becoming a full-time recording artist. He began to work with industry music managers and started pursuing a record deal. During this time, he developed his production and engineering skills by working with numerous local artists. He signed to SESAC in 2010 as a songwriter. He also worked behind the scenes with emerging artists. He was cameoed in the Mindless Behavior "My Girl" Remix music video featuring Tyga and Ciara in 2011.

Julian dropped out of high school his junior year. With little success of securing a record deal, he decided to go independent and move to Los Angeles, CA full-time to pursue his entertainment and business career in 2011. Upon his arrival, he secured more performance opportunities along with acting bookings with companies such as Nickelodeon, Disney, MTV and more.

CAREER (2012-Current)
In 2012, Julian established his independent record company and brand under the name VIBES By InNo or simply InNo. The company serves his business interests with subsidiaries that include a music academy and a music marketing agency. He continued to expand his company and release projects independently under the company as well as produce music shows. Simultaneously, he developed his marketing skills which led him to securing contacts with businesses in the Los Angeles greater area. He also expanded his music academy, an on-demand in-home music lesson service, from two students to over 100 in 12 months.

Julian secured his GED to start junior college at Pierce College Los Angeles in 2012. During his first year of college, he took his remaining high school classes at West Valley Occupational School to receive his high school diploma in 2013. He acquired his Associates Degree in Business Administration with a transfer to California State University, Northridge in 2017. He graduated CSUN in 2019 with a Bachelor's Degree in Marketing.

During college, Julian continued to work behind the scenes. In 2013, he interned for super producer Harmony Samuels' studio in North Hollywood, CA. In 2017, Julian interned at Interscope Records in Santa Monica, CA in the digital marketing department. At Interscope, he worked on digital projects for recording artists Ella Mai, JID, Lady Gaga, Jaden Smith, Billie Ellish and more.

Upon his graduation from college in May 2019, Julian focused on expanding his company and working on a series of music projects.
He released both "InNo State of Mind" on March 6, 2022 and "SNAKESKINS: An American Hustle" on July 2, 2022 to favorable reviews.

He's currently preparing for his upcoming new album release in November 2022. His first lead single for the project will be released in the very near future.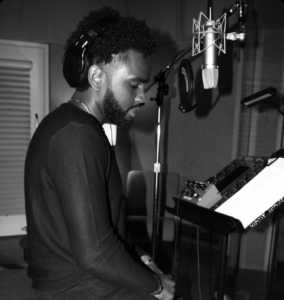 Photo Courtesy of: Julian Keyz

GO BANG! MAGAZINE: You had struggles growing up like bullying, due to a speech impediment, being overweight and witnessing domestic violence. How did these events affect you then, and what effect has it had on you presently, to make you who you are today?

Julian Keyz: The challenges in my youth definitely took a toll on me at the time. However, I've always been a person to internalize things, so I never even gave it acknowledgement. I was also taught to be quick on your feet, so I always had a response to adversity. My mom always taught me to channel the energy into positive outlets. I was also ALWAYS busy when I was younger, so it gave me an opportunity to take my mind off things. I'm the same way until this day. I find solace in meaningful work whenever I'm stressed or pressured.

GO BANG! MAGAZINE: Growing up in Chicago, you were involved in so many different activities, from performing in the music scene, to dancing for the Chicago Bulls, as well as modeling and acting. I too, have experience in all those worlds and it requires tons of discipline, commitment, and persistence to be successful. Of those four fields of entertainment, which one do you like the best and why?

Julian Keyz: I would definitely say I have always been more consistent and involved in music, so I've fallen in love with it over the years. Music taught me about EVERYTHING in life. It does require discipline, patience, commitment, and A LOT of sacrifice to be great at anything in life. Since I was always involved with music and it took a lot of time from me, it became a great teacher and allowed me to succeed in other areas of my life. Music has also made me more appreciative and interested in other areas of the arts. So, without it, I wouldn't have done the other activities.

GO BANG! MAGAZINE: Your mother Dana, has been quite a driving force in your life, personally and professionally. Please describer to our readers how you mother has been influential in your personal and professional life.

Julian Keyz: I mean she's been everything to me. I never get enough of giving her credit. I know for sure she doesn't mind either. Lol My mom has always been my rock, my confidence, my example, and biggest supporter. I've never felt any lack of support or love in either area of my life from my mom. We've obviously had a lot of challenges throughout the time being both mother and son and business partners, but I am her son. We're both very independent, entrepreneurial, risk-taking, free-thinking, creative, passionate, compassionate, loyal, sacrificial and hardheaded. Lol

GO BANG! MAGAZINE: You have three other brothers and all of them have their talents as well, ranging from film, medicine, and business. Please describe how you and your siblings inspire and motivate each other, and if there's any "friendly competition" between you all.

Julian Keyz: We all grew up believing that we could do anything. I can't necessarily speak for them, but I honestly don't think any of us ever felt a lack of support in our endeavors. So, in the process, all of us received the opportunity to get exposed to many things and test different waters to see what fit. Since we never felt restricted, we've all been pretty good at anything we pursued. I would attribute that towards us receiving a lot of support. I'm very close with all my siblings and I have a special relationship with each one since we're all VERY different. But we all grew up pretty close.
Regarding friendly competition, I've personally never felt like that simply because we all have different passions. Everyone's honestly their own person and we respect each other for it.

GO BANG! MAGAZINE: Early in your career, you dropped out of high school during your junior year, and moved to Los Angeles, CA. to pursue your dream. Thankfully, you returned to school and earned your GED and even graduated from college in 2019. Kudos to you! How important is education to you and what advice would you give to someone that maybe thinking about following your lead and dropping out of school to pursue their dream?

Julian Keyz: This one's pretty conflicting for me. I would always advocate for education, but I honestly don't feel many schools are providing the information needed to survive in the current landscape of the country. We live in very different times and kids nowadays are so exposed just because they have access to the world through the internet. I think that's what starts the contemplation of dropping out because in some cases you feel it's useless. Being a person who did drop out and who felt the same way, I would still advocate for those in school to complete your high school experience. School itself is a great place for networking and utilizing resources to your advantage. But there's always benefits to getting real world experience.

GO BANG! MAGAZINE: In 2012, you became an entrepreneur and established your own independent record company, VIBES By InNo aka InNo. Can you tell us about your company and brand?

Julian Keyz: InNo stands for being "In NO restrictions of your creativity". I co-founded the company with my mom to allow myself the independence I craved, regarding my entertainment career. Prior to that, many people tried boxing me in, regard the direction of my career. I've always been free-thinking and a bit hardheaded, but that's ok. I've always put my money, time, energy, and every ounce of myself into my goals. Once I started learning business, I felt confident to pursue these goals independently without waiting for the approval of someone else. Best decision in my life thus far.

GO BANG! MAGAZINE: You have been consistently on the grind in the entertainment industry for the past 20 years, and you're only 28 years old. What has kept you motivated and inspire you to keep going?

Julian Keyz: I honestly just love what I do. Feels like a fish swimming or a bird flying. I ask myself all the time when things get rough, "what else would I do?" We all have functions and purposes on this planet… this is what I'm meant for, so I just keep going and growing.

GO BANG! MAGAZINE: GO BANG! Magazine just recently found out that you are a DJ. At the tender age of 14, you had your first paid DJ gig. You stepped away from the craft for years, but the fire was reignited when you moved to Vegas. I too, am a DJ since childhood, but also stepped away for years. Again, we are mirroring each other since I just recently started DJ'ing again myself. When YOU dug back into your bag from the past and revisited DJ'ing, tell us what that felt like.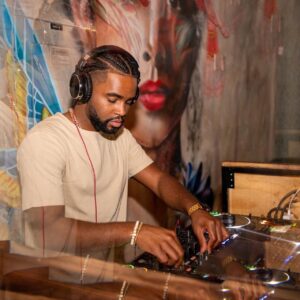 Photo courtesy of: Bright Light Digital Art / Amanda Altman

Julian Keyz: It just felt right and you kind of ask yourself why you allowed so much time to pass without you engaging with it. Circumstances happen though and you're just happy to be back in love again. Almost, like a part of you was missing and you found the missing piece. That's how I feel about music in general when we separate too long. Very much like a marriage.

GO BANG! MAGAZINE: Please describe your DJ style (single songs, mixing/blending songs together), the type of music you play (House, Dance, Hip Hop, R&B, EDM, Techno, etc.), and what your favorite genre of music to listen to personally.

Julian Keyz: I've been exposed to a lot of music in my lifetime, and I have different time periods that I gravitate to different genres. Regarding DJ'ing, I play a lot of Hip Hop, R&B and Latin Music. I occasionally do House music and I love it.

GO BANG! MAGAZINE: Another venture that you established is The Simple Music School, which was founded in 2015, where you taught piano in music schools in LA. Why did you start that company and how did that inspire you to start your own music academy.

Julian Keyz: When I was in college, I honestly just wanted to find a way to make some money and free my time up. Teaching music afforded me that opportunity. I got the opportunity to create my own schedule, pay my bills and do what I love to do. It was the best-case scenario for a college kid. Once I saw how lucrative it was, I scaled it and it did well. Been growing the business since.

GO BANG! MAGAZINE: You recently started a training course entitled Professor Keyz Piano Basics. It officially launched on September 1, 2022, but you are accepting orders now at http://www.course.juliankeyz.com. What does the course contain, how can someone benefit from purchasing your training program, and what is the cost?

Julian Keyz: The course highlights simple ways of understanding the basics of sight reading, composition, and music theory. It's beneficial because it's very simple to understand. Sometimes musician's like to over complicate the process of music. It's not simple by any means and it does take time to become good, but the concepts themselves are very simple and repetitive. Sometimes we can complicate the process to the point you intimidate a potential beginner. The goal should be making it concise and simple. I hate overcomplicating things.

GO BANG! MAGAZINE: Now let's get back your NEW music. When are you dropping new music and when will your first single come out? Can you give our readers some exclusive information on your upcoming music drop, like what to expect, when it dropping, what's the first single and when will that drop?

Julian Keyz: I've worked on so much music this past year. The only thing I'll say is new music will be dropping in September and you'll get a consistent flow of material to close out this year. It'll definitely be an experience. Stay tuned!

GO BANG! MAGAZINE: Now that COVID has somewhat subsided, the world has reopened. Do you plan on getting back on the road for touring and if so, when and what's the tour schedule?

Julian Keyz: I plan on hitting the road top of 2023. The goal is to be touring the entire year. We'll start domestically.

GO BANG! MAGAZINE: In conclusion, is there anything that you'd like to say to our worldwide, international readers AND YOUR FANS?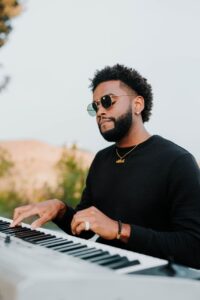 Photo courtesy of : Julian Keyz

Julian Keyz: I would just like to say thank you for getting this far into the interview and thank you for the support. Love y'all and many blessings to you and your endeavors in life. Let's win big.

GO BANG! MAGAZINE: Thank you for granting GO BANG! Magazine this interview and we wish you continued success. You've officially been BANGED!!! Now…GO BANG!

Julian Keyz: Thank you all, I appreciate you.
ONLINE Contacts: https://linktr.ee/juliankeyz
Facebook: https://www.facebook.com/juliankeyz/
Instagram: https://www.instagram.com/juliankeyz/
Twitter: https://twitter.com/juliankeyz
Listen to Julian Keyz:
YouTube channel: https://www.youtube.com/channel/UCuNAJ40xOL-gedgk4i1gHwQ
Soundcloud: https://soundcloud.com/juliankeyz
WEBSITE: https://www.juliankeyz.com/




Pierre A. Evans is a freelance writer of Entertainment, Music, Art, Culture, Fashion and Current Events, and previously for SoulTrain.com, NDigo.com, ChicagoDefender.com, EmpireRadioMagazine.com, and UrbanMuseMag.com, an author, singer/songwriter, actor, model, poet, dancer, and DJ. He is also the Owner of Pinnacle Entertainment Productions and the Owner/Publisher of GO BANG! Magazine. Follow him on Facebook @Pierre Andre Evans, Twitter @Playerre, and on Instagram @Pierre_Andre_Evans.