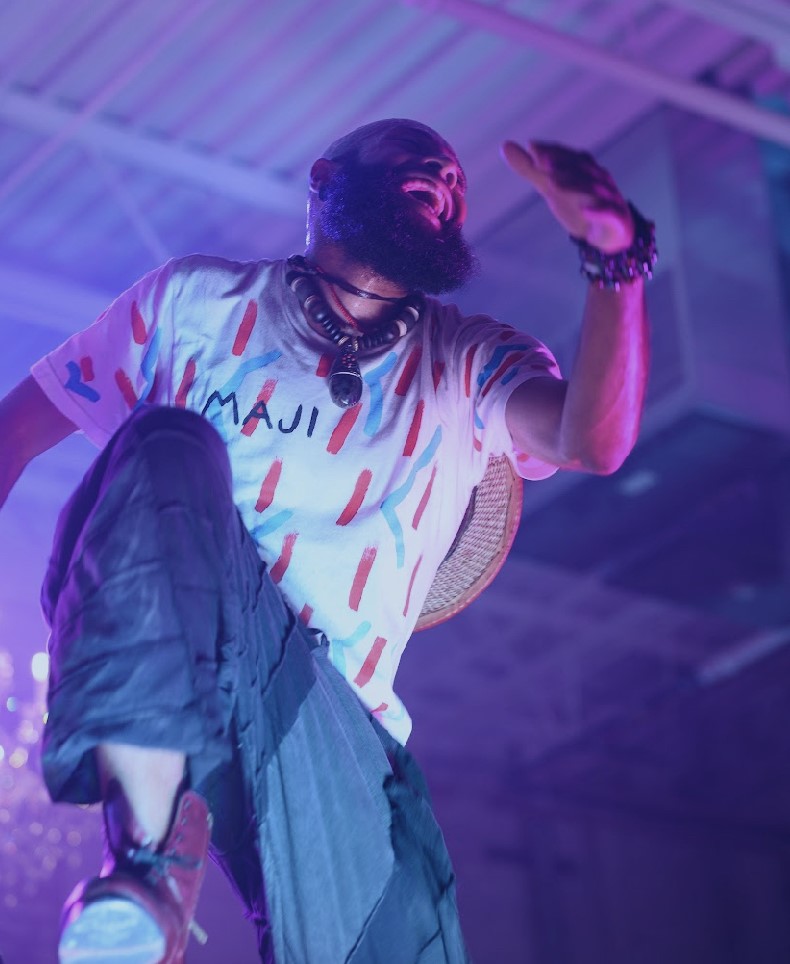 Photo credit: Katrina Monea
As a native Chicagoan, Djedi was born Kenneth Russell. He is the second child to be born out of four siblings. Djedi, has been involved in the performing arts since he was eight years old. He started out in tumbling class at Mayfair Academy. But after two years of repetitive routines, his enthusiasm faded. Soon after, his mother introduced him to tap dance. After all, his mother, brother, and sister were all taking up tap. So, he finally gave it a shot. After his first performance, Kenn fell in love with the art form and sought after it more as years passed.

Kenn studied dance at Columbia College Chicago. He has taken master tap dance classes from some of the greatest tap dancers in the world, including Jason Samuels Smith, Bril Barrett, Martin "Tre" Dumas III, Dormeshia Sumbry-Edwards, Dianne "Lady Di" Walker, Derrick Grant, Reggio McLaughlin and the late great Ernest "Brownie" Brown, to name a few.

Now, more than 20 years in his craft, he's teaching children to pursue their dreams. He leads by example with his own style of the art form of tap dance, amongst other rhythmic dance genres that were picked up along the way. Djedi has been using tap dance as an outlet for healing.


GO BANG! Magazine: Where in Chicago were you born and raised?

Djedi: I was born on the west side, but raised on the south side.

GO BANG! Magazine: How did you first get involved in the performing arts, particularly in tap?

Djedi: Well, I was in a junior bowling league for as long as I could remember and my mother didn't want that being the only activity for me (especially as active and aggressive as I was). So she first enrolled me at Mayfair Academy for tumbling lessons. Two years later, I got bored, so I took up tap dance instead. After my first recital, I knew that I'd be doing it for a while, but not like this and I'm so grateful for it!

GO BANG! Magazine: What was is about tap dancing that attracted you to pursue it?

Djedi: The unique sound, the rhythm and the freedom of creating my own music, while I dance. I love the simple regalness of tap.

GO BANG! Magazine: There is a long history of great African-American tap dancers. You have had to chance to train under some of the greatest tap dancers in the world. Please describe some of the highlights of your training.

Djedi: The takeover of "Hoofers" of Chicago and New York is what I mostly remember. Sweaty rooms, foggy mirrors…you'd think you just entered a sauna. Training is no joke with those cats and others from other states and countries. "Shedding" (another is term in tap which means to train intensely) with some of the dopest tap dancers in the world is a privilege that I don't take lightly. Without those experiences with such light-beings as Dianne "Lady Di" Walker, Dormeshia Sumbry-Edwards, Cartier Williams, Nico Rubio, and Martin Tre' Dumas to name a very few, I most certainly wouldn't be the same Djedi.

GO BANG! Magazine: After 20 years in tap, you've graduated to the level where you are now the trainer. Please tell our readers about your training classes and why you chose to teach the youth.

Djedi: I like to think of myself as a master student. I take the training that was given to me and I utilize it. Then, whatever I like and has helped me the most, I give to my students. The way I teach is strict discipline, but structured fun. I teach because I would like to see more light and love in the world. Tap dance is so much more than just rhythms and footwork. It's language and dance, treble and bass, aspiration and inspiration. It's historical and futuristic. It's the first American dance and with that knowledge, I'd like to make sure that knowledge is being carried on and flourishing properly. That's just one of my ways of improving the art form while it progresses, warps and moves with and around time.

GO BANG! Magazine readers already understand that music can be used to heal the soul. How do you use tap dancing as an outlet for healing?

Djedi: I think about my frustrations and I dive deep into steps and rhythms of expression. Instead of fighting or doing harm to anyone or anything, I go create something very aggressive, yet harmless, to filter out how I'm feeling.

GO BANG! Magazine: Besides tap dancing, what other types of dancing do you do?

Djedi: I have a little training in ballet, but I loved taking Jazz and West African dance. I've also done dances such as Ballroom for a cotillion.

GO BANG! Magazine: Please explain to our readers exactly what the other gifts are that you have been blessed with, including Reiki Practitioner and Oracle Reading. Can you please go into detail about what those are?

Djedi: Reiki is light work or universal life force. It's basically God's (or Divine Source's) energy and I draw it in while giving a reiki session to allow the client to heal him or herself. I use crystals, five elements of the earth and breath. I like to ground myself, and the person, before and after the sessions. It's pretty "magickal!"
Oracle readings are like in-depth prayers or conversations with God about your next moves in life like tarot, but less structured.
For both, I'm a conduit. God is the one doing the work. I'm just the plug for the connection.

GO BANG! Magazine: You are so multi-talented, being an artist, jewelry maker, as well as a music performer. Why do you think that God gifted you all of these talents and what do you feel is your responsibility, having these gifts?

Djedi: It's like the lyrics in a song a good friend of mine wrote, "Cause I know what to do with it!" God bestowed these gifts upon me because I ask for it daily. I stayed as humble as I could, yet consistent and persistent. I showed I can handle these responsibilities by sending affirmations to people, healing people through shows by gracing their eyes and ears with educated feet and percussive sound. I am responsible for teaching tap dance with my own flare so that something else can blossom from it. This is the seed of a deeply rooted tree. It's going to set its foundation and at the same time, create more seeds.

GO BANG! Magazine: Tap dancing is a dying talent. Looking to the future, where do you see tap?

Djedi: Tap dancing is dying? Really?!? Well, how can that be when it's been around for nearly two centuries and cats still hitting. I mean, it may not be as many as it used to be, but there's still a plethora of folk hitting strong and carrying their legacy. It's the past present, and future.
Where I see it going is in many different directions for many different reasons. It's such a broad subject in itself, I believe that with the right frequency, nurture, and discipline, it (tap dance) can ground and heal the world.
GO BANG! Magazine: Lastly, what current projects have you been working on?
Djedi: The most current project I released was a song called "Stars" featuring Sam Trump. You can find it on all musical platforms.
"Stars" Youtube link: https://youtu.be/jDvEDs0LOEc

You can follow Djedi on:
Instagram: @Djediisart and @Djedtasticgems
Facebook: Djedi Ohm
Latest Single: https://youtu.be/jDvEDs0LOEc


Pierre A. Evans is a freelance writer of Entertainment, Music, Art, Culture, Fashion and Current Events, and previously for SoulTrain.com, NDigo.com, ChicagoDefender.com, EmpireRadioMagazine.com, and UrbanMuseMag.com, an author, singer/songwriter, actor, model, poet, dancer, and DJ. He is also the Owner of Pinnacle Entertainment Productions and the Owner/Publisher of GO BANG! Magazine. Follow him on Facebook @Pierre Andre Evans, Twitter @Playerre, and on Instagram @Pierre_Andre_Evans.