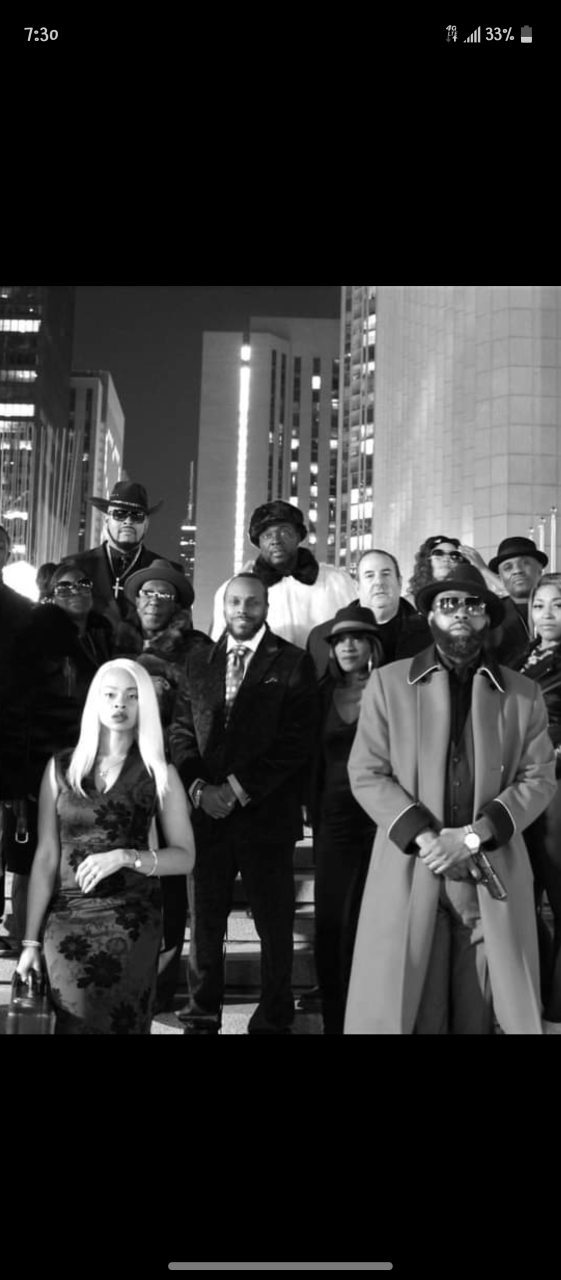 "The Walk of Rufus" , premiering on WEDNESDAY, JULY 21, 2021 through Maverick Movies, and Singles Film & Music Entertainment, is a film based on two brothers from South Carolina growing up in Chicago. It's about the Jones family, Rufus Jeremiah Jones and Theodis Pierre Jones, trying to make their family name legit and do away with the footprints that their father left in the streets of Chicago. Set on the south side and west side of the city, the high-octane film takes you on the roller coaster ride through the streets of Chicago.

The film stars Billy Ray Valentine, Cedric "Mr Whoa Boi" Collins, Shanta' Renee Smith, Keith "K-eezy" Paige of The Mercenaries and Corey "Cold Hard" Johnson of Crucial Conflict fame. Written, produced and directed by Billy Ray Valentine, who also directed "Lil Ceasar" and "Magic", and also released through Maverick Entertainment group.

Billy Ray Valentine is producing, writing and directing the upcoming film "United Nations", a story about all the gangs in Chicago coming together as one to create accomplishment, scheduled for release in mid to late 2022.

Bio:
Mark Anthony Mathews aka Billy Ray Valentine, was born in 1967 and Cook County Hospital in Chicago Illinois. He grew up on the south side of the city in the Robert Taylor homes and in the late 70s moved to the Auburn Gresham neighborhood.

In 1986, he lived in the Roseland community and that's where he got his start in the entertainment business writing and producing music as an artist as well.

In 1990, Mark went to Hollywood and appeared on the television show "A Different World" alongside of Kadeem Hardison and Jasmine Guy.

In 2009, Mark started Singles Film & Music Entertainment. Fast forward to 2019, Mark started producing full-length feature films, which includes "Magic" and "Lil Ceasar." From there he started creating more content, including "Roseland", "The Walk of Rufus", "A Masquerade Trapp" and now the upcoming, highly controversial "United Nations."

As of today, Mark Anthony Matthews aka Billy Ray Valentine, is still creating content and entertainment for the streaming audience around the world, with streams in excess of millions in households across the world!

Click HERE for the WEDNESDAY, JULY 21, 2021 Red Carpet premiere of "THE WALK OF RUFUS" & "ROSELAND."
Facebook link:

EVENT INFO:
Event by Billy Ray Valentine, Eric Mayes and Cedric Collins
Group · 104.7 FM GHETTO RADIO
Location: Wild Blossom Meadery, Winery and Brewery
9030 S. Hermitage Avenue, Chicago, IL, 60620
Price: $20.00

Come join Singles Film & Music Entertainment, as we premiere the new films produced written and directed by Billy Ray Valentine, "The Walk of Rufus" & "Roseland."




Pierre A. Evans is a freelance writer of Entertainment, Music, Art, Culture, Fashion and Current Events, and previously for SoulTrain.com, NDigo.com, ChicagoDefender.com, EmpireRadioMagazine.com, and UrbanMuseMag.com, an author, singer/songwriter, actor, model, poet, dancer, and DJ. He is also the owner of Pinnacle Entertainment Productions. Follow him on Facebook, Twitter, and on Instagram.