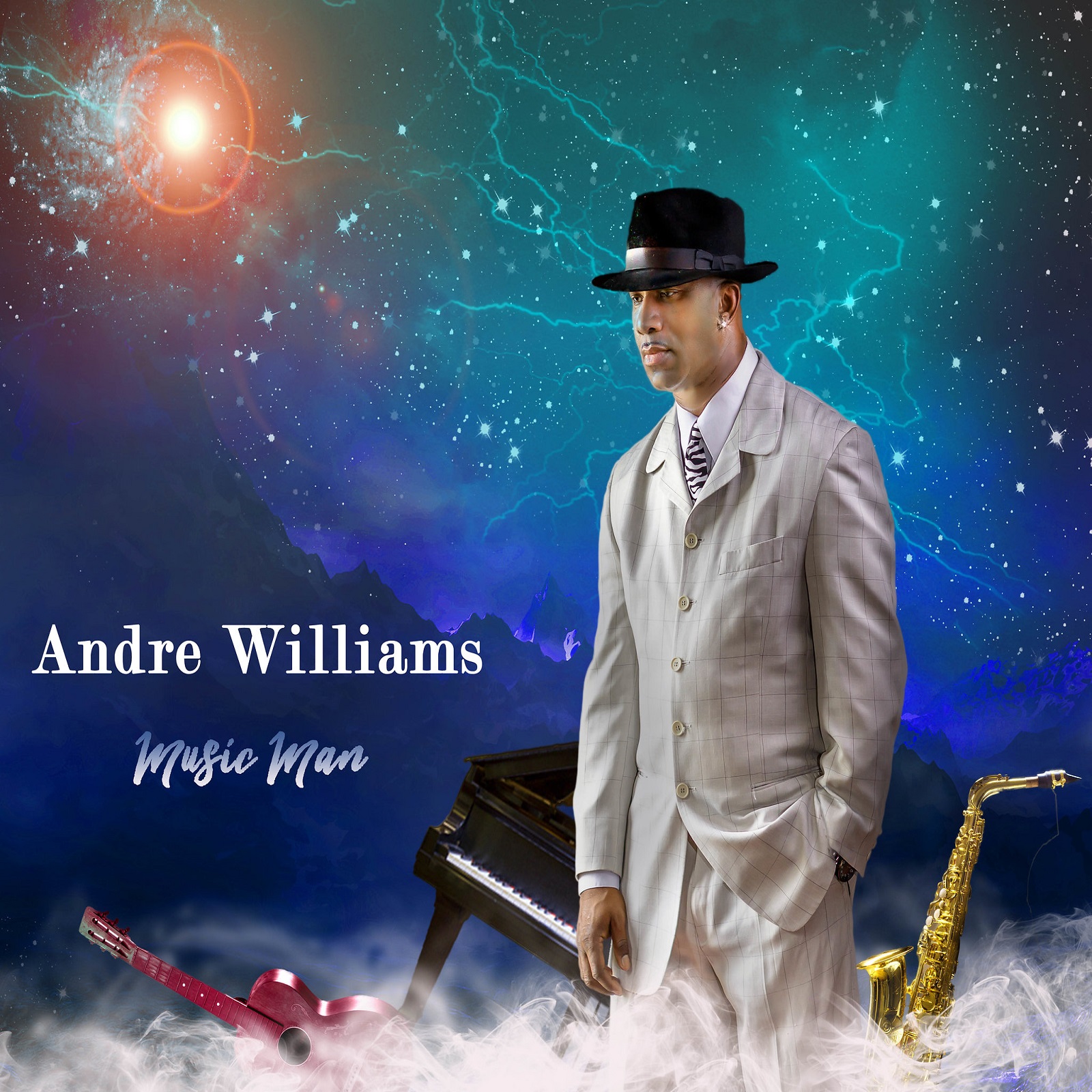 Andre was born and raised in Chicago Illinois. He has performed at many venues throughout the Midwest, East Coast & West Coast. Andre is a true entertainer / writer / producer / vocalist. Singing has always been a passion of his. Andre's genuine love and appreciation for music has allowed him to emerge as one of the hottest new R&B artist today.

Andre's music is refreshing and edgy. He is the founder of independent label A&W Ecstasy Records (www.twitter.com/Music007), which consists of producer Lothario Lee and Executive Producer Andre Williams "Music Man."

Andre's latest release "Them Girls," (feat. Tony Poole) is a soulful delight of hip-hop and funk. Andre's music is available on all digital download platforms worldwide, including Google Play, iHeart Radio, Tidal, Target Music, Amazon On Demand, Groove, Youtube Music, Spotify, E-Music, Simfy Africa, Shazam, iTunes & Apple Store, Rhapsody, Deezer, Juke, Claromusica, N.Music, & 8 Tracks.

To all of our fans & to all of the DJ's who have been playing our songs and supporting us, "Much Love!!!


GO BANG! Magazine: How did you first become involved in music?

Andre Williams: My father Oscar Williams was in the music industry. As a young child, he taught me how to perform and dance. My mother, Jazz singer Loretta Lee, would have me singing alongside her during some of her performances. So, I guess it came naturally.

GO BANG! Magazine: Many of our readers may already know, some may not, that your mother, Ms. Loretta Lee, is a well-known entertainer as well. She's an excellent Jazz singer, who portrays Billie Holiday, as well as performs excellently as herself. I happen to know her, even before I met you, through me working in the theater industry with the A Taste Of Theatre company, years ago. Tell us about your mother and how she did or did not influence your choice to enter the music business.

Andre Williams: My mother, Loretta Lee, would have me sing alongside of her and performing in some of her shows. Her influence taught me how music allows my creativity to be expressed through my voice. My message to the world changes the heart, just as music binds us even in diversity.

GO BANG! Magazine: When and how did you know that you wanted to be involved in the Entertainment industry professionally?

Andre Williams: I started writing my own songs and met mega-producer Lothario Lee and we started collaborating, I released my first single to many radio stations and they were very receptive. We received good responses from radio stations and audiences. Then, we released my first album "Permission", which is available on all social media platforms.
GO BANG! Magazine: Please describe to our readers, the "Music Man" sound and discuss your independent label A&W Ecstasy Records.

Andre Williams: My sound is a diverse and distinctive rhythm of Soul, Jazz, Pop, R&B and Hip Hop, inter-twisting and contrasting, with vocals using a falsetto voice. A&W Ecstasy Records was founded in 2013 and it was my transition into being an independent record label artist

GO BANG! Magazine: As a Black man in the Entertainment industry and owning your own business, you are an inspiration to many. What advice would you give to a young person that's trying to break into the Music industry or want to start their own business?

Andre Williams: We are interested in uplifting the culture and being a part of a positive movement. If you feel singing is a life-calling passion, then you would want to pursue it. There, between you and the rest of the world, is a door which can put your talents, passion, ideals, voice, and strengths in the public's eye. You could make music a significant place to stand up in the music industry as musician and entrepreneur, live your dream, express yourself, become rich and even travel the world.

GO BANG! Magazine: I have personally witnessed you participating in several community events. I've participated with you on a couple as well. Why is it important for you to give back to the community?

Andre Williams: Giving back to the community allows you to know your community and its citizens. As you develop and grow as a person, your actions make an impact on others. It also contributes to the promotion of your business and a way to gain exposure as an artist.

GO BANG! Magazine: One such community event that we participated in together was an Entrepreneurial Business panel event organized by your Booking Manager Barbara Giles. I'm also friends with her and met her before I met you. Please tell our readers about Ms. Giles and how you two decided to work together.

Andre Williams: Oh yes, it was called "The 4-M's to Brightening your future in Business of Music, Money, Media, and Mentorship." Her panel connected many of the renowned go-getters in each of the industries. The panel included me, you, television star Harry Lennix (The Black List), Terry Bishop (WVON), Lady Royalty (Model) and Fred Mitchell (Sports commentator).

Ms. Giles is an innovative, nontraditional lady and go-getter in Business. She is what is called a connector in our industry. She connects artists of all strides together and through the use of viral marketing, allowing their connection to become a beacon for success. We met when I was introduce to her six years ago through my former manager, Joe Ali. He passed due to Covid-19 last year in 2020. He was an icon in "the business." He will be missed.

GO BANG! Magazine: Are you currently working on anything or would you like to mention anything that you'd like our readers to check out?

Andre Williams: Presently we are looking to bring out my new recording with Jazz of Dru Hill. It will be released on my new album "Penetration" which I plan to release this year. My new single "Them Girls" features Tony Poole, is on the charts @www.Biggsradio.com. Radio Personality Dinahlynn Biggs of Radio.Net continues to get our music out. We also want to thank Cleveland's KFSM Radio Network LLC and Mixleplix TV on Roku TV and Taiwan Barber of Intoodeep. There and so many other radio stations that I can't remember, but want to mention. There's too many to name. Much love from all of us.
GO BANG! Magazine: In conclusion, the COVID-19 pandemic has caught the world off guard. How are you dealing with it?

Andre Williams: Yes, Covid-19 has been a world-wind halt for many in the music industry. I have been dealing with it by continuing to invent new ways to get more music out to my fans. The internet and Smule app allows me to do that and keeps me on my toes. But, I look forward to starting to travel again and doing shows for the public.
"Them Girls" https://www.youtube.com/watch?v=53wgON2QRto
"Hit The Spot" https://www.youtube.com/watch?v=6vkemF-fLaY
"Let's Party Feat. King Camil: https://www.youtube.com/watch?v=0o6YeWrOaio
"Coming Home To You" https://www.youtube.com/watch?v=8ZH7qSUWEqU
"Happy" feat. King Camil: https://www.youtube.com/watch?v=hWKdgJn3eBs
Follow Andre Williams on all social media @Andre Williams Music Man.

Email: andrewilliamsmusicman@yahoo.com
https://www.facebook.com/AndreWilliamsMusicMan
https://www.soundclick.com/bands3/default.cfm?bandID=1429516
https://music.amazon.com/albums/B01A7HCVTI
https://www.reverbnation.com/andrewilliamsmusicman
https://jp.linkedin.com/in/andre-williams-music-man-43649783
For Bookings:
Barbara Giles,
Envisioning Mgmt. B.G.T
773-993-7324





Pierre A. Evans is a freelance writer of Entertainment, Music, Art, Culture, Fashion and Current Events, and previously for SoulTrain.com, NDigo.com, ChicagoDefender.com, EmpireRadioMagazine.com, and UrbanMuseMag.com, an author, singer/songwriter, actor, model, poet, dancer, and DJ. He is also the Owner of Pinnacle Entertainment Productions and the Owner/Publisher of GO BANG! Magazine. Follow him on Facebook @Pierre Andre Evans, Twitter @Playerre, and on Instagram @Pierre_Andre_Evans.