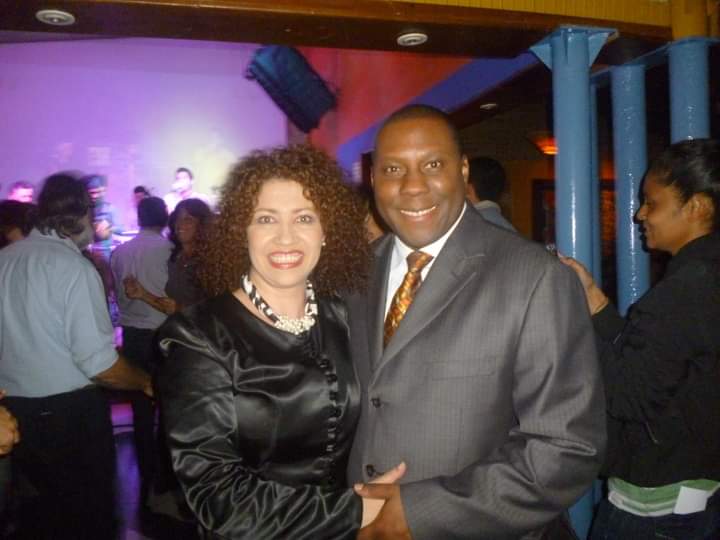 Jason Wilson is an entrepreneur, podcaster and a Spiritual Life Coach. Originally from Atlanta, GA, he now resides in Bogota, Colombia. He is fluent in both English and Spanish.
He's the CEO of Spiritlink, where he connects fitness enthusiasts from all over the world who want to be the best version of themselves.
Being a Spiritual Life Coach since 2019, he helps entrepreneurs, athletes, trainers, coaches, recruiters, agents, fashion designers, actors, models, singers and musicians get the victory over spiritual problems related to: fear, anger, jealousy, depression, anxiety, being overweight, financial ruin, etc.
In 2020, he expanded his brand by developing two podcasts: "Darkness To Light" and "Living On Purpose." "Darkness To Light" provides the guests the opportunity to talk about their supernatural experiences and gives real answers to problems that people face on a day-to-day basis. "Living On Purpose" gives entrepreneurs and entertainers the opportunity to talk about their purpose and tell stories of how they overcame seemingly insurmountable challenges to achieve success.

GO BANG! Magazine: How did you develop an interest in being a Spiritual Life Coach?
Jason Wilson: In 2010, I founded my company Speed Dating In Colombia and I sold it in 2015 to do something more international. During those years, I had several clients who asked me about matchmaking services. So, in 2015, I began to do matchmaking for Colombian women who were interested in meeting men from the United States. I found out that in many of the consultations with the women, that there were a lot of situations where they were affected by fear, emotional hurt and trauma from previous relationships. I concluded that they were really in need of spiritual guidance/coaching before involved in another serious relationship. If those needs had gone unaddressed, they would have taken those issues into their next relationship. So, I became interested in becoming a Spiritual Life Coach to help people get free of their spiritual issues.
GO BANG! Magazine: What does a Spiritual Life Coach do and how it's done?
Jason Wilson: I'm certified as a Life Coach, but my concentration is in spiritual matters. Therefore, as a Spiritual Life Coach, I help people to eliminate fear from their lives so that they can be connected to the promises of God- joy, health, long life, prosperity, relationships and fertility. I have a program designed to:
1. Identify any limiting beliefs that one may have.
2. Get a clear idea of one's life purpose
3. Formulate a manifestation plan based on all the tools that have been made available to us in the Word of God.
GO BANG! Magazine: You are also an entrepreneur, being the CEO of Spiritlink. Please explain what you and your company do.
Jason Wilson: I'm a Spiritual Life Coach and Podcaster. Before the pandemic hit in March this year, I had the vision of conducting live events where I would help athletes, entrepreneurs and entertainers get connected to people in those industries who could help make their dreams come true. For example, receive a contract to play professional sports, find an angel investor to fund a business project or get a deal with a record label. After the pandemic hit, my vision changed to doing podcasts where I would interview entrepreneurs and entertainers and give them the opportunity to talk about their latest projects and paths to success. I'm also planning to have an online social network, which will allow people to connect without the worry of contracting the COVID-19 virus.
GO BANG! Magazine: You have two podcasts that have totally different missions. One focuses on supernatural experiences and the other gives people a platform to discuss their successes. Why did you feel a need to start these podcasts and what have you accomplished through them?
Jason Wilson: First and foremost, I love to motivate and encourage people. In addition to that, I've always enjoyed hosting events and parties to help people get connected to each other. Through the podcasts, which are broadcast and heard all over the world, I can accomplish my life's purpose.
GO BANG! Magazine: Your "Darkness To Light" podcast focuses on the supernatural. Have you ever had a supernatural experience? If so, please describe it to our readers.
Jason Wilson: My first supernatural experience with a demonic entity happened 4 months before I left the United States to live in Bogotá, Colombia. At the time, I was a fitness professional living in Dallas, Texas and I decided to move back to Atlanta to help my mother with her health. The night before I left Dallas, I was staying at my cousin's house. He was on one couch in the living room watching ESPN and I was on another couch falling asleep. The next thing I knew was that I was in a dream and was fully aware of my senses. I was lying on a long antique table and all of a sudden, a demon appeared with its hands around my neck, choking me. I tried to fight it, but I was paralyzed and couldn't scream for help or move.
Now, we've all seen images of demons from movies and TV shows, but this demon was much more horrifying than anything I had ever seen on screen. It was choking me for what seemed to go on for hours and in an instant, it disappeared and I woke up. My cousin then asked me what I was dreaming about. I asked him why he didn't wake me up and he told me that he was throwing pillows at me, but I didn't move. I thought it was a crazy dream and went back to sleep.
The next day, I went to wash my car in preparation for my 13 hour drive back to Atlanta and I felt that my throat was feeling scratchy as if I was coming down with a cold. I didn't think anything else about it, returned to my cousin's house, said all my goodbyes and got on the road. After a few hours of driving, my throat was getting a little bit more irritated and I stopped off at McDonald's for a milkshake. Every couple of hours after that, my throat became more and more irritated and I had to stop off for something else cold to drink.
By the time that I arrived at my mother's house, my throat was painful and it was hard to swallow. I went to the bathroom to take a look at the inside of my mouth. The opening to my throat was red, swollen and completely closed. I went to the emergency room the next morning in excruciating pain and the doctor gave me a prescription for penicillin. I was so sick, it took about a week to recover.
I talked to a pastor about the dream I had some weeks later and he told me that the devil tried to kill me. The question I had was why would he try to kill me? Prior to that dream, I had never had an experience like that and I found out that the demon is what's called a Succubus and attacks men in their sleep.
GO BANG! Magazine: You seem to be very interested in the spirit and the spiritual world. How would you describe your spirit and your mission on Earth?
Jason Wilson: I'm a healing spirit whose mission on Earth is to motivate, encourage and heal people in their bodies and relationships. "Jason" translates to "healer" in Greek.
GO BANG! Magazine: What are your thoughts on near-death experiences and the after-life?
Jason Wilson: I know that the after-life exists from lucid dreams that I have had and your spirit actually leaves your body and travels to spiritual dimensions. I've had experiences with angels and demons in dreams. I was also nearly killed in a dream by a demon. So, I also believe in near-death experiences.
GO BANG! Magazine: What are your thoughts on aliens and UFOs?
Jason Wilson: I've never had an experience with aliens or have seen a UFO, but as vast as the universe is, I don't believe that we are the only beings that God created. I've had podcast shows where I interviewed paranormal investigators who believe in God and talked about their experiences with aliens, alien abductions and UFO's. They are credible experts in their fields and I believe their testimonies.
GO BANG! Magazine: Living in Bogota, Colombia has to be a total different world from living in Atlanta. Why did you choose to leave the US and live in Colombia?
Jason Wilson: I left Atlanta, because I wanted to learn Spanish, learn all about the Latin culture and have a different experience. I met my ex-wife who happened to be from Bogotá, Colombia in Atlanta. She was there visiting her family on summer vacation. We had a long distance relationship for about 4 months after that and we decided to get married. I came here to be with her. After about 2 and ½ years, we separated and got divorced and 2 years after that, I met my current wife and we've been married for 12 years. We have an 11 year old son together. I love Colombia, because it's a beautiful country, people are nice and the weather is great.
GO BANG! Magazine: The COVID-19 pandemic has caught the world off guard. How are you dealing with it?

Jason Wilson: I started making the transition to doing everything I do professionally in 2017. So, the pandemic hasn't affected my work at all in a negative way. It's actually helped to increase my earnings. Although, socially, I can't go salsa dancing, which is something I really enjoy doing. But, like everyone else, I'm taking it one day at a time.

GO BANG! Magazine: I want to thank you for having me as a guest on your "Living On Purpose" podcast. I really enjoyed the interview!

Jason Wilson: You're welcome! Here's the link to our interview: https://youtu.be/oR7SioQVohs

You can follow Jason Wilson:

Living On Purpose Podcast
http://anchor.fm/jason-wilson50

Darkness To Light Podcast
http://anchor.fm/jason-wilson96

YouTube Channels:

Living On Purpose
https://www.youtube.com/channel/UC9q03xqzP_SRb4tGRWykICg

Darkness To Light
https://www.youtube.com/channel/UCGR17I8i8DU0WS68yE5hSSg


Pierre A. Evans is a freelance writer of Entertainment, Music, Art, Culture, Fashion and Current Events, and previously for SoulTrain.com, NDigo.com, ChicagoDefender.com, EmpireRadioMagazine.com, and UrbanMuseMag.com, an author, singer/songwriter, actor, model, poet, dancer, and DJ. He is also the Owner of Pinnacle Entertainment Productions and the Owner/Publisher of GO BANG! Magazine. Follow him on Facebook @Pierre Andre Evans, Twitter @Playerre, and on Instagram @Pierre_Andre_Evans.