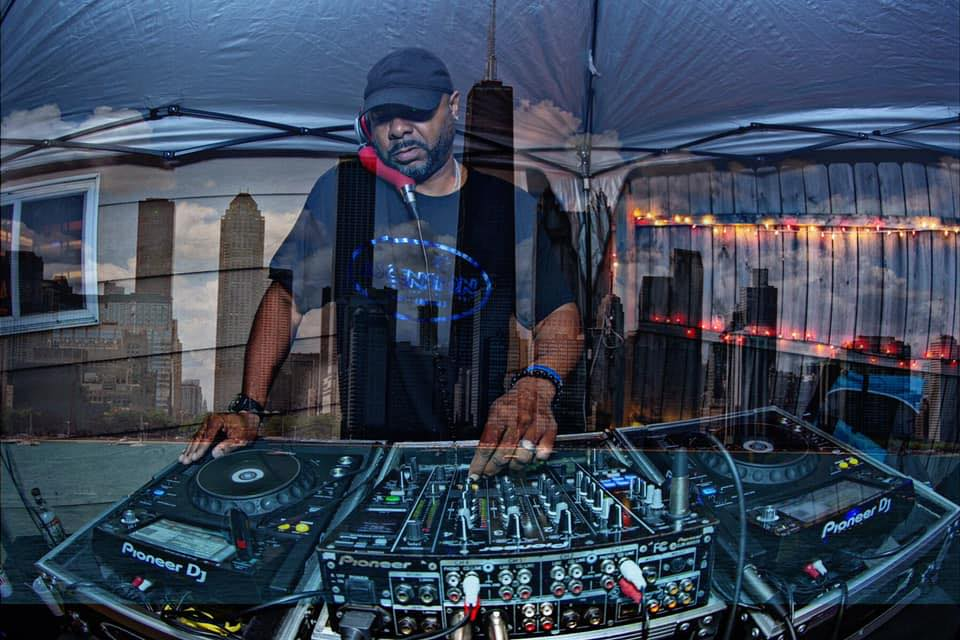 Photo Credit: Victor Price
Growing up in Chicago in the South Shore area, Tony Evans (DJ Tony Madd) fell in love with music. His creativity was sparked, being able to walk out of his back door and hear live bands playing nearby. In the 70's and 80's Tony was fortunate to grow up with friends who were attracted to music and the Chicago music scene.

Tony would hang out in the neighborhood record store, and was able to listen to good music and hone his ear for great mixes. He carried crates, moved speakers, dug in crates, promoted and partied with different friends, crews and DJs that created HOUSE MUSIC!

Tony Madd later joined the ARMY and relocated to Germany. While overseas, he had the luxury of spinning in military clubs, as well as securing resident DJ spots in Europe. After 15 years overseas, Tony returned to the United States with a MADD original style and the sound of Chicago mixing!

You can hear the passion and love in his mixes!

GO BANG! Magazine: Can you please explain the origins of your DJ names Tony "SunDance" and Tony "Madd?"
Great question!

DJ Tony Madd: DJ Tony SunDance originated with my introduction to House music in my neighborhood, 68th and South Shore Dr.. My buddies and I would hang out at a record store on 71st Street. In the back, aspiring DJs would be mixing music. Vincent Spark ran/owned the shop and he had a group called ISE (Infinity, Space, & Eclipse). Infinity was girl dancers, Space boy dancers, and Eclipse the DJs. I would later join the dancers so I could hang out, get in the parties for free and learn how to DJ. My favorite thing is the SUN, and I always danced, so Tony Sun-Dance.

DJ Tony Madd began in Germany. I was in the Army. One month after I arrived, I landed a DJ job at the local club, off post. I use to run a talent show called the "Apollo Show" on Sunday nights. I met a civilian brother, Derek Clark, who entered a show and he could really sing. We joined together and won about 20 something shows singing R&B hits. They made him the MC because they couldn't pay us anymore, after 500 DM. On our last show together we had tough competition. It was a young brother, named Mike "Booze" aka Polo, who was in Germany with his family. We won the last competition and we thought he should have won!

The name M.A.D. originated from Michael, Anthony and Derek. We formed a rap group called The MAD FAM and I was the Producer/DJ, Tony Madd. The name later changed to mean Making A Difference Daily.

GO BANG! Magazine: How did growing up hearing live bands playing spark an interest in you to want to become a DJ?
DJ Tony Madd: Hearing live bands sparked my interest in music, which has become a life-driving force. Spending summers in Morgan Park, you could come out of your back door and hear bands practicing Earth Wind & Fire and Con Funk Shun live. That gave me an ear for great music. I always followed good music, which led me to hangin' at the record shop on 71st Street. I heard some great DJs practice there. That led me to dance and hang out at parties. We passed out flyers, hung posters, carried equipment and crates for Darryl Willams, Butch Mcaffee, Mario Short, David Allen, Chip Mitchell and Steve Poindexter! (Name Drops, Name Drops)

GO BANG! Magazine: Growing up in the South Shore area of Chicago is something that we have in common. Being a DJ too, I spent lots of my time in record shops going thru the new music. Scorpio Records on 71st and Crandon was one record shop, and then later another record shop emerged, Track One Records on 71st & Jeffrey, owned by the late Dedry Jones. What record shops did you hang out in as a youth and what knowledge did you gain from those experiences?

DJ Tony Madd: Those record shops on 71st Street were the ones I went to also. I bought my first 45 there on Crandon. After making some money from my first job at age 13, I walked up there and bought "Me and Ms. Jones." Everybody in my hood use to go there.

I learned to read the album covers and how to take care of my collection. After joining ISE, I learned how to take care of my collection and count BPM's (beats per minute). I learned what genres were. I also learned how to pick good sounding music. Lastly, I learned what intro, hooks, verses, bars counting, back ground singers and harmonies were!

GO BANG! Magazine: Before you actually became a DJ, you were more like an apprentice/roadie for several other DJs. Who were some of those DJs and what did you learn during those years of training?

DJ Tony Madd: Darryl Willams, Butch Mcaffee, Mario Short, David Allen, Chip Mitchell and Steve Poindexter. They all started before me. I had to pay my dues before I could touch some turntables. I never got to play in the shop. Maurice Macklin, First Lady (Krissy Hutchinson) and Pharris Thomas came up after me and split to different groups.

I learned patience, timing, how to pick the next song and when to mix the next song. I learned that DJ'in is a competition. You gotta have the hot music and know when to play it at a party. I learned how to rock a crowd. I learned about hooking up DJ equipment and how the music should sound in different rooms, like Sauer's vs. Mendel. I learned how to white out my 12" (records) from Import Etc. (record shop) so no DJ's looking over my shoulder would know who made it, and much more!
GO BANG! Magazine: When did you get your first chance at DJ'ing for a crowd and how did that opportunity happen?
DJ Tony Madd: Oh Snap!

My first time DJ'in solo and rocking the house was a night when my crew; Chip, Steve, David, and Mario Short, all had parties at different spots: South Shore Prom, Aquinas H.S., some other place, and a house party.

By then I had started my own crate, which had a little to nothing in it. We wanted all that money, so I was solo dolo and I only had scraps of the main crates, which went to the bigger parties. I was dropped off early and used the last basic system we had for a birthday party. Well after the other parties were over, equipment packed up and everything, I was the last one to be picked up.

When they came into the party, the walls were sweating and kids were jackin'! When my crew brought in the crates, they let me know I did my thang and let me play them hits for the rest of the night!

GO BANG! Magazine: Sometime later, you joined the ARMY (thank you for your service) and relocated to Germany. While there for 15 years, you perfected your DJ'ing by spinning in military clubs and DJ residences in Europe. Please describe that time of your life and how that had an influence on you, as a person and as a DJ.

DJ Tony Madd: I joined the Army in 1985. I took my mismatched turntables with me. To my surprise, no one in North Carolina liked House music. So, I would bang out R&B and Jazz in the barracks and unit functions. In 1988-89, I went to Germany. It was the best time in my life! I got my first residency, after being there a month. I mixed R&B, Hip-Hop and any House I could squeeze in, 'cause there were people from all over the world, some from Chicago! I played in Germany until I returned home in 2005.

I have DJ'd all over Germany, on-post, off-post civilian and military crowds. I've played at Club Jimmy'z for the Prince of Monte Carlo and for thousands at an open air venue in Austria. I've opened up for Aaliyah, DJ Kool, Keith Sweat, 69 Boyz, and Luniz, amongst other! We actually were on tour with the Luniz, while in Germany, when "I Got Five On It" was hot. We were "The Madd Famm!"

GO BANG! Magazine: After 15 years in the military overseas, you returned to the US. What year was this, how would you describe the DJ Tony Madd sound, and what did you do to get your name out into the House music scene?

DJ Tony Madd: I returned to the States in 2005, way after House music did its thing, always wishing I had stayed on the scene and at the same time not caring because I did things I've always wanted to do, mix and travel. I was home and a childhood friend that had always loved House music, Ken White (DJ Big Ken), had heard one of my mix tapes that he jacked from his cousin British Ford back in the day. We connected because he was on the scene mixing in Chicago. We vibed and decided to make a crew to DJ, promote, and what we called "saving" house music.

He had an idea to call a crew Scandalous Gentz Entertainment. I joined in and said let's call it Scandalous Gentz International. One of our old school friends stated we could never do it, so we did. I designed the first "I Love House Music" T-Shirt and began to promote. We got 15 years and counting,

SGI IS THE SQUAD!

GO BANG! Magazine: Are there any DJs that motivate or inspire you, past and present?

DJ Tony Madd: So many DJs inspired me, and still do…(name drop time) RIH Frankie Knuckles, Darryl Williams and Butch Mcaffee. Then there's Andre Hatchet, Lori Branch, Celeste Alexander, Craig Loftis, Farley Keith and Jesse Saunders were my influences before I left Chicago.

I'm still inspired! Nowadays, it's Big Ken, Reverb Kirb, DJ Vernell Byrd, Timothy Tripplet, DJ Brett, Fiddy Millz, DJ Peace RTG, DJ Alicia, Mike Dunn, Terry Hunter, DJ Kemit and Black Coffee, to name a few!

GO BANG! Magazine: In addition to being a DJ, in 2005 you started working with SGI Entertainment. Please describe to our readers what SGI Entertainment is and what it does.

DJ Tony Madd: SGI was created to promote parties, mix good music, throw live parties / events, and to keep the House Nation informed of the community. Also, as I said before, SGI is the Squad! It's a DJ crew. But, it was mainly created to keep House music alive, so that the world understands we started this in Chicago! There are many stories in House music. How it started? House was banging in many different neighborhoods at the same time!

GO BANG! Magazine: You, your wife Yvette, and I affectionately call ourselves cousins, because we share the Evans last name, although we're not related. Since meeting the both of you years ago, there have been nothing but good times and good vibes between us. You all supported my book, "Inside The Minds Of Entertainers" and I supported your Madd House Group T-shirt line. As one of my favorite married couples of the House community, how did you two meet and how has House enhanced your relationship?

DJ Tony Madd: Alright cuzzin', Grumpy and I met when I was 18 and she was 16. My best friend came to my house and said there were some fine girls where he was going and I should come. I was skeptical, but went! Little did I know that it was a cotillion and he had his date already. When I got there, I was paired up with a partner on the first day. I did not know that Grumpy had a plan. She told her brother, who was her escort, that he was going to take my partner and she would be mine, and it happened! We were boyfriend/girlfriend after that and I was in love. But me being older, on the scene and moving and grooving, we grew apart and I joined the Army.

When I returned to Chicago, I returned to the House scene. I always would go to the Hatchets' picnic aka Chosen Few Picnic (CFP). The same friend that took me to the cotillion told me he saw Grumpy at the picnic after the picnic was over.

During one CFP, I think it was 2011, I ran into her with her friends and we hugged and those feelings came back to me, but I was with someone and left the city. After a conversation, and some added correspondence, I was compelled to return to her! Madd & Grumpy! She and I are hugh fans of House and she has acquired a good ear for music. She is my greatest supporter!

House music is our life!

GO BANG! Magazine: Being a Black man in America today is dangerous on a daily basis. We have ALL experienced it in different ways. How have you been affected by systematic racism and have you witnessed White privilege? If so, please describe the instance for our readers.

DJ Tony Madd: As a Black man in Chi-Town, I grew up in an era when I could ride my 10-speed bike from the north side to the south and back, at night, without any issues.

My neighborhoods were special. My family wasn't rich, but being middle class at that time, I never went without. As a single child I was always moving and have friends from different walks of life, some rich, some not, some preppy, some thug, pimps, playas, and hustlers! I learned from all and have walked with them all. I hung out with groups that might not ever interact, except by knowing me.

Returning from Germany gave me a larger perspective on life and I realized what being a Black man was really about. I realized how we are viewed and treated and how I want to be treated as a man, a Black man! I've never been more FREE and respected like I was in Germany, but not just Germany. I have traveled to more countries than states in this country, before I was 18. I learned that the Constitution was not made for us, even though we made everything in this great country. I learned that everything that we made is stolen and all advancements we make are destroyed. I learned that we are systematically being destroyed and that we own nothing in this country.

GO BANG! Magazine: The Covid-19 pandemic has dampened and ruined the entire year of 2020 thus far, for many people. They are dealing with it in various ways. Some are doing just fine, while others are depressed because of loneliness or death to loved ones, due to the virus. How has the pandemic affected you?

DJ Tony Madd: I worked at a Mental Health hospital for seven years and I've watched as Covid-19 gets worse, depression and racism get worse. I've watched White people treat co-workers that are there to help them, so degrading. I've watched Administration not care if you are spit on or called nigger! It's business as usual. What can you do, because you need that job.

As a first responder, large facilities will not pay these workers decent benefits or proper pay for being on the frontlines of mental illness! Still waiting to get my just due!

GO BANG! Magazine: How would you describe the House community, as far as how it is dealing during these times of the pandemic?

DJ Tony Madd: I've witnessed some DJs squad up and use other platforms to keep their name out in the public. I've seen some DJ's fold. I've been lucky enough to have different platforms to get my mixes to the public. Like most DJs, ego is involved and I just wanna be heard and acknowledged!

GO BANG! Magazine: In conclusion, although you've had the opportunity to spin at several well-known venues/events and with numerous DJ's, please describe one or more venues that you would like to spin at, as well as any DJ or DJ's that you would love to spin with, if any, that you haven't thus far in your career.

DJ Tony Madd: Man…I'd like to play at the Boiler Room, The Cocoon Club (Ibiza), Back @ The Airport (GE), Barcelona, and at any House music spot where people dance versus taking selfies. I'd like to play with Terry Hunter, Black Coffee, Mike Dunn, Louie Vega, DJ Spen, Dennis Ferrer, and Martin Solveig. JOE CLAUSSELL is a Beast…!

But, I will play wit anyone who understands "Blends Matter!"

You are welcome!

Follow DJ Tony Madd on:
Soundcloud: https://soundcloud.com/tony-madd
Mixcloud: https://www.mixcloud.com/djtonymadd/
Facebook: https://www.facebook.com/djtonymadd


Pierre A. Evans is a freelance writer of Entertainment, Music, Art, Culture, Fashion and Current Events, and previously for SoulTrain.com, NDigo.com, ChicagoDefender.com, EmpireRadioMagazine.com, and UrbanMuseMag.com, an author, singer/songwriter, actor, model, poet, dancer, and DJ. He is also the owner of Pinnacle Entertainment Productions. Follow him on Facebook, Twitter, and on Instagram