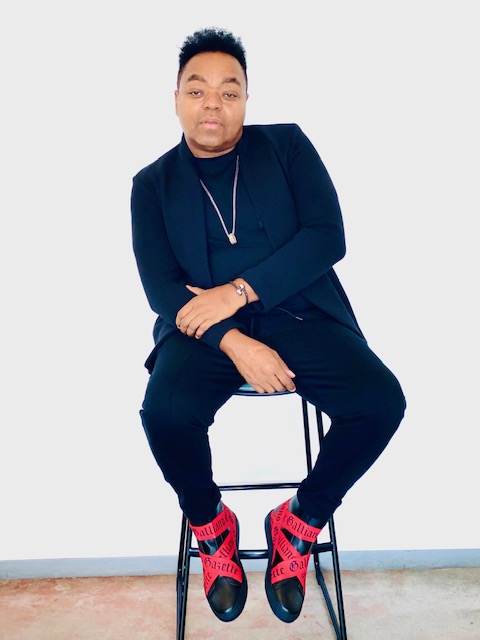 Just a few weeks ago, it was announced that lifetime Chicago resident Stevie Edwards would be making history in Vogue Magazine's October issue, being the first Black designer to feature his collection in a full-page ad. This has not been done since the 80's with Black designers such as Willi Smith, Patrick Kelly, or Stephen Burrows.

Born and raised on the south side of Chicago, Stevie got his first accomplishment in fashion while attending the Illinois Institute of Art in Chicago. Winning numerous awards during the annual college student fashion show, it was one of Stevie's designs that caught the eye of the late great "Fashion Icon" Eunice Johnson, founder of Ebony/Jet and Fashion Fair. Eunice purchased Stevie's leather Evening Dress collection, which was showcased in her International Ebony Fashion Fair Show that traveled the world.

This also led to an appearance on the Oprah Winfrey show to receive recognition for his designs. Also receiving major editorial in Ebony Magazine as "A Black Designer on the Rise", Stevie was also receiving editorials in other fashion publications such as Vogue, W, The Miami Herald, The Chicago Defender, The Hyde Park Herald, Chicago Social and most recently CIE Fashion Magazine.

In 2008, Stevie opened up his freelance boutique in Chicago which launched his brand "I Luv Stevie", which was a combination of one-of-a-kind sexy, cutting edge clothing for the upscale and fabulous woman.

Stevie's clothes have been seen nationally on the runway in shows such as Urban Fashion Week in Miami and Black Fashion Week in Chicago. More recently, was the debut of his Women Spring/Summer 2018 collection in Sept 2017 at NYFW (New York Fashion Week).

Stevie's unique designs have graced the bodies of celebrities and the elite including Diana Ross, Whitney Houston, Jody Watley, Sparkle, LisaRaye, Patti Labelle, R.Kelly and D'Angelo, just to name a few.

Stevie plans on taking you on a fashion journey…so sit back relax and get into it!!
VIDEO LINK to ABC7 CHICAGO NEWS CLIP: https://www.facebook.com/stevie.edwards.984/videos/10225243584943662


GO BANG! Magazine: What about fashion design attracted you as a child?

Stevie Edwards: I WAS ATTRACTED TO FASHION AS A CHILE BY WATCHING MY SISTERS DRESS AND ALSO WATCHING SOUL TRAIN DANCERS JODY WATLEY & JEFFERY DANIELS OUTFITS ON "SOUL TRAIN." I WAS ALSO A BIG FAN OF DIANA ROSS' GLAMOUROUS STYLE.

GO BANG! Magazine: Knowing how cruel children can be, as a kid, did you ever get teased or bullied by your peers for being a young boy that was interested in sewing? If so, how did you deal with it? If not, how did you avoid it?

Stevie Edwards: OF COURSE. I WAS TEASED BY BEING THE ONLY BOY IN A HOME ECONOMIC CLASS IN 8TH GRADE TAKING UP SEWING, INSTEAD OF BEING IN WOOD SHOP WITH THE OTHER GUYS. I REALLY DIDN'T LET IT BOTHER ME BECAUSE I WAS VERY INTERESTED IN THE SEWING MACHINE. I IGNORED THEM.

GO BANG! Magazine: When designing a gown for a woman, how are you inspired and what guides you to design that specific gown?

Stevie Edwards: DESIGNING A GOWN CAN DEPEND ON MULTUPLE THINGS. IM FIRST INSPIRED BY THE FABRIC. THAT GIVES ME AN IDEA ON WHAT STYLE OF DRESS I WOULD DESIGN. THEN THE TYPE OF WOMEN THAT WOULD WEAR IT.

GO BANG! Magazine: Soon you will debut your Men's fashion line. Men, in general, are usually a little less fussy and/or particular about their clothing. Would you agree? What type of specific designing ideas do you plan to explore when designing men's clothing?

Stevie Edwards: MEN ARE LESS FUSSIER BECAUSE THEY DON'T HAVE MANY CHOICES AS WOMEN DO. MOST MEN WILL TAKE YOUR ADVICE ON WHAT LOOKS GOOD ON THEM. I WILL DESIGN SOME THINGS THAT WILL GIVE MEN BETTER CHOICES THAN THE NORM…STEPPING OUTSIDE THE BOX OF BEING CONSERVATIVE…BEING A LITTLE RISQUE, BUT STILL TRENDY.

GO BANG! Magazine: Over the years you have designed for a very special group of people and received awards for your outstanding designs. Are there any celebrities or other individuals that you would like to design for, and any designers that you'd like to work with, that you haven't thus far?

Stevie Edwards: I WOULD LOVE TO DESIGN SOMETHING FOR RIHANNA AND USHER. THOSE ARE THE TWO CELEBS I HAVE MY EYE ON.

I WOULD LOVE TO WORK WITH OR CONTINUE TO LEARN MORE ABOUT THE INDUSTRY WITH DESIGNER TOM FORD. I SEE SOME OF MYSELF IN HIM WHEN IM DESIGNING.

GO BANG! Magazine: Designing is a very personal craft. You must not only please yourself, but you must also please your client. How do you manage to reach that sensitive balance, when you design your creations?

Stevie Edwards: YOU'RE ONLY GOOD AS YOUR LAST DESIGN IN THIS INDUSTRY. SO, I TRY TO GET BETTER AND BETTER WITH EACH NEXT DESIGN. IT'S A COMPETITION WITH MYSELF EACH TIME.

GO BANG! Magazine: If, God forbid, you were unable to design clothes anymore. What would you do then as a career, and why?

Stevie Edwards: THAT'S A GOOD QUESTION.
I WOULD PROBABLY TEACH FASHION, IF I COULD NOT DESIGN ANYMORE. I WOULD LOVE TO TEACH DESIGNING, PATTERNMAKING AND TAILORING ONE DAY.

GO BANG! Magazine: CONGRATULATIONS are in order for you!!! You were just recently internationally recognized and made history as the new "IT" designer by Vogue magazine, the "Bible" of Fashion magazines. How did you feel when you heard the news and what does it mean to you going forward?

Stevie Edwards: I WAS ESTATIC WHEN I GOT THAT VOGUE CALL. AT THAT POINT, I BELIEVED THAT DREAMS DO COME TRUE, BECAUSE I HAD DREAMED OF THAT MOMENT. MOVING FORWARD, I WILL JUST CONTINUE TO BUILD MY BRAND, NOW THAT I HAVE THE ATTENTION OF THE FASHION WORLD.

GO BANG! Magazine: The Covid-19 pandemic has dampened and ruined the entire year of 2020 thus far, for many people. They are dealing with it in various ways. Some are doing just fine, while others are depressed because of loneliness or death to loved ones, due to the virus. How has the pandemic affected you?

Stevie Edwards: THE COVID FOR ME HAS BEEN A BLESSING AND A CURSE.

A BLESSING MEANING, I HAVE CONTINUOUSLY BEEN WORKING AND GETTING MORE PRESS OVER THE PAST 6-7 MONTHS THAN I'VE GOTTEN IN MY 34 YEARS BEING IN THE FASHION BUSINESS.

THE CURSE IS THAT I CANNOT PRESENT A COLLECTION IN LARGE CROWDS OR DO FASHION SHOWS. THOSE ALLOW ME TO BE ONE ON ONE WITH THE CONSUMER. EVERYTHING IS VIRTUAL.

GO BANG! Magazine: Being a Black man in America today is dangerous on a daily basis. We have ALL experienced it in different ways. How have you been affected by systematic racism and have you witnessed White privilege? If so, please describe the instance for our readers.

Stevie Edwards: OH WOW, YES!

I WAS JUST GOING TO MEET A FRIEND TO HAVE DINNER AT A RESTAURANT. I HAD CALLED TO MAKE RESERVATIONS, BUT THET HAD SAID JUST WALK IN. THERE WERE NO MORE RESERVATIONS. AS I WALKED IN, THE HOST SAID, 'SORRY WE ARE FULL FOR INSIDE DINING AND THE BAR IS FULL", EVEN THO I COULD SEE THERE WERE MULTIPLE SEATS OPEN AT THE BAR.

SO, I PROCEEDED TO LEAVE, BUT DECIDE TO CALL ON THE PHONE TO ASK IF THEY WERE FULL. THE LADY ANSWERED AND SAID, "NO WE HAVE SEATS AVAILABLE, COME IN AND ASKED FOR ME." I WENT BACK IN AND ASKED FOR HER. SHE PROCEEDED TO TAKE ME STRAIGHT TO A TABLE. I WAS LIVID!!! THE HOST WAS A WHITE GUY WHO SAID THEY WERE BOOKED.

GO BANG! Magazine: As a born and raised Chicagoan, you've been a member of the House music community since its beginning. In the early days, House people were very fashion conscious and expressed their individuality through fashion (self-designed or store bought), as well as through hair styles/cuts, jewelry and make up. How did being a member of the House community influence you during your developmental years, as well as now?

Stevie Edwards: I AM SOOO GLAD TO HAVE EXPEREINCES THE HOUSE /DISCO DAYS. IT ACTUALLY HELP DEVELOPED MY FASHION SENSE AND CAREER ALSO.

WE WOULD COME OUT TO THE POWERPLANT, MUSIC BOX & WAREHOUSE (NIGHTCLUBS) DRESSED IN DESIGNER PIECES. THAT WAS THE NORM. NOW IT'S DIFFERENT AND MORE COMMERCIAL.

THERE ARE PEOPLE WHO CLAIM THEY ARE HOUSEHEADS, BUT NEVER EVEN EXPERIENCED A CLUB BACK IN THE DAY.

I DON'T GET IT!

GO BANG! Magazine: You know that we here in Chicago have been proud of you for many years and are almost as happy and excited for you as you are for yourself. What would you like to say to all of your friends who know you and have supported you throughout the years?

Stevie Edwards: THANK YOU GUYS FOR THE YEARS OF SUPPORT AND AS ABC NEWS SAID, "IM MAKING CHICAGO PROUD." I WILL CONTINUE TO DO WHAT I WAS BLESSED TO DO, WHICH IS CREATE FASHION AND LEAVE A LEGACY FOR THE NEXT GENERATION.

GO BANG! Magazine: Lastly, what would you like to say to GO BANG! Magazine's international audience across the world, which may not be familiar with you or your designs YET?

Stevie Edwards: I WOULD LIKE TO SAY CONTINUE TO SUPPORT ME AND STAY TUNED FOR MORE FABULOUS FASHION. ALSO FOLLOW ME ON ALL MY SOCIAL MEDIA PLATFORMS.
GO BANG! Magazine: CONGRATULATIONS AGAIN TO YOU FROM YOUR CHICAGO FAMILY!!!


Log onto the website and explore his designs: www.iluvstevie.com
Follow Stevie on social media:
IG: @steviethedesigner
Twt: @stevieedwards
FB: @iluvstevieboutique and Stevie Edwards



Pierre A. Evans is a freelance writer of Entertainment, Music, Art, Culture, Fashion and Current Events, and previously for SoulTrain.com, NDigo.com, ChicagoDefender.com, EmpireRadioMagazine.com, and UrbanMuseMag.com, an author, singer/songwriter, actor, model, poet, dancer, and DJ. He is also the owner of Pinnacle Entertainment Productions. Follow him on Facebook, Twitter, and on Instagram