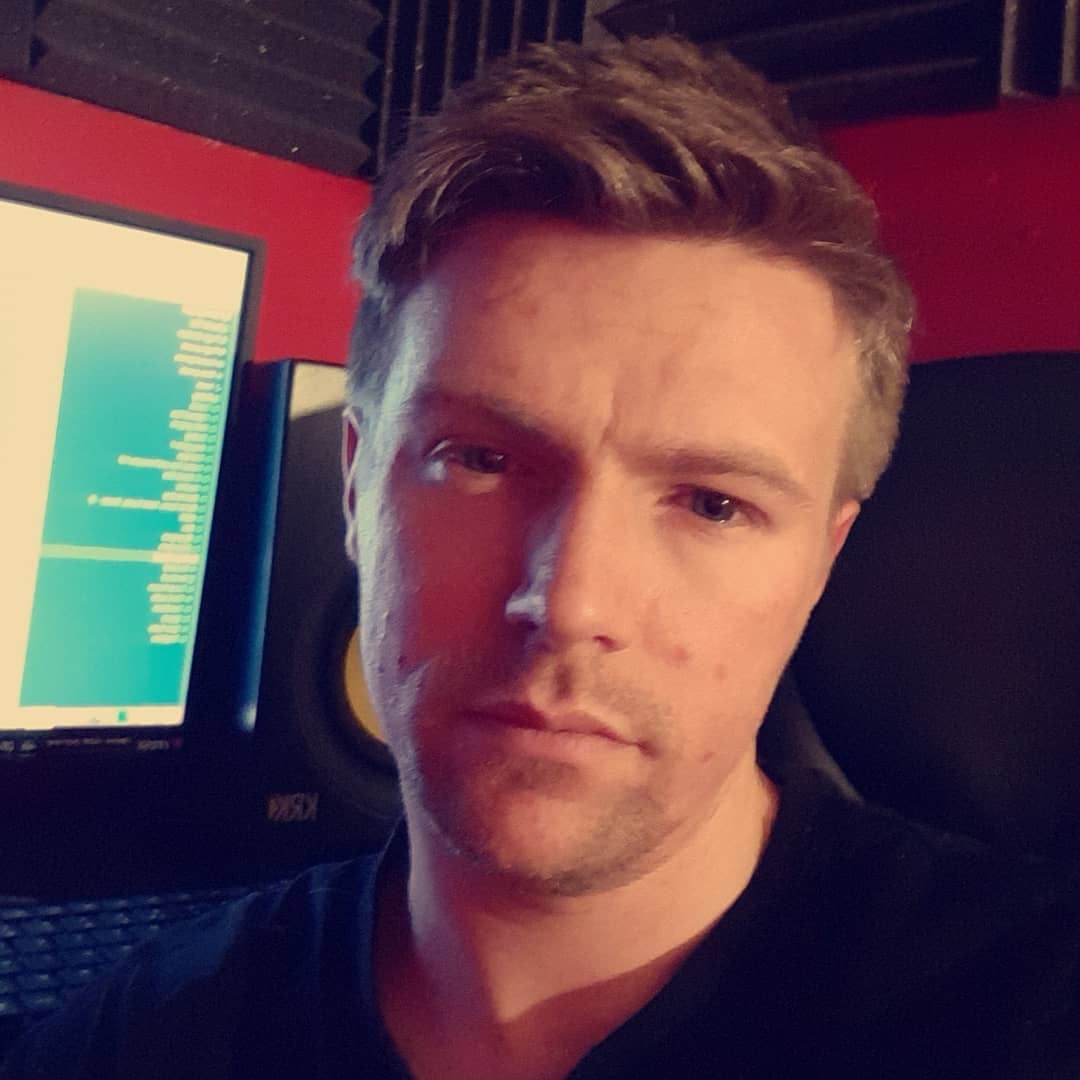 DJ Matt Black is a UK based House and Techno producer and DJ most known for his funky, driving baselines, and uniquely engaging style. Born Matthew Belcher, Matt is a House/Techno producer and DJ most known for his first official release "Let Them Groove" which generated over 1 million streams worldwide.

Starting his career in England's notorious seedy underground scene, he released white label mash-ups. He owned one of the first pirate FM radio stations in the southwest. He has also been featured multiple times on BBC Radio.

DJ Matt Black has become a prominent influencer in the House and Tech House scene, collaborating with many artists, and entertaining crowds around the world with his funky, driving baselines, and uniquely engaging style.

On August 21, 2020, Matt released a new track titled 2AM. 2AM is bringing back the old-school vibes of the 90s with its raw underground rave feel. He wanted to create something modern, but at the same time keep with the decade of love. Matt has found that the music of today is no contribution of the years of yesterday, and it has lost its path with same sounding tracks spread throughout the charts. He wanted to relight the good years and bring some feel-good music to the table and contribute to the music scene. That's why he chose to make 2AM. Matt has said that after making this track, "My love for the music has grown even deeper!" and has even gone to the extreme to say "I am now ONE within my house!"

GO BANG! Magazine: When and how did you get interested in music?

DJ Matt Black: From a very young age, my household was playing music, all different genres from Hip Hop to Rave and House. I mean everything. So I heard literally everything and anything. Growing up just with my mother was quite liberating. Without the father figure in the picture, I looked to other individuals in my life and in music.

My mother was like a New Age Hippy-Go-Raver and she had mountains of tapes from UK raves. I listened to all of them and it was a mixture of Breakbeat and House and all sorts mixed up together, which today would be considered sub-genres. One of the first steps in music for me was admiring these amazing tunes.

GO BANG! Magazine: When did you develop an interest in House and Techno music?

DJ Matt Black: I started really loving music between the years 1998–1999. Since that time, I have never stopped listening to and admiring music, regardless of the genre. In 1999 I got my first tape player. Like I said, I grew up with just my mother. Times were tough back then and we couldn't afford internet or even cable television. So literally, music was my escape and still is to this day.

My love for these genres comes from UK Jungle and all of the House samples used, no names mentioned, and also watching "The Top of the Pops" (UK TV show) before it went all wired.

GO BANG! Magazine: Please describe the House music scene in the UK.

DJ Matt Black: The House music scene here in the UK is amazing. Even from the beginning, it's been so multicultural and literally a place of pure love. The British people have infused all their own cultures into this genre. So many great sub-genres and new genres have been a result of it. I grew up at an amazing time to be able to experience the greats of House music, the ones that shaped House music, and see the birth of new House music, like UKG (United Kingdom Garage: a sub-genre to House called Garage. It's made in the UK from Hip Hop House or Two Step).

I may have not have been with the founding fathers of House in the beginning, but I've sure enjoyed the fruits it has produced and watched it turn into something great. I couldn't see a world without House or could image a world without the other genres it has created.

We are the children of House, we are that what follows and it's up to us to maintain its glory, add to its perfection, try new things, take it too new directions, and most of all do not let the music groups saturate it.

GO BANG! Magazine: You started your career in England's notorious seedy underground scene. For those that may not be familiar with England, please describe the scene to our readers, and how you got started.

DJ Matt Black: I first started my journey into music at around the age of 10 or 11 years old. I used to go 'round my friend Gary's house. He was the first person that induced me to music production software and DJ'ing. He had a set of Technics 1210 MK2s and I used to spend every day around his house, without fail. He would have to literally boot me out to go home. I begged my mother for ages to get me some decks, and it was my auntie that finally got me my first set when I was about 13 years old. They were some belt-driven bad boys. Oh they were some fun. I had my shed all set up with an old PC and decks and used to practice every day ripping samples from vinyl and all sorts.

I did my first gig at a carnival back in my hometown when I was about 14 years old. I met a few people and got offered to play at Bristol Festival. I obviously went. I had these two women looking after me. I can remember them trying to feed me mushrooms before I went on stage. Thank God I didn't touch them. I went on after a group called the Freestylers.

After this, I realized that after being in front of a couple thousand people that I wasn't quite ready to be in that position. So, I took a step back and started hanging around a few friends that loved music as much as me. We hosted illegal parties in many crazy locations like shut down stores, abandoned houses, and even gate crashed a few places and made the party ours, while still doing events in my hometown.

I then started my own pirate radio station. I made a good friend order a transmitter for me from China and another good friend brought the aerial for me. I hooked it all up and was live every weekend. It was more like a community radio, as everyone from everywhere wanted to come on. I also wanted them to come on as well, to boost their creativity and musical skill.

From my late teens to early twenties, I wasn't making that much music for myself. I was doing it for other people and really was in the back seat. I made a ton of white label mashups and remixes during this time, with some being pressed. I even had known figures steal music.

If I had to describe what the underground is to me, it's simply these so-called friends that take advantage of you for their own personal gain. It's bitchiness, backstabbing and all things bad that you expect to see on a drama show. That's what it is, just pure drama with each other and the outside world because they're not involved in your "clique."

I have now disassociated myself from all things underground or group associated and moving in a more positive direction for myself and my music.

GO BANG! Magazine: As a producer/DJ, how would you describe the DJ Matt Black production sound and the DJ Matt Black sound?

DJ Matt Black: If you listen to any of my newest productions, you will hear that I'm swinging from 90s House vibes to Tech-House, with dark elements and hidden messages for the masses.

I have two moods when producing: very dark or very bright and energetic. The love and support I'm getting at Trax Records, creativity-wise, is unreal. They are allowing me to push some boundaries and try some new sounds.

GO BANG! Magazine: You've collaborated and performed with numerous House artists. Have you ever performed with any House music artists/DJs that are from my hometown of Chicago? If so, who? If not, are there any particular Chicago artists or DJs that you would love to perform with?

DJ Matt Black: No, I haven't as of yet performed with anyone from Chicago, but I would love to perform with Green Velvet – "Bruce sort it out", Marcus Mixx, Marshall Jefferson, Farley and many more.

If you are asking what I would really like, I would love to see a "Legends of House" world tour. All the acts for one last time tour, before it's too late. Nobody's getting younger and this will help the artists and the House community. I know for a fact, many of the big artists today would buy tickets.

GO BANG! Magazine: Are there any events that you would love to participate in that are here in the States?

DJ Matt Black: Yes! I would love to come and mash out some nights in Chicago and hit up everywhere in the United States. Do a nice three to six-months, if possible.

GO BANG! Magazine: What is next on the agenda for Matt Black that our readers should be on the lookout for?

DJ Matt Black: Well, I may be at a rave near you soon (cough cough) Essex. Apart from that, I have a few tracks lined up and actually some wicked collaborations too. I'm trying to hit a release-a-month. So, we'll see how that goes.

GO BANG! Magazine: The COVID-19 pandemic has caught the world off guard. How are you dealing with it?

DJ Matt Black: I have been personally put on a local lockdown and it's hard, not only for myself but for everyone else too. The Entertainment industry has basically been destroyed. All gigs for 2021 have been canceled until further notice. It's crazy!

GO BANG! Magazine: What would you like say to GO BANG! Magazine's international audience across the world, which may not be familiar with you?

DJ Matt Black: Good morning, and in case I don't see ya, good afternoon, good evening, and goodnight.
Peace out!
SoundCloud link: https://soundcloud.com/dj-matt-black-920551655
YouTube Link to "2AM" track: https://www.youtube.com/watch?v=maq1LCHfZCo
Follow DJ Matt Black on social media:
FB: @ThatDJMattBlack
IG: @DJ_Matt_Black
TW: @ThatDJMattBlack




Pierre A. Evans is a freelance writer of Entertainment, Music, Art, Culture, Fashion and Current Events, and previously for SoulTrain.com, NDigo.com, ChicagoDefender.com, EmpireRadioMagazine.com, and UrbanMuseMag.com, an author, singer/songwriter, actor, model, poet, dancer, and DJ. He is also the owner of Pinnacle Entertainment Productions. Follow him on Facebook, Twitter, and on Instagram