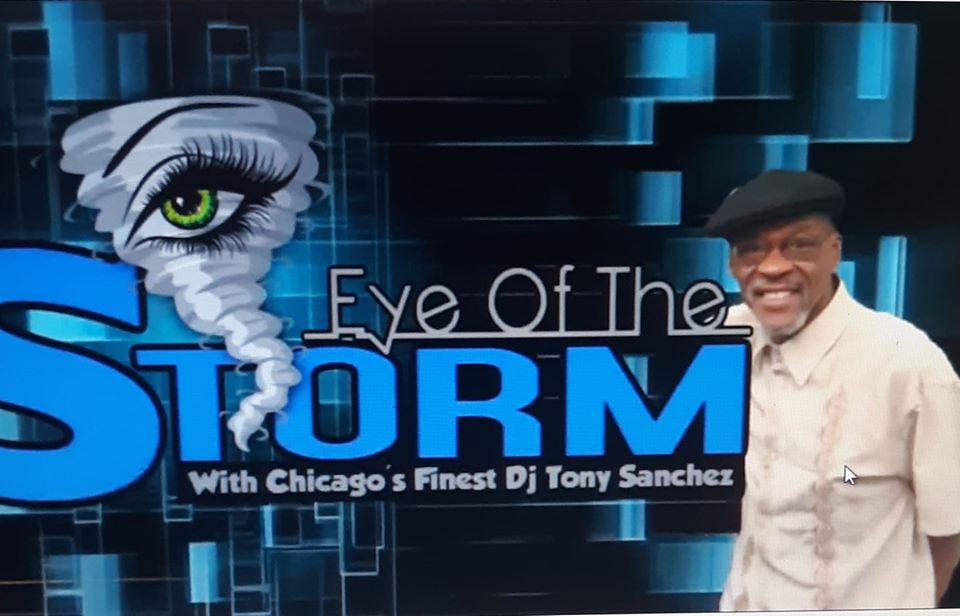 Tony Williams is a 61 year old GOD fearing man who has one son and a granddaughter. He's been a DJ since he was 15 years old and his mentor is a DJ named William Armstrong aka Terrible Tubbs. In addition to DJ'ing, he is also an entrepreneur, being the owner of Truly Blessed Inc.

Currently, he is the host of "The Eye of The Storm" on Spreaker.com and on 102.DLRRadioFM every Monday & Wednesday night.

GO BANG! Magazine: You describe yourself as a GOD fearing man. What does that mean to you and how does it influence your life?

DJ Tony Williams: My grandmother introduced me to GOD through JESUS. I turned my back on HIM but HE saved me from me in 2000 when HE delivered me from crack (cocaine) and I will never look or go back. It's 20 years later now.

GO BANG! Magazine: Where did you grow up and spend your childhood?

DJ Tony Williams: I grew up on 46th & Greenwood Avenue on the South side of Chicago, Illinois.

GO BANG! Magazine: How did you first become interested in being a DJ?

DJ Tony Williams: I was born to love music!
I was told that as a small child I would crawl to the record player and turn it on. I've been loving music ever since. I was introduced to it by walking by the Lake Village Lounge back in the 70's and heard "Terrible Tubbs" (TT) spinning.

GO BANG! Magazine: Your mentor is William Armstrong aka Terrible Tubbs. Please inform our readers who Terrible Tubbs is and why he's your mentor.

DJ Tony Williams: William Armstrong was the DJ of the lounge then, and he was COLD. So I wanted to learn from the best. He's my mentor because he never gave up on me, even when I know I was getting on his last nerve.

GO BANG! Magazine: When and how did you know that you wanted to pursue DJ'ing as a profession?

DJ Tony Williams: After meeting TT, I asked him to show me how to spin. It was the best question I ever asked in my life.

GO BANG! Magazine: Currently, you're the host of a pod cast on Spreaker.com and on 102.DLRRadioFM. Your on-air name is Tony Sanchez. Please tell us about your show Tony Sanchez.

DJ Tony Williams: That is my alter ego. My friend Bob King gave me that name and I loved it, and I've been Tony Sanchez ever since. My show "Eye Of The Storm" was given to me from The CREATOR where its motto is "Love Is The Key."

GO BANG! Magazine: Your company, Truly Blessed Inc. provides DJ services for events. How can readers contact you if they want to be blessed with your DJ services?

DJ Tony Williams: You can find me on Facebook, Twitch or e-mail at hatchback2@yahoo.com

GO BANG! Magazine: Five years from now, where do you see yourself professionally?

DJ Tony Williams: Hopefully, still alive and streaming my shows.

GO BANG! Magazine: The COVID-19 pandemic has caught the world off guard. How are you dealing with it?

DJ Tony Williams: I was in the Marines so I know how to deal with issues like this. Pay attention, watch the signs, and trust yourself.

GO BANG! Magazine: Lastly, on May 25, 2020, George Floyd, a 46-year-old black man, was killed in Minneapolis, Minnesota, during an arrest for allegedly using a counterfeit bill. Derek Chauvin, a white police officer, knelt on Floyd's neck for almost nine minutes while Floyd was handcuffed and lying face down, begging for his life and repeatedly saying "I can't breathe." This incident has caused civil unrest and massive protests across the world. How do you feel about this unfortunate situation and call for police reform due to the horrible treatment of minorities by the police?

DJ Tony Williams: I'm 61. At 10 years old I watched the beating of Rodney King and it left a scar on my mind that I'll never forget. It was White hate towards Black people by the police. Fast forward 50 years later and I see the police murder a Black man right before my eyes and again the 10 year old me is right back where it all started!

WE must first stop killing each other. Then maybe WE can come together to stop THEM. I grew up in the Burge era (Jon Graham Burge was an American police detective and commander in the Chicago Police Department who was accused of torturing more than 200 innocent men between 1972 and 199, in order to force confessions) so I will NEVER EVER trust the police!!!


YOU CAN FOLLOW TONY ON http://Facebook.com & http://Twitch.com SOCIAL MEDIA PLATFORMS @Tony Williams
Follow "The Eye of The Storm" on http://Spreaker.com




Pierre A. Evans is a freelance writer of Entertainment, Music, Art, Culture, Fashion and Current Events, and previously for SoulTrain.com, NDigo.com, ChicagoDefender.com, EmpireRadioMagazine.com, and UrbanMuseMag.com, an author, singer/songwriter, actor, model, poet, dancer, and DJ. He is also the owner of Pinnacle Entertainment Productions. Follow him on Facebook, Twitter, and on Instagram