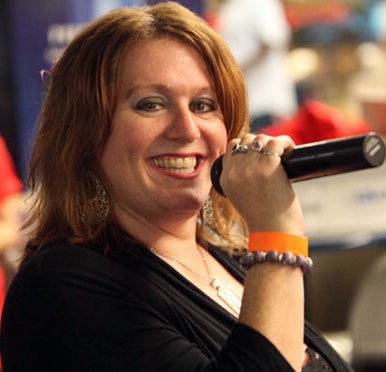 KNOWN AS THE "SUPER PRODUCER", LISA E. HAS BEEN WORKING IN RADIO SINCE SHE STARTED AS AN INTERN IN 1989 AT WGCI RADIO IN CHICAGO. SHE LATER STARTED PRODUCING AND DOING ENTERTAINMENT, AND BECOMING A SIDEKICK ON AIR. AFTER ALMOST 15 YEARS AT WGCI, LISA DECIDED TO TAKE A JOB AS EXECUTIVE PRODUCER AT POWER 92 WHERE SHE WORKED FOR ALMOST 6 YEARS, PRODUCING THE MORNING SHOW UNTIL THEY WERE REPLACED BY A SYNDICATED SHOW. SHE ALSO PRODUCED "TALK IT OUT" ON WVON FOR MAZE JACKSON & MONIQUE SPENCE, AS WELL AS THE A.C. GREEN SHOW AT 106.3. SHE CURRENTLY PRODUCES FOR THE RAMONSKI LOVE MORNING SHOW ON 95.1 FM "CHICAGO-HEARTBEAT FOR SOUL." SHE ALSO HAS HER ENTERTAINMENT COMPANY AND WORKS WITH SEVERAL CELEBS!
LISA HAS PRODUCED FOR TOP RADIO PERSONALITIES DOUG BANKS,TOM JOYNER, CRAZY HOWARD MCGEE, RICK PARTY, SAM SYLK, JEANNE SPARROW, STEVE HARVEY & DAVANTE STONE. ALL OF THE SHOWS HELD #1 RATINGS!
LISA ALSO WORKS WITH MANY CELEBRITIES, HOSTING SHOWS, EVENTS, AND MANY CHARITY FUNDRAISERS, AS WELL AS INDIVIDUAL EVENTS FOR ORGANIZATIONS, ESPECIALLY FOR KIDS AND ANIMALS. SHE ALSO STARTED HER OWN COMPANY-LISA E ENTERTAINMENT "CONCIERGE TO THE STARS". SHE HAS WORKED WITH ALL THE TOP CELEBRITIES IN THE MUSIC, SPORTS AND MOVIE-TV INDUSTRY.
LISA IS A HUGE BEARS, BULLS AND CUBS FAN AND HAS BEEN COVERING GAMES FOR OVER 20 YEARS. LISA ALSO WRITES FOR VARIOUS MAGAZINES & HAD HER OWN COLUMN IN EXPOSURE MAGAZINE CALLED "THE LOCKER ROOM-WITH LISA E". HER COLUMN WAS ALWAYS IN PURPLE-SHE LOVES ANYTHING PURPLE! LISA LOVES TO LAUGH AND IS ALWAYS PLAYING JOKES ON EVERYONE!
LISA LOVES MUSIC AND IS VERY WELL ROUNDED. HER FAVORITE ARTISTS INCLUDE 50 CENT, L.L. COOL J, JOHN LEGEND, THE ROLLING STONES, EARTH WIND & FIRE, GUY, STXY, MICHAEL JACKSON, PRINCE, NEW EDITION AND BARRY MANILOW.
LISA BELIEVES THERE IS ONLY 1 RACE-THE HUMAN RACE!
GO BANG! Magazine: Please describe when you first knew that you were interested in Radio.
Lisa E.: I always wanted to be in the entertainment industry, ever since I was little. I started as a theater major when I went to University of Iowa. Then, when I transferred to Columbia College in Chicago, I wasn't feeling some of the classes so I decided to try radio and fell in love right away. My first two instructors were Harold Rush (Exec Producer of Banks and Company on WGCI) and Roz Varon (traffic on WFYR radio).
*fun fact-our class helped Roz Varon put together a cool audition tape for ABC 7 TV to do traffic. Well, she got the job and 31 years later, with multiple Chicago Emmys, she is still going strong as Traffic reporter and Special Programming
GO BANG! Magazine: What Radio personalities inspired you as a youth?
Lisa E.: I always loved to listen to radio personalities from Wally Phillips, Larry Lujack, Tommy Edwards, John Records Landecker, Steve Dahl, Casey Kasem, Tom Joyner and then Doug Banks, who was my absolute favorite
GO BANG! Magazine: Who were your mentors and how did their mentoring influence you and your career?
Lisa E.: My two mentors would be Bonnie Deshong and Doug Banks. They both took me under their wing. Bonnie was the first person that let me do an interview, when the Phoenix Suns were in town. I felt so important being able to record with a mic and special recorder. I interviewed Wesley Person, who is still my friend to this day…(lol). Bonnie used it for her "Eye on Entertainment" segment. Watching Doug, I learned so much. I couldn't wait to go to work every day, because you never knew what to expect from Doug, except that laughter would be involved.
GO BANG! Magazine: WGCI is a station that's a staple in the community. Please explain how you became involved with the station, from 1989 – 2004 as Exec. Producer/On Air, and describe your time there.
Lisa E.: I started as an intern when I was a senior in college in 1989 and worked for a whole year for free, I got credit for one semester. I started by running the control board for Cliff Kelly on 1390 AM, which was "all talk" at the time. I learned how to produce, because Cliff would have high profiled guests on in the political world, as well as community. We didn't have internet then so I would have to look up numbers in the phone book, etc. and rely on the newspapers and the AP news that would be sent to us throughout the day through a fax type of machine that we could use to print out the news. Once I graduated College, I got hired. I worked with Sybil Wilkes overnights at 1390 AM. I was her Board Operator/Engineer and would book guests.
When WGCI am switched formats in 1990 and became Dusty Radio 1390, I worked with Emilie McKendall from 7pm until 12am. I also worked with Ladonna Tittle and then I ran the Larry King show and played music overnights. While I was working on the AM side, I would sometimes sit in and got to know everyone on the FM side, mostly Banks & Company. I fit in really well with everyone. Our President and General Manager Marv Dyson thought I would be a good fit, to be a backup producer for Tom Joyner on WGCI FM and that's how I started on 107.5 WGCI FM.
When Tom went syndicated and did mornings, Doug Banks started doing afternoons. I ended up producing for Doug and had a blast because you never knew what to expect, but we had so much fun! After Doug left and moved to Dallas and became syndicated, I started producing afternoons for Crazy Howard McGee, and then I produced for other top personalities Jeanne Sparrow, Irene Mojica, Rick Party, Davante Stone "The Stone Pony," and Sam Sylk. All of those shows had # 1 ratings! I was also on air with all of them for bits, entertainment, etc. Many of these personalities are still very close friends that I consider family. I also filled in on Drex's morning show on Kiss 103.5 FM a few times to do news and weather. I ended up getting moved to mornings to produce again for Crazy Howard McGee before I left in 2004 to work at Power 92. It was the hardest decision I ever had to make because it was a brand new opportunity for me to produce a new morning show, but so hard to leave a place and people I truly loved.
GO BANG! Magazine: After WGCI, you started working with Power 92 Radio. Describe your time there from 2004 – 2009.
Lisa E.: Working at Power 92 was also a wonderful time! We had a brand new morning show with Davante Stone "The Stone Pony", who also left WGCI, and Cortney Hicks "The Baby Girl." I was the Executive Producer. Leon Rogers was later added to the show. Within a few months of being there, Stone Pony and I got to broadcast live in Athens, Greece for the Olympics Cortney wasn't able to travel due to health issues. It was one of the best experiences in my life!
After they changed the morning show, Trey "The Choklit Jock" was brought on board with co-host Kendra G, and later Alexx Dupri, I remained on as Executive Producer. In December 2009, we were told that our show would be replaced by Ricky Smiley's syndicated show and due to budgets, etc I was being let go. It was tough, since I had never been let go in my career after 20 years. I did come back and produce a few shows on 106.3 (the A.C. Green Show) and Power 92 (The Afrozons show). Many of the personalities and staff over there are still very close friends as well.
GO BANG! Magazine: Over the years, you have worked with a variety of well-known radio personalities. Please name a few and what your memories are of them?
Lisa E.: I have had so many fun and wonderful memories with many of them who are still very close to me. I will just list a few:
Jeanne Sparrow: One of my closest friends to this day. She calls me her "Producer for Life." One of my best memories is when we did a live broadcast from Disney World. They closed the Magic Kingdom down early, so that all of the media had the whole park to themselves. While everyone was sampling drinks, Jeanne and I were on all the rides, from Winnie the Pooh treehouse to the Flying Teacups. We were like two little kids and had the time of our lives. It's also been kind of a tradition that we always go see Earth, Wind and Fire when they are in concert. We saw them in Disney World too.
Rick Party: I always used to give Rick piggyback rides. It started as joke. I also used to take peanuts or popcorn and throw it at him and he would always catch it in his mouth. He barely missed. We had fun doing live broadcasts, especially out of town from the Billboard Music Awards to Cancun. Rick gave me the name "Super Producer" and it has stuck ever since!
Davante Stone "The Stone Pony": The best time we probably had was in Athens, Greece for the Olympics. We got to go see the Men's Track & Field, which I love and it was such an incredible experience to hear your national anthem played when we won the gold medal! We both got a little choked up!
Sam Sylk: I also produced for Sam and booked guests for his show in Cleveland. We used to have some great bits. Sam, Big Poppa (Daniel Dees) who was also a part of the show, and I always laughed. We were a really good team. One funny memory is when we had "The Rock" on our show. He looked and smelled so good, and I just sat there and didn't say anything. I guess I didn't realize it. Sam went on the air and said "This is a first, my producer is at a loss for words…clean up in aisle two."
Trey the Choklit Jok: We had a blast in Vegas during NBA All-Star weekend and for Chris Webbers star studded Charity Weekend. Trey was surprised to see all the celebs that were walking up to me to talk or give me a hug. I remember him saying "Wow u really do know all these people."
Doug Banks: One great time was when Doug had arranged for Charles Barkley to call in. Everyone knew that Charles is one of my favorite people. The receptionist used to call me and say Charles was on the phone, but it was people pretending. This happened at least five times. This particular time, someone called us before the show in our newsroom saying it was Charles and Doug grabbed the phone. I thought they were playing a joke on me and then during the show Charles really called in. I didn't believe it was really him at first, so I started asking questions that only Charles (or someone like me) would know the answers too. Doug just laughed and laughed.
*I was so heartbroken when Doug passed in 2016 still doesn't seem real. He truly was the best!
GO BANG! Magazine: You have witnessed radio change over the years. Hip hop has saturated the air waves, and some say, in general, that the quality of the music has diminished. What are your thoughts on the quality of the current music landscape?
Lisa E.: I think music changes a little with each generation. Some of the hip hop today sounds so much alike to me. I definitely think we still have some great talent, but I don't like it the way I love old school hip hop. I do like some artists now. I think R&B is also making a big comeback! People love to hear great music. I started to manage an R&B artist, Sean Wyte, a little over a year ago. He is about to blow up really big. He just wants to sing great R&B. He has already opened up for some big names including Joe, Avant, Dru Hill, Keke Wyatt, Faith Evans, Kool Moe Dee, Steve Arrington & Public Announcement. The celebs and artists have already welcomed him in that circle, and the ladies love him, his voice and his looks!
GO BANG! Magazine: Besides a career in radio, you have other talents, which include being an entrepreneur. In 2005, you launched your business Lisa E. Entertainment – Concierge to the Stars. Please describe how you decided to launch your own business, and what your business does.
Lisa E.: I started to help celebrities with their charity events, hosting party events and I just kind of fell into it. Jeanne Sparrow actually gave me the idea for the name. She used to joke on the air saying "I don't know how Lisa does it, celebs and guests come on and they give her their private info. It's a gift, don't question it. She is like a concierge to the stars." So that's what I decided to call it. A concierge does so many things. If it's something I can't do, I usually know someone that can.
I host events, do voiceovers, book celebs for charity events (i.e. the Golf Classics are probably the biggest), do Grand Openings, Listening parties, some Media Relations, P.R. and Publicity. Sometimes I wear several hats for certain events.
GO BANG! Magazine: What advice would you give to an aspiring young person, trying to pursue a career in radio?
Lisa E.: I would tell them to never burn any bridges with anyone. One day, your intern could be your boss. Always communicate! Thats the key. Stay humble and check your ego at the door. There is enough fame and fortune for all of us. Your talents will lead the way. Especially to the ladies, don't make it about a competition. At the end of the day, we can ALL be friends.
GO BANG! Magazine: In conclusion, the COVID-19 pandemic has caught the world off guard. How are you dealing with it?
Lisa E.: It's a tough situation, because we have never experienced anything like this before. I really want people to take it seriously and stay at home. Take this time to spend quality time with the people you live with (children, spouse, etc). Call friends and family to check on them and just catch up with each other. Sometimes a phone call can make all the difference in the world.
FOLLOW LISA E:
Instagram and twitter @lisaeradio
Pierre A. Evans is a freelance writer of Entertainment, Music, Art, Culture, Fashion and Current Events, and previously for SoulTrain.com, NDigo.com, ChicagoDefender.com, EmpireRadioMagazine.com, and UrbanMuseMag.com, an author, singer/songwriter, actor, model, poet, dancer, and DJ. He is also the Owner of Pinnacle Entertainment Productions and the Owner/Publisher of GO BANG! Magazine. Follow him on Facebook @Pierre Andre Evans, Twitter @Playerre, and on Instagram @Pierre_Andre_Evans.